Grimme Fodder Beet Lifter unveiled
---
The Grimme 'Rootster' 604 Fodder Beet Lifter made a successful debut in Southland recently, with over 200 farmers turning out to see this new machine in action.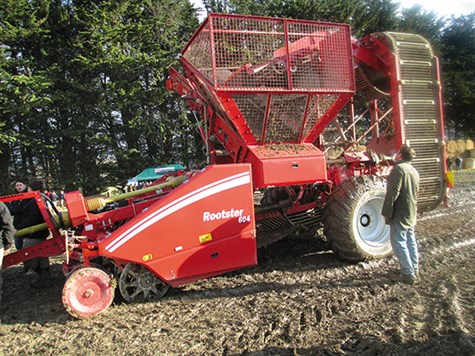 Recently over 200 farmers from all over the region gathered at the farm of Mark and Sonia near Riversdale to witness a demonstration of the Dillons' new fodder beet lifter.
This is a Grimme Fodder Beet Lifter and is the only one of its kind in the southern districts.
There has been a surge in interest in fodder beet as a winter feed for cows ever since the rapid and continuing growth of dairying in Southland started to take hold.
Mark and Sonia Dillon saw there was demand for fodder beet and started a fodder beet lifting operation for the enhanced dairy industry. They also diversified their own farming operations by planning more fodder beet on their farm for their own use and for on-selling to local farmers.
While the Dillons' have been lifting fodder beet for five years, none of the machinery they used was suitable for the operation. For the last two seasons the Dillons had been lifting fodder beet with a modified potato harvester. This was adequate and was very slow.
Mark wanted a harvester that hooked onto his tractor, because it was much lighter and easier on his soils than a self-propelled harvester, which could weigh up to 30 tonnes.
So the Dillons, being assured there would be demand for their services as contractors to lift fodder beet, looked for machinery to enhance their operation.
After making enquiries they found the Grimme 604 Fodder Beet Harvester. They bought the machine from Landpower in April this year and took delivery shortly afterwards, together with a new Massey-Ferguson tractor.
The Rootster 604 is an optimal choice for farms specialising in moderate-scale sugar beet production and cost-efficient for harvesting 400-500ha fields.
The Rootster 604 offers extremely easy service based on mechanical drives and less hydraulics. It can even be trailed by tractors with power from 185hp.
Machines can be fitted with either one- or two-phase systems. The two-phase system incorporates row after row along the whole working width of the unit; the BM300/330 leaf defoliator prepares beet roots, removing the beet leaves and cleaning the roots.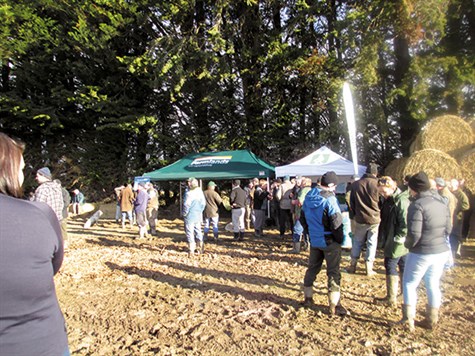 Meanwhile the one-phase system is available in two options: the first includes the FT 300 front topper. Its patented operation avoids blocking in the scalper area, ensuring optimised distribution of the chopped leaf material. ​The beet leaf is deposited only behind the individual suspended scalpers, which ensures a clean cut.
The second option is a Grimme innovation. The FM 300 compact mulcher defoliates all leaves, but doesn't cut the top more than is necessary due to the combination of the top multi shaft and the bottom cleaning shaft rotating in opposite directions.
Even in rolling terrain and in any climactic conditions, the Rootster 604 holds the precise depth guidance via the fine adjustable end-stop of the hydraulic folding drawbar and two optional support wheels.
Mark and Sonia, who are busy developing contracts for their fodder beet, aim to grow about 80ha this spring and will increase their number of dairy cows wintered to about 1600.
Mark says the beauty of the crop was that it could be lifted from April through to October, while maintaining its high sugar content.
One of the features of the Rootster 604 that makes it attractive to farmers wanting to grow winter feed for their cows is that at 20 tonnes it's comparatively lightweight fully loaded: less than half the weight of a self-propelled machine.
As well a lowering the incidence of soil compaction it also reduces possible damage to drainage tiles. The possibility of soil compaction is also lowered by the machine being fitted with low ground pressure tyres.
Southern farmers attending the demonstration were very interested in harvesting the crop. In doing this the farmers can feed it in measured quantities – either just the beets on their own, or beets mixed with another supplement like palm kernel.
Another advantage of harvesting the crop is that it allows a quick turn-around from crop to crop. Mechanical harvesting creates far less damage, meaning the paddock can be immediately sown into a winter crop. The advantages of this cannot be underestimated.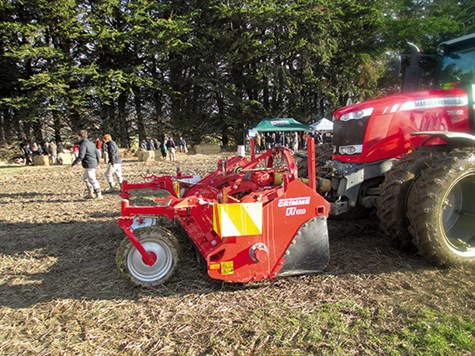 The Rootster 604 is a trailed harvester not unlike a potato harvester in principle: digging, cleaning and transferring the bulbs in one go.
It utilises hydraulically-driven Oppel Shares to lift the bulbs, which are then gently transferred through a series of cleaning units before being deposited into a bunker and onto an elevator for transfer to a following truck.
The Rootster has a working width of three metres, enabling it to pick up six rows at a time (at 50cm spacings) for an exceptional output. In a good crop it's possible to harvest at 6-7km/h and it only takes minutes to fill a 20-tonne truck.
Depth control of the shares is hydraulically adjustable, so when working in stony soils, the height of the shares can be lifted to avoid picking up stones.
Both in the dairy and the sheep and beef farming sectors in New Zealand there has been an ongoing trend towards decreased numbers of farms, together with increased average farm size and intensification of farming activities. These changes have led to a renewed interest in cropping to manipulate seasonal feed supply patterns with a view to enhancing profitability of pasture based systems.
One crop which is increasingly attracting attention in this context, especially in Southland at the present time, is fodder beet.
For the latest news and reviews of farm machinery, subscribe to Farm Trader magazine here.
Keep up to date in the industry by signing up to Farm Trader's free newsletter or liking us on Facebook