Grasslands and Muck event 2014
---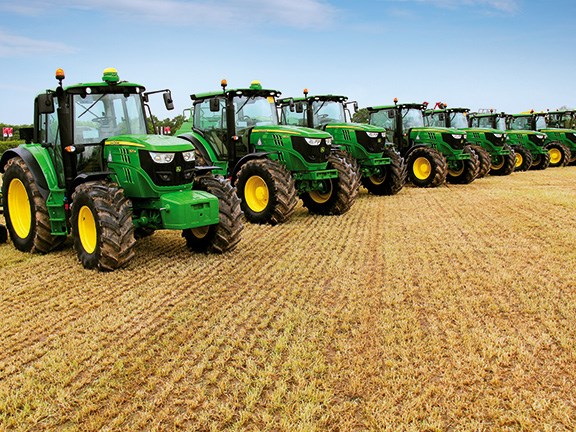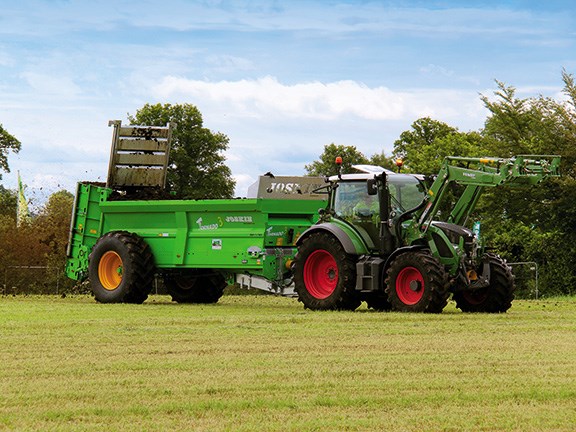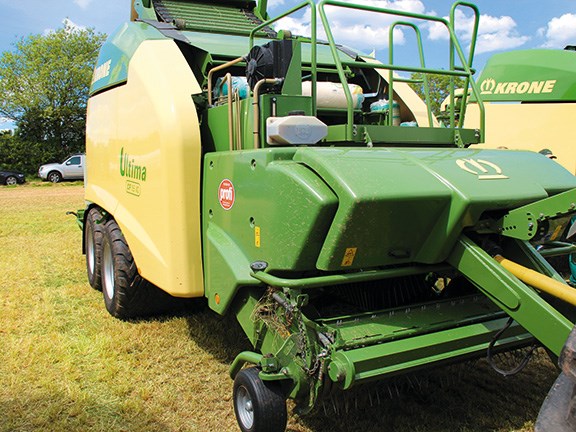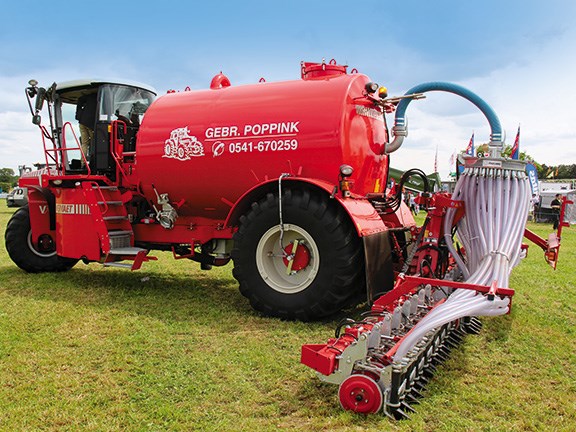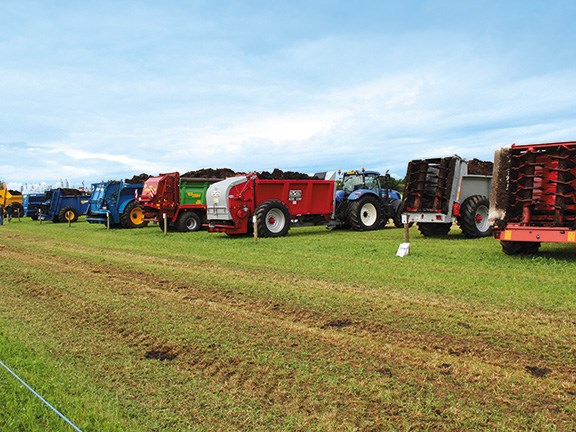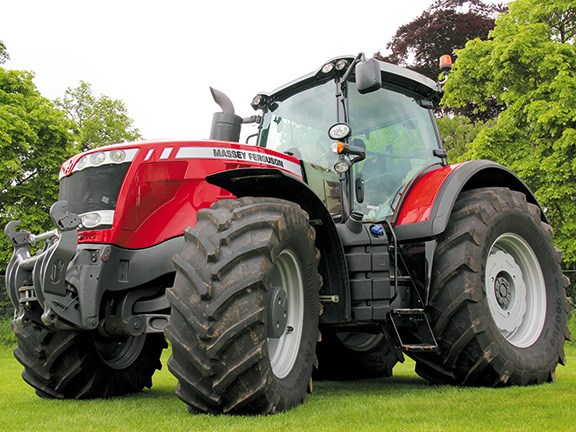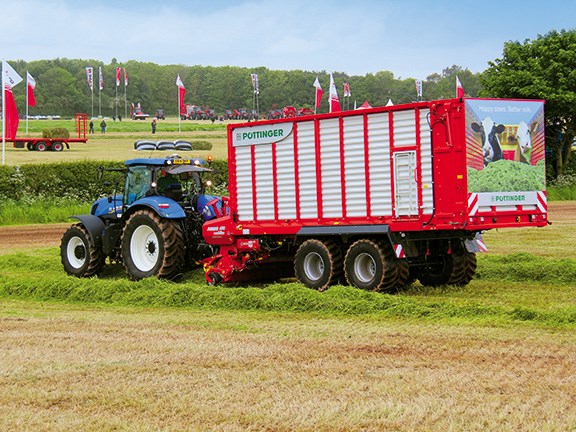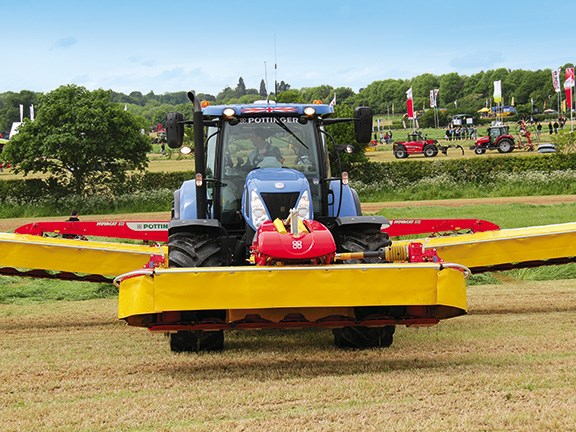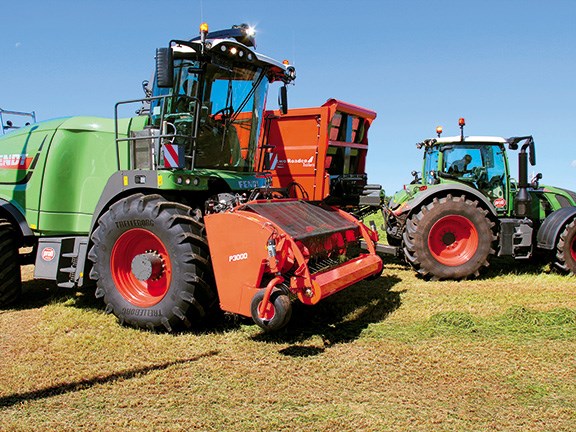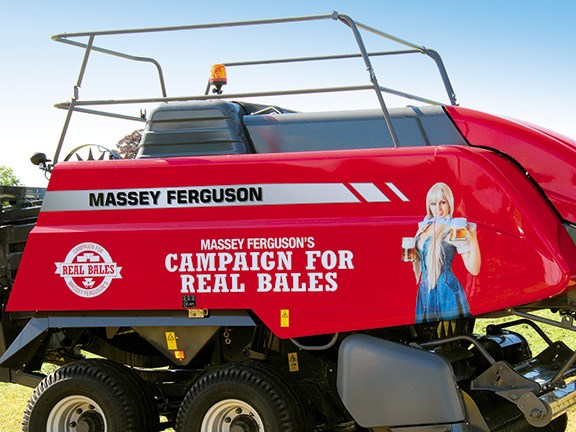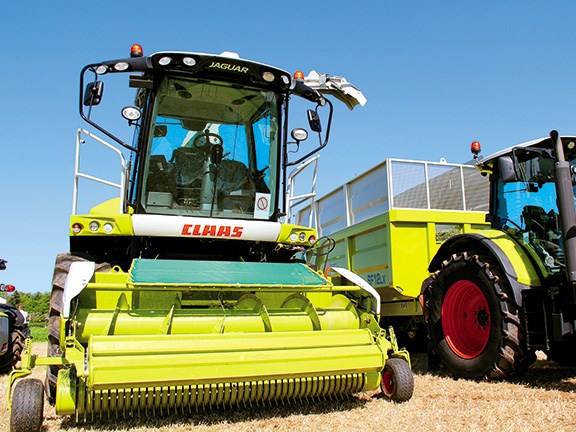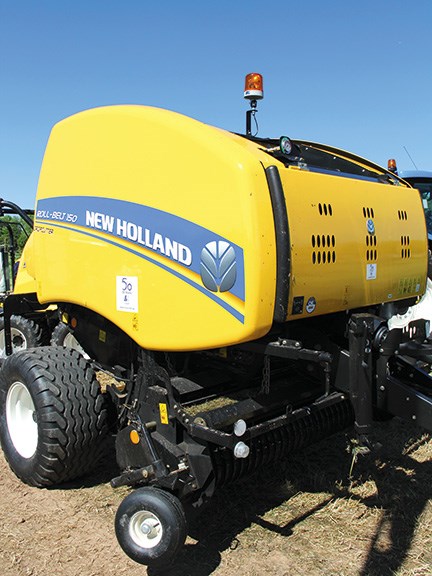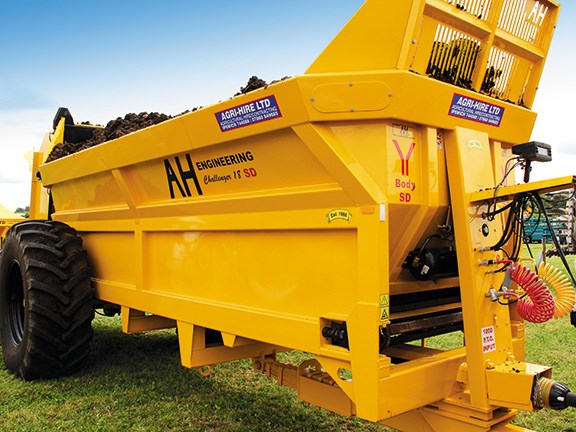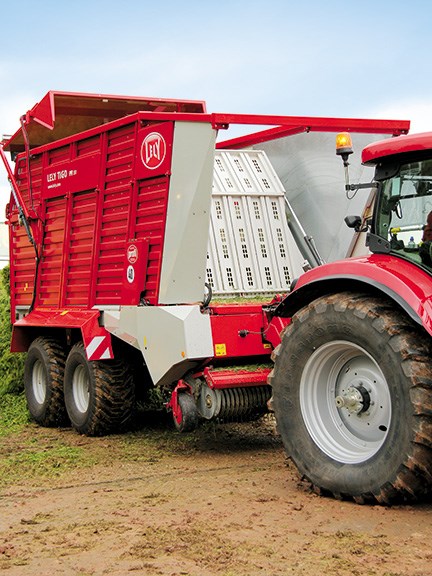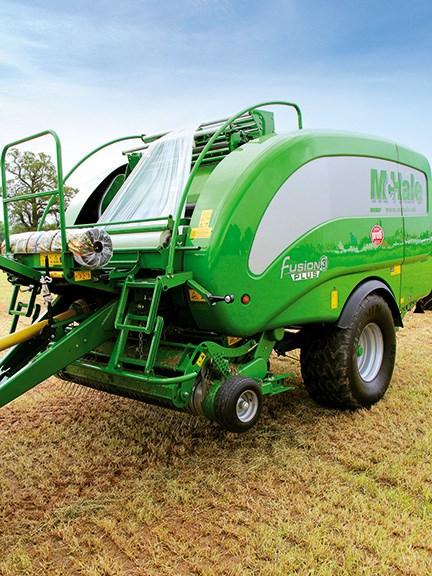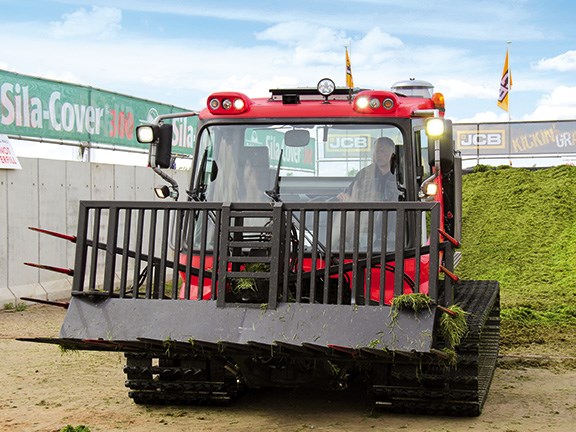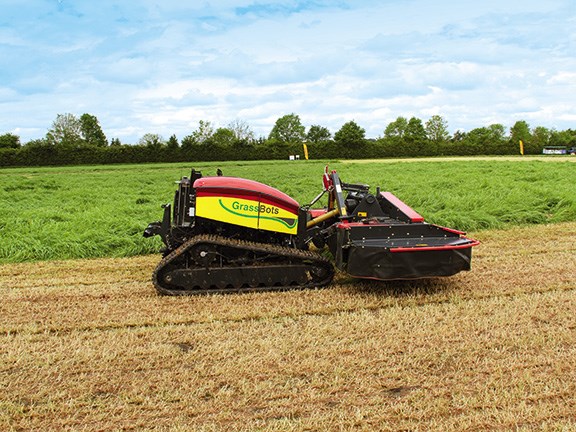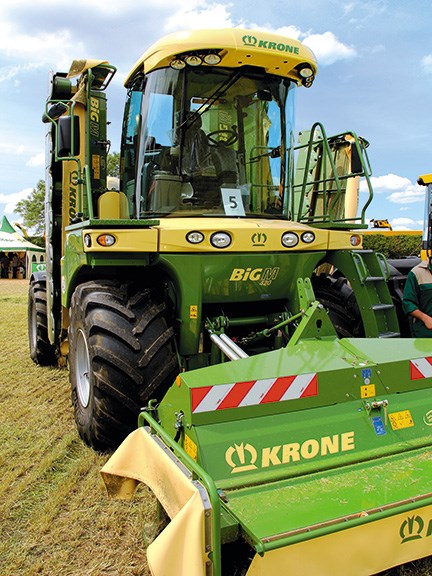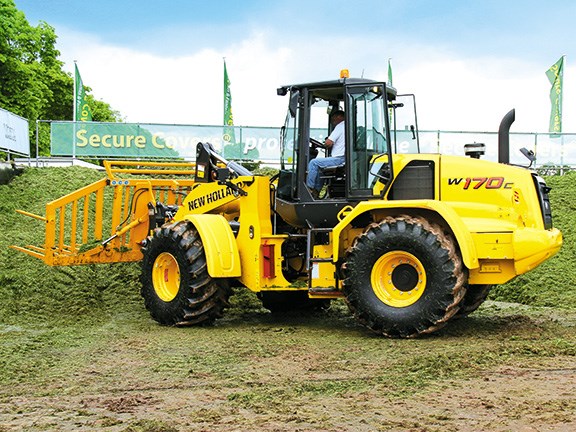 Coventry was in the first flushes of spring as we drove for two hours south from Manchester towards this year's Grasslands and Muck event.
We only noticed one tractor and absolutely no livestock whatsoever but grass, wheat and barley for as far as the eye could see. This was no different when we turned up to the event space itself, at Stoneleigh Park, Warwickshire, where 240 exhibitors spread millions of dollars worth of gear over 190 acres: every square inch of which was covered in grass as high as your thigh.
Grasslands and Muck is the leading industry event for grass, forage and muck management. It is hard to describe but thing I first noticed (apart from almost every bit of kit you could possibly imagine) was how the cut grass smelt funky, almost like compost, which could have something to do with the large amount of slurry and nitrogen applied, as this triennial event works on a three-year rotation between Grassland UK in Somerset, Grassland and Muck at Stoneleigh (where we were) and Scotgrass at Dumfries.
Particularly hard hit in recent years, Grassland and Muck 2011 went ahead but suffered from drought and short grass, while Grassland UK in 2012 was so wet that all working demos were cancelled. Scotgrass 2013 was also called off because of a lack of grass, so they were hoping (and were due for) a goodie - thankfully they got it.
Here are a few machine highlights we saw during our time at this year's event.
Claas
Claas had its new 800 series foragers on display, which are in a lower price and throughput bracket than their larger 900 series brothers: although they still look like very impressive machines. These choppers are fitted with the V-Classic drum but boast a vast majority of the technology benefits and operator comforts of the larger models.
Three new VOLTO tedders have been introduced – the 7, 8 and 900 models which all feature the unique 'Max Spread' crop flow concept. This works by having slightly angled tine arms (cranked by 29°) which a generates a 33 percent longer collection phase as the tines move the grass from the ground, increasing the space for the crop to pass through creating a wider more even spread.
McHale
McHale had its film-on-film technology on show with the Fusion 3 Plus, which can apply plastic to the barrel of the bale, instead of net wrap which holds the bale together during the bale transfer. Once the bale is transferred to the wrapper this plastic layer forms part of the wrapping layers and because the plastic can be stretched to approximately 20 percent, which is tighter than net, it ultimately results in tighter and better shaped bales which also means better quality.
It's no one trick pony either as the baler can also use net wrap, so baling hay for example you would revert to running net which is a simple process to change over.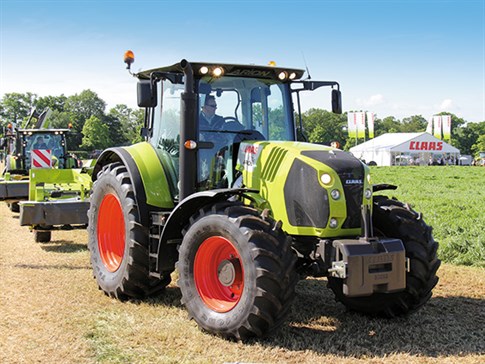 AGCO
AGCO had on show a full range of tractors and Massey Ferguson/Fella hay gear with a reverse steer Fendt 939 and Valtra N163 alongside an MF 7616 all equipped with buck racks for their time slot on the stack.
The main attraction however was the three large Fendt Katana 65 self propelled foragers. Powered by a 15.9-litre Mercedes Benz V8, the Katana has up to 653hp through the use of two power bands.
The massive side panels open via a neat parallel control linkage which means excellent accessibility and access to the engine, kernel processor, impeller fan and radiator.
The cab has been specifically designed for this machine and many Fendt tractor operators will feel at home with the armrest (including the monitor) taken straight out of a Fendt tractor, although the joystick is completely different.
And in typical Fendt style where they have just about thought of everything, you can even get the Katana fitted with rear axle suspension as an option... although likely this feature won't be seen in New Zealand anytime soon.
John Deere
John Deere had a full line up of gear on one of the largest single plots at the show, with the new R and M series tractors on show. They also had their new mowers and balers demonstrating, which included the 830 centre-pivot mower-conditioner which are available in working widths of 3 or 3.5m, the F440R fixed chamber round baler and C440R combination baler/wrapper.
You can choose from a 2m or 2.2m pick-up with the high capacity 'MaxiCut' HC rotor available with 13 or 25 knives. The 900 series variable chamber baler was also there with the curtain back door, which can produce bales quickly and that looked as good (even in long grass which has just been mown) as the fixed chamber machines which was impressive.
New Holland
New Holland had a big site with plenty to offer, from the tractors right through to the self propelled harvesters. But the most interesting machines were the new Roll-Belt round balers. The firm's existing BR7000 models are now superseded by two units — the RB 150, which offers bale diameters from 0.90m to 1.50m and the RB 180 which rolls a 0.90m to 1.80m bale. Both are said to provide 20 percent greater output and five percent higher density than the previous model.
Apart from the sleek new design which makes the baler look much better and also less bulky, the main reason for the increased capacity is in the crop feed which is now a similar design to the company's big square balers. Above the pick-up there is a crop press roller with a baffle plate. Two augers on either side draw material to the rotor, with a connecting shaft using paddles to even out crop flow. This is also reckoned to prevent back feeding of the crop at the rotor. Should the rotor get blocked, a drop floor rather than rotor reverser is now employed.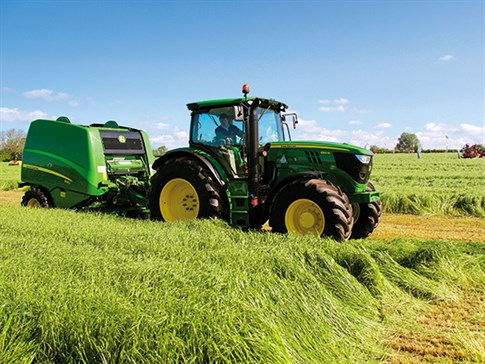 The bale chamber itself is made up of five rollers and four belts. All rollers are powered to ensure that the core is established quickly. Drivelines for the rollers and belts on the sides are particularly uncluttered and simple to service, courtesy of an auto-oiler and a bank of grease nipples.
At one of the silage stacks, the New Holland W170C model reckoned to be the equivalent of JCB's Farm Master 435S with a 195hp FPT engine (Stage IIIB, SCR, AdBlue), drives through a five-speed power shift transmission and weighs in at 14.5t. It looked like a good machine, although I still think the JCB was the more impressive machine on the silage stack.
Strautmann
Strautmann was turning a few heads with its biggest loader wagon ever to have been brought into the UK. The Terra Vitesse CFS 5201 has a capacity of 50m3 (DIN rating) and, running on a hydro-pneumatic tri-axle undercarriage, allows a gross vehicle weight of 34 tonnes. The Terra has the 2.1m CFS pickup with a 1.8m wide rotor packed with 50 knives and made short work of the stringy green grass where others struggled.
Another cool feature which helps with loading and unloading is the floor section, which is made from weather resistant plastic material and is said to have good gliding characteristics and low energy demands as a result. The Massey Ferguson 7626 (not sold in New Zealand) seemed to pull it easily enough in heavy-going wet conditions.
Pottinger
Another wagon that made short work of the wet material was the SuperLarge 2360 pick-up, fitted to the Jumbo loader wagons with integrated feed augers. These are said to maintain an even crop flow. Importantly the 2360 incorporates hydraulically-folding jockey wheels that rapidly reduce the wagon's overall transport width to 2.55m. I think this will be a popular option in New Zealand where the often ugly-shaped paddocks can mean curvy swaths to follow: the wide pickup will come into its own while the folding wheels won't hinder machine manoeuvrability.
Krone
Krone had a massive amount of kit at the show. The stand ran like a military training camp in order to get the Big M, then the triples, smaller mowers, tedders, single rotor, twin and four rotor rakes, balers (both round and square and combination wrappers) plus the chopper though at each demonstration interval.
The main highlights were the new choppers which are a very smart machine and have increased in sales dramatically on the back of the company's quest for 40 percent of the world chopper market.
The Krone's BiG Pack 1270HDP XC High-speed Multi-Bale releases into as many as nine smaller packs, which are much easier to handle after cutting the six main strings on the bale. In Multi-Bale mode, two knotters tie the small packs while three others tie the big bale, but it is also possible to disengage the system and make complete bales only.
The Ultima combination baler/wrapper was also on show. This allows nonstop baling as a separate conveyer/chamber holds the grass while the net is being applied and the bale ejected from the chamber. Once the door is closed this crop is fired into the chamber to quickly start the next bale, while the tractor has not stopped. I was very interested to see this machine and it worked well.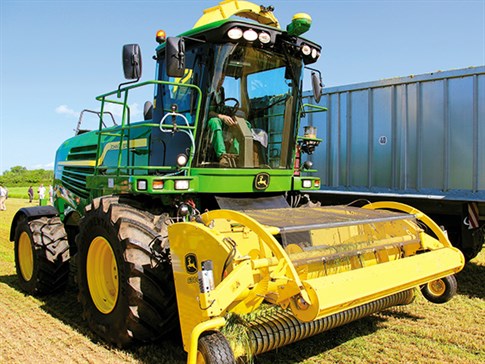 Lely
The Tigo XR series wagon was possibly the most interesting idea I found at the event. Lely has developed a moving bulk head so the machine can be used both as a loader wagon and as a silage trailer.
Now, this is nothing new as most modern wagons have a folding front flap to make opening up behind the chopper easier. However the Lely has an innovative hydraulically-adjustable bulkhead which allows additional loading space above the feed unit. This means increased load volume but a shorter wagon. The bulk head is tipped forward in a few steps to create an extra loading space of 6m3 above the chopping unit.
Due to this extra space, the loader wagon can be 1m shorter additionally with much better weight distribution. During forage harvesting, the bulk head is always tipped forward so that the operator and the chopper driver has a good view of what is going on in the wagon.
With up to 54 m3 (DIN), 31 ton max weight and 37mm chopping length these things look like the business.
JCB
JCB put a lot of emphasis on the silage pit and both the 435S-agri alongside its little brother the 418S (which will be arriving in New Zealand) did a very good job on the stack.
JCB also had its Fastrac 3000 series tractors (3200 with 200hp and 3230 with 230hp) which have a tier 4 final engine (more strict than the tier 4i), a low idle speed of 650rpm and were also equipped with yellow wheel rims... which I have to say I'm not so sure I liked.
Other gear worth mentioning
There was Irish gear and plenty of it on display. If you thought there was a heap coming into New Zealand now, we are only just scratching the surface.
Malone was the pick of the bunch for me: they make mowers and midsized loader wagons (with the biggest 36.5m3) which I thought looked very well made, had all the mod-cons you would expect and did an as good, if not better, job of picking up the wet grass than some of the bigger mainstream player gear.
The muck side of the venue saw more solid muck spreaders and umbilical systems than you could shake a stick at. Honestly I've never seen so many hoses, reelers, pumps and tractor-mounted dribble bars in my entire life.
Tow and Fert New Zealand's own liquid fertiliser sprayers with on-board mixing made its debut at the show as it is now being imported into the UK.
Pisten-Bully snow mobiles, which are distributed by Greentech, are being pushed for use on silage pits with two models being imported into the UK. Customers have the choice of either 330hp or 430hp machines with a 12-point pivoting front buck rake with a total machine weight of 11t and a claimed 11-14L/hr fuel usage.
Compaction is claimed to be better as the vibration of the tracks help compact the silage. Given the demonstration at the show, I have to agree it did do equally as well as the JCB 435S in the compaction department. Potential down-sides? The 20km/h road speed, and the $180-$240k (NZD) for a six year-old 6000hr refurbished unit (plus shipping): a price tag which will no doubt push the boat out a little too far for the masses.
The verdict
In all it was a very well organised and enjoyable event. Same old story though: you never really get a chance to have a good gander at everything, although over the two days I thought we gave it a pretty good nudge.
Hopefully the pictures do Grasslands and Muck 2014 justice. If you ever get a chance to go over to the UK and attend, I would definitely recommend it... although pack your wet weather gear, because you know what UK weather can be like.
For the latest reviews of farm machinery, subscribe to Farm Trader magazine here.
Keep up to date in the industry by signing up to Farm Trader's free newsletter or liking us on Facebook