Latest farm machinery revealed at SIMA 2015
---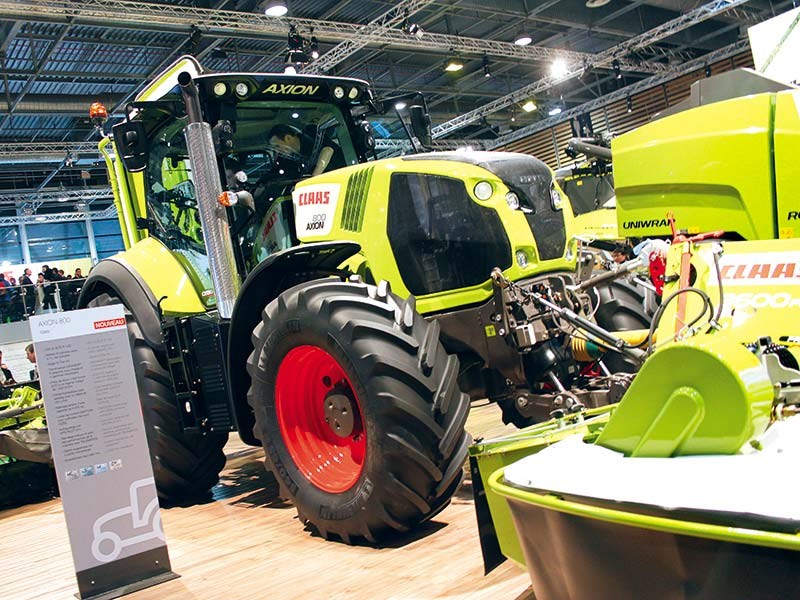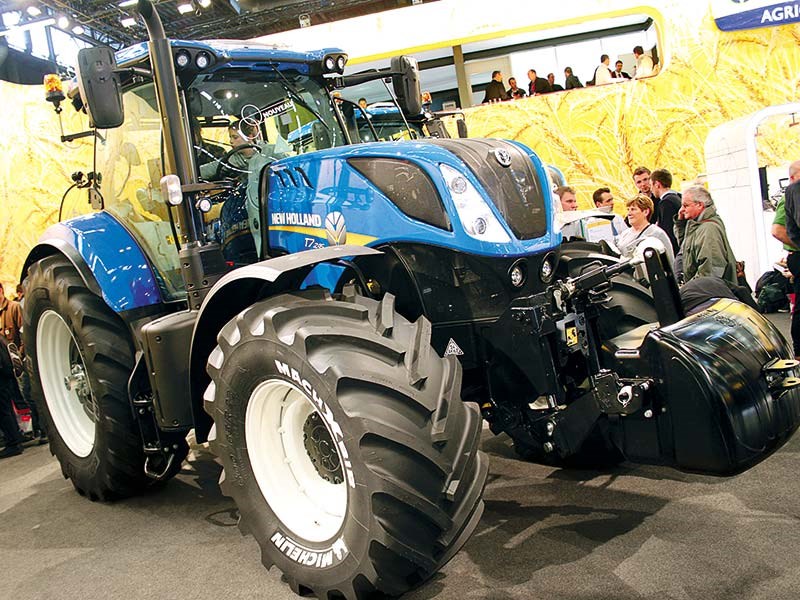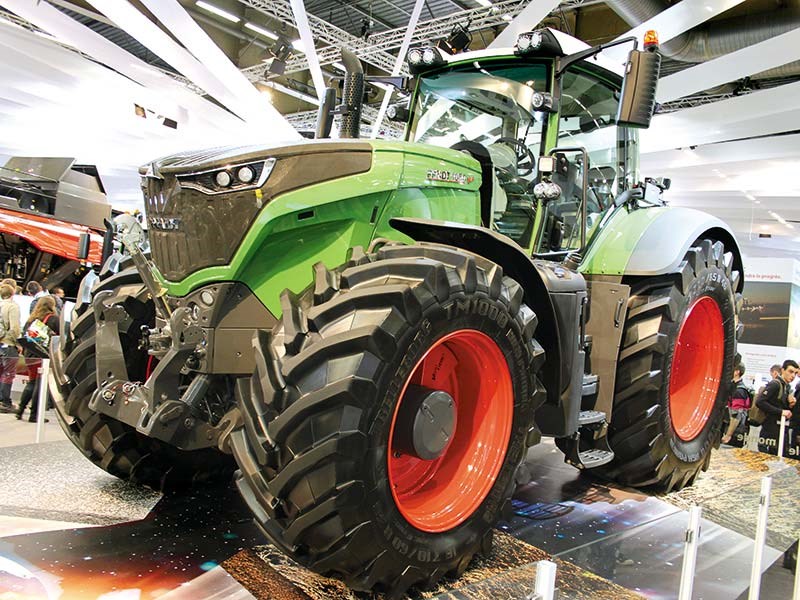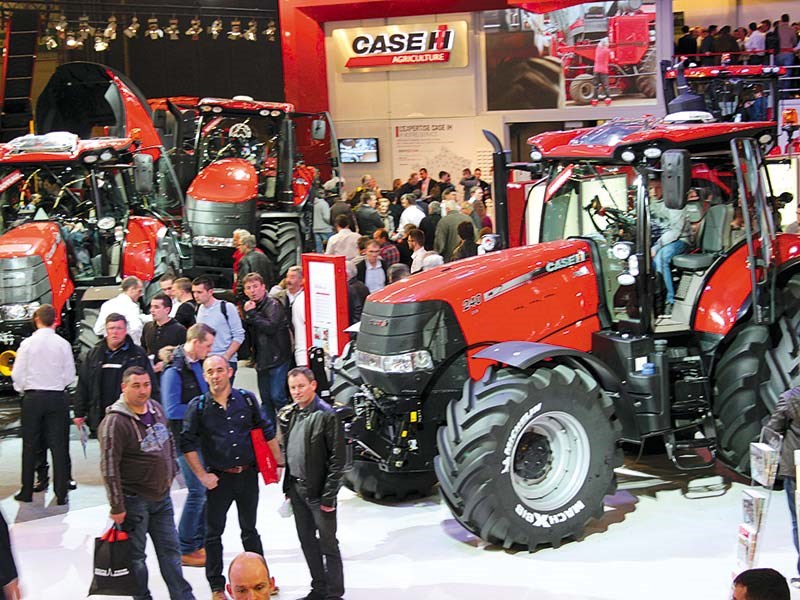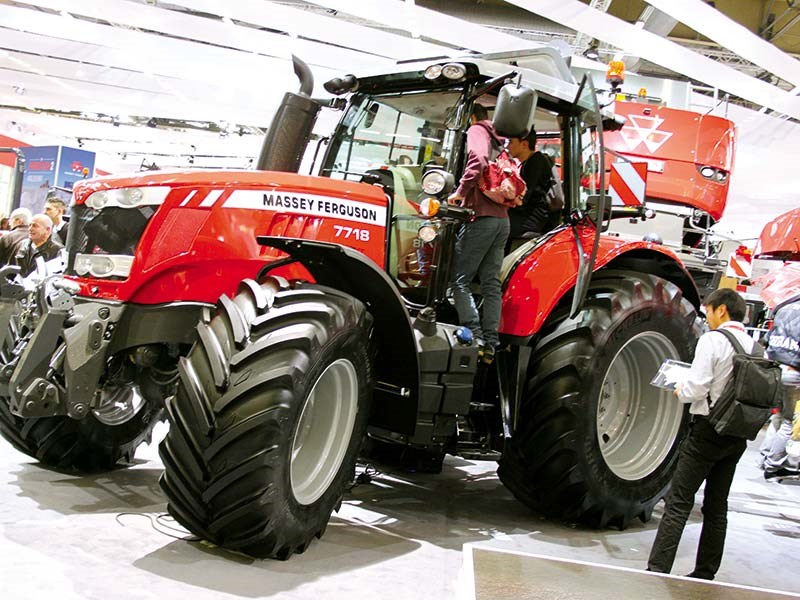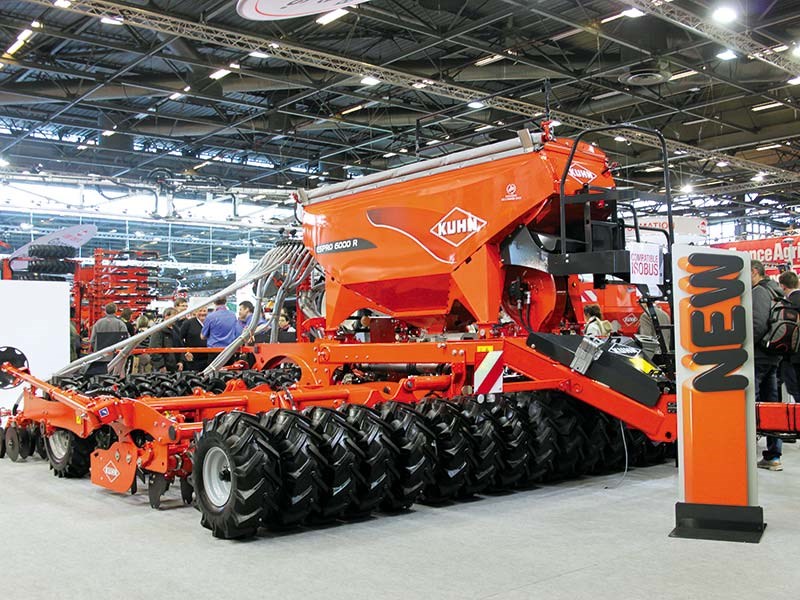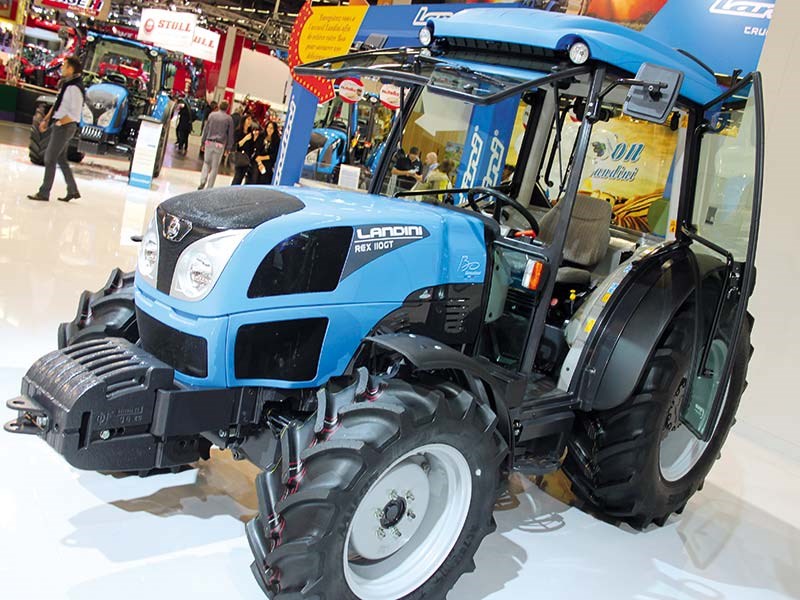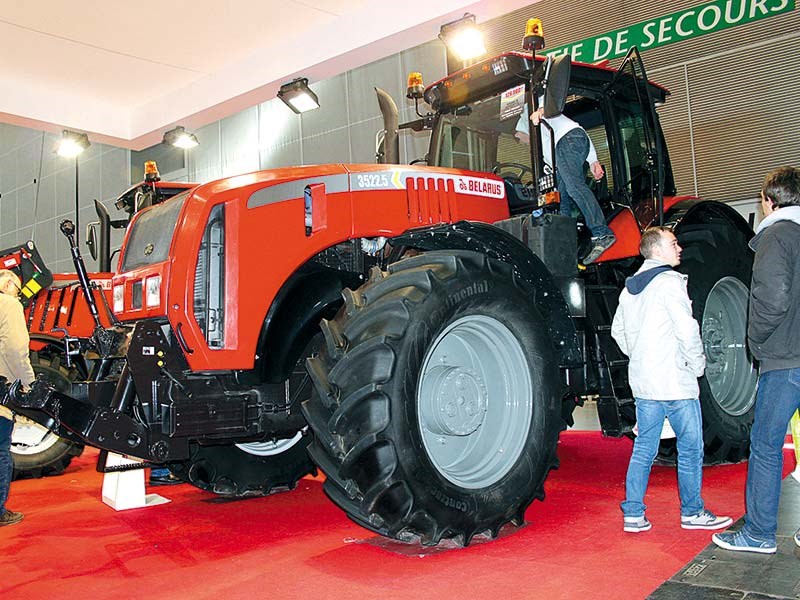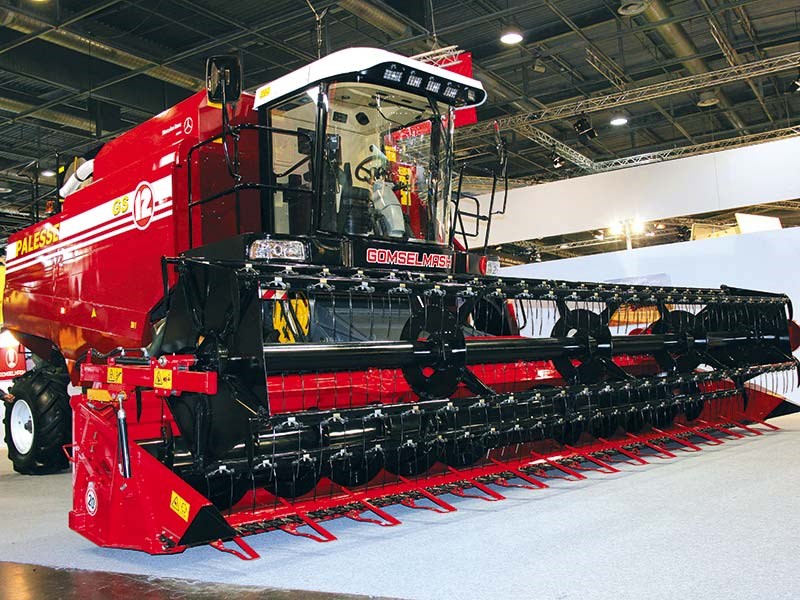 One of the world's largest farm machinery shows, the French SIMA (Salon International du Machinisme Agricole) exhibition, held in late February close to Paris, was the launchpad for numerous new developments.
This year's SIMA international agricultural equipment show played host to 238,848 visitors who were able to browse the products of more than 1700 companies from 42 countries. Their stands collectively covered 27ha, and many had something new to show, with more than 600 major product launches.
Fendt 1050
Arguably one of the major show stoppers, and making its international show debut following a press launch late last year, was Fendt's massive 1050 tractor, which at 500hp lays a pretty undisputable claim to be the largest conventional tractor available.
It's actually the head of a three-model line which also comprises 380hp, 420hp and 460hp models – the first two power digits equate to the last two model numbers. Engine is a six-cylinder, 12.4-litre unit from German truck maker MAN, while transmission is a development of Fendt's familiar Vario CVT.
Fendt argues that a conventional tractor design is lighter, more manoeuvrable and offers better visibility that the more usual articulated and/or tracked machines that otherwise occupy this power bracket. Unladen weight is 14t, and maximum road speed 40, 50 or 60km/hr, depending on market.
Case IH Puma
Case IH's Puma range gets a revamp for this season, centred around the need to meet the next stage of US and European emissions legislation. The revised line comprises seven models from 150 to 240hp (rated) from a 6.7-litre FPT Industrial engine. A power boost feature tweaks max output for transport and PTO work, taking the range-topping Puma 240 to 270hp, with maximum torque rating of 1160Nm between 1400 and 1600rpm.
In the cab, the windscreen glass is now seamless from floor to ceiling, while a second generation headland management control (HMC) system allows more parameters to be set from more triggers. The AFS 700 terminal also gets several updates, including a new remote valve configuration and ISOBUS III functionality which, depending on the implement, will automatically control forward speed, hitch, electronic remote valves and PTO. 
McCormick & Landini
ARGO sister makes McCormick and Landini shared a stand at SIMA, and both had new tractors on show. Revised cabbed and non-cab Rex models from the blue brand, available in F, GE and GT variants for narrow, low and standard orchard applications, get refreshed cab and front end styling for better vision, servicing and comfort. Power still comes from three- or four-cylinder Perkins engines with maximum power ratings ranging from 68-110hp.
Two transmissions are available: a basic three range/five speed and an optional Powerfive which has an additional electro-hydraulic splitter to double the number of available speeds to 30 forwards and 30 reverse, while an extra ten-speed creeper can be added. A declutch button on the shuttle lever eliminates the need to use the foot pedal when changing main gears.
McCormick unveiled a new 140hp (max) addition to its X6 line, the X6.440, which should be available later this year alongside the recently-launched X6.420 and X6.430 models. Equipped with 36F/12R transmissions with three-speed powershift, they are powered by 4.5-litre FPT Industrial engines.
Standard versions feature a 104-litre/min dual gear hydraulic pump, while 'LS' variants have instead a 110 litres per min load-sensing piston pump, larger diameter 38-inch rear wheels and tyres, plus optional front axle suspension and 50kph top travel speed. Both can have mechanical cab suspension.
Smarttrax
Following the unveiling at Italy's EIMA show last year of the Rowtrac track option for the rear axle of the largest models in Case IH's Magnum tractor range, CNH stablemate revealed that it will also offer a system, labelled Smarttrax, for its top-end T8 models. Available belt widths are 16, 18, 24 and 30 inches, while the tracks can be spaced at 76 to 152 inches. Ground contact is increased by up to 65 percent compared with an equivalent wheeled model.
The tracks are an integral fitment with the tractors, which have a number of features different to their wheeled equivalents, including altered rear gearing. Front axles are fitted as standard with Terraglide suspension. Maximum power outputs according to model are now from 320-435hp.
Meanwhile, New Holland's T7 tractors now benefit from many of the same improvements given to the Case IH Pumas, included better worklights, improved seating, restyled bonnets and control terminal revisions. 
New Holland
New Holland also revealed that it is to start offering more of its 'compact' construction equipment through its ag dealers, on the basis that many of the machines are suited to farm use. These include skid-steer loaders, mini excavators and wheeled loaders, complementing the existing blue telehandler line.
Massey Ferguson
Massey Ferguson is replacing its 7600 tractor line with new 7700 machines. Comprising eight models from 165-240hp (max), the engines remain the same 6.6- and 7.4-litre AGCOPower (Sisu) units, albeit tweaked to meet the latest European emissions legislation.
Key difference is that the power boost for transport and PTO work – what MF terms Engine Power Management – is now available regardless of transmission type, whether four- or six-speed powershift (Dyna-4/6) or CVT (Dyna-VT). In the cab, there are improvements to a number of instruments and the dash display, while up front is a new front-axle suspension system.
Claas
Claas has extended its Axion range downwards with the addition of two new models slotting above and below the existing Axion 810 entry-level model. With the two new 194hp (205hp max) 800 and 215hp (225hp max) 820 models, the Axion line now comprises six tractors from 205-264hp, available with either Hexashift powershift or CMatic continuously variable transmissions, and either CIS or CEBIS cab controls.
CIS is the basic version with mechanical control units and the Claas information system, while CEBIS (Claas electronic on-board information system) tractors are equipped with electronic spool valves and the CEBIS terminal integrated in the armrest, complete with headland and implement management functions.
Other developments
As usual, there was also an array of other prototype and unusual machines on show. Case IH, for example, took the opportunity to display one of its latest Brazilian-made Austoft sugar cane harvesters. While sugar cane isn't a crop grown in Europe's temperate climate, the machines are also suited to harvesting short rotation coppice, chopping tall, spindly tree growth into short lengths for burning as biomass.
Belarussian tractor maker Belarus revealed a revised 355hp conventional tractor flagship featuring the latest Deutz engine technology, while compatriot Gomselmash, which is looking for new markets outside of the old Eastern Bloc countries, brought along one of its Palesse GS12 five-walker combines.
Czech tyre maker Mitas showed a large rear tractor tyre version of its PneuTrac tyre/track hybrid, although suggested that production is still some way off, while Kubota displayed a broad line of reliveried grass and tillage implements from its acquisition of Kverneland.
Other implement developments included the first round baler from German bale wrapper specialist Goweil, and a new Espro disc drill from Kuhn, with scalloped discs, large packer wheels and single disc coulters.
For the latest farm machinery reviews, subscribe to Farm Trader magazine here.
Keep up to date in the industry by signing up to Farm Trader's free newsletter or liking us on Facebook