Fieldays 2015 is coming...
---
With Fieldays premier feature theme being Growing Our Capability in Agribusiness, be prepared for a new and improved event when it opens its gates at 8am on Wednesday 10 June 2015 at Mystery Creek, Waikato.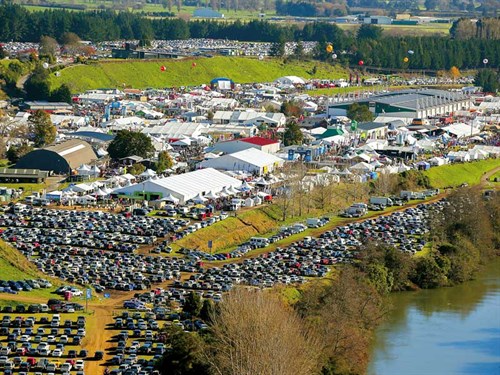 The iconic lake has disappeared, the Tractor Pull is sitting riverside, there's a Central Precinct, a new Innovations marquee and a fair few more sites around the place.
Fieldays' home, Mystery Creek Events Centre, has completed the second stage of its Masterplan – the 15- to 20-year site development strategy aimed at increasing the venue's functionality, aesthetics and capability for visitors and exhibitors alike.
The fill-in of both the lake in front of the Mystery Creek Pavilion and the Tractor Pull area has seen approximately 101,000m3 of dirt, sand and clay moved since February this year, with a new lake built in the Lion Park near the University of Waikato Arch. Roads have been aligned and extended to allow visitors better navigation during Fieldays.
As Fieldays collaborates with the wider primary sector, the Central Precinct has been introduced in the former lake location to offer visitors a better cross-section of industry and exhibitors an increased opportunity to engage.
Another initiative Fieldays introduces this year is the Fieldays Innovation Accelerator, beside the Innovations Centre. Innovation Accelerator features ten invited companies that have previously entered the Fieldays Innovation Awards and found success. Now with their commercially-ready product, these companies are looking for investment connections and greater exposure to the industry. Raglan-based drone company Aeronavics, and teen superstar Ayla Hutchinson's Kindling Cracker are just a couple success stories visitors will be able to see in Innovation Accelerator.
As always, Fieldays sub-events, such as Rural Bachelor of the Year, Ag Art Wear and Kiwi's Best Kitchen will draw large crowds as each has had a successful 12 months. Rural Bachelor entries have closed with a record number of applications. Visitors can look forward to two Australians and six top Kiwi blokes battling it out for fame, fortune and love in competitions of skill, charisma and cunning.
Ag Art Wear contestants have increased by over 50 percent this year and extra shows have been added to the Fieldays Theatre timetable. Four Waikato high schools have incorporated the competition into their school projects and Wintec students will be providing all hair and makeup for the runway shows. Judging this year's event are Robyn Brooks of Ooby Ryn, who will show her collections on the catwalk also, and Adrian Worsley of Historic Creations.
For the latest farm machinery reviews, subscribe to Farm Trader magazine here.
Keep up to date in the industry by signing up to Farm Trader's free newsletter or liking us on Facebook