EIMA show in Italy
---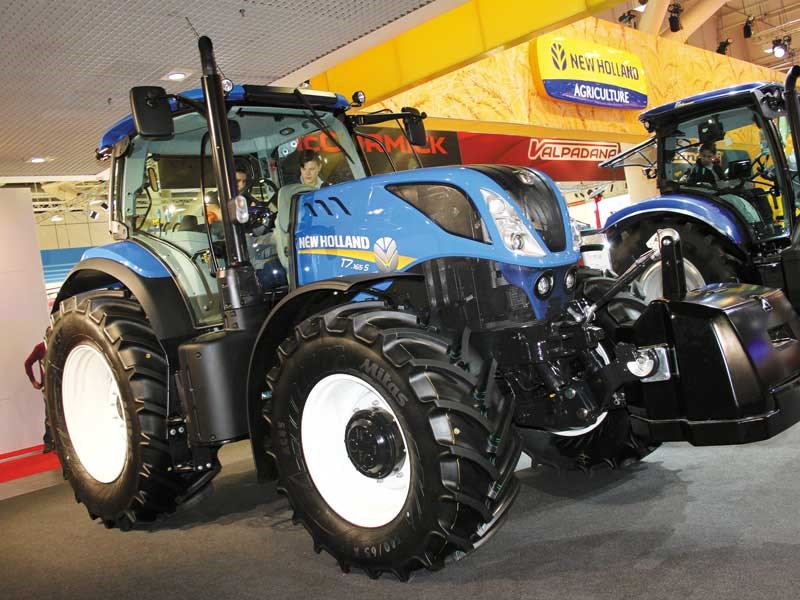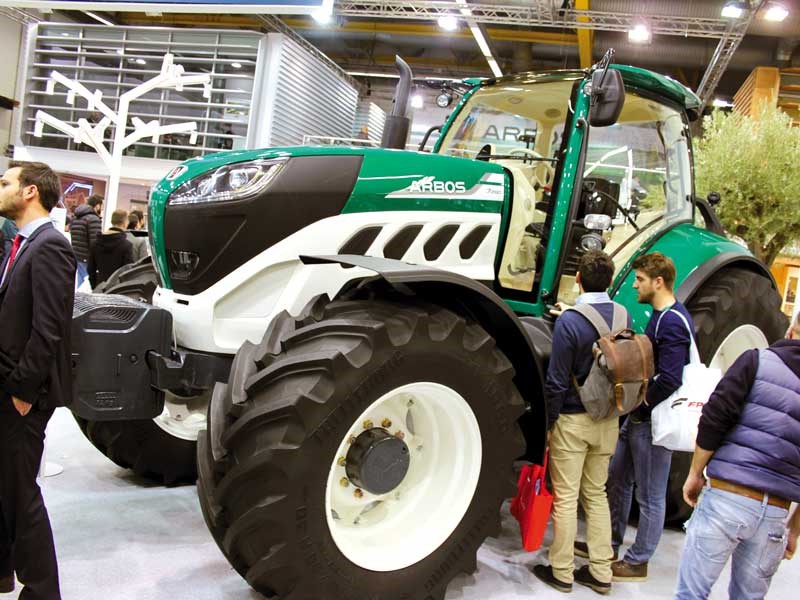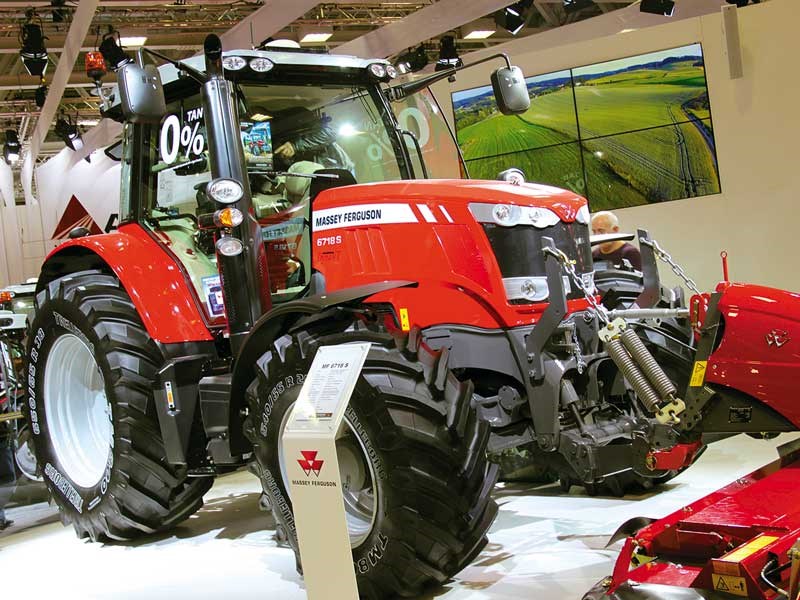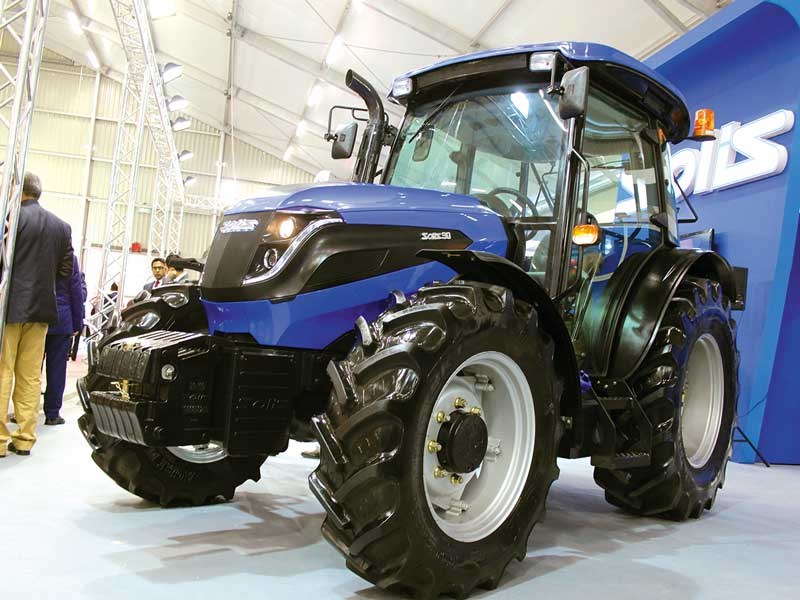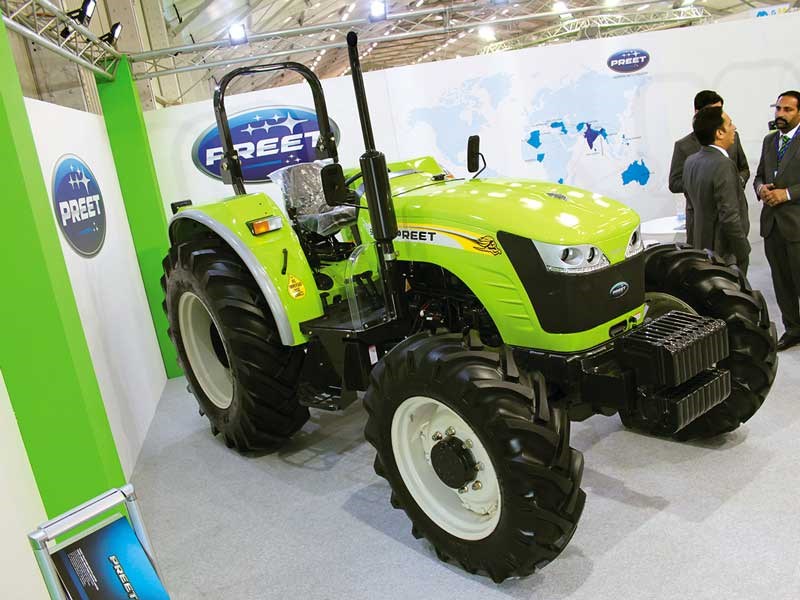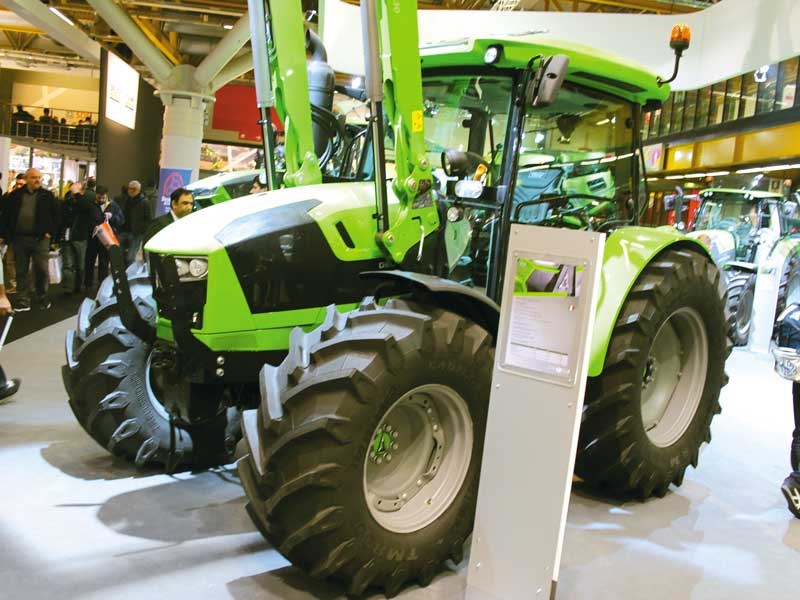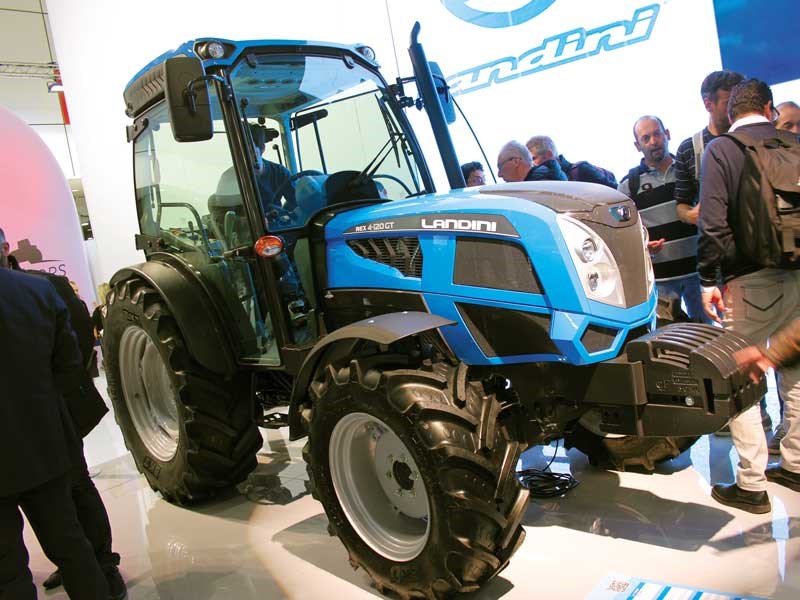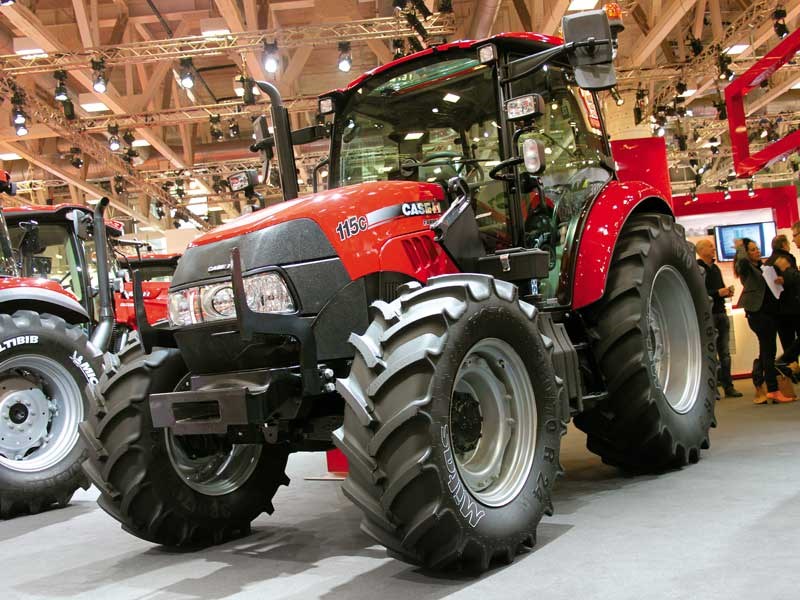 One of the three big farm machinery shows in Europe, Farm trader checks out the Italian international farm machinery show EIMA
The larger 85–115hp models in Case IH's Farmall C range have been revised for 2017 with updates including the introduction of a version of its multi-controller concept. Using a simpler design found on larger Case IH tractors, it comprises a right-hand console-mounted gear lever that selects the four main gears and incorporates a series of buttons controlling forward/reverse shuttle, two-speed powershift, powerclutch button, and linkage raise/lower operation. Powershuttle response can be adjusted to one of the three levels according to the work in hand, while a further button on the rear of the lever allows operation of the linkage buttons to be diverted to the rear, or where fitted, the front linkage. A new constant engine rpm feature makes it possible to set and store two engine speeds. Other new features include 540/540E/1000rpm PTO, optional second assister ram to increase lift capacity from 3700kg to 4400kg, and a 'loader-ready' option.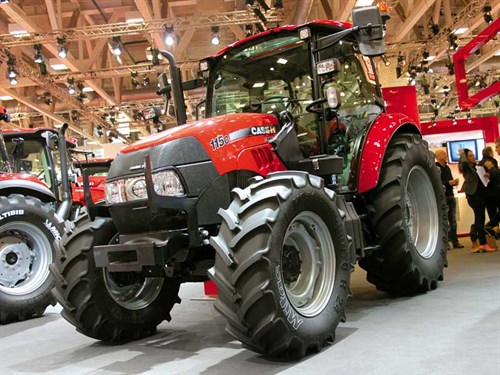 Landini has a new line of 70–111hp Rex tractors, aimed at the livestock and specialist crop farmer market as well as fruit growers. All powered by Stage 4 Deutz four-cylinder/2.9-litre engines, the tractors are available in 2wd or 4wd and feature a new four-speed/three-range transmission with mechanical or hydraulic reverse shuttle, two- or three-speed powershift, and creep options. Hydraulic packages comprise 55 + 30 litre/min double pump (60 + 30 litre/min in GT versions) or 25 + 55 + 30 litre/min triple pump for cabbed models. Cab tractors for fruit spraying can be equipped with Class 4 filtration, providing pressurised operator protection sufficient to filter out spray mist.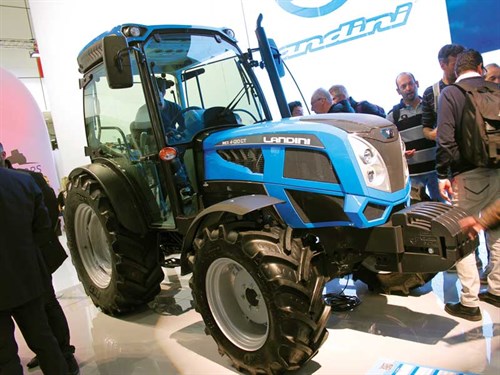 With its new five series models, Deutz-Fahr has now revised all of its mainstream tractor ranges to meet Stage 4 emissions regulations. Aside from emissions tweaks that includes using a DOC and SCR to help produce an average five percent more power, gear selection has been improved by incorporating a new Bowden cable design claimed to make for smoother shifting. These two upgrades combine to create claimed reductions of up to 40 percent in both in-cab noise and vibration. Other enhancements for the three 110–126hp models include uprated 'Hydro Silent-Block' cab suspension, a new suspended front axle design, and new lighting all-round. Meanwhile, production of the three-model 295–336hp (max) Deutz-Fahr 9 series tractors is now underway at SDF's recently-extended factory in Lauingen, Germany, and production versions of the up to 440hp 11 series tractors first shown in prototype form at Agritechnica 2015 will receive their full launch at the November 2017 edition of the same show.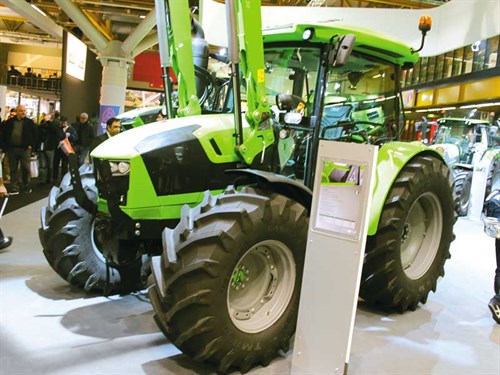 Indian tractor makers seeking a slice of the sub-100hp sector were out in force at EIMA, with some already well established in Europe and other western markets, while others are still seeking to make inroads into world markets. Some are testing the water by focusing initially on ensuring one or two models in their ranges are suitable for sale outside Asia, with emissions regulation-compliant engines and sound and safety levels that meet western standards. Manufacturing combines since 1985 and tractors since 2002, Delhi-based Preet offers a line of the latter spanning 35–90hp and including 2wd and 4wd versions plus cabbed and open-station variants. On 4wd models, transmissions and axles are from Carraro, while engines are from Preet's own design and engineering departments. The firm recently entered the conventional baler market and has further projects in the pipeline, including a backhoe loader.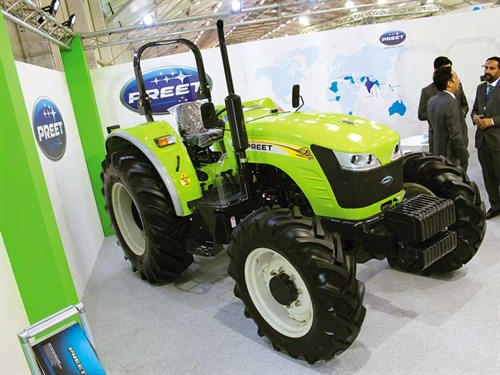 As a country with a strong market for simple, low-cost models that suit cropping farms in the dry climate of the south as well as tougher livestock and arable work in the (relatively) wetter north, Italy has a number of low-cost manufacturers serving its tractor market. Indian maker Sonalika, which sells its machines outside of India under the Solis brand, showed off the largest tractor it has yet produced – a 90hp machine powered by Sonalika's four-cylinder engine, meeting the latest Stage 4 emissions rules primarily through the use of DEF/AdBlue. The new machine also introduces revised styling and accommodation, which are likely to be seen on future updated Solis models. Lift capacity is 4,400kg and there is a 540/540E rpm PTO.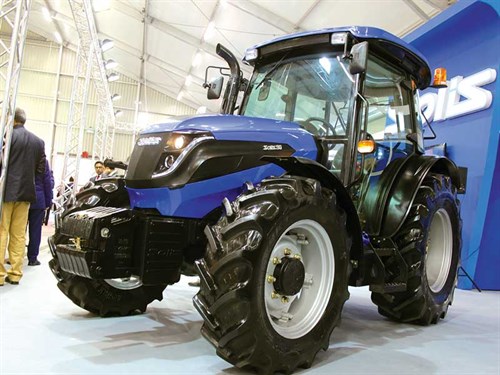 Massey Ferguson's new 6700 S range is headed by what's claimed to be the industry's first 200hp four-cylinder tractor. That's the maximum output with engine power management (PTO/transport boost) on the 6718S, which is the flagship of a six-strong range, all powered by a 4.9-litre, four-cylinder AGCO Power engine. The 6718 S develops maximum power at 2000rpm and maximum torque at 1500rpm. A new active mechanical cab suspension is claimed to enhance operator comfort, while rear linkage capacity rises by one tonne to 9600kg on Dyna-VT models. Wheelbase is 2.67m and turning radius 4.75m. Meanwhile, MF also used EIMA to unveil a new line of TH telehandlers, powered by Doosan engines.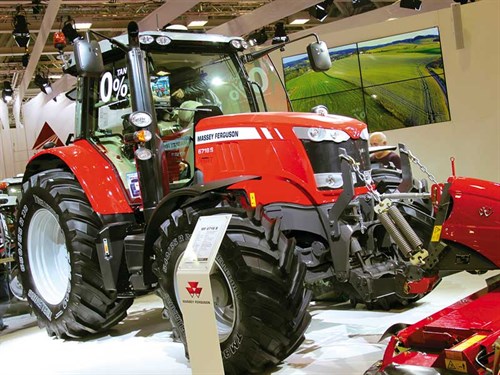 Following its launch at last year's Agritechnica, EIMA marked a big expansion in the product offering shown by newly founded Chinese-owned/Italian-based manufacturer Arbos. The company's parent, Chinese firm Lovol, has added to the 100–260hp at last year's Agritechnica. Lovol has purchased Italian compact tractor maker Goldoni and has integrated some of its machines into the base of the Arbos tractor line. Larger Arbos agricultural tractors are to be made at the former Goldoni factory. The new firm also used EIMA to reveal 'full-liner' plans, showing re-liveried precision drills, sprayers, twin-disc fertiliser spreaders, and min/no-till drills from sister firm Matermacc, which is also owned by Lovol. There is no news yet, though, of its planned combine range. While its initial market focus is on Italy, where the revived brand name was formerly used by a now defunct combine maker, and on production for China, Arbos has plans to create subsidiaries or appoint importers across the world, although there is no news yet on New Zealand plans.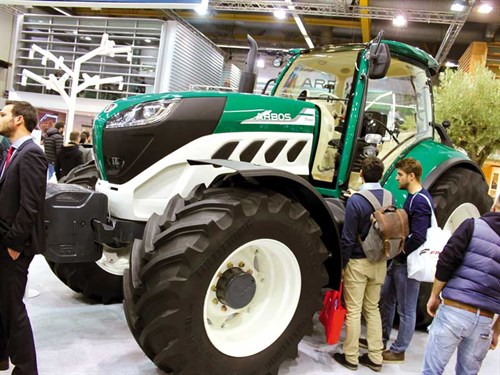 New Holland also used EIMA to unveil an 'S' tractor, its new T7.165 S being a stripped-down economy version of the standard model, equipped with the entry-level Range Command semi-powershift transmission, simpler seating and a basic worklight package. New Holland's stand, meanwhile, was replete with a number of Kongskilde tillage and grass implements, following the recent purchase of the equipment firm by CNH Industrial. At a press conference, it was revealed that the Kongskilde brand and dealer arrangements will continue for the foreseeable future, but New Holland will also benefit from reliveried implements being added to its line.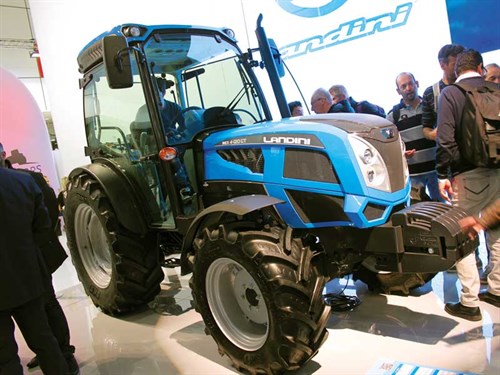 Keep up to date in the industry by signing up to Farm Trader's free newsletter or liking us on Facebook