SIMA exhibition 2017
---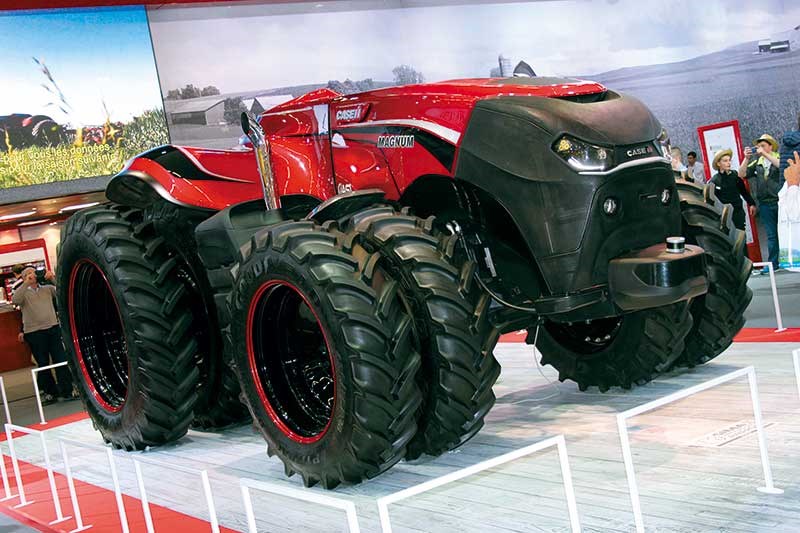 Case IH Autonomous Concept Vehicle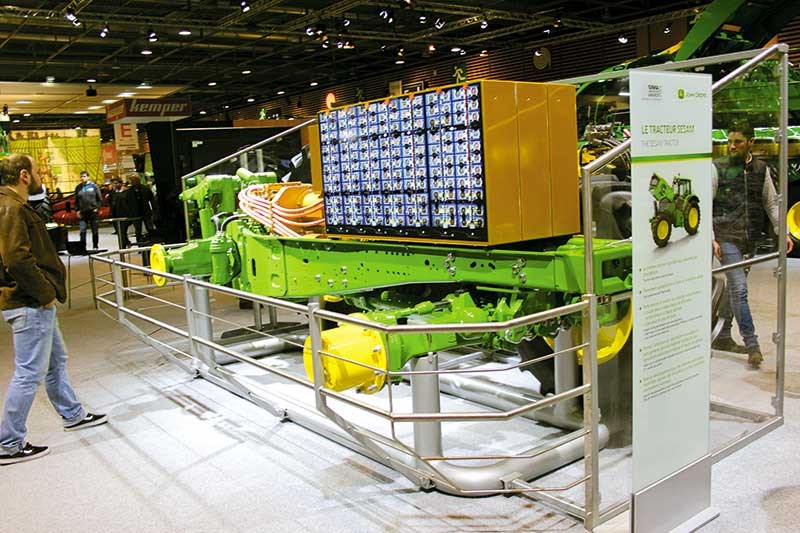 Massey Ferguson Hydraulic Top Link Control System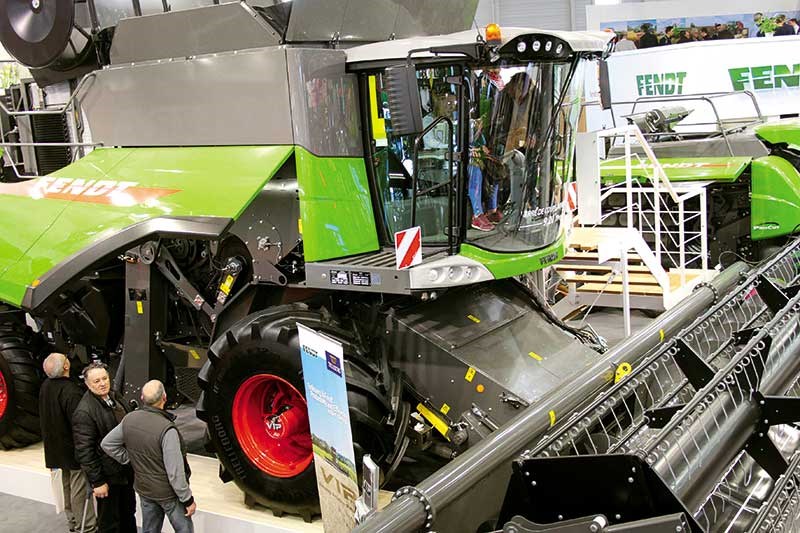 Massey Ferguson Hydraulic Top Link Control System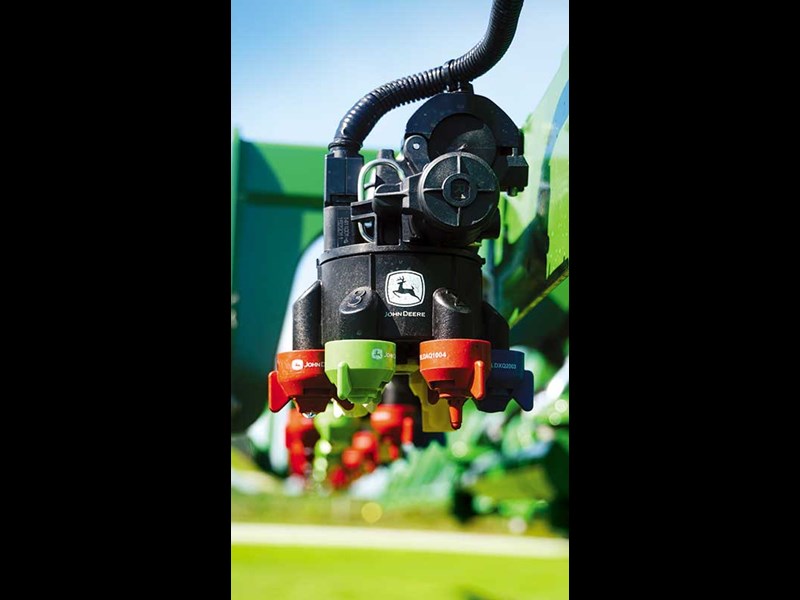 John Deere ExactApply
The European SIMA show talks new and innovative ways to shape the farm industry in the future
From greater precision in crop protection and product application to real-time weather data that helps aid agronomy decisions, a number of new technology concepts look likely to shape the way crops will be cared for in the future, if the awards for new concepts presented at the SIMA show in Paris are anything to go by.
While the glitz and glamour of new equipment launches at international farm shows can sometimes hide little more than some fancy styling and a few new lights, the awards schemes associated with such events often provide a valuable inside into what's around the corner from the world's machinery manufacturers.
This year's SIMA Innovation Awards was no exception. While the ability to operate wider equipment reduces passes, the impact of higher capacity but heavier equipment on soils continues to cause concern for farmers and advisers, whether the land is under a conventional, minimum, or no-tillage establishment system.
New tractor technology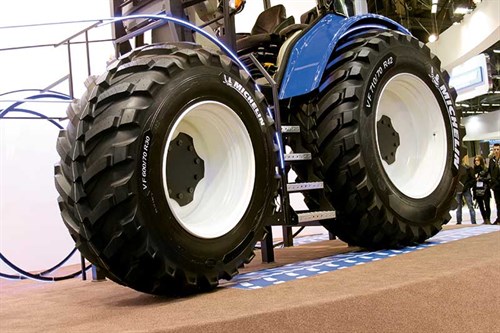 A move towards tracked tractors has proved to provide only a partial answer, with headland smearing when turning being one downside.
To this end, two systems at SIMA addressed tyred machine shortcomings.
Trelleborg's Variable Inflation Pressure (VIP) load-based variable tyre pressure system automatically alters combine front tyre pressures according to the load in the combine tank, to maintain a constant footprint and, therefore, minimises soil impact and maximises traction. Pressures are raised gradually as tank load increases, governed by sensors that measure tyre deformation, pressure, and temperature.
Systems allowing lowering of tyre pressures for tractor field work and re-inflation for road travel are becoming increasingly popular.
Michelin's EvoBib '2-in-1' field/road tread is designed to take full advantage of these by combining a conventional tractor tyre chevron pattern for field work with a full central band for road travel.
When inflated to road pressure, only the central band is in ground contact, while when reduced to field/working pressure, the entire tread meets the soil.
Autonomous tractor technology that allows machines to work around the clock when conditions are ideal and overcome the problem of finding labour to work long fieldwork hours was evident at SIMA.
CNH Industrial's Case IH and New Holland autonomous tractors differ in that the former is a cab-less machine designed to drive itself between fields only on private roads, whereas the New Holland version is cabbed and as such can be driven to the intended field on public roads before being left to fulfil its task.
Both rely on sub-2.5cm GPS for guidance and radar/lidar/sensor technology to ensure safety, with remote observation and control via desktop or tablet computer.
Case IH says while immediate production is unlikely, elements of the development are likely to be incorporated into forthcoming tractors, perhaps initially in those, for example, used in orchard/vineyard work where rigidly-formed field/tree systems could allow relatively easy adoption.
The tractors can also decide for themselves whether to stop work, based on weather data, and where private roads connect fields, the tractors can be programmed to even move to other fields where conditions are drier.
Meanwhile, another theme seen at SIMA was electrically-driven machines, with John Deere showing a battery-powered tractor.
The firm suggest that depending on their eventual production price and the cost of charging and maintaining them, there's a possibility for such machines to reduce arable production costs by cutting the fuel requirements for establishing, nurturing, and harvesting crops.
Crop fertilising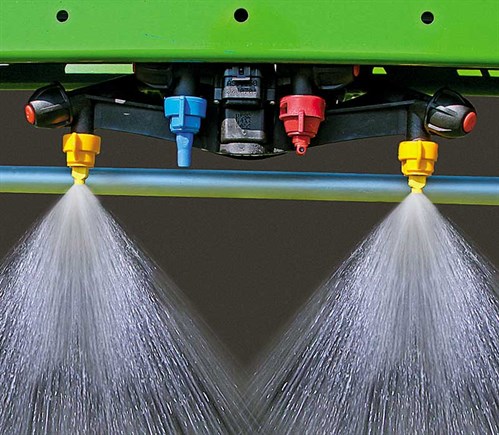 Teams in both its North American and European factories have been working on the attery power project, which is at an advanced stage.
Systems for improving application accuracy were another SIMA highlight. With a slope difference of just two degrees resulting in a possible four-metre reduction in fertiliser spreading width and disruption to spread pattern, Massey Ferguson's Hydraulic Top
Link Control System maintains implement angle regardless of the incline.
In this way, it compensates not only for working on slopes but also for the weight of the loaded spreader on the linkage and effects of front-axle suspension.
Sprayer maker Amazone's HeightSelect provides automatic height control, recognising the nozzle selection made in the firm's AmaSelect sprayer controller, and then lowering the boom automatically to the correct ride height in the field.
Horsch unveiled a system with similar attributes, labelled Autoselect.
Meanwhile, John Deere showed its ExactApply intelligent nozzle system, featuring six nozzles on a rotating turret and two electrically-operated liquid valves, allowing switching between two nozzles and independent control of both spray pressure and flow rate at the nozzle.
The flow rate is controlled via pulse width modulation for forward speeds of 10–30kph at a constant spraying pressure or output from 100–300 litres per hectare at a constant spraying speed.
In similar fashion, TeeJet's DynaJet Flex 7140 uses pulse width modulation to maintain constant droplet size regardless of ground speed. 
Less easily visible at the show but no less important were some smaller developments. Tameo is an online source of real-time advice for coordinating crops tasks according to type and drilling date, designed to help forecast the dates on which critical crop stages should appear.
Created by research body Arvalis and Meteo France, the app has been developed initially for winter wheat and can be used on PC, tablet, and smartphone.
Meanwhile, other technology developments unveiled at the event included the Sencrop real-time in-field weather data decision support tool.
Based on simple in-field weather stations, which upload weather data in real-time, Sencrop is designed to enable instant decisions to be made on application.
Keep up to date in the industry by signing up to Farm Trader's free newsletter or liking us on Facebook