Agritechnica Show Sneak Peek
---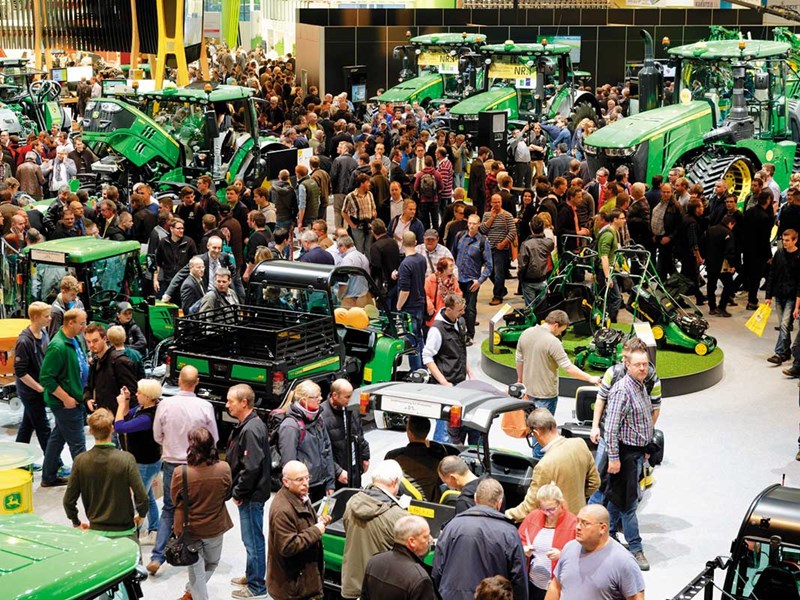 Agritechnica set to dazzle and impress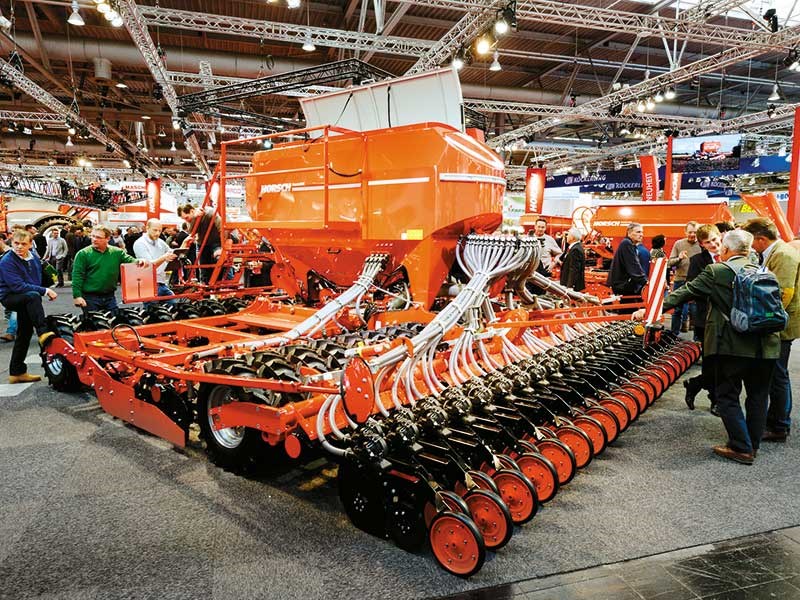 Agritechnica set to dazzle and impress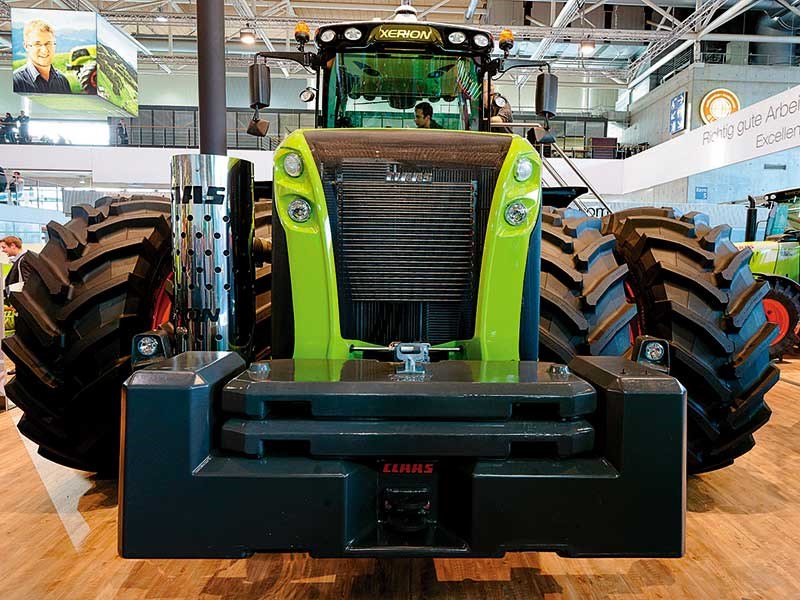 Agritechnica set to dazzle and impress

International event Agritechnica kicks off next month in Germany. Farm Trader's Chris McCullough offers a sneak peak at what you can expect to see....
More than 2800 exhibitors from 53 countries will present their latest farm machinery, innovations, and technology at the Hanover Fairgrounds, from 12 to 18 November. Under the theme 'Green Future – Smart Technology,' Agritechnica will present the latest technologies and trends that help increase agricultural productivity but more sustainably.
With farmers always aspiring to be more efficient, the show will highlight the latest developments in the field of crop protection, including drones and robots, forecasting models, nozzle technology, mechanical plant protection technology, and GPS controls.
We check out some of the hotly anticipated machinery releases that will take place at the event.
Fendt introduces the world's first all-electric tractor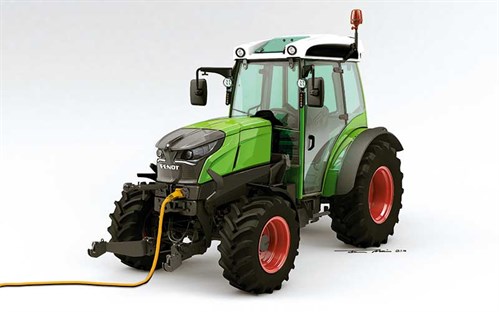 AGCO Fendt won a silver medal from Agritechnica for its world's first all-electric tractor called the Fendt e100 Vario.
The Fendt e100 Vario is an all-electric compact tractor with a 50kW power output that can operate for up to five hours under normal operating conditions. This tractor will be used for the first time in limited numbers in 2018 initially on selected farms and in local municipalities.
The energy source is a 650-volt high-capacity lithium-ion battery with a capacity of around 100kWh. The battery is charged either with 400-volt and up to 22kW via a standard CEE outdoor socket or by a supercharging option with direct voltage.
With a standard CCS type 2 plug, the battery can be recharged up to 80% in just 40 minutes. In addition, energy can be recovered, thanks to the use of an electric motor.
The Fendt e100 Vario allows the use of conventional as well as electrified implements. The electric tractor is fitted with two AEF-compliant power interfaces for electrical equipment. A short-term boost of up to 150kW for the implements can be provided by the battery.
A standard PTO connection is also available, as well as the normal hydraulic supply to implements. Therefore, the Fendt e100 Vario can not only be used with existing equipment with no additional caveats but is also equipped to reap the benefits of using electrical implements.
Precise and dynamic control is enabled, thanks to the electrical drive. The maximum torque for the ground drive and PTO drive is supplied from a standing start. Safety is guaranteed by an insulated design and continuous, electronic system monitoring.
Fendt self-propelled sprayer available after Agritechnica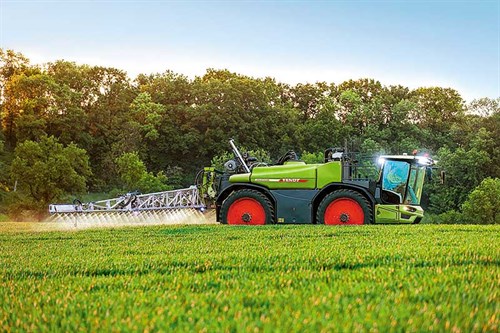 Fendt says its new range of self-propelled crop sprayers, namely the Rogator 600 series, will be available for sale in November following Agritechnica and for delivery in the first quarter of 2018.
The self-propelled Rogator 600 series comprises three models: Rogator 635, Rogator 645, and Rogator 655, with a nominal capacity of 4000, 5000, and 6000 litres respectively and operating widths of up to 36 metres.
Powered by Agco power engines ranging from 175 to 242hp, combined with the stepless drive concept and the smart traction control, these machines have been designed for the larger scale arable farmer and contractors.
The revolutionary single-beam chassis forms the backbone of the three self-propelled models. Alongside a low centre of gravity, this provides outstanding, balanced weight distribution, which also guarantees a stable boom.
Other features include the wide range of standard steering variants, all the way up to 4WD for the perfect turning circle. The ground clearance can be steplessly adjusted in the field.
The hydraulic track width adjustment provides up to 2.25 metres flexibility, which is especially important for contract work. Together with its wide range of filling, boom, and nozzle technologies, the Rogator 600 is setting the standard.
Single-wheel suspension and a new Vison cab provide the operator with the highest comfort while running the machine.
AGCO launches new 'Ideal' combine across three brands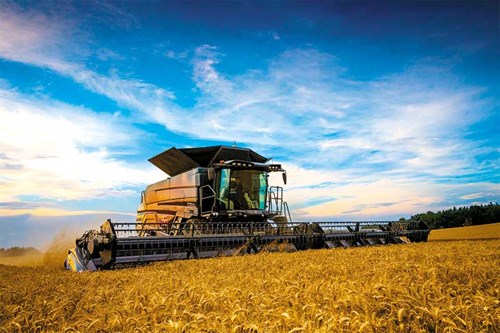 US machinery giant Agco recently launched a new combine that will be marketed across three brands: Challenger, Fendt, and Massey Ferguson.
It's a new-generation rotary combine harvester range, which Agco says is a major step forward in performance and productivity for business-orientated farmers.
Within the UK, the combine will primarily be offered by Massey Ferguson, although the machines themselves will remain identical through the three brands.
The combine, which will only be offered in a graphite colour across all brands, is said to have the biggest grain tank in the world and although the official price will not be released until Agritechnica this November, Agco has already said it will be expensive.
New features on this combine include single and dual rotary threshing systems and include the 451hp MF IDEAL 7, 538hp MF IDEAL 8, and 647hp MF IDEAL 9, plus ParaLevel versions.
"The IDEAL from Massey Ferguson range signals a radical new direction for our combine development," Adam Sherriff, market development manager, Massey Ferguson Harvesting, says.
"It included production of 45 prototypes and six years of continuous lab and global field tests. Everything about the machines is new – new design, new engineering, new features, new styling, even a brand-new livery in stunning graphite.
"Added to this, the 647hp MF IDEAL 9 represents a totally new market segment for Massey Ferguson," he says.
The 4.84m 'Dual Helix' rotor fitted to the MF IDEAL 8 and MF IDEAL 9 is the longest in the industry. It provides the largest threshing area in the business. At the same time, it  benefits from low power requirements and insensitivity to varying crop conditions, leading to fuel efficiency, low grain losses, and gentle handling of grain and straw.
The combines feature 12,500- and 17,100-litre grain tanks. Reducing the frequency of unloading for improved efficiency, the 17,100-litre option is the largest currently available with approximately 18% more capacity than the largest available today.
Featuring 140- and 210-litre per second unloading rates, the combine's 'Streamer 210' option at 210-litre per second is the fastest available.
As for transport width, even the largest MF IDEAL 9 with 800mm tyres or new 26-inch (660mm) in-house-designed track option can meet a 3.3m overall width requirement.
Two new six-cylinder tractors for John Deere's 6R Series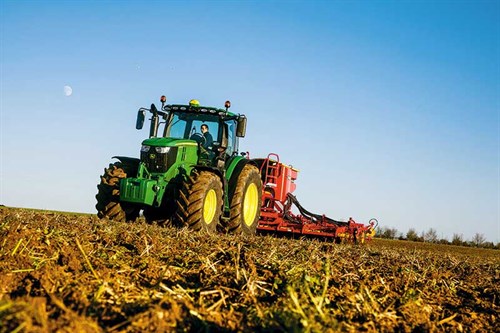 Two new top of the range tractors are being launched by John Deere, completing the company's 6R Series of tractors.
The new 6230R rated at 230hp and the 6250R rated at 250hp are designed for use by contractors and large arable farmers. Thanks to an engine boost of 50hp with intelligent power management (IPM), the flagship 6250R tractor provides up to 300hp when required.
With a light vehicle weight of 9.3 tonnes, the 6250R delivers more power than any other tractor in this weight class, along with an unrivalled power density of 31kg/hp. The high maximum permissible weight of 15 tonnes also allows a 5.7-tonne payload, which means the tractor is able to transport heavier loads.
Both these new tractors are powered by a 6.8-litre PowerTech PSS engine with dual turbochargers and advanced DPF and SCR technology, which responds quickly to changing loads while consuming less fuel and meeting demanding Stage IV emission standards.
The upgraded AutoPower transmission delivers maximum efficiency, with 100% mechanical power available at 3.5km/h for heavy draft operations, 11km/h for light draft work, 22.5km/h for heavy transport, and 47.2km/h for light transport duties.
Once running at maximum road speed, rpm automatically drops and 50km/h is maintained at 1630rpm and 40km/h at 1300rpm, which results in lower fuel consumption on the road.
Claas brings out first tractor with suspended front and rear axle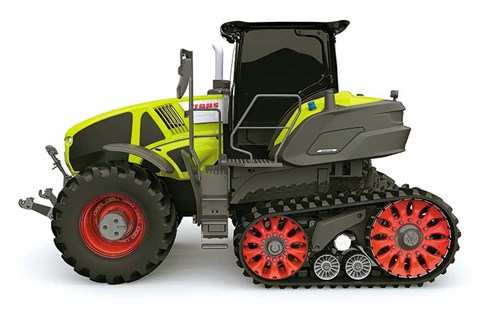 Claas has introduced the first tractor that's achieving new parameters of operator comfort with both front and rear suspended axles.
The semi-tracked Claas Axion 900 Terra Trac is the first tractor that has a suspended front and rear axle and also has a substantially larger contact area compared to Triangle tracks, which results in excellent directional stability, both in the field and in swift road travel.
Claas says it's not officially available as yet but it's going to be offered as an option for all Claas Axion models. Optimum adaptation to the ground contours is key for low compaction. This is achieved by a 15-degree pivot range and the fact that the machine weight is distributed to all track rollers hydraulically. 
The pivot point was moved forward, which shifts more weight to the rear axle. This benefits from a larger contact area and so can transmit tractor power to the ground more effectively while keeping compaction low.
The machine transfers more than 450hp engine power to the ground without causing damage to the soil. At the same time, it does not exceed the statutory road width limit.It also won a silver medal from Agritechnica.
JCB launching new telescopic wheeled loader with a 4.1-tonne lift capacity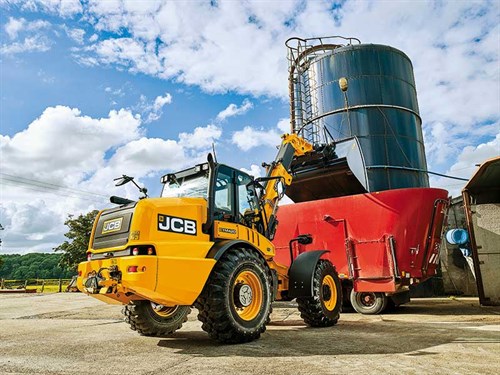 JCB will launch its brand new JCB TM420 telescopic wheeled loader with a whopping 4.1-tonne lift capacity at Agritechnica. The company says the new model will have extra lift height to 5.4 metres ideal for high-sided diet feeders.
This new model also uses the same 108kW (145hp) JCB EcoMAX engine that meets Euro Stage IV/US Tier 4 Final emissions rules using SCR but no diesel particulates filter (DPF).
Other new features over previous models include regenerative hydraulics circuit giving faster boom lowering for quicker loading cycles and a tougher chassis with larger pins and bushes for the centre pivot and loader.
It also has heavier-duty JCB axles with permanent four-wheel drive to handle the increased payload and 26 inches wheels with larger tyres to optimise traction.
Tim Burnhope, JCB chief innovation and growth officer, says, "The new JCB TM420 delivers more performance and increased capabilities to meet customer demand for greater productivity and lower costs."
A larger lift cylinder fed by the 160-litre per minute piston pump provides 4.1 tonnes of lift capacity from ground level to full height, which is 32% more than from the TM320S, while the first application on a telescopic wheeled loader of JCB's regenerative hydraulics speeds up repetitive loading cycles, such as when using a 4.1 cubic metre grain bucket from the JCB AGRI range.
Merlo planning host of launches including members of Multifarmer Range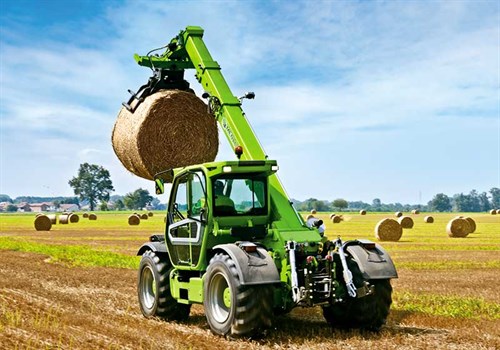 Merlo says it has some exciting launches lined up for Agritechnica, including important innovations in the Multifarmer Range with a completely new family member in the medium-duty section.
Merlo is set to launch the new Multifarmer Medium Duty 34.7 and 34.9, both of which are available in three versions: Standard version, CVT version with Merlo Continous Variable Transmission (CVTRONIC), and CS–CVT with CVTRONIC and Suspended Cab (CS).
Due to the compact dimensions, the new 34.7 and 34.9 will grant the possibility to work even in narrow spaces where bigger machines would be limited in moving around.
These models also have the Category 2 rear three-point linkage – 4000kg of lifting capacity and the mechanical rear PTO.
The position of the cab and the work that has been carried out on the engine layout, bonnet, and boom enable absolute visibility to be achieved around the vehicle. Merlo says these new models will feature some of the most successful technologies available on the Merlo range, such as the EcoPowerDrive (EPD) system, which ensures an important consumption reduction together with lower noise emissions and ease of use.
Thanks to the EPD, the operator is now allowed to choose between three different working modes: heavy-duty, speed control, and self-accelerating joystick.
Valtra launches first ever four-cylinder tractor over 200hp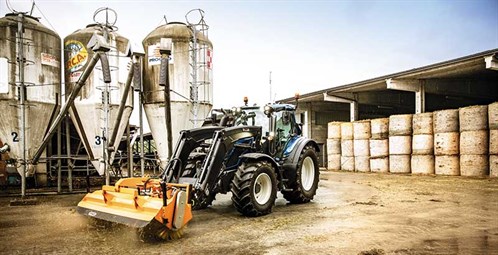 The news from the Valtra stable in Finland is that it will launch the first four-cylinder engine tractor that can boost over 200hp.
Valtra says it's expanding its fourth generation N and T Series ranges upwards with the introduction of new high output models and the SmartTouch armrest on all Versu and Direct models. All new models comply with the EU's Mother Regulation and 60km/h transmissions are available.
Demands for extra horsepower from operators carrying out PTO work and for road driving has seen Valtra raise the maximum output of the N174 model with a new two-step boost to 201 horsepower.
The T Series has been expanded with the addition of new models: the T234 Direct and T254 HiTech, Active, and Versu. The new models feature two-step boost, meaning that even more power is available in the most important work situations.
Valtra says production and deliveries of the N4 and T4 series models (Versu and Direct) with SmartTouch had started in August 2017 and they will be on display at Agritechnica.
SmartTouch integrates the ergonomic armrest with a multifunction drive-lever, valve switches, rear-linkage and PTO control, a touch screen terminal, and push button control pad, bringing all tractor functions within easy reach of the operator.
Keep up to date in the industry by signing up to Farm Trader's free newsletter or liking us on Facebook