EuroTier Show 2018 event preview
---
Eurotier 2018 kicks off today in Europe. We bring you a sneak peek of what you can expect to see.
EuroTier is classed as the world's leading trade fair for animal production and is held every second year. Upwards of 150,000 visitors are expected to visit this year's event, traditionally organised by DLG, the German Agricultural Society.
The show will run from 13 to 16 November at the Hanover Exhibitions Grounds and will house 2526 exhibitors from 62 countries, exhibiting modern animal production solutions in more than 260,000 square metres of space.
German exhibitors form the majority with 1484 in attendance, but overseas exhibitors are increasing each time, with the Chinese now the largest group of foreign exhibitors with 254.
The second highest group of foreign exhibitors come from the Netherlands with 207, followed by France, 128; Italy, 120; Spain, 85; Denmark, 70; the UK, 62; Austria, 55; Turkey, 55; Belgium, 51; Poland, 49; Canada, 31; and the US, 29.
Exhibitors from countries such as Morocco, Bangladesh, Vietnam, Hong Kong, Paraguay, and Uruguay are taking part in the trade fair for the first time this year.
Each EuroTier, organisers receive a number of entries for the prestigious awards that present one gold medal and 25 silver medals to the products considered worthy of commendation.
This year, judges looked at 250 innovations from a total 300 entered and awarded the gold medal to German company Meier-Brakenberg for its Speedy Trough Suction Unit. This  device connects to a pressure washer and sucks wet or dry feed that has been left in pig troughs to prevent mould or bacteria contamination and disease.
Silver medals awarded included those for an electronic method of closing self-locking cattle headlock gates, a new colostrum feeder for calves, a smart thermometer, and a pig toilet.
The show is also proof that innovations that make jobs easier for a farmer don't always have to be super expensive and full of sensors, buttons, and batteries. Something as simple as reinventing the humble calf feeding bucket also features at the show, alongside the glitz and glamour of the latest high-tech robotics.
Joskin upgrades Wago bale trailers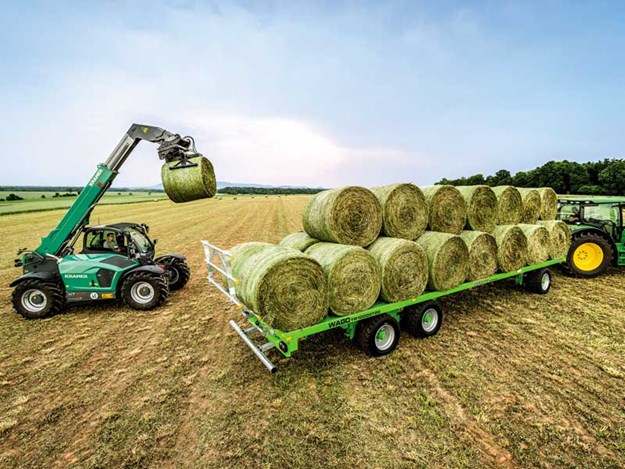 Joskin has redesigned its Wago range of bale trailers with a number of improvements, starting with floor height.
The floor is now as close as possible to the ground at only 1.10 metres high to allow for easier loading and unloading of bales. This lowering has been made possible, thanks to the positioning of the turntable, repositioning the axles, and adding smaller tyres at 435/50R19.5 DM27.
Joskin has also improved the overall structure making the trailers stronger and has now a tubular chassis in special high tensile steel instead of an IPN chassis. Since this type of chassis is more homogeneous, it works more in the steel tensile limit, which ensures a maximisation of the payload and an elimination of high stress areas.
Excellent manoeuvrability is achieved with a single axle on 360-degree turntable located at the front side of the bale trailer, and extra strength from the double axle located at the rear side of the trailer. There are four newly upgraded models ranging from 10 metres to 12 metres in length.
Trioliet target large herds with new edition Solomix feeder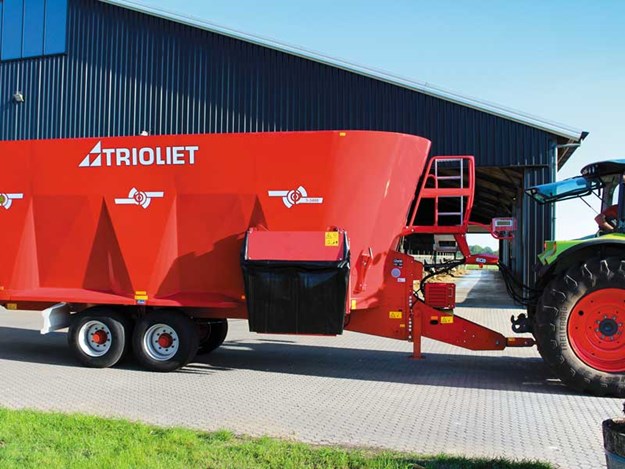 A new series of Solomix diet feeders aimed at large dairy herds of more than 180 cows is being introduced at EuroTier by Dutch manufacturer Trioliet. The new Solomix 3 machines have a capacity of 27, 30, and 34 cubic metres and are being developed in addition to the current series of Trioliet three auger mixer feeders.
Traditionally, the demand for larger three auger feeders has been concentrated in North America, where intense feeding of up to 12 hours per day is common but interest has also been shown from Europe, South Africa, New Zealand, and Australia on a similar capacity feeding machine.
Larger dairy farms with more than 180 cows prefer to feed their cows one or two mixes a day due to shortages in labour availability. In order to meet the demands of these farms, Trioliet has extended its programme three auger mixers with three different models.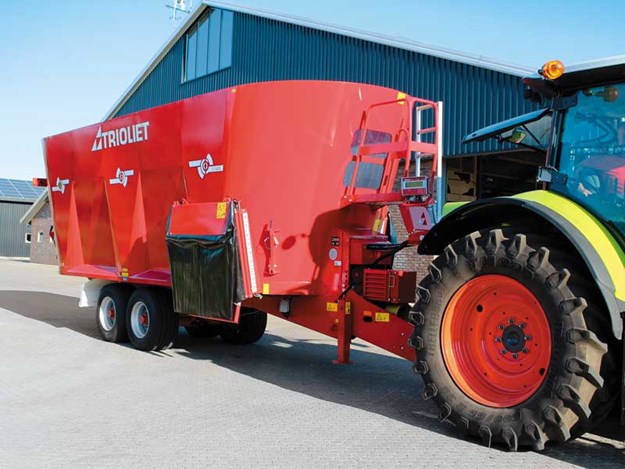 The Solomix 3 New Edition series is a low profile machine that's easier to load and suits low sheds. The models are available with a number of discharge options: side doors, conveyor belt at front, or (adjustable) chain conveyor at front.
These feeders can be powered by a relatively small tractor of 140 to 160hp, which should save money on fuel. The mixer feeders are standard supplied with a reduction gearbox with cooling system.
Due to the special shape of the mixing tub in combination with the patented inserts, the feed is mixed both vertically and horizontally resulting in faster mixing with less power.
New variable length slurry pump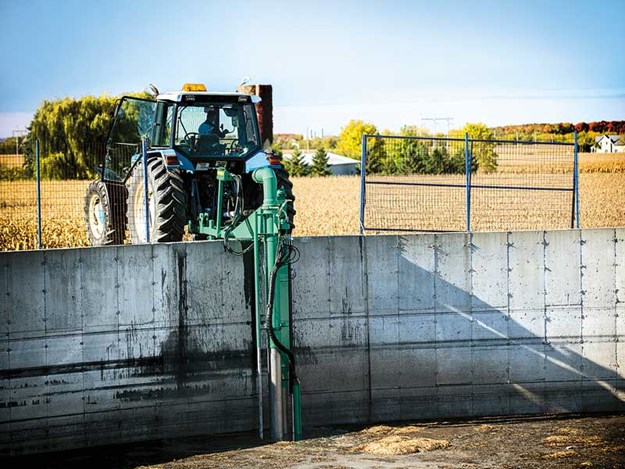 A new slurry pump that suits all pits as it can adjust to varying lengths has been developed by GEA. The Super Slider Pump is a new eight-inch, adjustable-length, highly versatile manure pump, specifically designed for dairy, pig, and beef farmers, with multiple pits, and for contractors.
Available in two depth ranges, 8ft to 12ft (2.44 metres to 3.66 metres) and 10ft to 16ft (3.05 metres to 4.88 metres), the sliding feature of the pump frame means that one pump can replace two or three other pumps, reducing costs and increasing efficiency.
The Super Slider Pump is equipped with GEA's exclusive dual nozzle design, enabling safer manure pit management. The lower nozzle sweeps sediments from the bottom of the pit, while the upper nozzle agitates and disperses the slurry to produce an even spread of nutrients.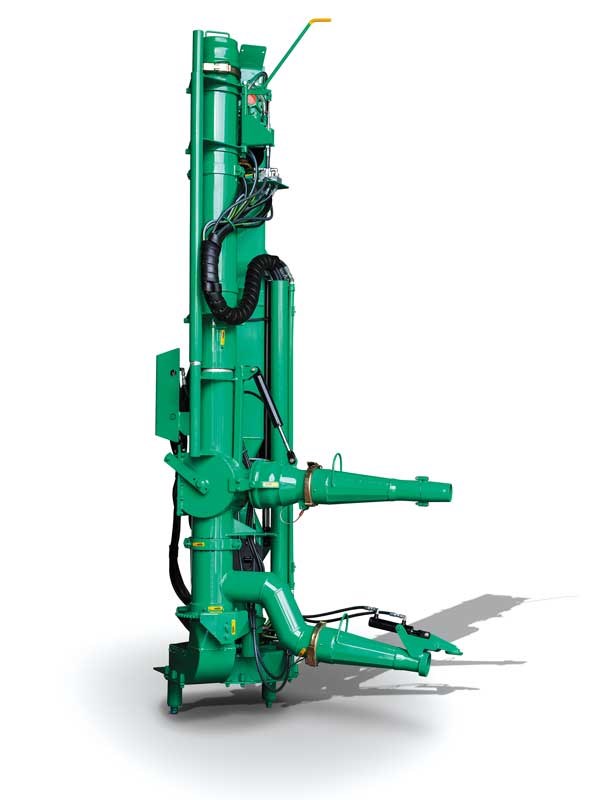 For extra safety and reducing the chance of gas in enclosed tanks, both nozzles can be individually closed to enable slurry to be pumped safely from the pit as the liquid falls.
GEA has equipped the Super Slider Pump with intuitive nozzle and rotative valve position indicators, allowing the operator to monitor the direction of the discharge throughout the process.
The pump is available in 540rpm and 1000rpm versions and is currently available in the extended tilting three-point hitch, new tilting two-point hitch, and trailer mounting configurations.
Electric silage feeder on way from Siloking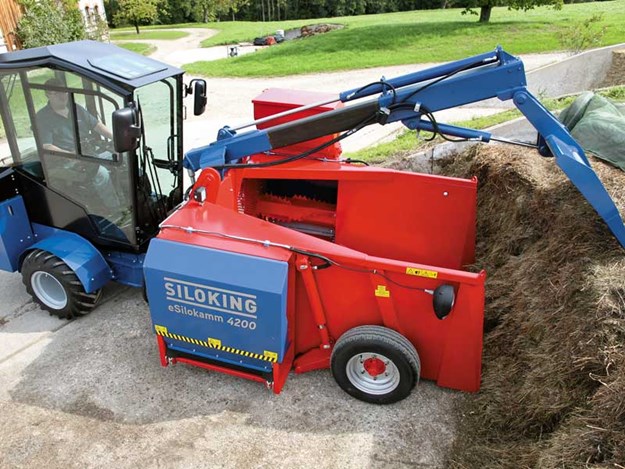 With increased focus on developing renewable energy machinery, Siloking is introducing its new electric-powered silage feeder to the market at EuroTier.
This self-propelled eSilokamm features a cab offering all-round visibility and is used for loading, transporting, and discharging silage or maize. The two speed options reach up to 10km per hour or up to 20km per hour and run for two hours on one full charge. 
Made in Germany, this new machine is designed for farms with longer distances between the silo and cow shed. The two load capacities are 3.6 or 4.6 cubic metres. The battery can last for up to 10 years, or 1600 load cycles, after which time, the battery holds up to 60% capacity.
Siloking head of product management and marketing, Dr Philipp Twickler, says, "Working equipment running almost noiseless with no emissions at all increases the wellbeing of the animals, especially in low-height and narrow barns."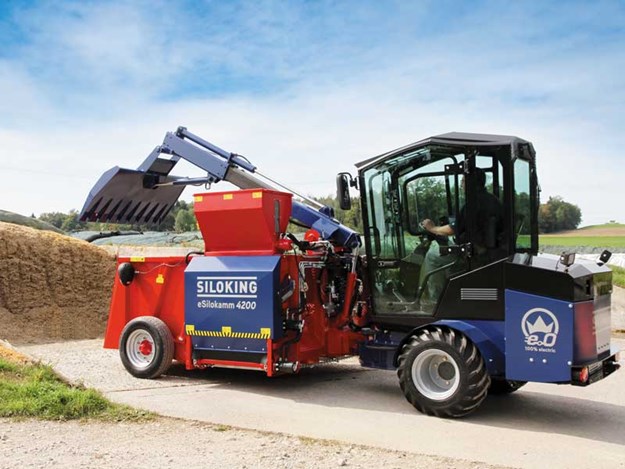 Inside the cab, the operator can control all hydraulic functions via the multifunctional armrest integrated into the driver's seat. The ergonomic joystick with intuitive key assignment makes it possible to control all work functions by one hand only.
A multifunctional display right in the driver's field of vision indicates all machine functions and is easy to use. Three LED working lights illuminating the complete working area in an optimal way provide additional safety.
Narrow sheds with low heights are no problem for this versatile and compact machine, thanks to its width of 2.10 metres and its height of 2.5 metres.
New sealed cow mattress ready to launch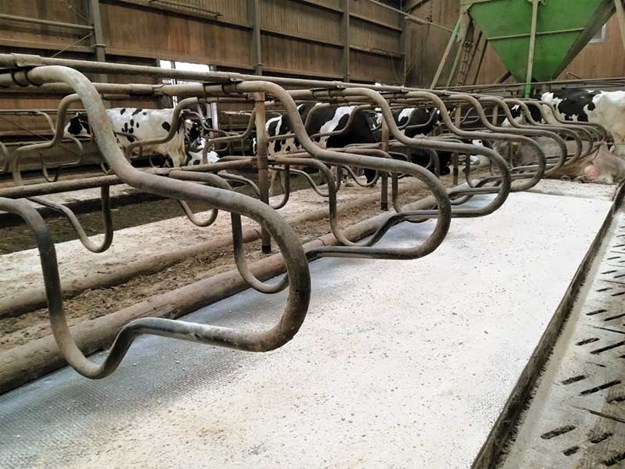 German company Huber Technik is poised to launch a new design cow mattress that has a unique sealing structure at both ends of the top cover. The HT 8GS Wings mattress consists of a thick foam mat completely enclosed in a transparent plastic sheet. This is then covered by a rubber top cover with formed seals at both ends.
Measuring 8mm thick and 1.8-metre wide, the top cover rolls out along cubicles to cover the underlying foam, which is available in either 30mm or 40mm thickness.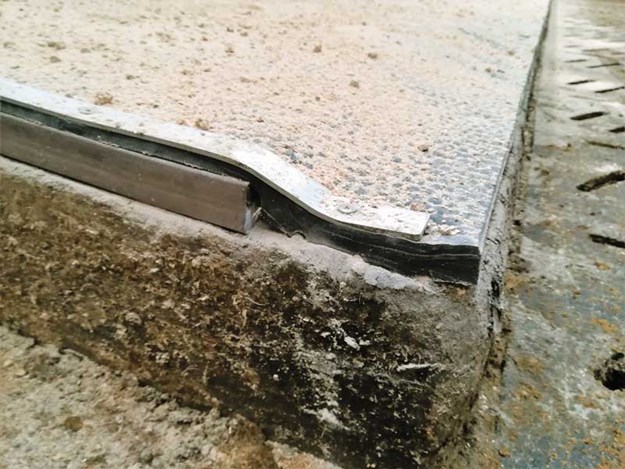 At the front and rear ends of the rubber top cover is a thicker rubber seal moulded into the cover. This acts as a sealant to prevent any liquid running under the mattress.
The top cover, which has a special grip, is fastened in place onto the concrete every 25cm. This is adequate to hold the mattress in place. A sprinkle of sawdust is advised on the top cover to keep it dry, but even if it's wet, the grip prevents cows slipping and hurting themselves.
GEA develops early mastitis detection tool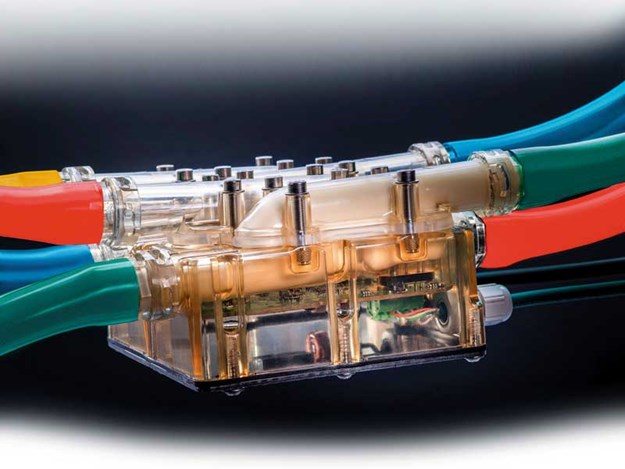 GEA claims to have developed the world's first real-time system for early detection of mastitis in each quarter of the udder. The company says its DairyMilk M6850 uses a robust, purely physical and patented measuring method – the EPT (Electrical Permittivity Threshold) principal – and is particularly low maintenance, reliable, and comes without any consumables.
Sensors provide cell count classes at quarter level in real time and identify affected animals and udder quarters so that timely countermeasures can be initiated and further infection is avoided.
Continuous flow measurement monitors the number of cells throughout the milking process without restricting milk flow. The real-time analysis of each milking process and each animal provides clear and reliable information and enables short reaction times.
The cell count sensor GEA DairyMilk M6850 is part of the product portfolio for automatic milking at GEA and can be installed in both DairyProQ and Monobox systems.
In conjunction with the herd management, it also offers a significant reduction in workload by following actions such as the selection or assessment of the animals at the next milking. Existing systems can be retrofitted with the new sensor technology using an upgrade kit.
Weighing calves is vital part of herd management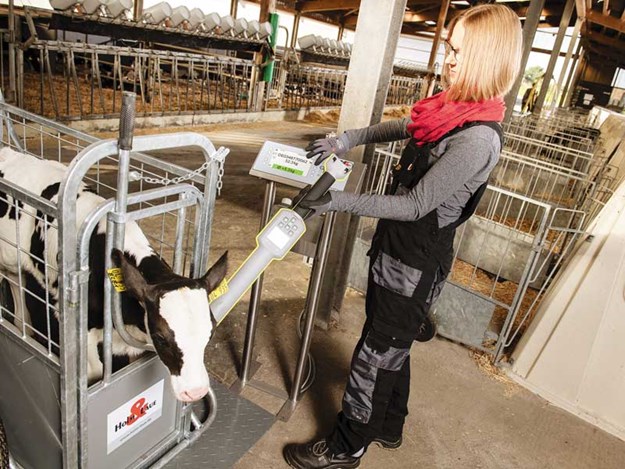 With few farmers weighing their calves regularly during the milk diet phase, the majority have no idea whether animals are achieving daily weight gain goals of 800 to 1000 grams.
German calf equipment specialists Holm & Laue are encouraging farmers to weigh their calves often to ensure they are reaching growth goals for optimum herd performance in later life.
The company has developed WeightControl – a mobile weigh scale that not only determines the calf's weight but also allows other data to be stored particular to each animal.
This new system is based on two different types of animal scales combined with electronic animal identification and an additional input terminal. All the data is saved in the WeightControl animal scale and also transmitted automatically to the company's CalfGuide management programme.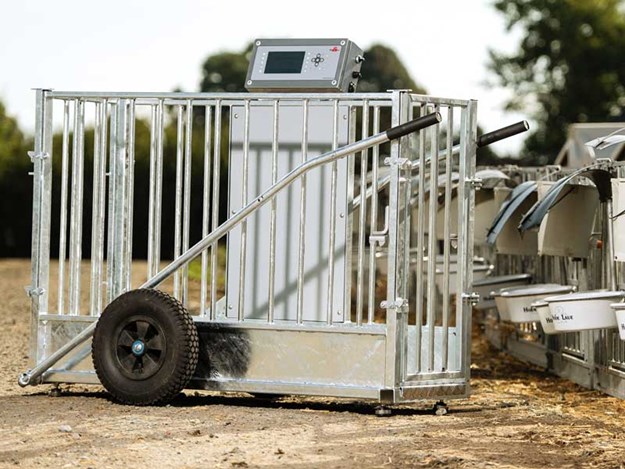 Farmers have access to information about the calf's history, including data such as previous weight gains or milk drinking habits. After weaning, all data can automatically be exported to external herd management software and form the basis for important management decisions such as selection, feed recommendations, or optimising working routines. 
Holm & Laue has also produced a stationary platform scale that can be driven onto with small transporters or carts. Each time a calf is transported, its weight can easily be read by pushing the cart onto the scales.
These systems are particularly useful, as the farmer can also record information such as its weight at birth as well as gender, parentage, condition at calving, and colostrum intake.
Reinventing the traditional feeding bucket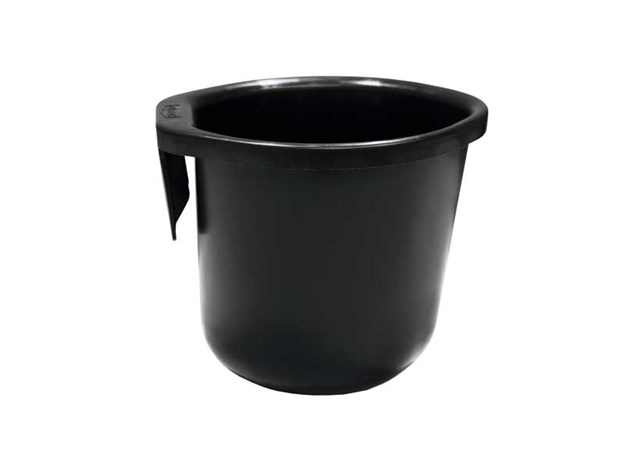 Among the high-tech gadgets at EuroTier, it's somewhat refreshing to see a simple product that has such huge desirability. 
US firm Calf-Tel has gone the extra bold yard to reinvent the calf feeding bucket and has created one that's virtually indestructible. You can even drive a tractor over it and the bucket simply springs back into shape.
Remember all those annoying handles that fell off? The new Direct-Attach Pail from Calf-Tel has no handle and simply attaches to a gate or door with its moulded lip. The new bucket has rounded bottom edges to allow the calves to lick it clean, reducing bacteria. It's also designed to sit at an angle giving the animals better access.
The bucket, available in black or grey colour, holds 7.5 litres and is made from co-polymer polypropylene.
Keep up to date in the industry by signing up to Farm Trader's free newsletter or liking us on Facebook