Event: Kubota NZ unveils latest offerings in Queenstown
---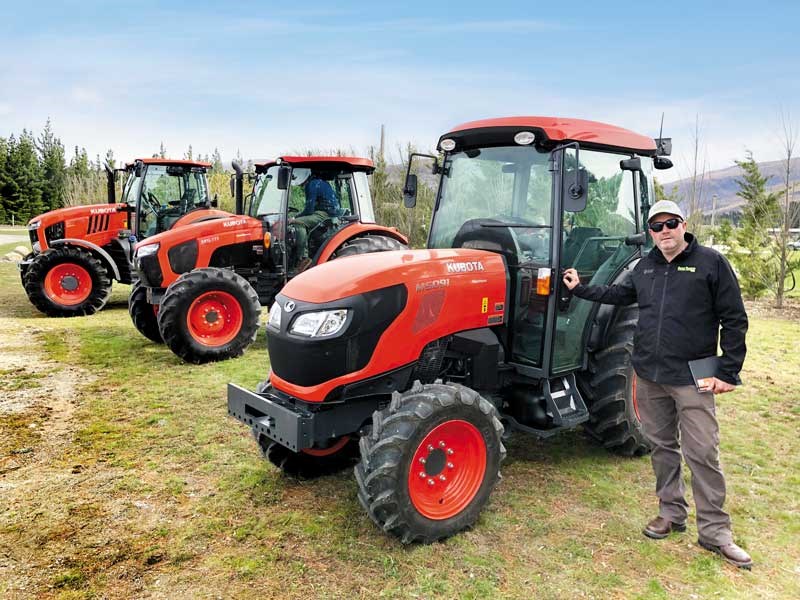 Brent Lilley checking out the Kubota line-up of tractors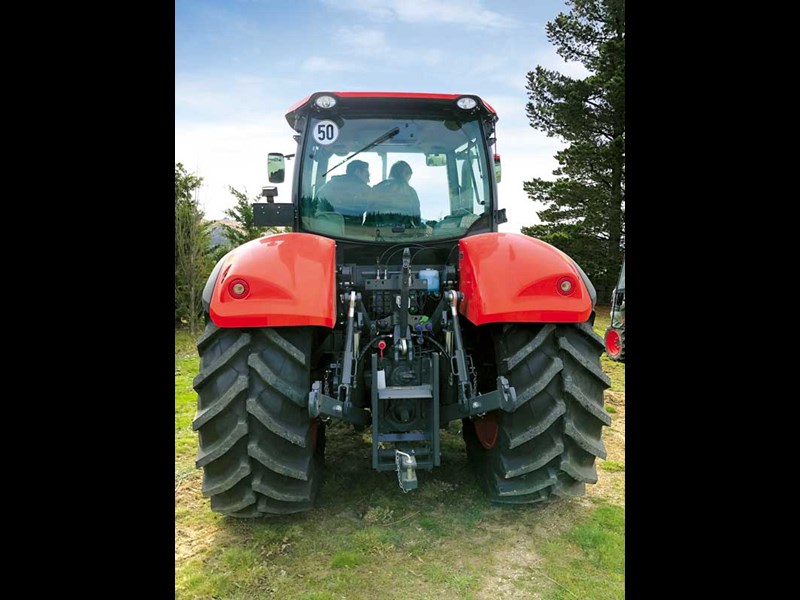 M7-2 Series: Hydraulics deliver 110L/min with up to five rear remotes. Rear linkage has a lift of 5.8T.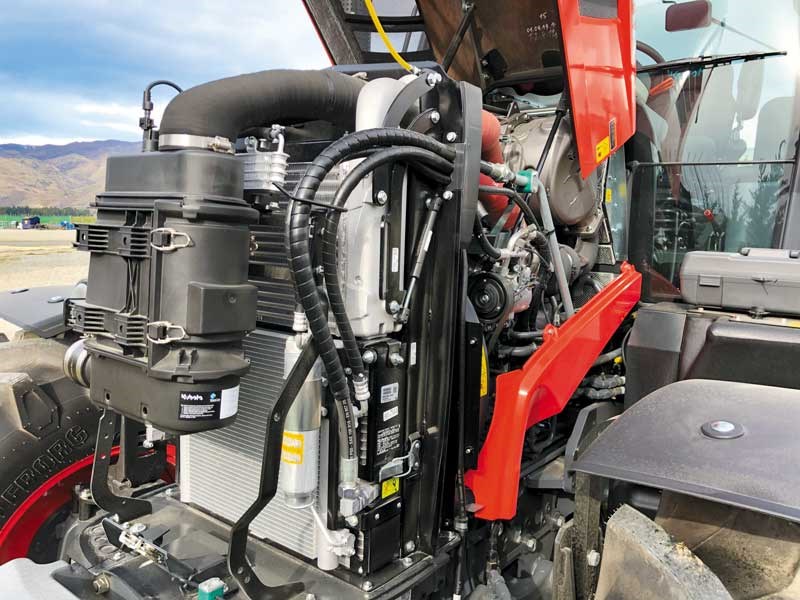 M7-2 Series: The 6.1L Kubota-built engine puts out a max 168hp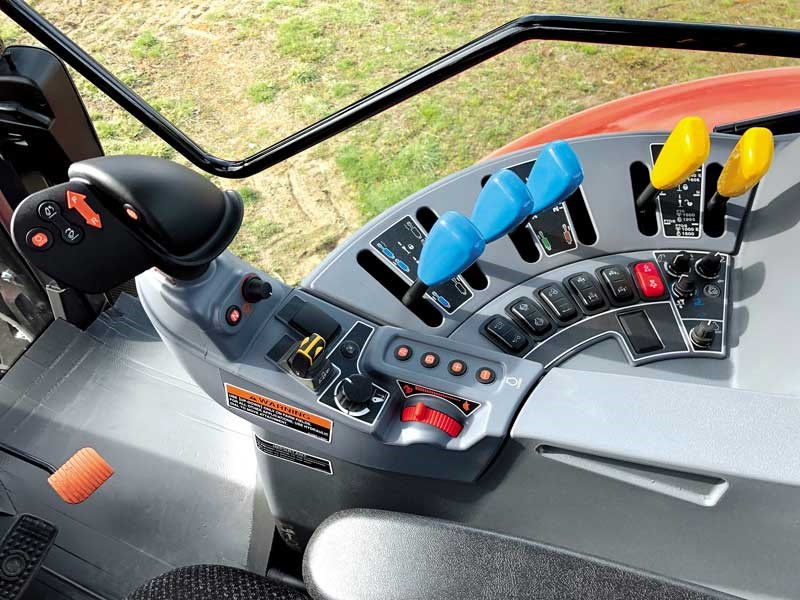 M7-2 Series: Well-laid-out controls are functional and clear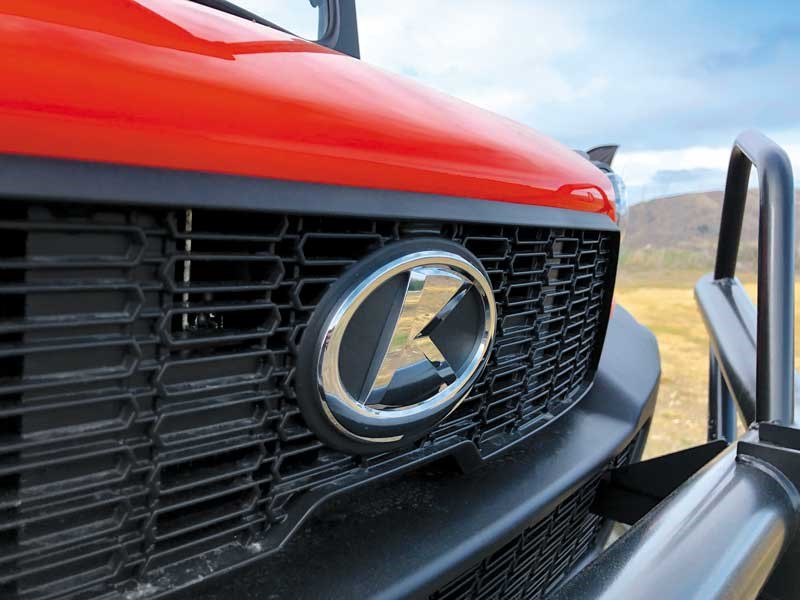 RTV–XG850 Sidekick: The RTV-XG850 side by side is new from Kubota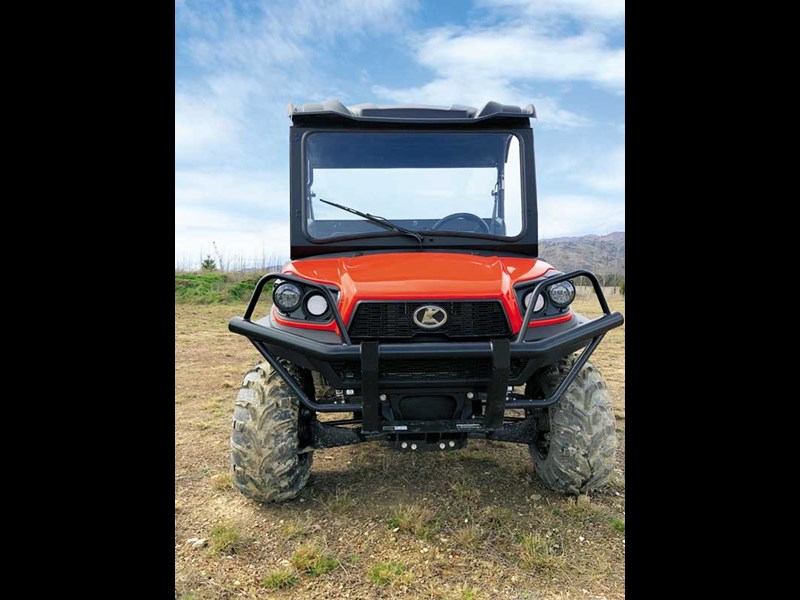 RTV–XG850 Sidekick: A wrap around nudge bar protects the front of the machine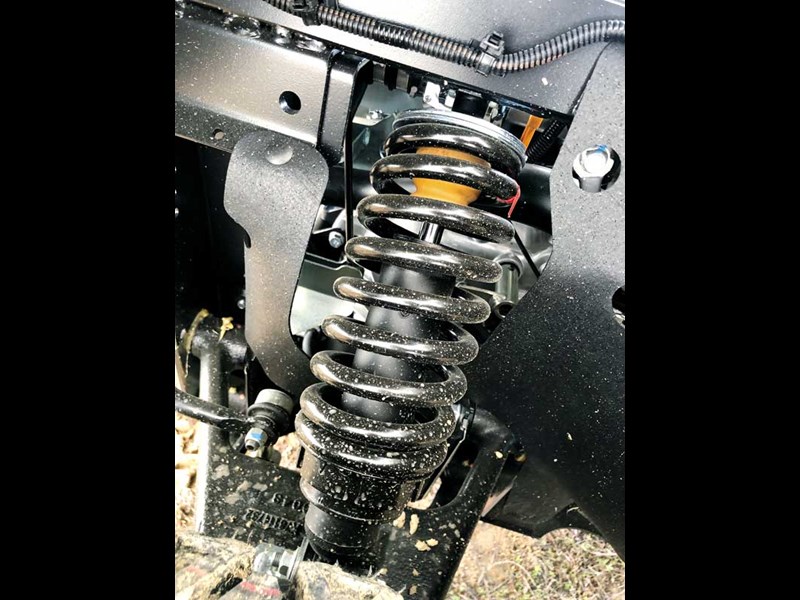 RTV–XG850 Sidekick: Adjustable shocks and dual 'A' arm suspension for a smooth ride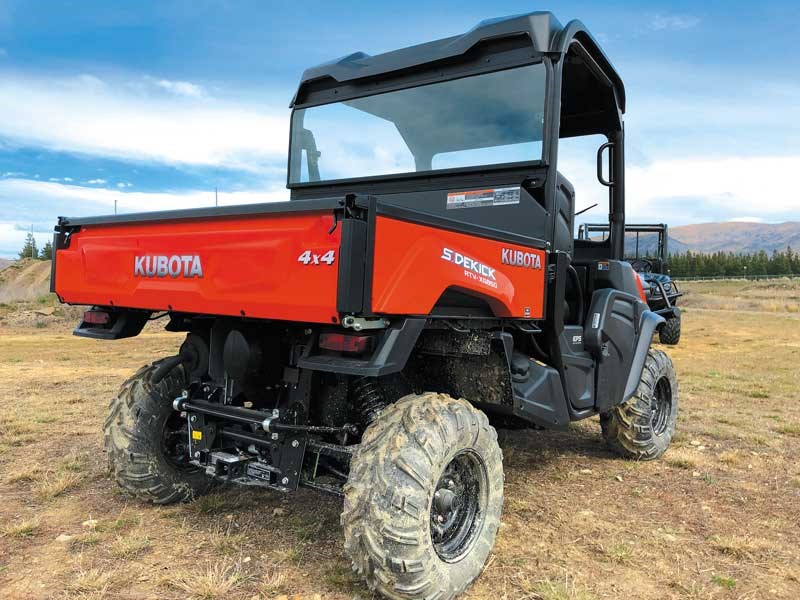 RTV–XG850 Sidekick: The large tipping cargo box can carry 455kg and the machine is rated to more than 900kg

Kubota New Zealand recently unveiled its latest offerings at Highlands Park in Queenstown
After a long and successful partnership with Norwood, they now officially launched as the standalone importer and distributor for their products in New Zealand, with a new expanded range available.
Dedicated Kubota staff is committed to an ongoing relationship with the extensive range of Norwood and independent dealers throughout the country. The aim is to streamline the entire process, offering higher inventory levels, with dedicated staff, distribution, and parts integrated with a Kubota NZ warehouse and NZ head office based out of Palmerston North.    
To celebrate this milestone, Kubota's recent Shaping New Zealand launch included media, dealers, and invited guests at Highlands Motorsport Park in Cromwell where changes and future plans for Kubota in New Zealand were revealed.
This amazing venue set in the Central Otago mountains also afforded the opportunity to test-drive the new M7-2 and M5-1 tractors to see what they have to offer, and for some play-time, test driving the newly released RTV-XG850 on the dedicated off-road track was too good to miss.
M5-1 Series
The Kubota M5-1 series is a new mid-size all-purpose range with two models at 93hp and 110hp. Available in a standard width, these are ideal for farmers looking for a powerful yet agile tractor or a narrow configuration and particularly suitable for use in the horticulture, viticulture, and produce sectors.
Both models are powered by the well-proven V3800 Kubota, a four-cylinder, 3.8-litre engine. While this has been in smaller Kubota tractors for some time now, tuning and upgrades see it deliver more torque at low rpm, leading to quieter operation, less wear, and lower fuel consumption – all great benefits.
As well as a two-speed PTO with a choice of 540 and 540E, there's also a new engine management system, which, when selected, will maintain correct engine rpm to deliver constant PTO speed.
This is particularly vital in some applications. The rear linkage has been beefed up, featuring Cat 2 ball ends and a lift capacity of 3.2 tonnes. Hydraulic pump output sits at a respectable 64 litres per minute and up to three mechanical hydraulic remotes can be specified with adjustable flow rates.
The transmission sees six synchronised gears available in three ranges, giving a total of 18 gears forward and reverse. This works well and the high range gives enough gears for general duties. For those working at low speed, there's a dual-speed option that doubles this to 36 gears, something that has proved popular in the past.
An electronic clutch button on top on the gear shifter is another useful inclusion that allows shifting without using the floor pedal. The electro-hydraulic left-hand shuttle makes changing direction easy and is pretty much a standard requirement for loader work these days.  
With good access through wide doors on each side of the relatively spacious cab, it features large curved panes of glass and the narrowest of pillars for great 360-degree visibility. A sunroof with a shade ensures the cab is light and airy. A level floor platform and large comfortable seat create a pleasant operating environment, while controls grouped together on the right console are easily operated.   
M7-2 Series
The Kubota M7 series has been out for a while now gaining real-world experience. Like any successful manufacturer, Kubota has paid attention to customer feedback and incorporated many of these ideas into the second-generation M7-2 tractor that has just been released in New Zealand.
Three models in the M7 range are now available in four configurations: standard, deluxe, premium, and premium KVT (Kubota Variable Transmission). They all use the same Kubota V6108 engine as their predecessors: a four-cylinder 6.1-litre turbocharged engine. This has been remapped and tuned to widen the torque band giving improved performance.
Maximum horsepower is now at 1900rpm for improved efficiency and reduced noise. The engine meets Tier 4 final emission standards using a diesel particulate filter and AdBlue.
All models (except the KVT) now come with an upgraded ZF semi powershift transmission.
This sees six gears arranged in five ranges, giving 30 forward and 15 reverse gears. You can change up through all the gears and ranges without using the clutch, although, as common with this ZF transmission, there's a lag on the range changes.
An auto shifting function allows the tractor to change up and down as required, evaluating the engine load and shifting to the appropriate gear for improved performance under load.
This comes standard with a 40km/hr transmission and with an option for 50km/hr with front suspension. When front suspension is fitted, a saddle linkage set-up can be added on the Dana front axle. This moves the suspension pivot point towards the rear of the machine and does an excellent job smoothing out bumps.
The hydraulics have also been upgraded to a closed circuit system, delivering 110 litres per minute on demand when required. Models can be specified with up to five sets of mechanical or electrical remotes at the rear and a mid-mount valve for a loader and/or front linkage. Rear lift capacity sits at 5.3 tonnes (610mm behind lift point).
All models feature a large bright cab, with minimal pillars, giving excellent all-round visibility. The larger, more comfortable air seat will be appreciated by those spending long hours in the cab, as will the lowered overall decibel level. Interior plastic and upholstery a few shades darker also help improve the feel.
Controls remain largely the same as previous models, being well laid out to the right side of the operator. The main control monitor has seen some upgrades with the highest spec'd models getting the standard 12-inch screen. Overall, small tweaks and changes will help improve the operator's experience.
RTV–XG850 Sidekick
While Kubota has been in the side by side market for sometime, machines with speed have never been a traditional selling point for the brand, but that's all about to change with the release of the new Kubota RTV-XG850 Sidekick.
This is a crossover machine, which blurs the lines between a utility workhorse and a recreational machine. Aimed towards farmers/landowners and recreational users, this unit is ideally timed, with recreational machines now making up a large portion of overall sales in New Zealand.
The compact 851cc V twin cylinder DOHC engine puts out an impressive 48hp, with a wide torque band providing plenty of acceleration and power. The engine is currently built by Subaru but watch this space as there are future plans to build them in-house.
The large steel rear tipping cargo bed is rated to carry 454kg. It lifts for easy access to the engine for daily checks and servicing. The machine is rated to tow just over 900kg, which should prove more than adequate.
The transmission is a Kubota CVT with a wide heavy-duty belt and a centrifugal clutch and seamless acceleration from 0 to 64km/hr. Selectable high and low ranges give great control in sticky situations. The CVT unit is sealed to improve the lifespan of the components and draws in clean air through the ROPS frame to keep it cool. In my opinion, engine braking is a must, so it's great to see with a one-way sprag clutch slow the machine on downhill sections.
Another great feature is Speed Sensitive Electronic Power Steering. This works well: at low speed the steering is light, providing good manoeuvrability in tight situations. As the speed of the machine increases, the steering firms up for more "feel" and control at higher speed. Independent cast A arm suspension on all four corners and easily adjusted shocks with three settings help improve the handling and gives great ride quality.
The operator's station features an all-new digital dash, fully adjustable steering wheel and comfortable scalloped bench seat with a 60/40 split. Seats lift up for access to storage compartments and a LED light package and a steel wraparound nudge bar on the front add to the useful features.
For those wanting to customise their ride, there's an impressive range of more than 50 Kubota accessories designed specifically for this machine. They're quick fit and include windows and doors for a fully enclosed cabin if required.
Watch RTV–XG850 Sidekick in action
 Verdict
It's exciting times for Kubota New Zealand with the launch of some exciting new products around the country, with the M5-1 and M7-2 tractor ranges, as well as the RTV-XG850 side by side. Long term, Kubota intends to be in the higher horsepower market with larger machines already scheduled for release overseas, so it's a case of watch this space for more to come.
The event gave the opportunity for a first look at the newly released machines, which I hope to catch up with again and in more detail, having a look at them out working in a paddock.
Find more Kubota machinery for sale in NZ
Keep up to date in the industry by signing up to Farm Trader's free newsletter or liking us on Facebook