Machinery manufacturers gear up for Agritechnica
---
A collection of the latest weird, wonderful, and must-have agricultural machinery from around the globe is trickling into Hanover, Germany, for showcasing at the upcoming Agritechnica Show (10–16 November)
Expected to attract estimated crowds of 400,000, the machinery utopia is like no other show on earth. Held every two years, it features innovations, concepts, and futuristic visions from 2750 exhibitors across 51 countries.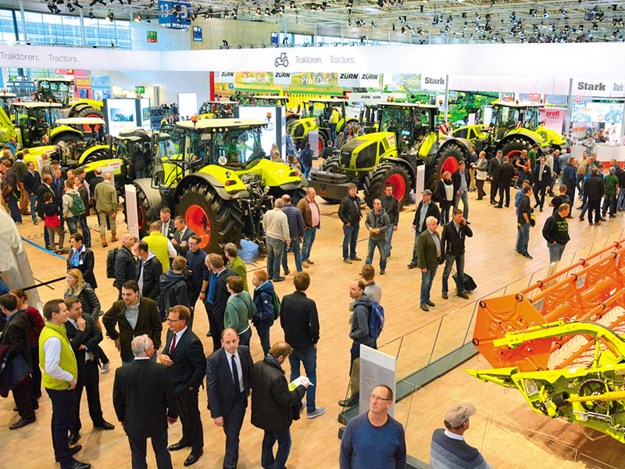 Organised by DLG, the German Agricultural Association, the show spans across 40 hectares, fully laden with equipment. While trends suggest there will be a slowdown (of around three percent in some regions) in farm machinery sales during 2019, manufacturers know exhibiting at Agritechnica is vital for next year's sales.
Also, as the industry clambers to find solutions to replace diesel engines, farmers need to be kept up to speed about what power developments are likely to come to market, or not.
Agritechnica is a show for all sorts of farmers, large and small, who are keen in making their businesses much more efficient and profitable by using the latest machinery and technology. More than 1700 of the exhibitors come from abroad, mostly Italy (366 companies) and also China (158), Turkey (113), the Netherlands (110), France (98), Austria (77), Poland (64), Great Britain (60), Denmark (58), India (58), Spain (51), US (50), Finland (47), and Canada (37).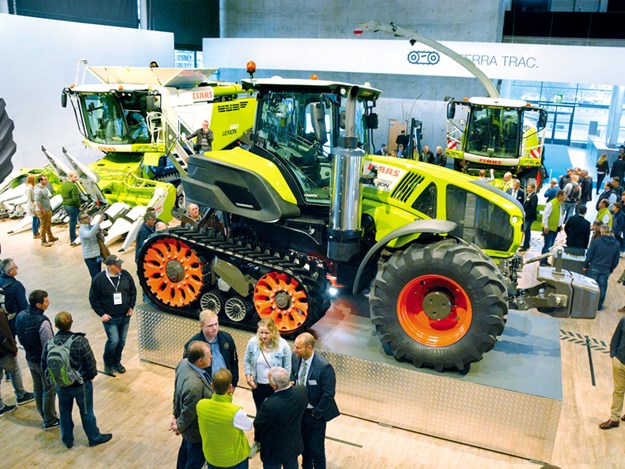 The event remains the international showcase for the global agricultural machinery industry, and a forum for discussing important questions about the future of plant production. Marie Servais, Agritechnica project manager, says, "Innovations, information, networking, and business – this is what the world's leading trade fair for agricultural technology stands for.
"Agritechnica is fully booked out to the very last stand, and the event is once again the global platform for national and international agriculture.
"With new services for visitors, such as our innovative Agritechnica app, but also new event formats such as International Farmers' Day and the DLG-AgrifutureLab, we are offering new platforms for the growing dynamics in agriculture and agricultural engineering."
New Cenio mounted cultivator from Amazone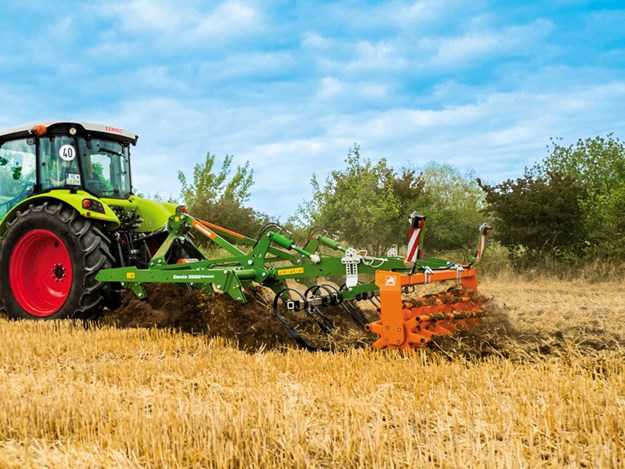 Amazone is launching a new three-row compact-mounted cultivator onto the market at this year's Agritechnica 2019.
The cultivator is available in working widths of 3, 3.5, and 4 metres in rigid execution. It also comes as a special variant with shear bolt overload safety protection and as a super variant with compression spring overload safety protection.
Tractor horsepower requirements to operate the Cenio range from 105 to 190hp. The Cenio can be used in a range of working depths from five to 25cms for shallow stubble cultivation, as well as for medium-deep incorporation or deep-loosening soil tillage. The Cenio has a tine spacing of 30cms, which helps prevent blockages.
Bulk slurry spreading made easy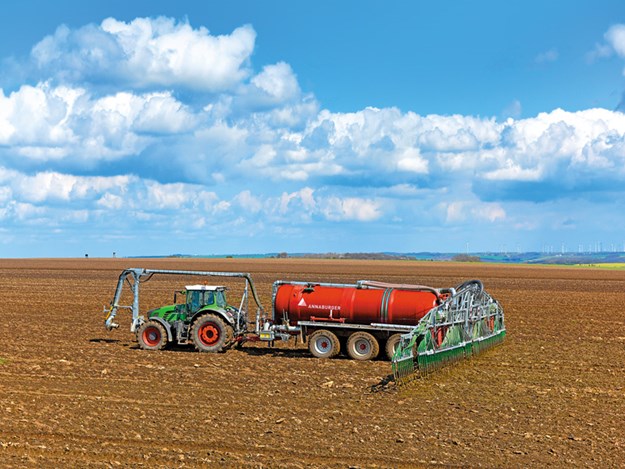 German maker Annaburger is set to introduce its Tridem slurry spreader HTS 34.28 Profi designed for agricultural contractors and large farms. The fibreglass trailer has a low dead weight and, therefore, offers a high filling volume of 28.5 cubic metres. The chassis with 41,000kg BPW axles can be fitted with size 750/60 R30.5 tyres.
The electronic forced steering in the first and third axles makes the vehicle particularly soil-conserving when it travels on arable land or turf. On the road, the cylindrical shape of the tank and the four integrated baffle plates reduce unwanted surging of the liquid.
A particular benefit of the new HTS 34.28 slurry spreader is the option for rear-mounting a four-point suspension for a linkage weighing up to 4500kg, for example, a 36-metre-wide Vogelsang dribble bar.
The high-performance Vogelsang rotary piston pump system, with a capacity of up to 9000 litres per minute, guarantees short filling times and large application volumes.
Fliegl Picker makes bale lifting easy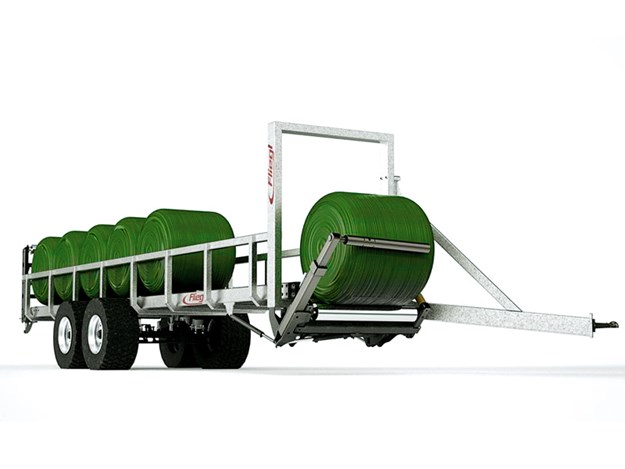 Collecting and transporting round bales just got a lot easier with the Fliegl Picker, which can pick bales up on the move from the front using a pivotal drawbar. Using this method of frontal collection, bales can be picked up in the direction of travel of the baler.
The Picker is suitable for both silage bales and straw bales and with the aid of the L-shaped swivel arm, the bale is loaded onto the trailer.
The swivel arm is telescopically extendable so that it's variable regarding the bale diameter. All bales from 120cm to 180cm in diameter are therefore no problem for the Picker.
When the round bale is loaded, it's moved by a rubber conveyor belt towards the output unit. When the trailer is fully loaded, the swivel arm closes the pick-up unit and locks the load in place. A roller system unloads the bales with ease and avoiding damage to the bale wrap.
John Deere release brand-new 6M Series tractors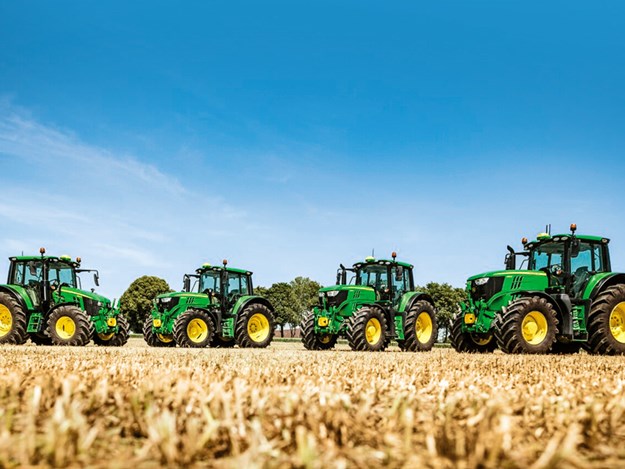 The heavily guarded secret from John Deere is out, with news of a completely new 6M Series tractor range.
These replace the previous 6M, 6MC, and 6RC Series and include four new four-cylinder models from 90 to 120hp, featuring a 2.4-metre wheelbase.
This is a more compact 6M Series tractor than John Deere has offered before, with the low bonnet design presenting a clear view to the front of the machine.
Improved manoeuvrability is a result of the short wheelbase, which allows a tight turning circle of only 4.35 metres on the new four-cylinder models. Despite their slim design, these full-frame concept tractors feature a maximum permissible gross weight of 10.45 tonnes, which means an unrivalled payload capacity in this class of up to 4.7 tonnes.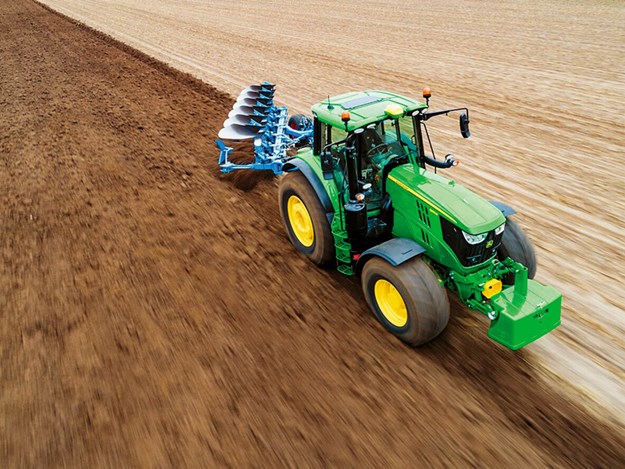 The four four-cylinder new models – 6090M, 6100M, 6110M, and 6120M – are powered by a 4.5-litre John Deere PowerTech EWL engine, while the 6130M, 6140M and 6145M have a 4.5-litre John Deere PowerTech PSS engine. Larger models 6155M, 6175M, and 6195M are powered by six-cylinder PVS engines with a displacement of 6.8 litres. 
Three different gearbox options are offered on the new 6M Series. PowrQuad and AutoQuad are four-step powershift transmissions, while CommandQuad Plus offers fully automatic gear and range shifting without using the clutch.
John Deere has also added three new models to its range of large square balers – the L624 (70 x 120cm), L633 (90 x 80cm), and L634 (90 x 120cm). These will be available for the 2020 season and replace the L1500 Series, while the single tie knotter 1424 and 1424C large square balers are no longer available.
Joskin introduces new Roadliner slurry tanker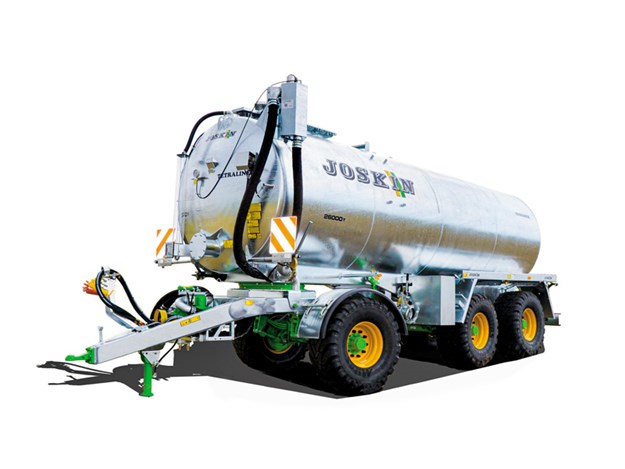 Joskin has extended its Tetraliner range, adding a new model called the Roadliner to help farmers and contractors who have to transport slurry long distances. Like some other Tetraliner models from the range, the Roadliner is fitted with a dolly system made of an axle on a turntable that's directly integrated in the tank.
Thanks to its dolly, the Roadliner allows a total load up to 34tonnes, with a maximum 10 tonnes on each axle and a four-tonne maximum weight on the eyelet depending on the tractor type.
They can be fitted with road tyres 400R22.5 but also with wider 560/60R22.5 tyres with many different profiles in order to adapt the tanker to any kind of terrains and conditions. A MEC8000/D vacuum pump is part of the standard equipment located in the V-shaped drawbar.  There are four available capacities: 21,000 litre, 23,500 litre, 26,000 litre, and 28,000 litre.
Kramer presents new telescopic loader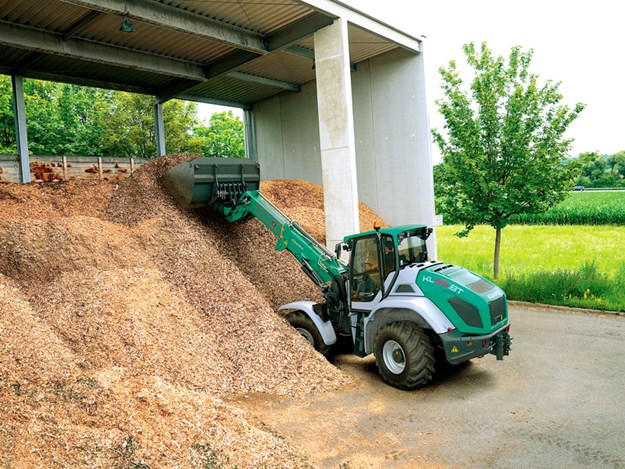 Making Agritechnica history, Kramer will exhibit together with its strategic partner John Deere at the show for the first time, unveiling new products on its own separate area.
Kramer will offer the KL55.8T with telescopic loader unit and Z-kinematics in the 9–12 tonnes performance range. This expands the full quality wheel loader to include the advantages of a telehandler with the even further increased load-over height, stacking height, dumping height and reach.
This loader has a bucket tipping load of 5500kg, a stacking payload of 3900kg, an operating weight of 11,170kg, and the bucket pivot point when extended is over 5.4 metres.
The KL55.8T is driven by a 100kW Deutz TCD 3.6 engine of exhaust emission level V and it has a turning circle of just 3.8 metres. Kramer will also add the new KL70.8 in the first half of 2020, a loader with a bucket tipping load of more than 7000kg.
Krone adds Comprima Plus round baler to portfolio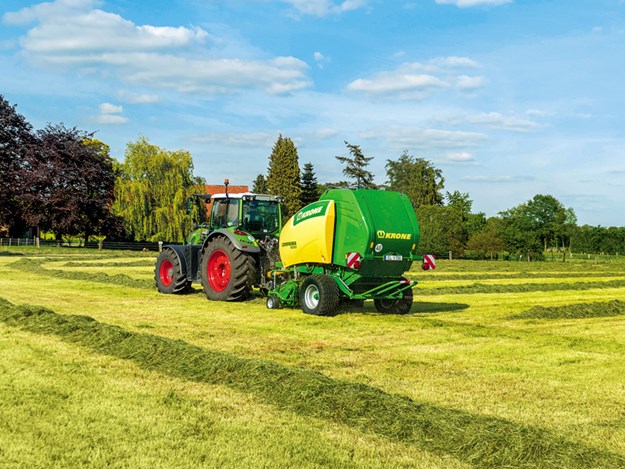 Krone is adding the new Comprima Plus range of round balers to its bulging portfolio. The Comprima Plus range consists of four models, namely the Comprima F 155 XC Plus, with the well-proven semi variable chamber for 1.25 to 1.5-metre diameter bales, and the Comprima V 150 XC Plus variable chamber for 1 to 1.5-metre bales, plus a combined baler wrapper version for each model.
Developed for professional and high-throughput applications, the machine has a camless pick-up with helical tines, which is sourced from the company's forage wagons and round balers where it has proven tremendously well. 
The precision cutting system is available with 17 or 26 blades that cut to nominal 42mm and 64mm lengths. The rotor is made from extra tempered steel and the cutting system stands out for harder wear, which guarantees an exemplary stability and longevity. Internally, bale roll is taken care of by the well-proven Novogrip belts and sturdier chains and sprockets.
Kubota launches M7003 tractor series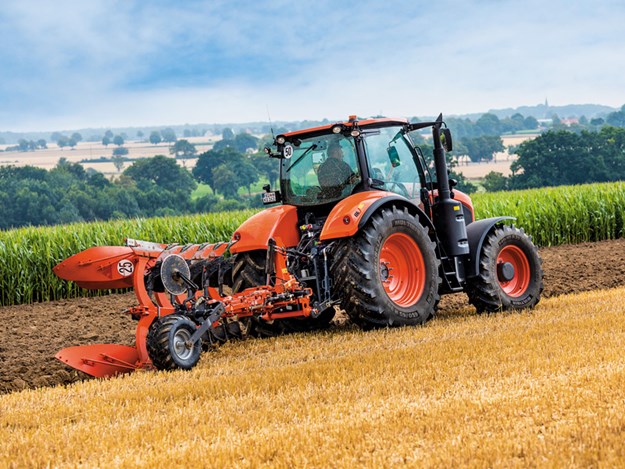 Kubota says modern customers need a modern tractor, so the Japanese manufacturer will launch its new M700s series at Agritechnica available for purchase in the first quarter of 2020.
The third-generation tractor will arrive in the market much earlier than expected, following recent advancements in technology and the continued success of the M7002.
The M7003 series will feature the latest Stage V Kubota engine, which will increase both efficiency and reliability. It has three power levels of 130hp, 150hp, and 170hp max at 1900rpm and an additional 5–20hp power boost.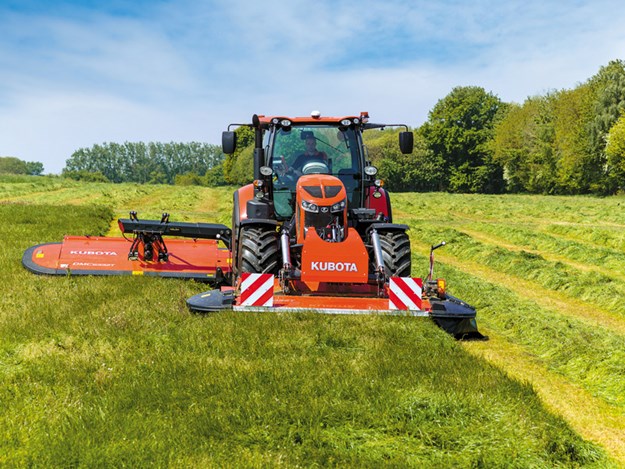 The new engine package includes a depollution device, DPF and SCR technology to reduce NOx emissions. The engine also has an extended cleaning interval of the DPF from 3000 hours to 6000 hours to improve maintenance performance.
As usual, these new models will be available with two types of transmissions, KVT and Powershift. The Powershift model comes with a new feature called Xpress restart.
Additionally, the M7003 series will house a hydraulic power steering system with Multi Speed Steering Control. This can be set according to tractor application and speed requirement, increasing the general manoeuvrability of the machine and easier control.
Kuhn unveils new VB 7100 series high-performance round balers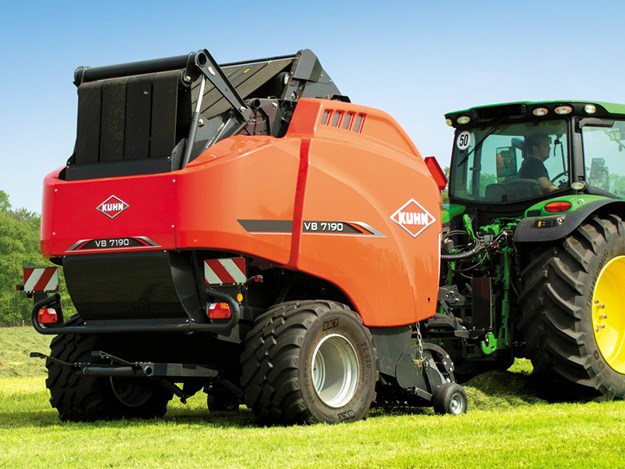 Among a host of other machinery, Kuhn will unveil its new high-performance VB 7100 round baler series that creates extremely dense bales.
The two models in the VB 7100 series, the 7160 and 7190, produce 1.6-metre and 1.85-metre round bales. Both are variable chamber round balers that create bales of up to 140kg/m3 density.
The VB 7100 series features the new Kuhn patented system i-DENSE, which essentially is an intelligent twin tension arm system. In combination with the measurements of the moisture sensor, it automatically adapts the baling pressure according to the different crops and crop conditions without the interference of the driver.
The unique mix of the i-DENSE system and the proven four belts and three roller design of the bale chamber ensure fast, consistent bale formation in any crop condition, even in silage baling.
The VB 7100 balers feature the fastest tailgate operation in the market that ejects the bale and has the tailgate closing within four seconds. The net binding system can be loaded from both sides of the machine.
New MF 6700 S Series tractors on the way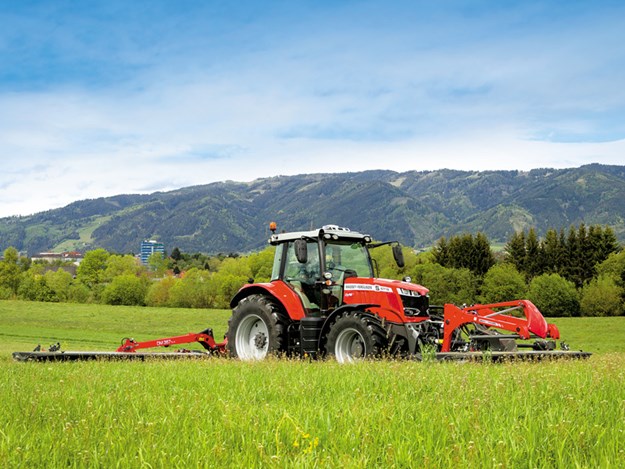 Five new tractor models with power outputs ranging from 135hp to 180hp are on the way from Massey Ferguson in its MF 6700 S Series. 
Like their predecessors, the new MF 6700 S Series delivers the power and torque of a comparable six-cylinder tractor, along with the benefits of a compact, lightweight four-cylinder.
All models are equipped with the latest AGCO Power four-cylinder, Stage V engines, and maximum power is increased by five horsepower on all but the smallest model while Engine Power Management (EPM) delivers a boost of up to 20hp.
The new MF 6700 S Series provides as well different transmission choice, on all models, either the Dyna-VT continuously variable transmission or the new semi-powershift Dyna-6 Super Eco. Models include the MF 6713 S, MF 6714 S, MF 6715 S, MF 6716 S, and MF 6718S.
Plus, Massey Ferguson is introducing the new MF TW 160 trailed round bale wrapper model featuring a heavy-duty welded frame and loading arm that can be adjusted to accommodate bales between 0.9 and 1.6 metres in diameter.
Genesis sings a new tune on New Holland stand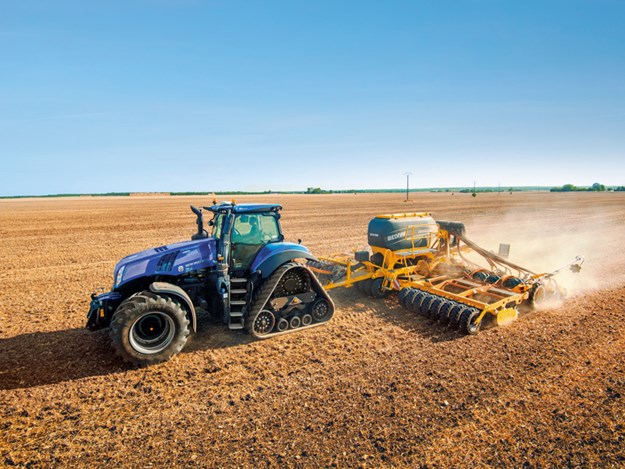 New Holland Agriculture is launching the new T8 Genesis Series tractor with Precision Land Management Intelligence, New Holland's intuitive precision farming platform.
The new T8 Genesis features the 8.7-litre Cursor 9 engine developed by FPT Industrial. It meets Stage V emissions standards with the highly fuel-efficient engine and the ECOBlue HI-eSCR2 after-treatment system, a maintenance-free patented solution that minimises operating costs.
The Cursor 9's long 600-hour engine service intervals will satisfy the most demanding customers looking for the maximum amount of uptime in the field. During 2020, New Holland will extend the T8 Genesis range with a new 400hp full-powershift model.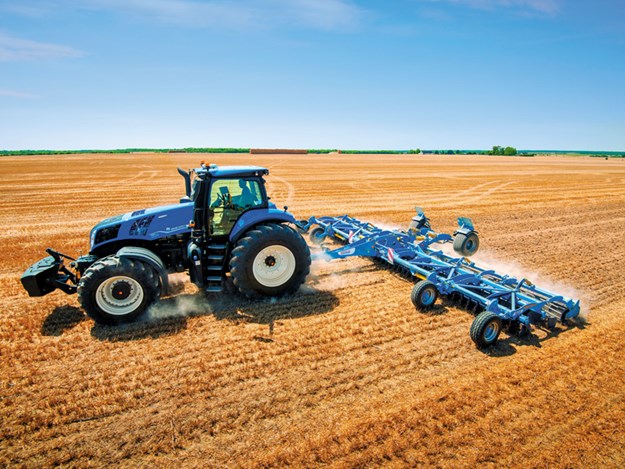 This new powershift will feature a 21Fx5R speed transmission and will only be available on the flagship T8.435 Ultra CommandTM in either wheeled or SmartTraxTM versions.
With this new addition, customers can choose at every power level the transmission technology most suitable for their business; Ultra Command full-powershift for heavy draft work in the field or the Auto CommandTM for speed sensitive and transport applications.
Merlo introduces new Turbofarmer telehandler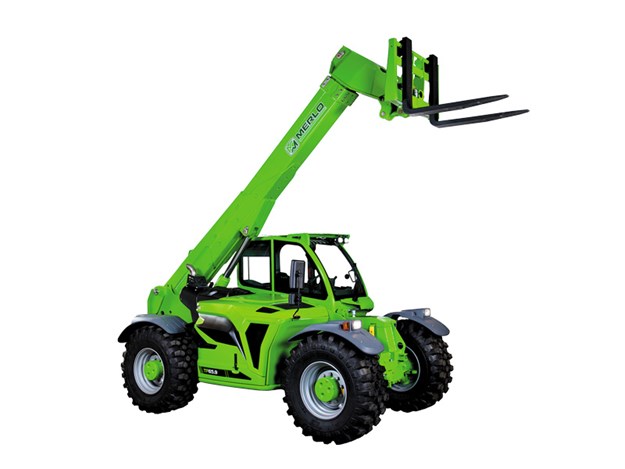 New for Merlo at Agritechnica is its Turbofarmer TF65.9 telehandler with a maximum lift height of 8.8 metres. Powered by an FPT NEF 45 170hp engine, the new Turbofarmer has a levelling system, which allows correcting the lateral inclinations up to 11 degrees in order to lift the load vertically.
With a number of features including sensing and flow sharing, which is capable of delivering more than 160 litres per minute and the latest generation continuously variable transmission, MCVTronic, this machine is capable of completing every type of work in the industrial and agricultural field.
The new cab is equipped with the patented damping system that drastically reduces vibrations and noise. The tac-lock system for the hydraulic locking of the tools allows to further improve the operating comfort.
Machine structure has been designed to last over time, and the telescopic boom is able to offer maximum precision movements even with high loads. Also, this machine is equipped with an Eco Power Drive (EPD) electronically controlled hydrostatic transmission, which reduces engine rpm where high power is not required, thus saving diesel.
Mercedes convinces farmers to use Unimogs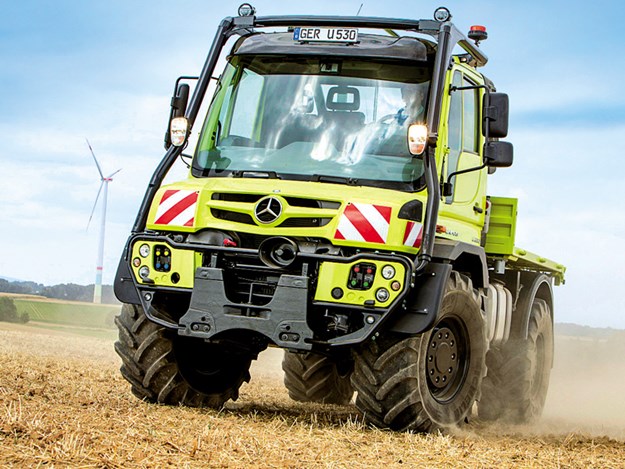 Mercedes-Benz will exhibit three of its popular Unimog machines at Agritechnica in a bid to convince farmers to use them in agriculture.
Two Unimog U530 models and one Unimog U218 will be of particular interest to farmers and, of course, those in the municipal sectors. Mercedes say the Unimog is perfectly suited to highly specialised agricultural working practices.
Four attachment areas are provided for a variety of equipment on Unimogs, not only at the front and back of the vehicle but it's also possible to mount attachments between the axles and on the chassis.
Unimogs have a high gross combination weight of up to 40 tonnes and its unrestricted qualification for motorway use thanks to a maximum speed of 89km/h.
Busy show stand planned by Pottinger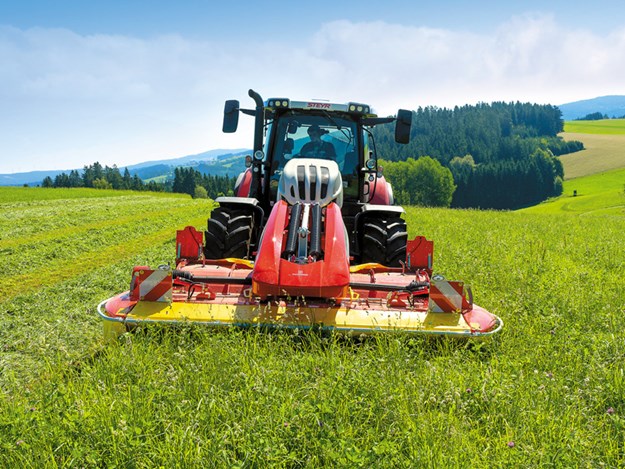 Austrian machinery manufacturer Pottinger is going to be busy at Agritechnica with a number of new launches planned. For mowing grass, the company will launch the new Pro mower range consisting of the Novacat 261, 301, and 351 Alpha Motion Pro disc mowers as well as the Eurocat 311 Alpha Motion Pro and Alpha Motion Plus Pro drum-type mowers.
Next up is the new Impress 185 VC Pro round baler wrapper combination, which is a variable round baler producing a bale size between 0.9 and 1.85 metres.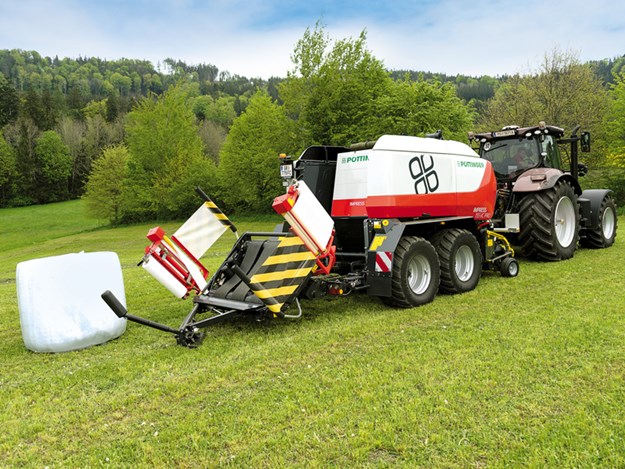 Also, there's a new wrapper, the Impress 185 VC Pro, specifically devised to match the high technical output of the baler. The wrapper arms extend upwards from underneath, which shifts the centre of gravity of the machine downwards and ensures trouble-free continuous loading of large bales.
Plus, there's a baler turner for the Impress, which turns bales on their end after wrapping. The pressure of the contents of the bale expands the film. The film layers are pressed together and the bale is sealed even better.
Strautmann reveals its top-line Magnon forage wagon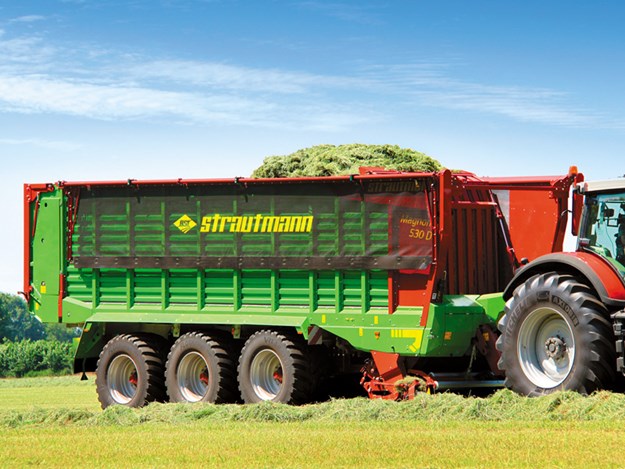 Strautmann is presenting its new forage wagon series Magnon CFS at Agritechnica complete with a host of new features.
The Magnon CFS series has a completely new pick-up concept, the newly developed Exact-Cut cutting unit, and the hydraulically swivelling front panel. It's available in the three versions, namely the 430, 470, and 530, with a loading capacity of 42, 46, und 52 cubic metres respectively.
The Flex-Load pick-up of the Magnon CFS uses plastic tines instead of the usual steel ones arranged in six V-shaped rows and is 2.25-metre wide. Newly developed Exact-Cut cutting unit is equipped with 48 knives, with cutting length of 35mm. The knives have got cutting edges on both sides and can thus be used on both sides.
The platform is 2.4-metre wide and has a galvanised steel floor. The transport floor consists of four low-wear plate-link chains with a breaking load of 13 tonnes each. The Magnon CFS 430 and 470 models are fitted with a tandem chassis with an axle load of 20 tonnes while the Magnon CFS 530 model has a tridem chassis with an axle load of 30 tonnes.
Vaderstad brings in the big guns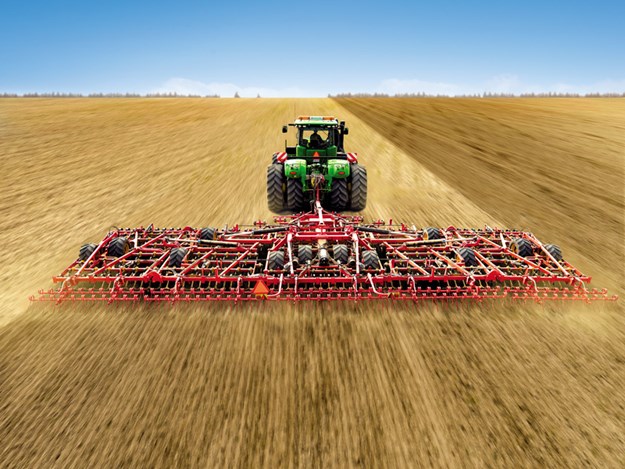 Swedish manufacturer Vaderstad is planning a big stand for its new machines including the massive NZ Extreme 1250–1425 tine harrow. Measuring 12.5 to 14.25-metre wide, this giant, heavy-duty tine harrow is built from a five-section frame able to adapt to the field surface and maintain the selected depth. This is further increased by an innovative weight transfer, ingenious wheel set-up, and heavy machine design.
After the world premiere at Agritechnica 2019, a limited series of NZ Extreme machines will be tested in selected markets in 2020 before being fully introduced to the market. After the final field testing is completed, the manufacturing of NZ Extreme 1250–1425 will start in 2021, with the ambition to be in full production during the end of the year.
Also, Vaderstad is introducing the new Tempo WideLining system – the worlds' first tramlining system, making it possible for the farmer to spread liquid manure in a standing silage maize crop.
Instead of preparing the wheel tracks for the liquid manure spreader by shutting off row units, WideLining automatically changes the row spacing on the planter.
Find more farm machinery for sale in NZ
Keep up to date in the industry by signing up to Farm Trader's free newsletter or liking us on Facebook