Event: Agritechnica 2019
---
If there was one key message that visitors to the recent Agritechnica show in Germany took home with them, it was that investing in high-tech, efficient machinery is the key to a profitable farming future
More than 450,000 farmers, contractors, and machinery enthusiasts took in the sights and sounds of the week-long event in Hanover, regarded as the world's largest agriculture machinery show.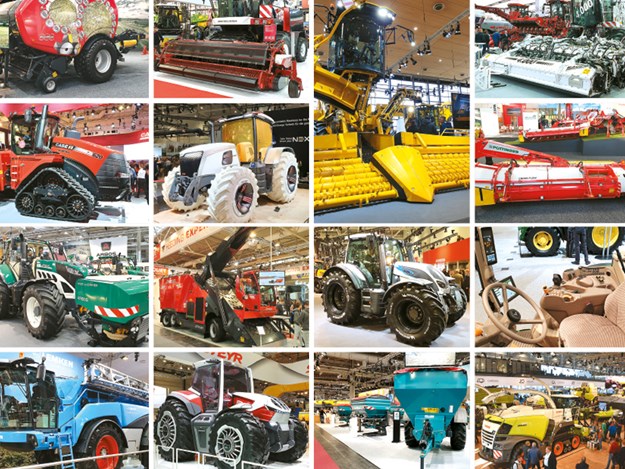 Machinery manufacturers use the show to launch their latest innovations and technology that may or may not make it into full scale commercial production some day.
The agricultural world of machinery is changing rapidly in terms of engines, design, size, and, of course, price, and exhibitors at Agritechnica were keen to highlight why theirs is top of the class.
Some of the key focuses at this Agritechnica included producing engines fuelled by alternatives to diesel, developing smart technology that's affordable to smaller farmers and increasing the use of autonomous vehicles.
From the smallest plough to a gigantic self-propelled manure spreader, Agritechnica had it all. While the machinery comes from a wide plethora of countries and is manufactured for a huge number of uses, the one sentiment that connects them all is that smart farming should provide for a better future.
In total, 2819 exhibitors from 53 countries exhibited their wares with a number of joint ventures between competing brands surprising some of those in attendance.
The end goal though, of developing a machine that's efficient and saves costs, remains the primary focus for manufacturers even if the guaranteed future of that machine is a good few years down the line.
Russians reveal big RSM 2400 Series tractors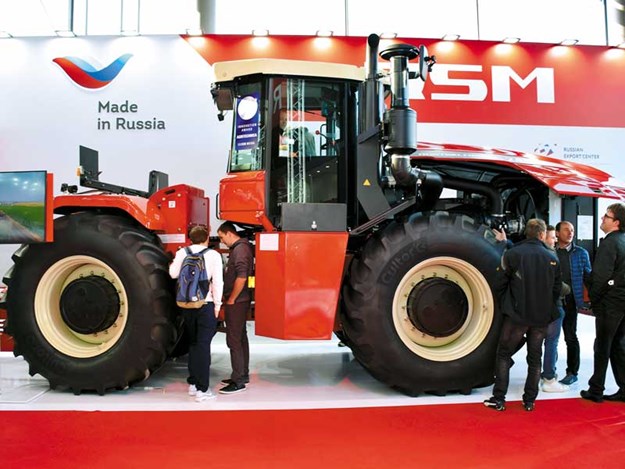 Making its international debut at Agritechnica was the huge Russian-built RSM 2400 tractor from manufacturer Rostselmash.
There are two tractors in the RSM 2000 series, the RSM 2375 and RSM 2400, both powered by Cummins engines. Unlike most of Rostselmash tractors from other series, the RSM 2000 machines come solely with manual transmission for maximum performance.
For the European market, the tractor is available with the Cummins X12 405hp engine (Stage V) and the Quadshift 12/4 manual transmission, which ensures its optimal horsepower-to-traction ratio.
The high-performance 230 litres per minute hydraulic system with five pairs of couplings available for connection, a low-pressure backflow coupling, and a Power Beyond kit allows attaching almost any pneumatic grain or row-crop seeders.
The big RSM 2400 tractor has an open frame design articulating up to 42 degrees horizontally, and up to a total of 30 degrees vertically.
First Fendt telehandler revealed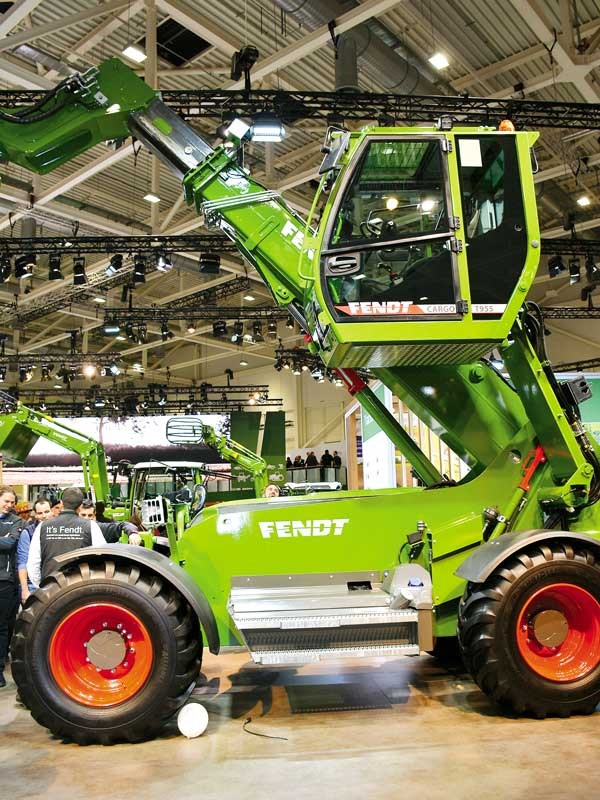 A new offering from Fendt, with the release of its first telehandler unveiled at Agritechnica 2019.
The cab lifts up to a viewing height of 4.25 metres, giving the operator a bird's eye-view of their surroundings. The new Cargo T955 is Fendt's first telehandler and has been developed in a joint venture with German manufacturer Sennebogen, best known for building large industrial machinery including port cranes.
The single model in the range has a load capacity of 5.5 tonnes and a lifting height of 8.5 metres.
There's no dashboard to obstruct the lower part of the continuous windscreen and the cab is vibration dampened to increase operator comfort. Variable driving speeds of up to 40km per hour can be achieved.
Fliegl's crawler trailer will get you out of a rut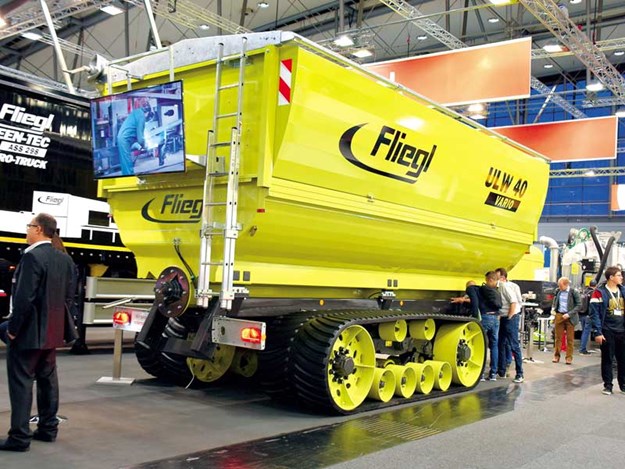 A rather interesting transport trailer from Fliegl caught the attention of visitors at the show with its tracked chassis.
Not only does this trailer offer increased efficiency at harvest time, it also is less harmful to the ground with its new crawler technology.
With 24 balancing rollers, a track width of 800mm, and a chassis height of 1050mm, the trailer protects the soil structure with increased traction.
Within the Vario range, there are six different models from 20 to 45 cubic metres capacity with load discharges of around 10 tonnes per minute. The Vario has width-adjustable side walls, which can be reduced to 2.55 metres for road transport extending to three metres for field work.
Reducing pesticides use with new Horsch harrow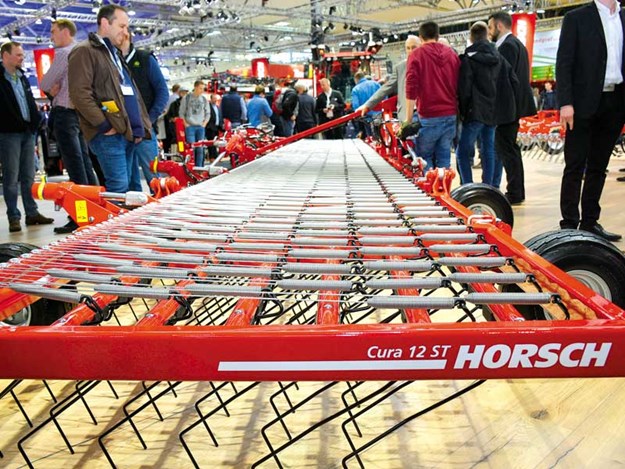 Designed to help organic farmers keep weeds at bay and reduce pesticide use on other farms, the new Horsch Cura ST was launched at Agritechnica. This three point linkage harrow comes in different widths ranging from six to 15 metres and comprises a six bar design with tine spacing of 2.8cms.
The support pressure of the harrow tines is continuously hydraulically adjustable. Every harrow tine can be charged with a pressure ranging from 500 to 5000g and maintains almost the same forces for the whole spring deflexion. Another benefit is that every tine is fastened individually and efficiently secured against being pushed to the side meaning they can be easily changed if need be.
The machine on the stand was a 12-metre version with a retail price of around 28,000 euros.
JCB launch new agri telescopic handler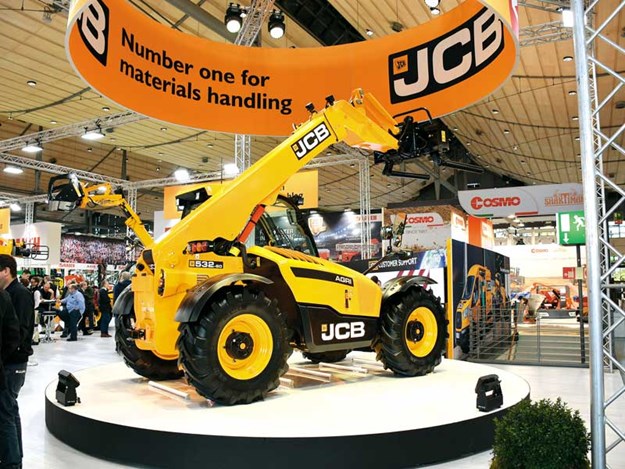 JCB added a new telescopic handler to its range at Agritechnica, called the Loadall 532-60 AGRI.
Key features on the new model include a joystick switch-controlled four-speed powershift transmission, the JCB EcoMAX four-cylinder 4.4-litre 109hp engine, and a 3200kg lift capacity maximum to 6.2 metres full height or 1400kg at 3.34-metre forward reach.
Exhaust gases are cleaned using selective catalytic reduction (SCR) and a diesel oxidation catalyst (DOC) to meet Euro Stage IV/US Tier 4 Final emissions compliance.
It can be specified on 20-inch tyres to bring the machine's height down to just 2.4 metres from 2.49 metres on 24-inch tyres, together with a slight reduction in overall width. Top speed on the 380/75 R20 tyres is 33kph and the 460/70 R24 tyres increase this to 40kph.
Introducing an autonomous robotic sprayer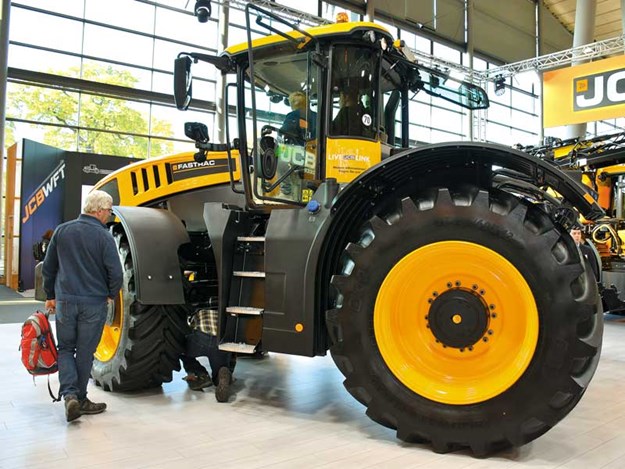 One of the many new concepts introduced at Agritechnica was John Deere's autonomous robotic electric powered sprayer. This novel machine has been designed purposely smaller in size to operate 24 hours per day and to work part of a team of multiple units.
It has a 560-litre spray tank and a 30 foot boom. The high ground clearance of 1.9 metres and four-wheel steering make it extremely versatile, while the four tracks minimise ground pressure and greatly extend the operating window.
Although there's a lot more development work required before this machine becomes a reality, John Deere says it's confident this approach will be popular in years to come.
New version JCB 8000 Series Fastrac launched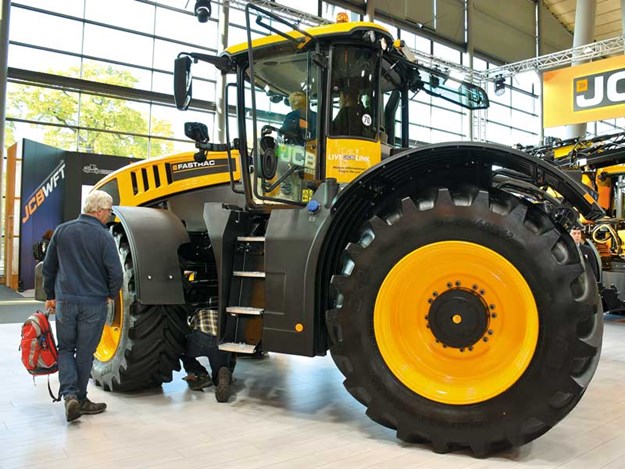 JCB used Agritechnica to launch a new version of the JCB 8000 Series high-speed field and haulage tractor, which has been equipped with hydraulic double-acting JCB Advanced Suspension front and rear for the first time.
Models include the Fastrac 8290 and 8330 with power outputs of 280hp and 335hp at rated speed.
The new Fastrac 8000 Series tractors also feature a 13% increase in permitted operating weight of 18,000kg; a rear deck load capacity doubled to 5000kg, making more useful for hoppers and tanks; and a new engine idle Auto-Stop and extended 600-hour service intervals for lower running costs.
New 8RX appears on John Deere stand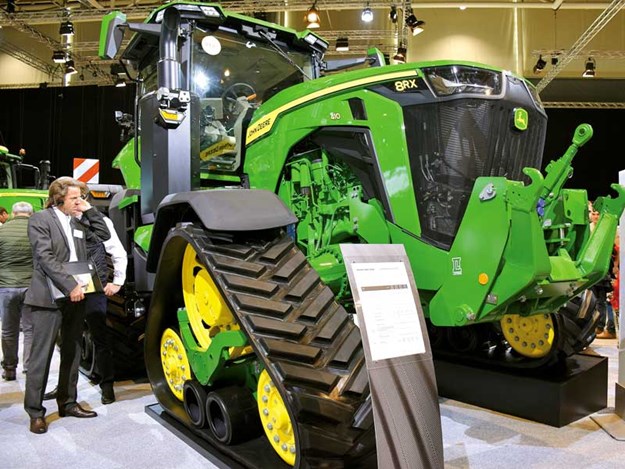 Following some confusion after a cancelled press launch earlier in the year, John Deere put its new 8RX tractor on public display at Agritechnica.
The new 8RX models have four tracks and form part of the new 13 model range offering three different drive concepts. Joining the 8RX tractors in the range are the new 8R wheeled units and the 8RT tractors on two tracks.
Deere says its "industry exclusive" 8RX Series has been developed with the aim of maximising soil protection. It has a transport width of less than three metres and achieves 40kph unrestricted road speed.
The tracks are available in widths from 16 to 30 inches (41 to 76cm), providing a total ground contact area of over 4.5 square metres. These latest 8R Series tractors retain John Deere's existing nine-litre PowerTech PVS and PSS engines.
Joskin secures gold medal in joint venture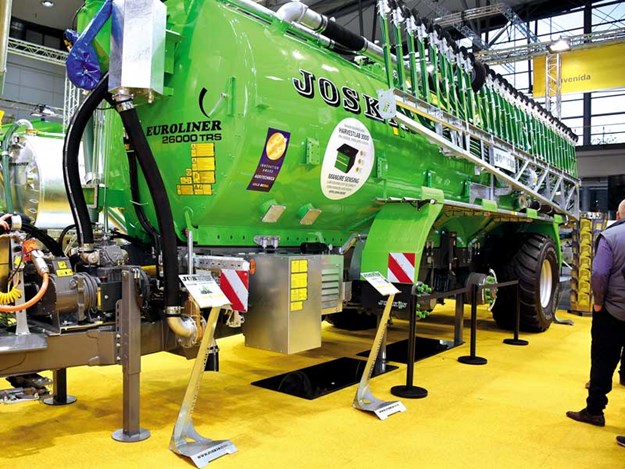 The only gold medal awarded at this year's Agritechnica went to a joint effort by Joskin and John Deere for development in electric drives.
The heavy weight manufacturers have introduced a system where two axles on a tridem manure spreader are electrically driven by motors.
The eAutoPower gearbox for the new 8R large tractors from John Deere represents the first electro-mechanical power split gearbox in agricultural technology.
Two electric motors are used as a continuously variable actuator and are specified to not only supply the drive, but provide up to 100kW of electric power for external consumption. On the tractor side, this electrical integration results in improved gearbox efficiencies and reduced maintenance costs.
Used in combination with an axle drive on a manure spreader, it improves traction, reduces slip, and improves track guidance on steep slopes.
New stone picker eases back ache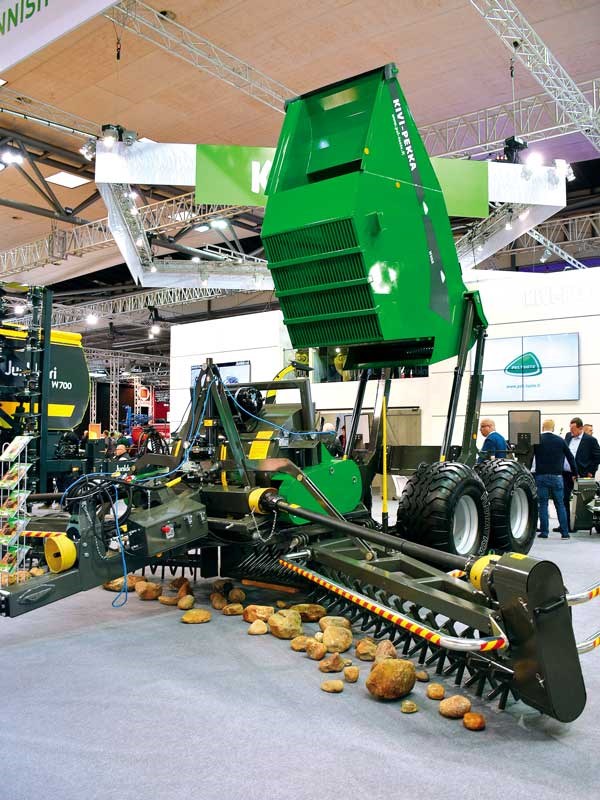 A new seven-metre wide stone picker has been launched by Finnish company Pel-Tuote, making it the widest machine in the portfolio. Called the Kivi-Pekka 7, the machine can pick up stones across the entire seven-metre width and has a stone tank capacity of three cubic metres.
It can handle stones with a diameter up to 50cms. The lifting drum has 33 lifting tines and can handle 1400kg per minute.
The standard tipping height is 2.9 metres, making it easy to unload the stones into a trailer. The Kivi-Pekka 7 comes with bogie wheels in either 560/60-22.5 or 700/45-22.5 sizes. In addition to the new model, Kivi-Pekka stone pickers are also available with working widths of four, five, and six metres.
More power on demand for Krone's Big X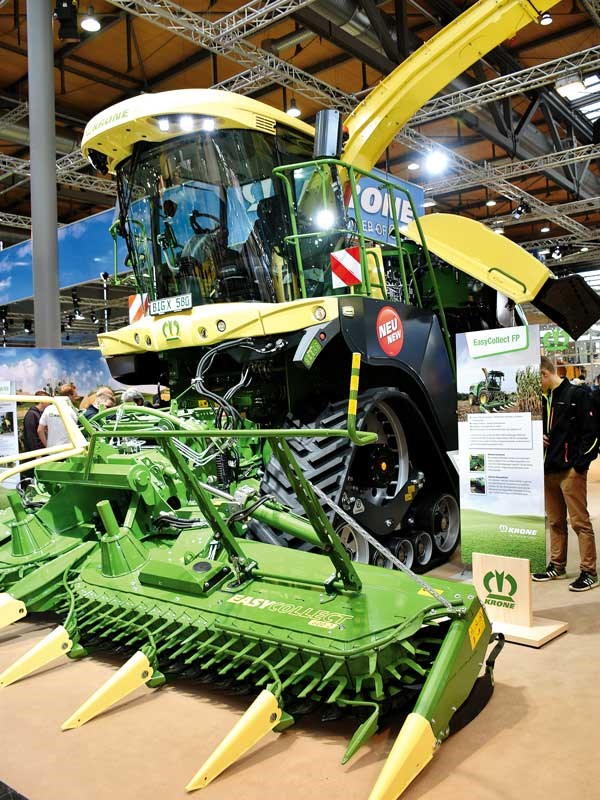 Silage contractors needing a bit of extra boost when harvesting to keep forward speed and chop quality can now purchase power online.
Krone has developed XtraPower technology: a novel online shop system that allows contractors to boost engine power by 50 to 100hp within a few minutes, simply by booking it on the internet.
After purchasing the extra power for the registered machine, the purchase is enabled on the machine and activated by the operator.
When the crops don't require extra engine power, the operator selects 'pause' on the terminal screen and engine speeds drops automatically to its previous level.
XtraPower is currently available for the Krone Big X 680 models with 687hp base power engines. By opting into XtraPower-50 or XtraPower-100, the operator can boost the output of the V8 engine to 730hp or 775hp. XtraPower is provided in various time packages ranging from 10 to 250 hours.
New Swadro rake from Krone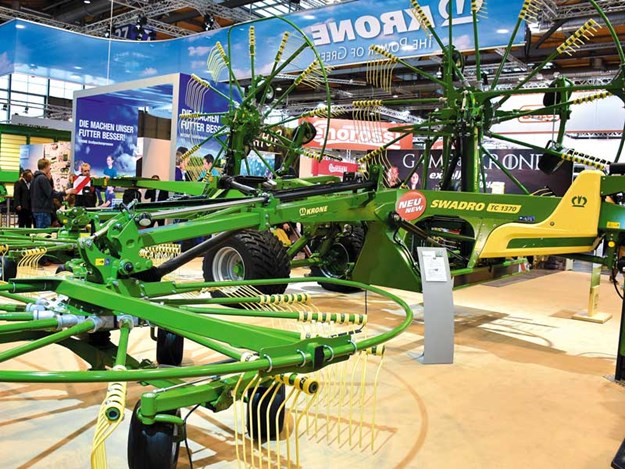 Another new grass rake has hit the market as Krone introduces its new Swadro TC1370 four rotor model. With a hydraulic rotor suspension, electric height control, and adjustable headland lift, the latest model has working widths from 10.8 to 13.7 metres and swath widths from 1.4 to 2.6 metres.
Tractor attachment is either via the standard two-point headstock or the optional 80 ball hitch. Hydraulic connection also offers the choice between a standard load-sensing solution and connection to a regular oil circuit as an option. Buyers can also choose between a standard air or optional hydraulic braking systems.
The transport running gear is fitted with either standard 620/40R22.5 or 710/35R22.5 tyres.
Say hello to the new McHale V6 750 baler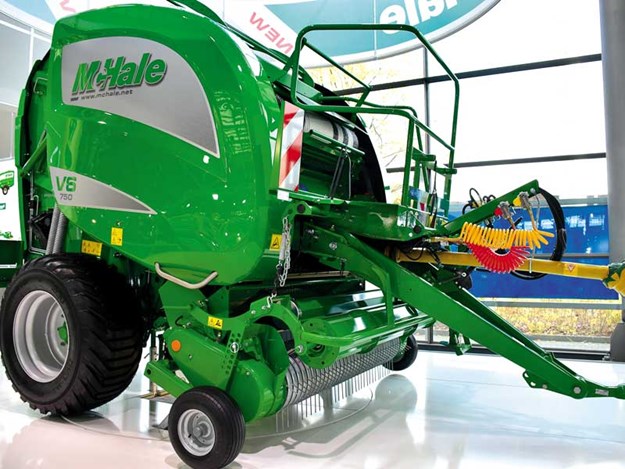 Irish machinery manufacturer McHale introduced its new V6750 round baler at the show fitted with a load of features for the grassland farmer.
This is a semi-automatic variable chamber baler fitted with a 15 knife chopper unit and heavy-duty rotor. It's equipped with a double drive system, which allows the machine to operate in the toughest of conditions.
The machine has a high-capacity pick-up with a working width of 2.1 metres, has five tine bars, and a tine spacing of 70mm.
It comes with centralised grease blocks as standard but automatic greasing is available as an option. Net and bale density can be adjusted from the cab through the Expert Plus control console.
Bale size from this unit varies from 0.6 to 1.68 metres. Fitted as standard with 500/50-22.5 tyres the new V6 750 can go anywhere.
New slurry tanker range launched by Samson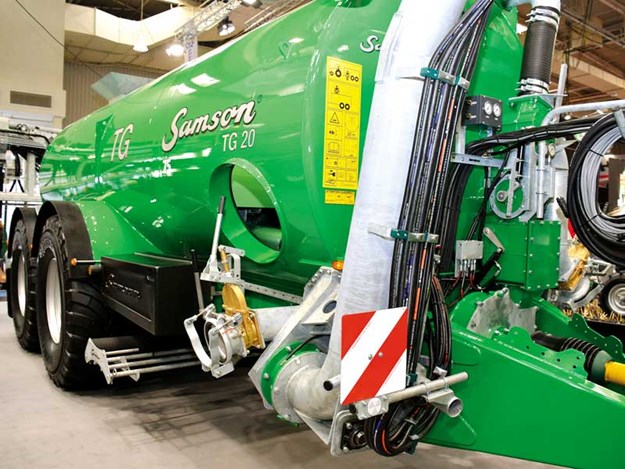 Samson launched its new TG slurry tanker range at Agritechnica with capacities from 18 to 20 cubic metres in the TG18 and TG20 models.
The vacuum is only generated in the ejector pipe system and not in the entire slurry tanker, which helps to minimise the weight of the TG tankers.
The ejector system can build a high vacuum, under optimal conditions down to -0.9 bar, and has a filling capacity of up to 6000 litres per minute.
The Samson TG can have filling points via a hopper placed at the top of the tanker, hose with filling pump on the side of the tanker, via single or double articulated side arms, or via a front arm pump.
Tankers can be equipped with a Samson hydraulic three-point hitch with a lifting capacity of 3.8 tonnes.
New hybrid combines on Sampo Rosenlew stand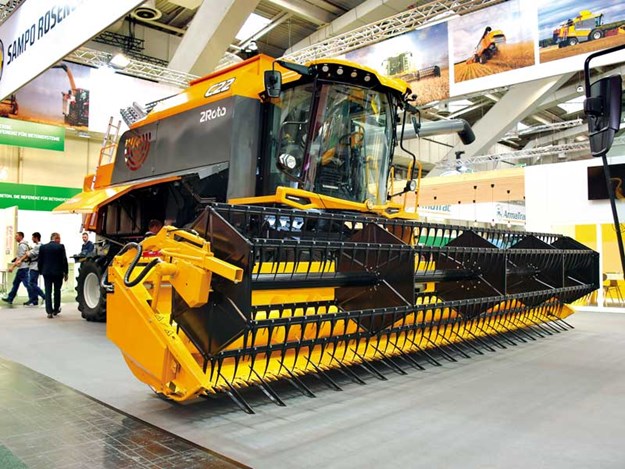 Finnish manufacturer Sampo Rosenlew exhibited its first hybrid double rotary combine harvesters, the new Comia C20 and C22 models, at Agritechnica. 
With cutting widths of up to 7.5 metres, the new models are suitable for large and mid-sized farms. Both the new C20 and C22 feature a double rotary instead of traditional straw walker to deliver significantly higher threshing capacities. The C20 is fitted with a single threshing cylinder and the C22 fitted with a pre-threshing cylinder. 
Both combines have a threshing drum width of 134cms and have new cylinder variators, high capacity grain elevators and shaker shoe areas. Both are fitted with Sampo's premium Avara cab, designed and developed for easy, efficient, safe, and long hours of work.
Find more farm machinery for sale in NZ
Keep up to date in the industry by signing up to Farm Trader's free newsletter or liking us on Facebook