Event: Lucindale's South East Field Days 2022
---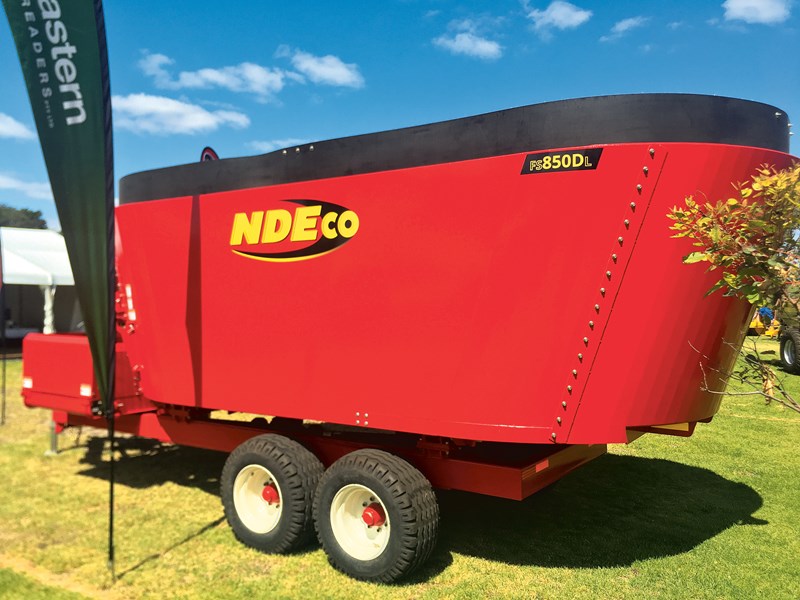 NDE Co FS850DL Feed Mixer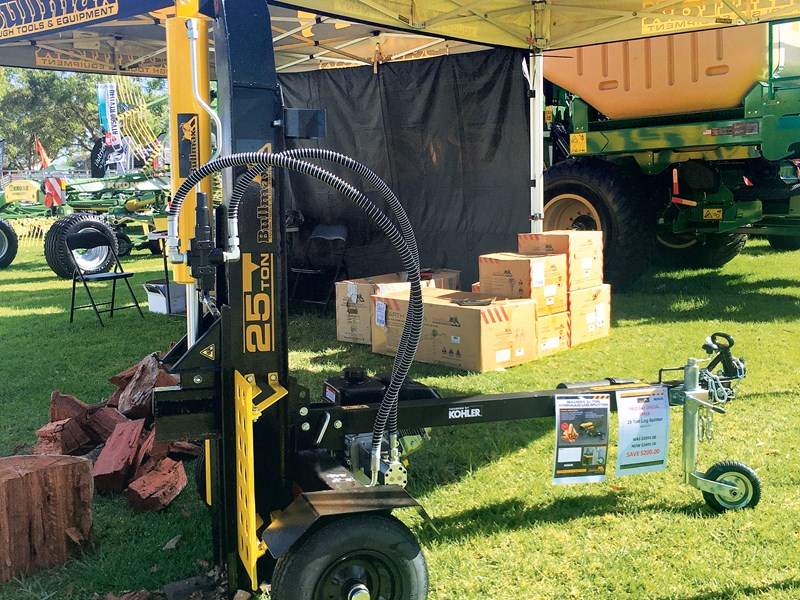 The smaller 25T spliter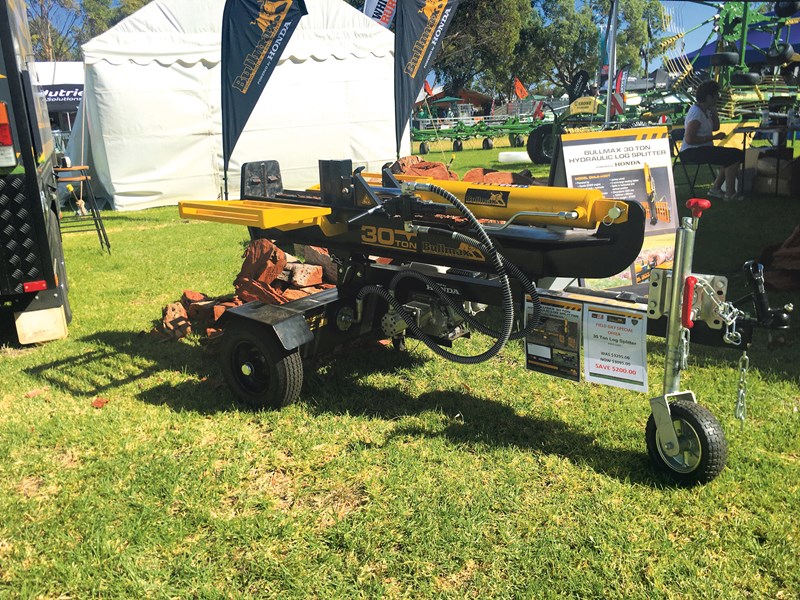 Bullmax 30T log splitter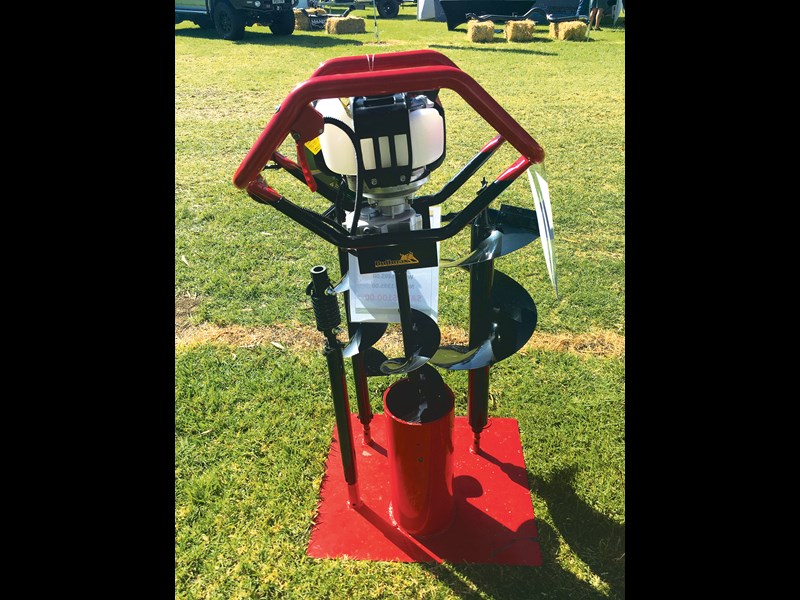 Bullmax auger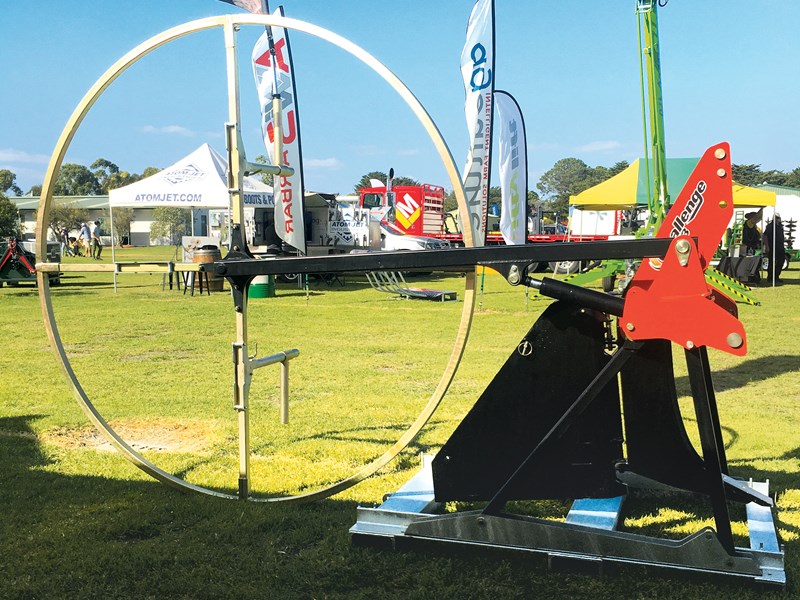 Challenge R Series ripper attachment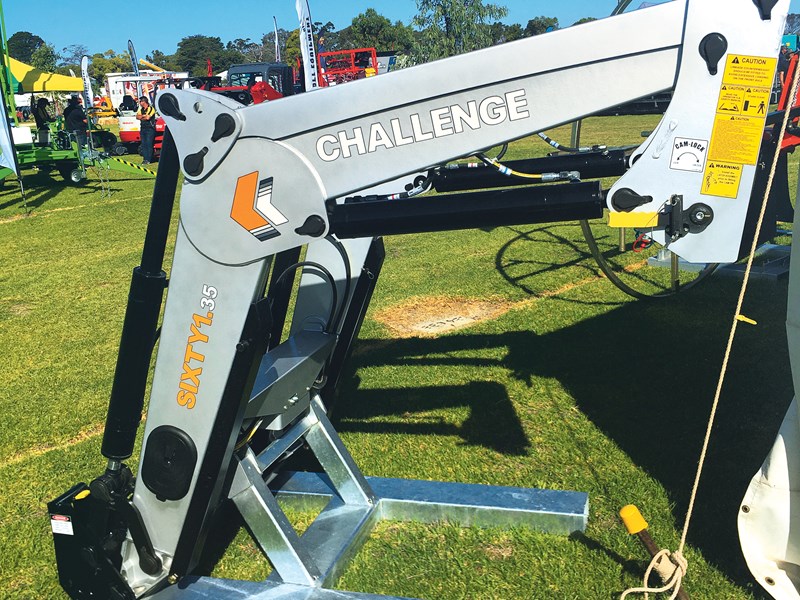 Challenge SIXTY1.35 front-end loader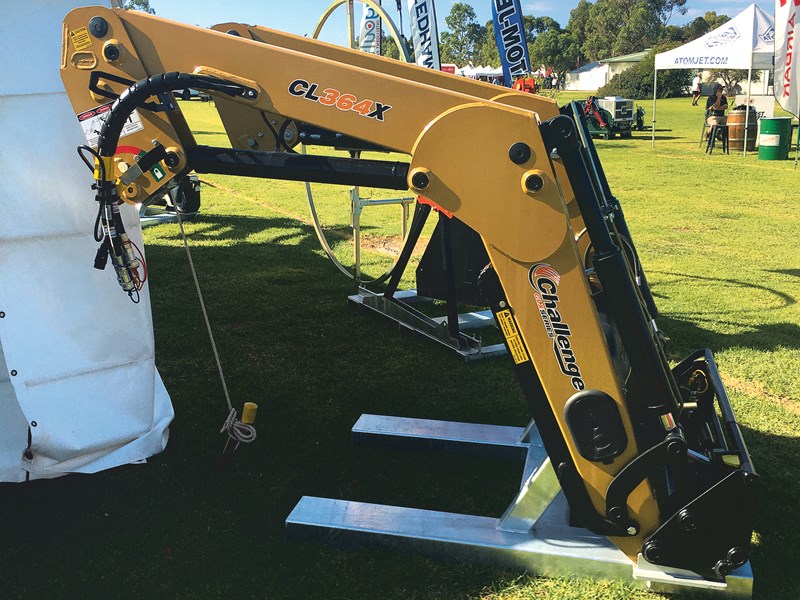 Challenge CL364X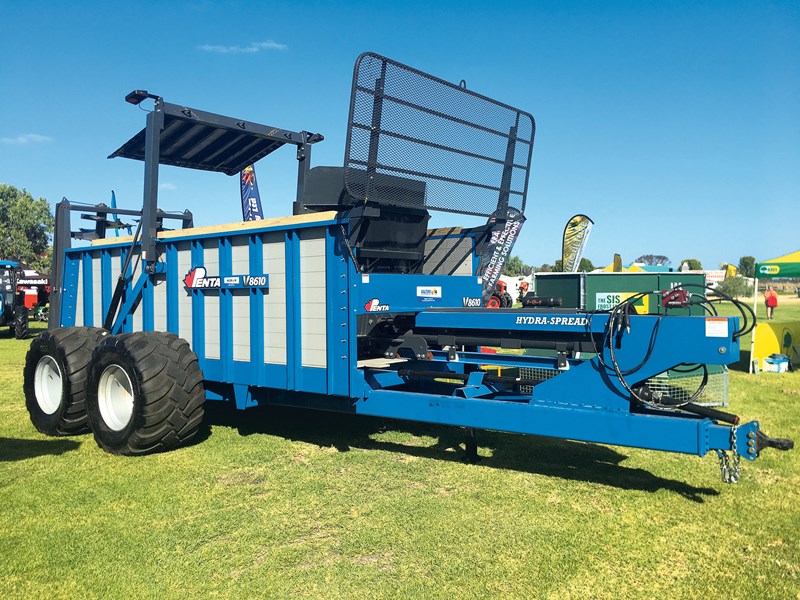 H8610 Penta Spreader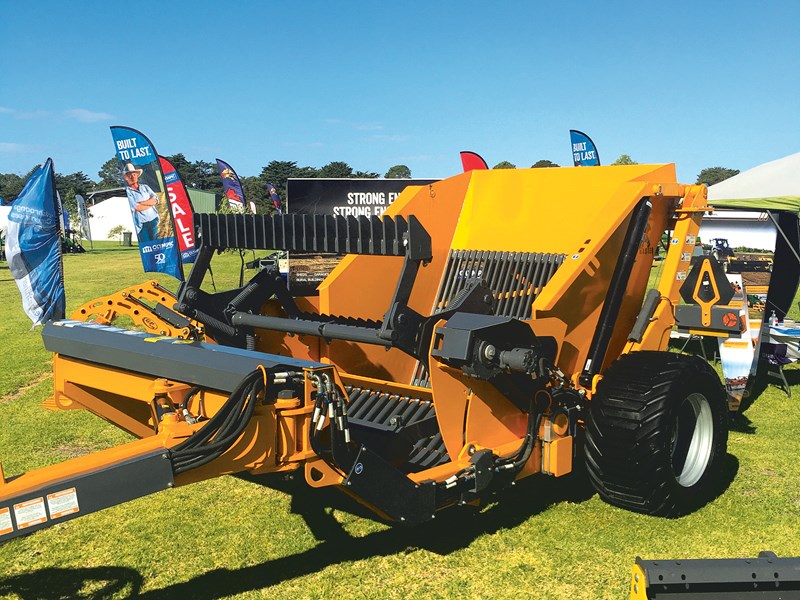 S Houle Rock Master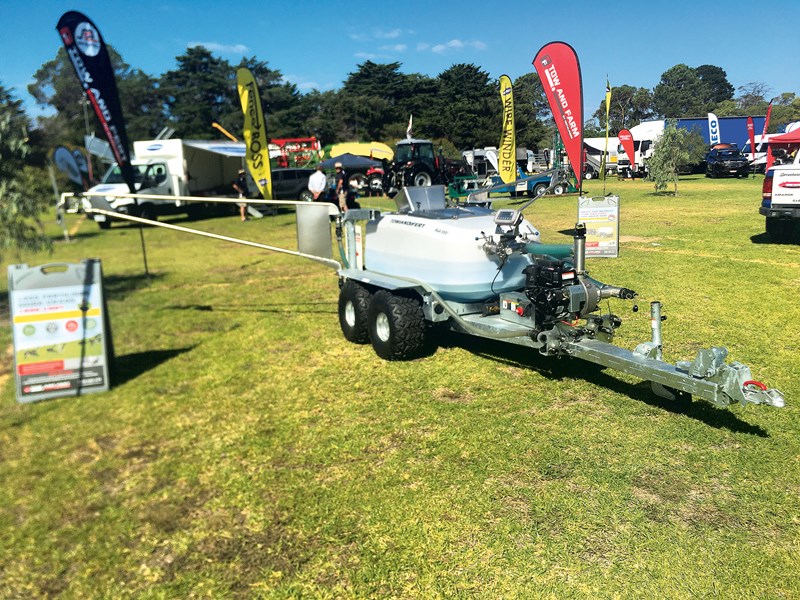 Tow and Fert Multi 1000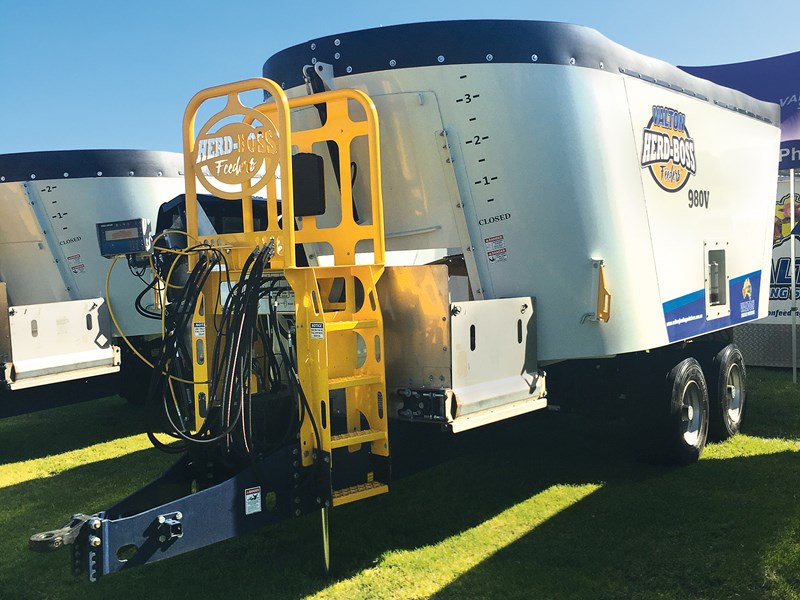 Valton Herd-Boss 980v

With few events on the NZ calendar this month, Australia had more success when after two years of cancellations, Lucindale's South East Field Days returned
With more than 8000 people through the gates on the first day alone, the event was the first opportunity for many in the region to experience a field day in a long time. We share some of the highlights of the 2022 event.
Goldacres Prairie Pro Series 2
The Prairie Pro Series 2 is a complete redesign of Goldacres' flagship trailing model, incorporating the filling and application technology from its G6 Crop Cruiser Series 2.
The new model boasts a totally new chassis, a higher platform, and boom rest design and Goldacres' own G-Hub sprayer control system.
The model pictured has a 6500-litre spray capacity with a 36-metre boom, though the units can reach up to an 8500-litre capacity and a 48-metre boom.
NDE Co FS850DL Feed Mixer
Distributed by Eastern Spreaders, NDE Co's FS series of feed mixers are designed with overlapping dual augers for an even front-to-back mix and providing complete
unit cleanout.
Equipped with a step floor design, a suspended conveyor 42 inches wide and a front door that opens to 58 inches wide, the unit unloads more evenly for better feeding.
The FS850DL pictured here has a capacity of 20.2 cubic metres and weighs about 9.5 tonnes empty, with a minimum power requirement of 130hp.
Tow and Fert Multi 1000
Designed in New Zealand, the Tow and Fert Multi 1000 spray unit is small enough to be towed by a ute but can cover up to eight hectares with one full load.
The Multi 1000 features the company's patented re-circulation boom design that delivers up to a 20-metre spread through just two large nozzles.
The agitation can be controlled by a
petrol-powered engine or through a hydraulic powered unit for attaching to and being driven by a tractor.
Bullmax 30-tonne hydraulic log splitter
Powered by a Honda GX200 engine and weighing 275kg, the BMLS-H30T has a 30-tonne splitting force and can handle logs up to 630mm long.
The unit can split logs in either a horizontal or vertical position, with two extra-large loading tables for maximum efficiency.
The smaller 25-tonne hydraulic log splitter also boasts these features, albeit with a Kohler SH265 engine and a 17-litre oil tank when compared to the 23-litre tank on the 30-tonne model.
Bullmax two-person Posthole Earth Auger
This two-person auger features a dual throttle system that allows it to be operated by a single person and has been engineered for both professional and domestic use.
Equipped with a Honda GX50 four-stroke engine, the auger can reach speeds of 200 ROPM at an engine speed of 6000rpm.
It can be equipped with drill sizes of 150mm, 200mm, and 300mm and can reach a drill depth of 800mm.
Valton Herd-Boss 980v
New for Australian farms, the Herd Boss Feed mixer trailer has a capacity of 28 cubic metres (980 cubic feet) with its rubber extensions, measuring 3200mm high and with a 2616mm tub width.
The Herd-Boss comes with hydraulic brakes and a hydraulic steering rear axle, as well as vertical augers, a two-speed gearbox, and a 55 Series PTO. Also pictured is the H8610 Penta Spreader, measuring 9.8 metres long, with a capacity of 26 cubic metres and a 250hp engine.
S Houle PWD-10 Rock Rake
Distributed by Wahroonga Enterprises, the PWD-10 rock rake is designed to dig and move rocks and roots into a windrow, making them easy to collect.
Measuring 3.5m wide – and with a
2.7-metre working width – the unit weighs 1.1 tonnes and is recommended to be towed by tractors with between 65 and 125hp.
The PWD-10 also includes a tilt system on the rear wheel to adjust to ground contours.
S Houle Rock Master rock picker
With a two-metre dumping height, the
ability to dump while in motion and a bucket capacity of three cubic metres, the S Houle rock picker range offers several advantages over its competition.
The RM 8080 Rock Master has a
two-metre picking width and can pick up rocks of between five and 61cm in diameter.
Weighing 4082kg, the unit must be towed by vehicles with at least 80hp, though 120hp
is recommended.
Challenge SIXTY1.35 front-end loader
The Challenge SIXTY1 series of front-end loaders meet reliability, ease of use, and performance requirements while also providing a more economical product.
Weighing 590kg, the SIXTY1.35 is suited for 75–110hp tractors, while coming with
either Australian or European hitches, an easy detach loader frame, and a mechanical
self-levelling system.
An additional hydraulic circuit – taking it to four – is available as an option, as are multi-couplers and the hydro ride system.
Challenge CL364X front-end loader
The CLX series of front-end loaders offers a range of features to help save time and money for farmers, with the CL364X suited to 75–110hp tractors.
Among these features are the EES system, which enhances its strength, and the CLT
self-levelling system, as well as an auto cam lock, a fast lock, and a choice of Australian and European hitches.
Challenge R Series ripper attachment
The R Series Ripper is a three-point linkage attachment to be used for ripping pipe and drainage channels, as well as channels for tree planting and to break up compacted soil.
Suitable for tractors of between 100 and 350hp, the ripper can be sold with a pipe layer, featuring nylon tapered rollers to efficiently guide the pipe with minimum resistance.
A pipe reel with adjustable arms, hydraulic lift, and an adjustable friction brake is also available to reduce the labour of feeding pipe through the pipe layer. 
Find new and used farm machinery for sale in NZ 
Keep up to date in the industry by signing up to Farm Trader's free newsletter or liking us on Facebook