Out of this world
---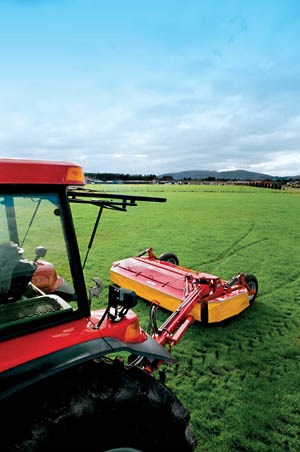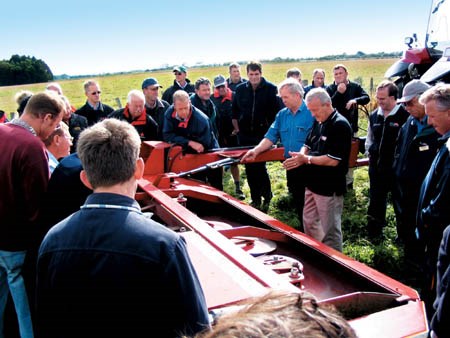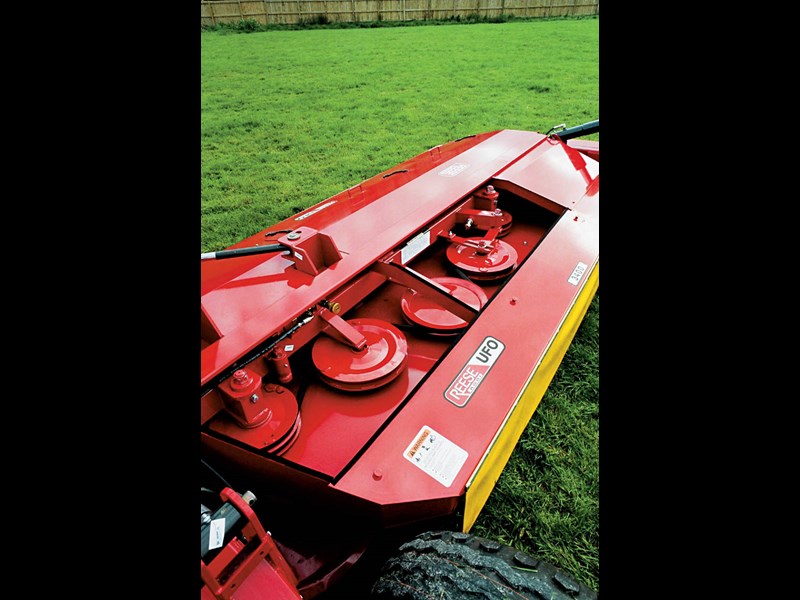 Reese Agri's new UFO 3400 offers farmers a radically different mower.
There would be few farmers in New Zealand that are not familiar with the UFO brand of mowers. From humble beginnings in 1972 with the release of the UFO single drum mower, Reese Agri has grown into one of New Zealand's premier manufacturers and distributors of agricultural machinery.
Today the company has over 65 staff and operates two manufacturing plants in Palmerston North and Wanganui producing UFO mowers and various hay and silage equipment, the famous Aitchison seed drills and Agrispred fertiliser spreaders.
Reese Agri is not only a well known brand in New Zealand, but also across the world, in places such as Missouri, USA, Hokkido in Japan, Brittany in France and Cork in Ireland.
Reese's new offering to the market, the UFO 3400 hay and silage mower, is the big brother of the 3100 pull-type mower that has sold successfully for more than a decade.
Many farmers in New Zealand have been increasing their farm size and are now under increasing time pressures.
"Larger machinery is what many of our customers are asking for," says Jason Prendergast, Reese Agri New Zealand sales manager.
The new Reese/UFO 3400 pull type mower is a radically new mower that offers a wide cut at 3.4m, a great gearbox and belt combination drive train. Predergast says New Zealand-based Reese Agri is the only manufacturer of disc mowers in the southern hemisphere.
"The mower has been developed in conjunction with some of New Zealand's leading farmers and contractors and is a reflection of their experience and expectations," Prendergast says.
The UFO 3400 mower was recently introduced to the Reese Agri dealer network at a launch day in Palmerston North. They were impressed with the list of standard features, such as high-tensile drums, hydraulic suspension, large 10-ply tyres and high-quality drive train combination.
The UFO 3400 mower has no primary frame, but a large, heavy-duty European gearbox that acts as point of entry for the PTO, which is fitted with a slip clutch and torque limiter. Transport width is equal to the cutting width at 11'3".
Blade speed on the UFO 3400 is more than 15 percent higher than most other mowers on the market at 325kph, Reese Agri claims. This will ensure a cleaner cut and lower HP requirements from the tractor. An 80hp tractor provides adequate power to drive this large offset mower. Cutting height is as low as 30mm or as high as 300mm. The mower is ideally suited for cutting hay and silage, but also brilliant at topping pastures.
"After a lengthy test program in 2004 involving various leading contractors and thousands of acres of cutting hay and silage we have high hopes for this addition to our extensive lineup of mowers," says Prendergast.
The Reese/UFO lineup of mowers now includes six drum mowers from 1.6m to 3.4m and four disc mowers at 2.4m, 2.8m and 3.2m cut, three-point linkage and a 2.8m trailed model.
For more information contact Reese Agri, tel (06) 357 9323 or visit www.reese.co.nz.
Keep up to date in the industry by signing up to Farm Trader's free newsletter or liking us on Facebook