Red-faced but never over-exerted
---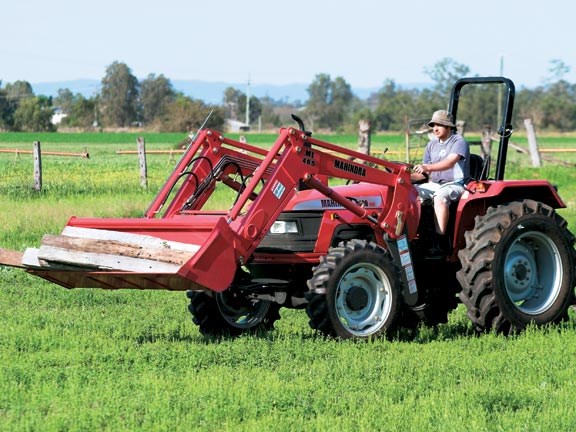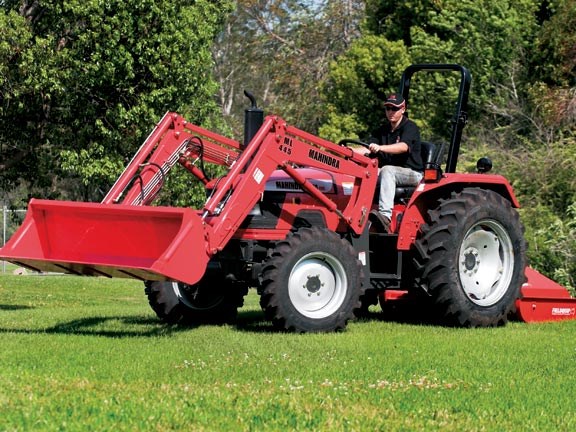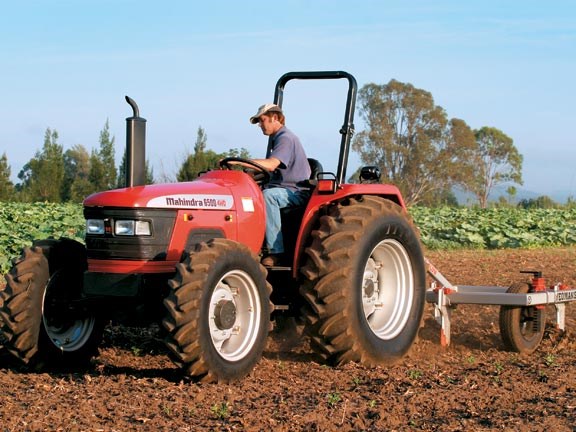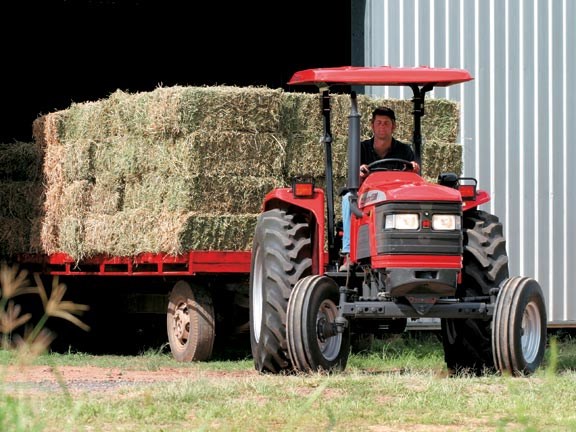 Mahindra Tractors, one of the top three tractor manufacturers in the world
Mahindra is known for making tractors with brute strength. Mahindra Tractors has notched up runaway success in more than 20 countries around the globe, including Australia and the highly competitive US market. In America, the company is among the top four brands in the segment it is operating in.
Mahindra's success story in all these countries is a story of machines manufactured with heavy-duty components. The axles and three-point hitches are bigger, thicker, and more solid: this provides greater stability and control in handling the most difficult tasks.
They help Mahindra owners lift heavy loads, so the work gets done faster. Their rugged cast-iron chassis make them a lot heavier than most other tractors of similar size and horsepower. Even fenders and other sheet metal components are reinforced and use a thicker gauge of metal for greater strength and durability.
From its proven American product line-up, the company has hand-picked a line of tractors in the compact and utility range for the New Zealand market.
Mahindra New Zealand 2008 model range:
20-4WD series (75hp) – Heading the Mahindra range is the 7520 4WD from the 20-WD series, a brutishly tough 75hp tractor. This tractor boasts an impressive four-stroke, direct injection four-cylinder diesel engine generating a maximum torque of 274Nm, complying with Tier II emission norms.
It features forward/reverse Synchro-Shuttle with 12 forward/12 reverse fully synchromesh transmission with standard differential lock and wet disc brakes. The tractor has standard two sets of auxiliary remotes with float and detent positions. The tractor offers a high discharge hydraulic pump with 64.3Lpm flow available at the remotes. The hydraulic system includes position and draft controls. Lift capacity at the ball ends is 2495kg and is standard with telescopic lower links and stabilisers.
In the comfort department, suspension seats are fitted with a retractable seat belt, arm rests, rainwater drain facility, and weight and back adjustments. A clear view, multifunctional electronic instrument cluster with malfunction warning lights, sleek, powerful headlamps with additional halogen lamps standard and stylish front grill and hood produce a modern, functional appearance. A rear work light and comfortable mounting steps on both sides of the vehicle add to the machine's versatility.
00-4WD Series (54hp-65hp) – Rugged and outstandingly versatile, tractors from the 00-4WD series typify Mahindra's no-nonsense approach to utility tractor construction. Mahindra has launched two models from this series – the 6500-4WD 65hp tractor and the 5500-4WD 54hp tractor.
Powered by a direct injection, water-cooled diesel, the NEF engines in these models offer an unmatched combination of performance and reliability. The high displacement coupled with advanced design ensures maximised torque levels as high as 238Nm in the 6500-4WD.
The standard 8 forward/8 reverse, fully synchromesh heavy duty transmissions are extremely reliable and easy-to-use. The left hand synchronised reverser provides smooth and great control for maximum productivity during intensive loader operations and headland operations.
00-2WD Series (54hp) – Highly economically priced, the 54hp 5500-2WD model is a very reliable workhorse designed to perform multiple tasks with ease.
The complete equipment package offers a high performance engine, heavy duty 8 forward/2 reverse transmission and lift capacity of 1800kg. One set of auxiliary remotes are standard on this tractor. And unlike many 2WD tractors, Mahindra's 5500-2WD features a super strong front axle ideal for front end loader work.
30-4WD Series (42hp) – At 2595kg, the 4530 4WD 42hp tractor is one of the heaviest and most rugged tractors in its category. In keeping with the design adopted for higher horsepower models, the 4530's chassis is designed to be exceptionally strong for long-term structural stability. 
The 4530 comes with a high capacity 2392cc, three-cylinder direct injection engine that delivers a massive torque of 152Nm. The 8 forward/8 reverse transmission incorporates very wide gears that provide great strength for the high torque loads being transmitted.
High reliability in loader and field operations is ensured by using the front axle which is designed for higher class tractors.
15-4WD/HST Series (20hp-32hp) – The 15-4WD/HST Series tractors feature stylish contemporary design and high quality of finish as well as easy-to-use transmissions in synchro-shuttle of hydrostatic options and comfortable cockpit ergonomics where everything falls easily to hand.
There are three models in this series: the 2015 HST-20hp with hydrostatic transmission, 3215 4WD-32hp with synchro-shuttle transmission and 3215 HST-32hp with hydrostatic transmission.
The stylish exterior houses a powerful three-cylinder engine. The turbocharged engine in the 3215 4WD/HST offers smooth lugging power providing ample strength and traction needed during tough jobs. The agile and comfortable hydrostatic transmission in the 2015 HST and 3215 HST models efficiently transfers power to the ground and provides infinite speed selection in either direction.
All the Mahindra models are serious workhorses equipped with standard features that most other companies would have built as extras. They are tough and durable machines that easily adapt to a variety of applications. These models can handle a wide range of implements, including slashers, mowers, scrapers, tillers, post-hole diggers, sprayers and more.
Factory fitted options include front end loaders and loader attachments, backhoes and mid-mount mowers on the compact tractors. Like powerfully designed extensions of human hands, Mahindra tractors aim to help landowners get the most out of their connection with the land, effectively and comfortably.
Mahindra tractors come from the house of 'Mahindra', one of the largest corporate houses in India today, with annual revenues in excess of NZ$6 billion.
The 60-plus year-old conglomerate is a market leader in the utility vehicles business and the farm equipment business in India. India boasts the largest market for tractors globally by volumes. Mahindra Tractors has been the market leader in India for 24 years with an undisputed leadership.
Globally, the company sells 115,000 tractors per annum and has a customer base in excess of 1.2 million. Mahindra has the enviable distinction of being the only tractor company in the world to have secured the coveted Japan Quality Medal and the Deming Award for quality, both universally recognised stamps of quality that extends to all the offerings from the Mahindra stable globally, including the machines that Mahindra plans to bring to the New Zealand arena.
Keep up to date in the industry by signing up to Farm Trader's free newsletter or liking us on Facebook