Truckie Profile
---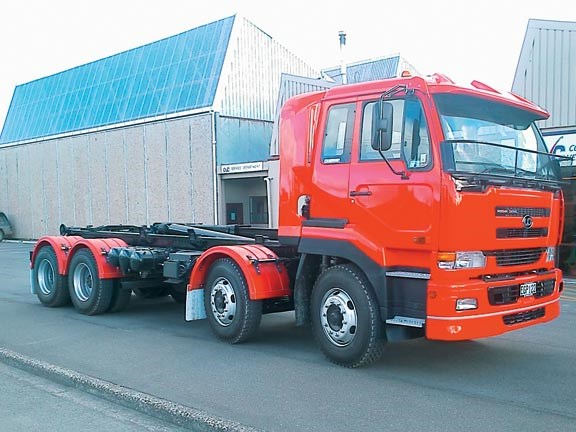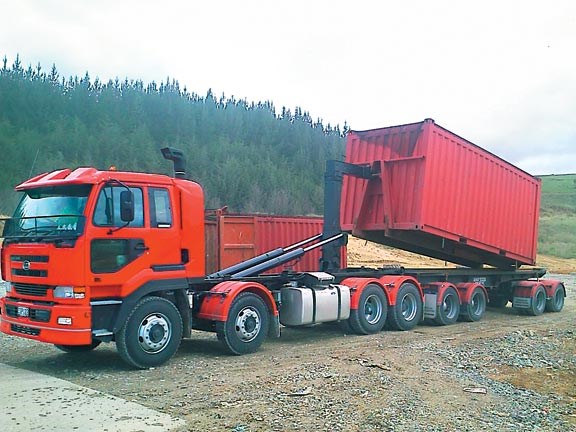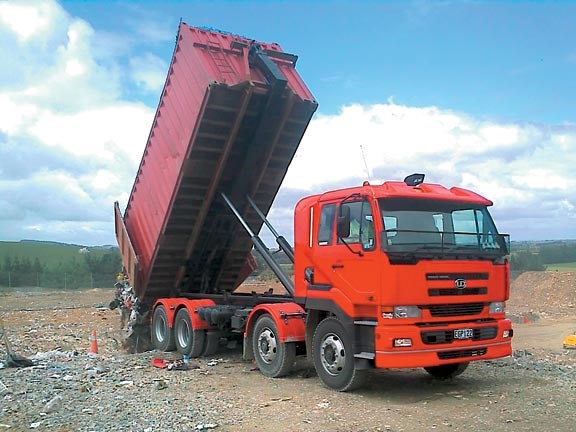 A lucrative load of old rubbish
Craig Chamberlain's career as a truck driver has taken him as far afield as Kosovo, Bulgaria and Romania. He began driving trucks when he was 18 and initially found it hard to get any decent work in New Zealand, so he ventured overseas to England, to try his luck.
After driving for various people in Britain, Craig ended up travelling all over Eastern and Western Europe, delivering army supplies for NATO. It was during NATO's war on Yugoslavia and he had to be accompanied by army escorts in and out of each destination. Despite the obvious dangers, Craig says he never felt scared or under threat and says the money was a good incentive to stay.
However, when his visa eventually expired, Craig returned to New Zealand and started driving milk tankers for Fonterra until he decided it was time to make the break and go into business for himself. Because the company was being started from scratch, it was essential to find the right vehicles to do the job, so Craig went straight to Deals on Wheels to see what was on offer.
"I saw a couple of little trucks – a little tip truck and a couple of small gantry skip trucks for tender up in Auckland – so I put a tender in and scored them off a guy in East Tamaki," he recalls. From there the trucks were shipped to Christchurch and the fledgling business was up and running.
That was five years ago, and Craig is now the proud owner of the Invercargill-based waste management company Easy Bins, which handles residential, industrial, commercial and specialised waste. "With our residential and domestic stuff we do skip hire and also front loader work," he says. "We don't do curbside collection though."
Today, the company fleet comprises two Isuzu Elf gantry trucks (bought essentially for their trays), a Mitsubishi Canter, an FLD 120 Freightliner Tractor unit, a Hino Rigid front loader and a brand new CG450 Nissan. Craig says, because rubbish trucks are quite specialised and rather scarce, all of the current trucks, bar the Nissan, were purchased second-hand.
"That was the one we did a bit of homework on and the backup service at CVC in Invercargill was second to none," he says.
Although Craig's got six trucks now, he still only has two drivers. But that's no problem he says, due to the nature of the work.
"Because they're so specialised, you might spend the morning doing skips and the afternoon doing a front loader run," he explains.
"You just sort of jump from one to the other if there's not enough work to keep them all going at once. It keeps us pretty busy though – we probably need another driver actually, but this way we all get plenty of hours and everybody makes a bit more."
Craig says this extra cash flow is especially welcome due to compliance costs going through the roof and escalating price increases across the board. "It just puts the squeeze on us, and the other issue we're faced with is the obvious driver shortage. It's getting a lot harder to get good operators," he says.
According to Craig, the problem is particularly noticeable in the South Island, and the lack of younger people entering the trucking industry is becoming a real concern. "The [pay] rates are going up, which is good for the drivers, but there's a shortage of really good drivers around. I'd say a lot of really good people have left the industry and we haven't been able to coax them back again."
While he admits the rubbish sector of the trucking industry is perhaps not the most attractive to potential new drivers, Craig also believes that he has found his calling. "I still do a fair bit of driving and I really like the lifestyle. I probably should spend more time working on the business than in it. I enjoy getting out and meeting people and seeing my customers, and what better way to see how happy your customers are than fronting up there?"
This high level of customer service is complemented by good business sense, and Craig also wisely takes advantage of the support and resources available to small operators who work in the trucking industry.
"I joined New Zealand Trucking not long after I started the business. I'd only been going a year or two and it's one of the better business decisions I've ever made," he declares.
How did he discover NZ Trucking then? From reading the regular NZ Trucking sponsored column in Deals on Wheels, he replies with a chuckle, before extolling the many benefits his membership affords him. "For what you pay each year – your subs – it pays for itself tenfold. I use their cellphone benefits, their fuel benefits – fuels great, it saves quite a bit a day. Plus, if you're stuck and you've got the guys, you can ring them up and they're really proactive."
Craig says that although he's satisfied with the way the business is running in general, he hopes to invest in some new gear and upgrade his equipment in the near future. "Hopefully next year, we'll be able to put a better frontloading compacter on the road to offer a better service to our customers.
I'm planning on staying in this industry for quite some time. I'm reasonably happy with what we do. I can't see myself doing anything else. I probably enjoy work too much. I've sort of found my niche."
Keep up to date in the industry by signing up to Farm Trader's free newsletter or liking us on Facebook