Hiwinui
---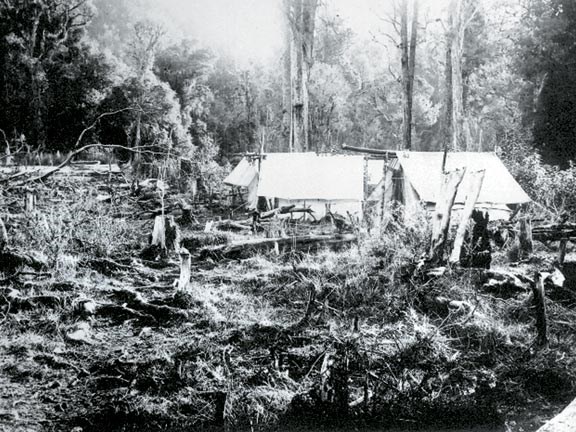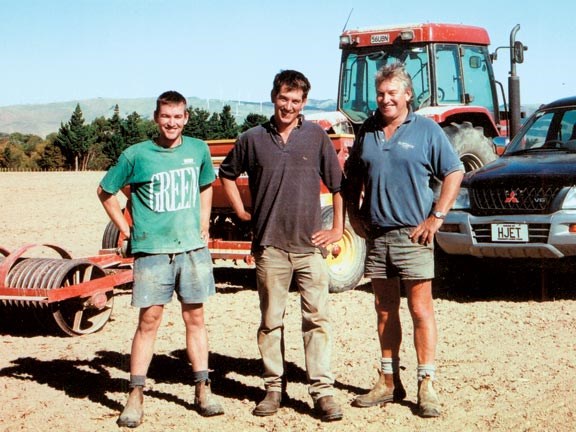 Farming for the future
As dairy farmers, they are happy with the current payout forecasts, but as sheep breeders they are concerned at the general downturn in the sheep meat market globally. Having a gumboot in both camps hedges one market against another.
But the Stewarts have more than two gumboots – a signature smell to a rural property is seldom the soft scent of a beauty spa, nor does the popping of champagne bottles normally replace the bleats and moos or the barking of dogs.
But if you are part of the Stewart 'corporation', you could be running a dairy operation, a sheep genetics business, jet boat tours, supervising a live-in beauty spa, or running the wedding reception/corporate entertaining and boutique five-star farm-stay business.
It's all handled by Dave and Jan Stewart, their sons James and Tim and their wives Debbie and Simone. The six run the Stewart Group – a dairy division, sheep division and a tourist division. "The group's meetings are lively," says Dave, "with everyone having their own ideas on how and where the group should progress."
The Stewart Group has its origins in the arrival of David and Janet Stewart from Gargunnock (near Stirling) in 1886, who came to find a better climate that, might cure David's Tb. The land they settled on was 80 acres of bush that was part of the Manchester block (the Duke of Manchester being a patron of assisted migration). David died soon after, leaving Janet with a small clearing in the bush, a couple of tents, a few tools and young children.
David and Janet's son Robert, an accomplished blade shearer, purchased his first block of land from his shearing wages. His son Alan purchased more land, using horses to clear scrub and stumps making the land more like it looks today.
The current Stewarts consider themselves fortunate to have what they have, but in this business you make your own luck. For instance, when the depression hit, crippling business universally in the 1920s and 30s, like many other farmers the Stewarts stored their wool. It was sold several years later when a worldwide demand arose and, from the profits, the land was made freehold.
Then in the 1980s they bought land despite the wailing that farming was a sunset business. "We were well-placed when the subsidies came off," said Dave. "Always buy in gloom!" Dave and Jan have worked the system, buying land in the name of family members, then shuffling the ownership around.
"We got slaughtered in 1957 by death duties and that had a big impact on our outlook. After that I put the maximum I could each year into a trust."
Although death duties are friendlier these days, the Stewart assets are protected in a company structure and the family pursues a genuine belief in farming for the next generation, an attitude that has passed down the five generations to date.
The oldest of the sixth generation are still at the stage of regarding the farm as one big playground. James, father of the eldest, hopes the kids will follow on. 
James knew early on that he wanted to farm. "I failed my sixth form exams because I'd spent too much time in neighbour Dennis Schnell's milking shed." Many 'dynastic' farming families these days are all Lincoln or Massey qualified, but the Stewarts are an exception. "My degree course," said James, "was working for well-known Manawatu and Canterbury dairy farmer Brian Tremewan."
After two years with Brian, James came home and as a 19-year-old made arrangements with Tui Milk Products and finished the renovation and additions to an old ASHB dairy that had come with a parcel of land his father had purchased.
Dave put up $70,000 for doing up the shed, so his son was head-down for the next few years getting that money back. In the mid-90s the bank wasn't lending a teenager money for cows, but by leasing from his father and neighbours, he got a herd – the rest is history.
Expansion and buying a neighbouring farm meant putting the dairying on another footing, which gave birth to Stewart Dairylands Ltd and eventually its place as the dairy division of the Stewart Group, with a current production of about two million litres a year.
After 53 years of breeding at Hiwinui, the Stewarts shifted their sheep genetics/stud business to Pongaroa on the logical basis that if you are producing for hill country, you should start on the hill country. Dave and younger son Tim run this operation raising Romneys and Australian Poll Dorset.
They are part of the Mega Meat reference group and TRIGG Romneys. As well as this Tim is responsible for all tractor operating, machinery purchase, sheep performance recording and relief milking at the weekends.
While insulated somewhat from the downturn in the sheep meat industry with their other income streams, when you start talking sheep, Dave shakes his head.
"Farmers have got short memories. Sheep meat will come again. It always goes in cycles. And those who do manage to stay with sheep are going to be in big demand when the pendulum comes around."
When talking with the Stewarts, two consecutives sentences will give you opinions that are "dyed-in-the-wool-old-country" then "Queen St property developer." And they're not backward in coming forward with opinions.
"The meat industry's inability to work together has led to its current downturn. In a way it's good it has collapsed. It needs a complete rethink." No doubt Dave will be very interested in what the new Alliance board is proposing.
"The meat market will right itself – it's the wool industry that really is in crisis.
"If Richard Branson was running the New Zealand wool industry, it would be exciting – there would be a chain of 100 shops around the world selling the Wools of New Zealand brand with Cavalier, Icebreaker and all the other New Zealand wool-based products riding under that umbrella.
"These board guys haven't had an original idea in their lives. We're sitting in the biggest global building boom in mankind's history – so based on that, we are in the biggest potential sales opportunity for carpet, which again is the biggest opportunity for our wool sector."
Dave's blunt summary is that New Zealand wool producers are good at growing, but terrible at selling. "We are not adding value to our product – an exception is the Romney venture sending wool to Nepal to make into rugs and returned to New Zealand for sale. We should be sending our wool to China for them to manufacture what we want and then sell on from here," he says.
"We have asset-stripped the country and need to get back to an export-led economy." In two hours of talking with the Stewarts, that was the only moan about the government. Nor was there one reference to "being bled by the exchange rate".
"If you're not enjoying farming, or it's not working for you – get out of it," says Dave. "Don't bend my ear with a string of complaints. Every family has had hard times at some stage."
If you are staying in the farming business, however, the Stewart motto is – don't sell land: accumulate. "Inflationary pressure has taken the air out of farm debt.
"Face the monkey round your neck," says Dave. "You can pay tax, or you can pay interest." And of course, if the farm stays in succeeding generations, debt can be amortized – a considerable advantage.
The Stewarts have accumulated 450ha at Hiwinui in a cohesive L-shaped block. However, there is a hole in the middle consisting of a small farm and some lifestyle blocks. Dave's opinion on lifestyle blocks is: "Buy the property and send the houses back to Wellington where they belong." The family can't believe the council allowed subdivision for lifestyle blocks next to their large milking shed.
Inevitably, a lifestyler complained of the smell, but Dave does credit the council for reminding the complainer that 'this is the country'. "In my mind, big sheds like this should be zoned industrial and that would solve several problems."
The Stewart Group was formed when the various operations had got to the stage where the family drew closer together or split completely. James, Tim and Dave are of the opinion that young farmers should look seriously at forming similar partnerships bringing together (for example) sheep, dairy and cropping and running the operations under a company structure that benefits everyone and provides the insurance of two being able to prop up the other as various sectors go through the boom-bust cycles.
"It's really difficult for youngsters to get into dairying," says James, who is of an age lucky enough to get established before land and cow prices started spiraling upward. "Get over the barrier of 'how things are done'. Don't do it on your own. Forming diverse company structures gives you clout with the financiers.
"Sharemilking worked well in the '90s when I went through it, but now the finances involved are frightening."
Dave says if you want to succeed in farming, you have to get over old-fashioned hang-ups over farm ownership. The family can own the farm; it's who controls it that is important.
So, practicing what they preach, the Stewarts made a major decision in 1999 that would add to the future-proofing. This in time meant demolishing the family home and building a five-star wood and stone luxury lodge – half homestead and half farm-stay. Built on the back of "a really good year in 2002", the lodge lifted the Stewarts out of the farm tours and casual farm stays that had been simply a part of their farm life, into a whole new world of tourism and entertainment.
And the women of the family have flourished on it. "We decided to do it properly," said Jan. "It was (at five-star) geared to overseas guests but we have found a dominant local market." Simone is busy with three young children (including one only three weeks old), but her marketing degree has no doubt had quite a bearing on the launch of the luxury lodge.
Although the accommodation has two suites, it has mainly been sole booking. Privacy is key here. "The guests are looked after, but left alone if they wish," says Jan. For instance, breakfast is when the guests want it, not at the cook's convenience. The guest area opens out onto views to the Ruahines and the rolling countryside, and a secret garden containing barbeque and outdoor spa pool.
The honeymoon and anniversary trade is significant and small wedding receptions are growing. But what has delighted Jan is the growth of the corporate market – being only 15 minutes from Palmerston North, the lodge is growing in popularity as a business meeting/planning venue. "It started as meeting with lunch and is growing into post-meeting drinks and may get to dinner as well!"
Indulgence is the key word at the lodge and rounding this out is a beauty day spa that can also be combined with the accommodation to "pamper" weekends for couples or "girl's night out".
As this develops and her children have grown, Debbie, having helped James develop the dairy operation, has been drawn deeper into the day-to-day organisation of the lodge. "You have a go at most things and being from a big, close family myself, has helped. We were brought up to strive for ownership, so I fit quite neatly into the Stewart philosophy." Debbie took on her first sole charge function recently when Dave and Jan travelled south to Dave's sister's Bendigo Station (of Shrek fame) to a family wedding. Debbie is also the keeper of the books for the group.
So, will it stop there? Not likely! Simone's marketing degree could be in for quite a workout. While Jan, Debbie and James have departed to do 1001 things, Dave scratches his sheepdog Wally and starts talking about the need to provide a large indoor venue for bigger wedding receptions – while they have an acre of so of relatively flat ground around the venue, "this is the Manawatu and we need a wet or windy weather alternative."
Then Dave started speculating on a small chapel for on-site weddings – "maybe even funerals."
And then, with a gleam in his eye and the rest of the family out of earshot: "We grow a bit of grain here. I'd really like my own boutique brewery!"
Keep up to date in the industry by signing up to Farm Trader's free newsletter or liking us on Facebook