Viticulture
---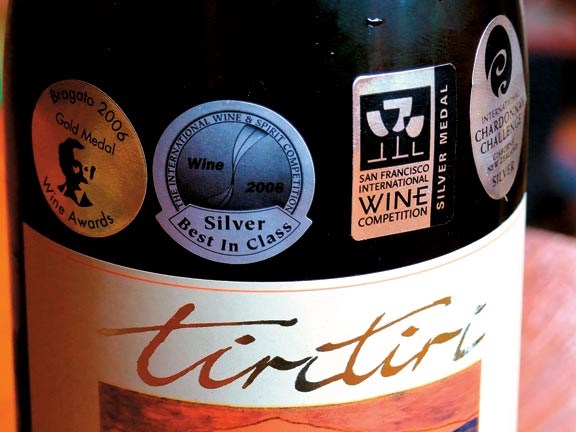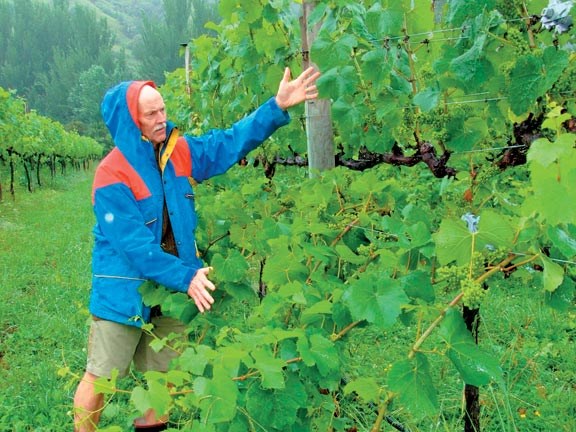 Nothing but juice
There is an air of expectation around Duncan Smith. Once he retires he can get on with fully realising his dream – spending his days making a single vineyard chardonnay from his reclusive hideaway in the hills above Gisborne. 
At the moment he and Judy are only producing a few barrels per vintage from the smallest commercial vineyard in New Zealand – Tirtiri Estate, a 0.28ha handkerchief of grapes where the experts said he would be wasting his time.
Those same experts would no doubt be staggered to know that some big names in the trade consider Tiritiri chardonnay should be selling at around the $100 per bottle mark – not the current $40 price tag.
Some might say that Tiritiri is an accident; pure chance that classic chardonnay varieties taste totally different out of Tiritiri Estate.
But while it could be said to be good fortune that the Smiths hit on the exact spot, it's no accident that Duncan's knowledge as an agronomist and plant pathologist and Judy's qualifications in horticulture (and later in winemaking) have made the most of what they have.
The Smiths are one of a large number of small vintners who have simply decided to 'have a go' without having prior industry knowledge.
They met 18 years ago on a walking track above Loch Lomond while Judy was on her OE and Duncan (a native of Croydon, England) was taking a break from managing a pesticide research and development team for an international agrichemical company. He followed Judy to New Zealand after a short stint in Africa.
Driving into Tiritiri it's easy to see why 'experts' said it couldn't (or shouldn't) be done. The hills are more for goats than sheep, and unless someone is planning on doing everything by hand and with the aid of climbing ropes on a north-facing slope, there's no point. And then the tarmac turns to gravel!
And suddenly – 16.5km later and high above the classic Gisborne "Golden Slope" chardonnay country – you arrive in a tiny valley flat on the Waimata River and a smidgeon of tarmac road outside the school directly opposite Tiritiri.
The immediate impression of the property is a riot of foliage – trees and shrubs of all descriptions surround a classic 1890s homestead.
The Smiths fell in love with the property and were lucky that the previous bid fell through. They took their expert's advice and ignored the grapes and planted a truck-load of native seedlings.
From the beginning they had wanted to be organic, an 'anarchisitic' attitude Duncan felt developing in the last years of his career with the big boys of agricultural chemicals. Tiritiri was perfect – a decent distance from the intensive horticulture of the Gisborne flats and its attendant pesticides.
In a euphoria of shutting the gate and letting the world go by, they launched into 55 types of vegetable, all seed from England, and in 1990 many of them had not been seen in New Zealand.
So, with plenty of water from the property's own spring to combat Gisborne's long dry periods, the Smiths started selling box-loads of vegetables to individuals; then the restaurants heard of them and so demand built.
This land use was a major departure from its former life as sheep and beef country and further diversification came with several types of nut tree. But because of frosts of minus seven and eight, the "crazy Pom" planted manuka and tagasaste as shelter plants for the new trees.
One neighbouring farmer who had slaved up and down the sharp hills and spent thousands of dollars getting rid of 'the scrub' couldn't believe his eyes.
If nothing else, you have to admire the persistence of Duncan and Judy. The honeymoon of self-sufficiency gradually waned and since then, while developing Tiritiri, Duncan has worked full-time and Judy has worked around the kids and is now back in full employment.
Duncan has worked as a research agronomist for Cedenco Foods and carried out field trials for major seed companies, and currently has 21ha of gardens at Acton Estate that he looks after for Juken New Zealand. Judy is currently cider-maker for Bulmer Harvest in Gisborne.
But back to the scenario that only the hardest-headed would survive…
The vegetables were Biogro-certified, but when income from vegetables did not match the effort put in, they were ripped out and the Smiths went for a paddock of pecans, plus hazelnuts, walnuts, chestnuts and 500 olive trees as "add-on value".
You learn as you go – the plastic tree protectors supporting the olive trees gave the snails a perfect opportunity to ring-bark a lot of the trees. A recipe for frost protection was to place large river stones around each tree that heated up during the day and gradually gave out that heat during the night.
Grapes at last!
In 1994, having conveniently tucked the expert's opinion out of sight, the Smiths launched into grapes, planting 250 Mendoza chardonnay grafted onto Schwarzman rootstock.
That particular rootstock helps inhibit the violent growth exhibited all over the property – there is an oak tree on the property which can't be much more than 100 years old, but Duncan said it is equivalent to a tree of about 400 years in England and big enough to hide Robin Hood's entire band.
In the first two years grass grub beetles stripped the vines. In the third year, 50 ducks were introduced which fixed the beetle problem, but birds got them that year.
In 1998 the grand day came and the first pick from the vineyard gave the Smiths a modest 750kg of grapes that translated into two barrels of wine. Two wine writers were so impressed with the wine that they awarded it four stars. This encouraged further plantings of 250 more vines.
A local ecosystem is now operating where wild flowers attract predators and parasites that feed on or 'parasitise' the assorted greeblies in the vineyard.
But the Smiths were not to be exempt from the roller-coaster of vineyard management:
• 2003 – crop wiped out by severe frosts;
• 2004 – 10 barrels and a vintage that gathers gold in the New Zealand Bragato awards, silver at the San Francisco Wine Show, silver and Best in Class at London International Wine and Spirits Competition and silver in the International Chardonnay Challenge in Gisborne – there's no room on the bottle for all the bronze medals;
• 2005 – crop wiped out by wasps two weeks before harvest;
• 2006 – crop rotted by rain two weeks before harvest;
• 2007 – 12 barrels of wine and the Smiths are just as ecstatic as the rest of New Zealand's vintners about the potential of this vintage.
It has been commented at blind tastings that the Tiritiri chardonnay doesn't taste like chardonnay – it bursts with all sorts of non-traditional chardonnay characteristics. Some judges at one competition even thought Tiritiri was a Grand Cru Chablis.
"That's because it's all juice; nothing but," says Duncan. "Nothing added, nothing subtracted. The terrior (the local soil and climate), our attention to detail and our wonderful winemaker John Thorpe is what makes Tiritiri different."
So, with two years until his retirement, Duncan and Judy have several big decisions to make. The current plan is to plant out three acres – a modest increase from their current three-quarters of an acre.
Friends and neighbours who currently help out with the hands-on operation will have to be part of the equation, and while such an exponential growth will bring economic viability, it probably loses Tiritiri its special status as New Zealand's smallest commercial vineyard.
At present the wine is quite expensive to produce, which naturally makes it even more expensive once it reaches retail. "Quality and exclusivity is the niche," says Duncan. Even at three acres of vineyard, if the Smiths get 40 barrels off the extended vineyard, that's only 12,000 bottles, but the price the quality of wine can command makes it all worthwhile.
So far the majority of promotion has been word of mouth. High class Auckland restaurants are now phoning out of the blue demanding their outstanding 2004 Tiritiri Reserve chardonnay. Their wines have even found their way to Belgium and to the exclusive Huka Lodge.
So, look for Tiritiri Estate to make a splash in years to come. It will continue to be certified organic and hand-managed (except for the tiny tractor about the size of a ride-on mower that assists with the organic sprays). While most people are looking to settle into a laid-back lifestyle, Duncan and Judy are looking to take on everything their passion for Tiritiri deals out.
Keep up to date in the industry by signing up to Farm Trader's free newsletter or liking us on Facebook