Celebrating Wine in Style
---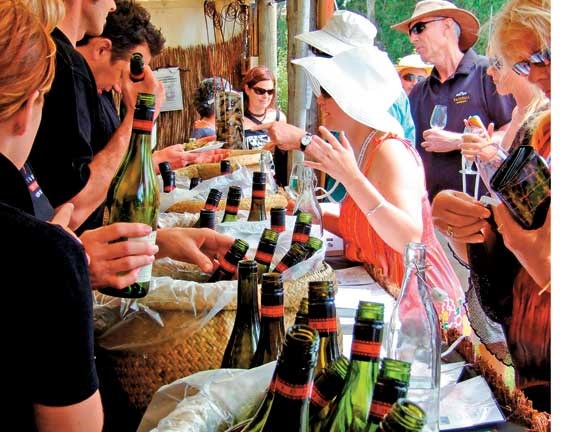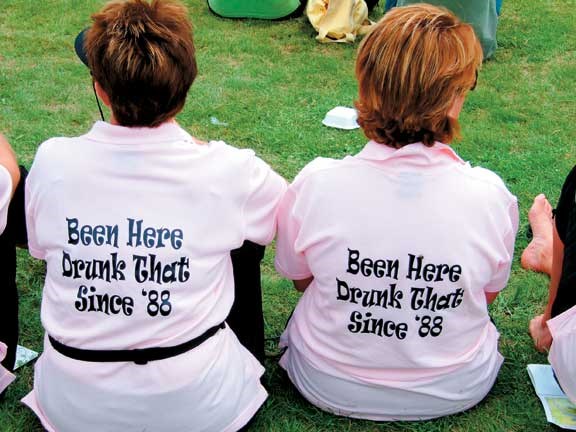 As vineyards proliferate, replacing established land use, many are given to wonder where it will end. Big money is going into converting farmland to vineyard and it shows no signs of slowing down.
Marlborough has just celebrated with its 25th festival, a sign of continuing confidence in the industry. Sitting in the middle of it all from two perspectives – as a wine producer neighbouring the festival site and chairman of New Zealand Winegrowers – Stuart Smith says the limits of New Zealand winegrowing will be established by those who experiment. The success or failure of planting 'extreme' or new areas will establish the boundaries, he says. "The French believe they have identified the best growing areas in their country and no one is allowed to plant outside those parameters. We don't want that.

"We have a headlong rush to plant in Marlborough at present. The boundaries will be established by those who have the money to lose." And there is some serious money being spent by investors at present; an example is two 700-acre vineyards being established from scratch deep in the Wairau Valley, about 15km beyond the previous outpost.
Despite the fact that its production in world terms is tiny, and in age terms the industry here is a mewling babe, New Zealand wine has firmly established a presence on the tables of the world's connoisseurs and quaffers alike. Many experts maintain Marlborough has redefined the standard to aspire to in sauvignon blanc. And some think it may well do the same with Pinot Gris. Recently it was announced that one in eight bottles sold in the UK £5-and-above market was New Zealand wine. Riding a sales boom, New Zealand has finally eclipsed Australia in that market.

Grapes were first planted in the Fairhall area (neighbouring the festival site) when Scotsman David Herd established vines at Auntsfield in 1873. Exactly 100 years later, despite Romeo Bragato not giving any serious consideration to Marlborough, Montana established the first commercial vineyard. Frank Yukich certainly knew something when he began establishing 1600ha at what is now Montana's Brancott Estate (the festival site).

Stuart Smith said that in 1973 the rest of the industry thought Frank Yukich mad. But international heavyweights have finally come around: eg Pernod Ricard owns Montana and therefore a lot of other labels previously bought out by Montana; Foster's owns Matua Valley; Constelation Wines has Nobilo and Drylands; Moet Hennessy Louis Vuitton has Cloudy Bay; Yalumba owns Nautillus; while E and J Gallo has Whitehaven. "New Zealand is a mature market," says Stuart Smith. "The future is in export." And this is where many of the smaller vineyards come into their own. As in other premier wine producing districts in New Zealand, there are a number of Marlborough vintages and labels not seen on the retail shelves – almost the entire vintage gets shipped overseas to specialised markets or particular upmarket clients who can sustain the higher prices needed by small premier vintage producers. Only the major local producers can afford to be stocked on the shelves of supermarkets and liquor chains. The margins demanded by those retailers are simply too much for the boutique producers.

Stuart says the Wairau Plain is not quite completely covered in vines but he believes it eventually will be backfilled. "Some other areas being explored will be marginal in terms of yield, so it comes down to – yes, you can grow grapes there, but can you make money? We won't know what other areas are really economic until someone tries it and proves it one way or another." Some parts of he southern Wairau Valley hills have been planted but whether this will be suitable or contract growers remains to be seen. Stuart notes that what is marginal now, may not be in later years. "For centuries vines have been planted in an area, ripped up, then planted again as techniques improve. It's been happening since Roman Empire times and will continue to happen."

And so this brash young industry celebrates in appropriately brash style. The critics (qualified and otherwise) pack away the refined discourse as to the reflection of the terrier in the current vintage, in favour of simply enjoying the wine and food of a special few hectares of New Zealand. The 25th Marlborough festival is a cacophony of entertainment, discussion, gossip, and appreciation as 8000 people pack into a paddock for eight and a half hours.

So how does this festival work? Well, you rock up to the gateway tent, hand in your ticket, pick up your presentation glass, buy a specially-designed hanger that allows you to wear a half-glass of wine around your neck and leaves the hands free for eating, gesturing, applauding the entertainment and writing notes on what labels you would like a case of. Then the first major decision of the day – where to start? A semi-circle of 58 wine stalls and several food booths confronts you. We decided we would work our way around the unfamiliar names – myself intent on a singular pursuit of the Pinot Noir offerings.

The festival is a promotion paradise for the young or small vineyards – they have a captive audience that doesn't cost an arm and a leg in print advertising. Dog Point (first vintage 2002) was a first-timer but Graham Beattie was positive the vineyard would be back again. "It's full-on, but it's wonderful. Dog Point – at 400 tonnes of hand-picked, bunch-pressed 'with a very gentle squeeze', hands-on all the way product – simply doesn't have the volume to launch national sales campaigns. It's like several others that have established niche markets, but the festival gives them the reach to international visitors, of whom there are many, and punters from all over the country."

Promotional ideas varied: St Clair had a team of monks who circulated with baskets of plain bread and pitchers of water, while sensory.com (a new "edgy" wine cellar) had two topless body-painted youngsters circulating touting its brand – the duo were possibly the most photographed people that day. So, the day flows on buying and sampling with either "tastes" (half glass) or whole glasses. Festival veterans come with their blankets and beach chairs and set up under the trees at a tolerable distance from the entertainment stage, and then wander off to a new stall every so often.

It's an event that many groups go to as an annual outing and the winners of this category must be five Marlborough women who now are spread between Kapiti, Kaikoura and Christchurch. Without a care as to what the boys back home are getting up to, they have been merrily coming to the festival every year for 20 years – beginning as a day trip but now extended to a three-day holiday.
The heat of the day bears down, some sway to the music, people talk to strangers as if they're neighbours, and authority is very quietly tucked out of sight. More of a noisy Italian village fair than a glittering gathering of international wine buffs, the atypical New Zealand festival ends in replete and exhausted punters who have reinforced their appetite for a particular label or who have found a new passion to pursue. A festival by the people, for the people.
Keep up to date in the industry by signing up to Farm Trader's free newsletter or liking us on Facebook