Diesel Performance Solutions
---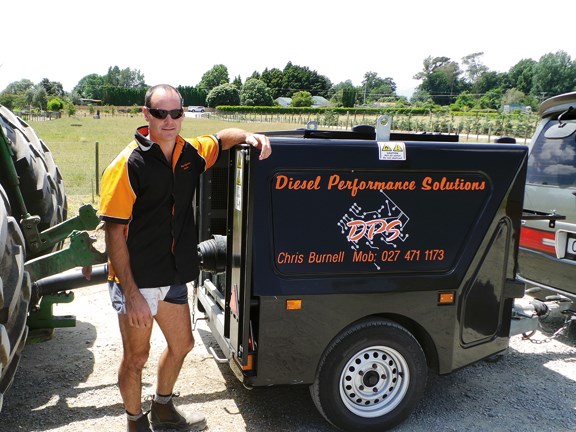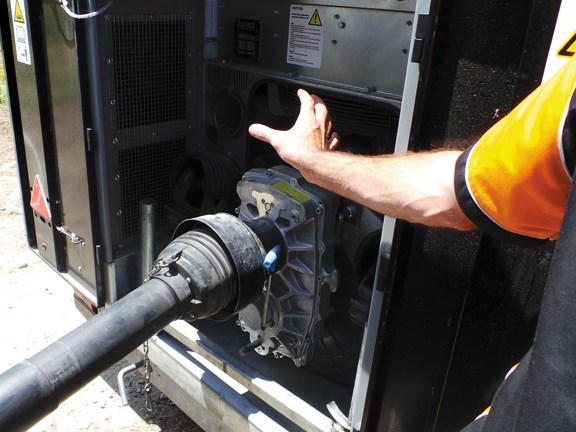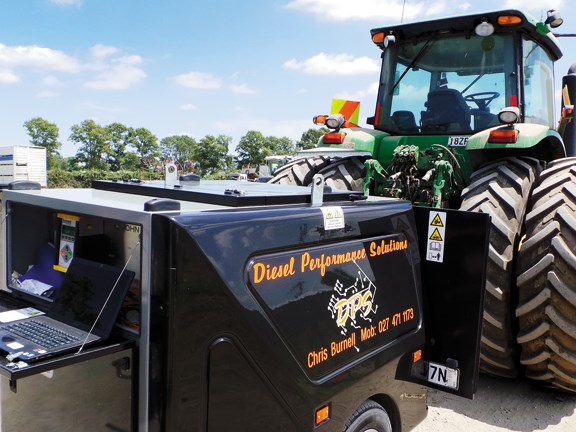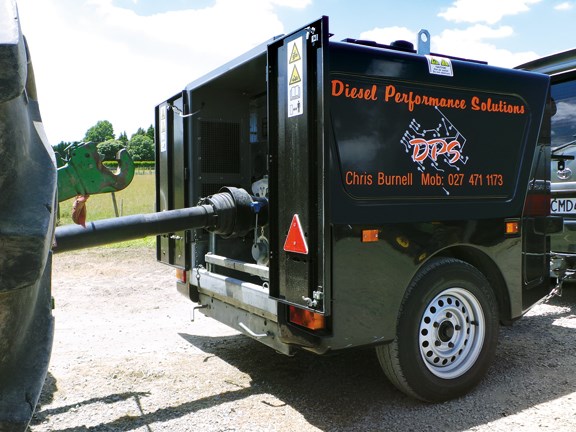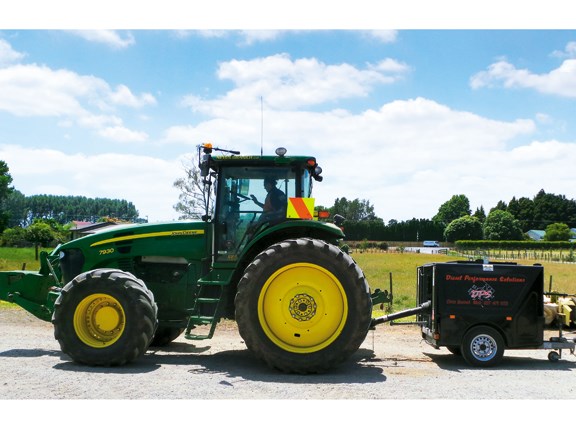 Diesel Performance Solutions offers a unique service, increasing horsepower on a variety of farm machines through software upgrades in order to give owners and operators a more cost-effective way of getting the job done faster.
Chris Burnell owns a one-of-a-kind trailer. Actually, when you think about it, he owns a one-of-a-kind business — and that trailer is integral to its operation.
As the owner and national manager of Diesel Performance Solutions, Burnell specialises in dyno testing tractors, foragers, trucks and utes, remapping electronic control units (ECUs) with specially developed software to give diesel machines a lift in power and help improve fuel consumption at the same time.
Watching him typing on his laptop and reviewing torque curve data at the front of his portable dyno test unit (that unique trailer we mentioned earlier), you wouldn't be surprised to learn he has a background in electronics. Thing is though, Burnell has worked in the ag industry for years, and it shows in his understanding of the equipment he operates on.
"I was working for an ag contractor years ago," recalls Burnell. "He had two identical tractors, but one had more horsepower than the other, which became a bit of a nuisance on some jobs. I thought, "there must be a way of getting more power out of this", and eventually came across an overseas contact who could up-rate its ECU software.
"Then I got an enquiry from a local guy about the process; I decided I could do it for him rather than get this overseas crowd involved, so I bought a software package and set to work. Then someone else got in touch and eventually I got to the stage where I was writing the programme myself, rather than relying on an overseas supplier for the software model."
The move from utilising existing software to developing his own, back in 2005, was the beginning of a brand new venture for Burnell. But as he is quick to point out, that doesn't mean he threw out the rule book in the process.
"When you're giving a machine more power, there are certain benchmarks you have to stick to. Modern diesel engines are very robust, so the ceiling is actually very high. But for practical reasons — basically to stop things going 'bang!' — it's always in everyone's best interests to keep any modification safe."
"For a few clients, better fuel economy is the chief goal," Burnell continues. "But most owners simply want more power out of their machines. Ag is all about horsepower, and that's what you pay for when you buy a new tractor. Sure, there might be four distinct models but, other than the available horsepower, there are very few differences between one at the bottom of the range and one at the top. In many cases, the sticker on the side of the engine cover and the data in the ECU are really all that's different."
Of course, it isn't just some wild pursuit of horsepower that is the main motivating factor for ECU modifications. As Burnell says, there are a multitude of practical scenarios he remedies for clients. A common one will be where a farmer has purchased a new tractor a year or so prior, but has now got to the stage where a bigger mower or a bigger feed-out wagon is needed. Rather than trading out of a perfectly good machine, it generally proves far more cost effective to give the existing tractor's available horsepower a boost.
But what can be achieved with which model of tractor is far from a given. It's only through experience, a lot of homework and active bench-testing that Burnell has got to the stage where he is cognisant of how a machine's ECU can be remapped effectively.
"I have a guy I'm dealing with in Canterbury at the moment, for example, with a new model of tractor I haven't worked with before," he says. "Now, I could fly down and give it a crack — the general principles will all be the same, after all — but I really owe it to my customers to arrive on-site with the necessary knowledge.
"In this instance, I'm borrowing a model off the showroom floor to have a look at diagnostically-speaking, before I head down. I'm lucky in that I have diagnostic equipment for a lot of models, so I can essentially 'talk' to the ECU. I can work out a formula, then head down country and apply that same formula."
Burnell visits the South Island a lot, with Canterbury and Southland being big areas for Diesel Performance Solutions. He's now at the stage where he's looking for franchise representation in the South Island, following on from a model he has developed in the Hawke's Bay.
"Mark [Hohneck] has been on board for about two years now. He covers the Hawke's Bay and is going well over there. I've always wanted to franchise, but I'm patient. It's all about finding the right people."
Not only the right people, but the right gear too. Burnell is currently awaiting the arrival of a brand new dyno test unit to replace his existing one-of-a-kind trailer. The equipment update signals the potential for a new area of operations for Diesel Performance Solutions.
"The next step for me is to dyno foragers, which is a whole different level," he says. "My existing unit is good for about 400hp, but my new one which is coming from the United States, has a 1500hp limit.
"When you're harvesting maize, horsepower equals throughput. All that horsepower and you're only travelling at about 4km/h. So if you can get another 100hp out of your forager and get to 5.5km/h, it could make a huge difference. Contract harvesters charge either by the tonne or by the area they chop — if they can go from chopping one hectare an hour to one-and-a-half hectares an hour, their charge-out rates go up as a result."
Burnell also stresses the importance of his dyno test trailer from his customers' point-of-view.
"When a client can see that I'm bench-testing their machine with the dyno, they know I'm providing a total analysis on it. It's better than just arriving with a laptop and plugging it in; there's a visual process to what I do to improve their machine's performance. I don't lay a spanner on the mechanicals of the tractor or truck, but there are specific tools I need to do a good job."
So if Burnell doesn't have an oily rag hanging out of his overall pocket and a two-story high Snap-on tool chest, how exactly does he achieve a successful horsepower upgrade?
First he hooks a driveshaft from the trailer up to the tractor's PTO. Power is then transmitted from the engine to the dyno unit. An electronic brake is applied to load up the engine, measuring how much brake force it puts on. More and more load is applied until the engine can't cope and starts to die. This gives Burnell the torque curve, which in turn is used as a baseline with which to remap the ECU against.
All of this is monitored by Burnell via laptop at the front of the trailer. He can perform an 'auto test' where the dyno will take the machine from idle to full revs and back again or, if a problem is identified, he can manually hold the revs at a certain limit.
If Burnell has applied his formula correctly, an ECU remap takes between two and four hours, including the dyno test.
"There is plug-and-play software available for this sort of thing," he says. "But getting a software package from overseas is like receiving a letter you can't open. You take it out of one box and put it in another; who knows what it'll do to your machine.
"With our mods, we've developed them ourselves and we know exactly how they'll perform. I specialise in ag work, so I know exactly what is achievable. That's pretty important when you hook up to someone's investment."
For the latest reviews, subscribe to our Farm Trader magazine here.
Keep up to date in the industry by signing up to Farm Trader's free newsletter or liking us on Facebook