Profile: Cowpower Generators
---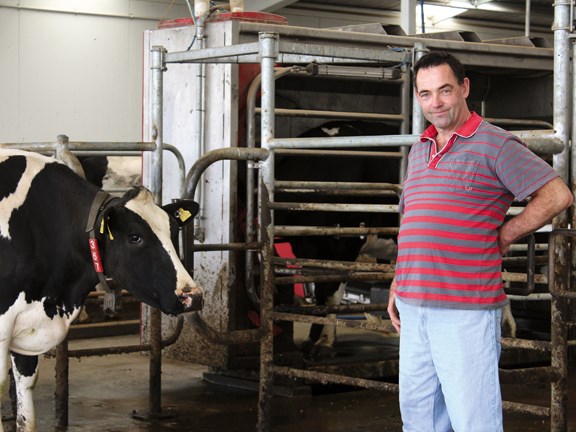 Southland's first robotic milking dairy farm owner Bill Overgaauw has had no trouble from his Cowpower generator, installed in 2008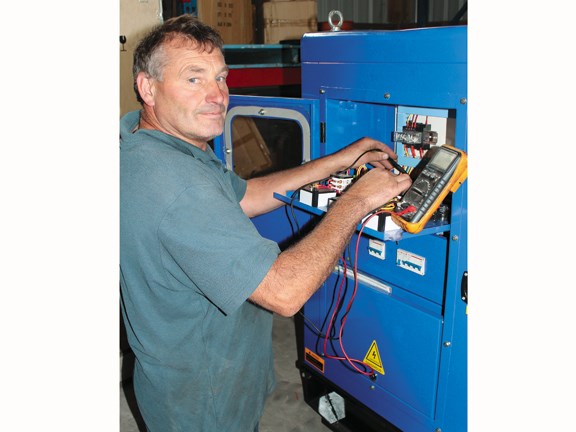 Cowpower Generators technical and services manager Hugh Thomas, testing a 50kW generator suitable for use on an average-sized dairy farm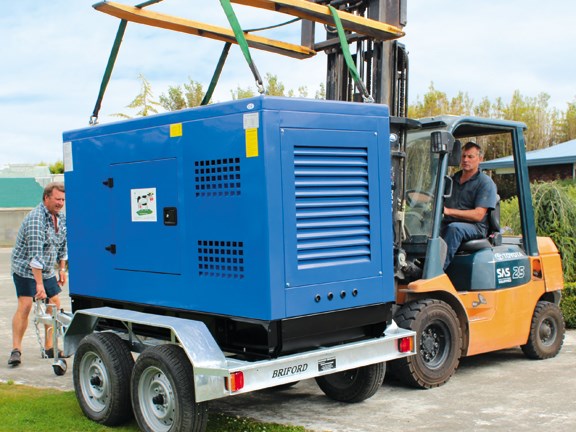 Cowpower can supply purpose-built trailers for delivery of its generators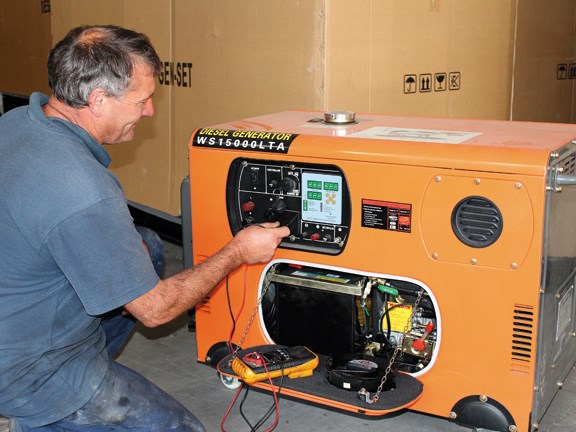 Cowpower Generators technical and services manager Hugh Thomas with one of the company's new 10 Kw air-cooled generators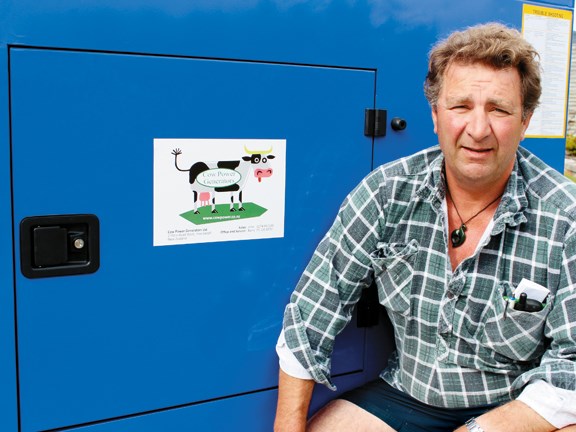 Cowpower Generators director Barry Hayes checks out a 10-20kW generator. Cowpower supplies generators to dairy farms, residential, industrial and commercial businesses right across the country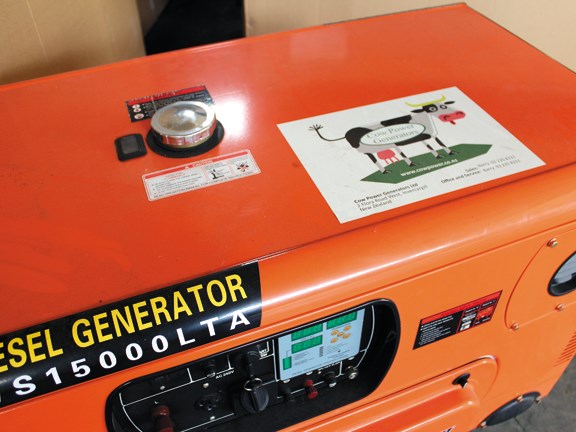 Cowpower can give clients support and advice on the best generator to meet their needs and prides itself on great after-sales service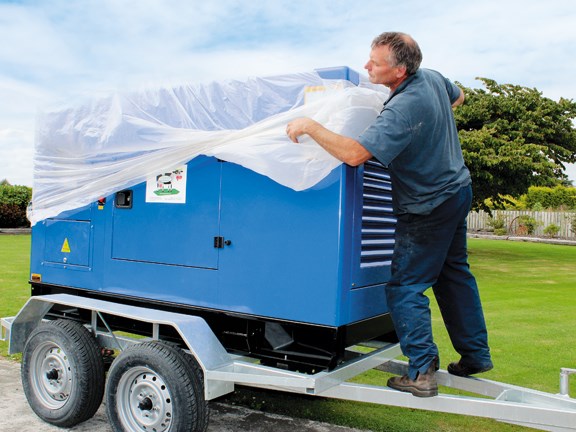 Gift-wrapped: Hugh Thomas unveils a new Cowpower generator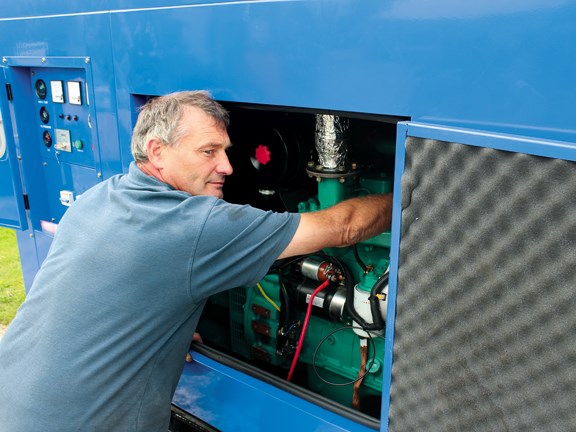 The final check: Cowpower generators are backed up with the best service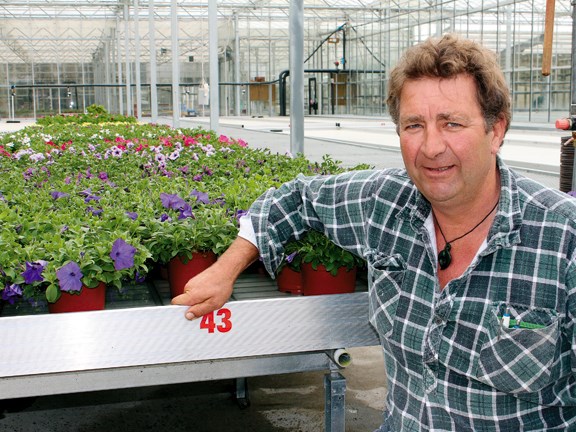 Barry Hayes at his Southland nursery where the idea to import generators for supply first blossomed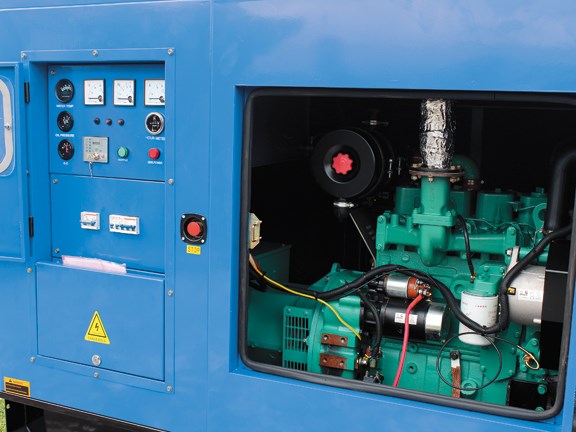 Generators are diesel powered and can provide single or three-phase power for energy-dependant businesses

Southland man Barry Hayes has turned an idea into a business not only guaranteeing electricity supply for his own commercial nursery, but also powering people all over New Zealand.
After buying a diesel generator to provide back-up power for his Makarewa business, Hayes saw a gap in the market and with Balfour dairy farmer and friend, John Titter, they began importing generators in 2007 on a commercial basis. It was at this point Cowpower Generators came into fruition and the rest, as they say, is history.
These days Hayes says Cowpower is one of New Zealand's leading suppliers of generators to hundreds of dairy sheds, and in industrial and commercial businesses from vineyards to salmon farms, right across the country. "The interest has surprised me. It's been hard work, but we're pretty happy with how it's going," he says.
While Hayes might be busy operating the country's largest geranium and fuchsia nursery, he finds Cowpower increasingly requiring more of his attention. "Demand continues to be steady. It's going very well as a product that, I believe, is essential for many operators."
From scheduled power cuts, to the effects of weather extremes, Cowpower can ensure the work doesn't stop, with its generators providing the continuous electricity supply many businesses rely on, he says. "I think generators are the way of the future and I just don't think people can afford to be without them. After all, the cost is so small in comparison to the cost of the loss to your business."
Hayes points out with the recent lack of rain around New Zealand and the implications this has on power supply in the months to come, generators are likely to become even more essential.
He says 75 percent of Cowpower's clients are dairy farmers and explains one Southland dairy farmer in particular has two generators, able to be moved between his six cow farms. Furthermore, Southland's first robotic dairy shed uses a Cowpower generator for automatic electricity supply and another generator has been dispatched to Pleasant Point for a new robotic dairy shed.
"Cowpower's automatic generators are recommended by milking system supplier Lely to support robotic cow sheds. They work very well," he says, and Southland's first robotic milking dairy farm owner Bill Overgaauw agrees.
"As soon as we get a power cut the Cowpower generator kicks in. We might use it four or five times a year. Sometimes the power is out for a few minutes, sometimes a few hours. Once it was out for days with heavy snow," says Overgaauw.
Milking cows 12 months of the year and 24 hours a day means there is no room for equipment shut-downs and thanks to Cowpower, he says, there haven't been any issues. "We really rely on the generator as a back-up. There's no problem getting it serviced and Cowpower is always good to deal with. As soon as you ring they come out to the farm."
While Hayes sees robotic dairy sheds as the way of the future, he says generators are a crucial part of all dairy operations. "I honestly believe having a generator on any dairy farm is vital. It's a necessary bit of machinery all farmers should have."
For instance, in the dairy industry a power cut could cost lost milk production and have an adverse effect on animal health, he says. He also suggests it could affect the distribution of effluent which, under ever increasing environmental controls, could cost farmers dearly. For other businesses he says it can mean the loss of refrigeration and spoiled product, no irrigation for sensitive plants, or a complete shutdown of operations. "The other thing to remember is if there is a major power problem, you're not going to be able to hire a power generator because there just aren't the supplies around. Having a generator is really all about peace of mind."
Cowpower also supplies industrial and construction companies, welding businesses and concrete companies - really anyone needing mobile power, Hayes says. "It could be a business working in a remote area, or providing a back-up supply for retail outlets, some IT companies have generators to ensure 24-hour supply, while Mount Cook Salmon at Twizel has five Cowpower generators to support its supply needs.
"Our generators will suit any business that would find itself in trouble if it were to lose power. It's the unpredictability of power supply making these generators so effective."
Cowpower generators are diesel powered and can provide single or three-phase power for energy-dependant businesses. Hayes suggests generators are an investment for your business. "It's a form of insurance. The cost of not having a generator far outweighs the cost of having one and with the increasing occurrence of extreme weather events, generators are really becoming an essential part of any business."
Generators have also been in demand because of the excessive costs of accessing power in remote areas. "When the actual costs of putting in a new transformer or line are between $80,000 and $100,000, a generator starts to look attractive," he says.
Especially for remote water supply, in places like Malborough and Twizel, Cowpower generators were being used for centre-pivot irrigation. "A couple of generators went out this summer for grain dryers, where they would only be used for a couple of months, but updating their present transformer and lines would be too expensive."
Once you've made the decision to invest, installation is easy and inexpensive, he says. "The generators are ready to go once they leave here. A registered electrician is required to install a transfer switch to the mains. Then it's just a matter of turning the generator on and flicking the transfer switch, and you're all go. It's very simple."
No permits or paperwork are necessary and whether it's a nursery, or a cowshed, the specifications are the same, he says. You get the luxury of a continuous supply of electricity - no stress, no worries - and your business can continue to operate without interruption. Of course, once you're on board, Cowpower prides itself on great after-sales service.
"We won't walk away from any problem - we want to fix it. We have a large stock of spare parts for our generators and if a problem develops, we're going to sort it out."
For those clients outside of Southland, Cowpower will also consider sending a technician to them if the need arises, he says. "However, for the amount of generators we've got out there around the country, we have very few problems."
Hayes is proud of what Cowpower has achieved from its Southland base and he's looking forward to the future. "I'd like to think we will continue what we have been doing. Why change something that's this good and works this well?"
For the latest reviews, subscribe to our Farm Trader magazine here.
Keep up to date in the industry by signing up to Farm Trader's free newsletter or liking us on Facebook