Contractor profile: Brookfield Vine Services
---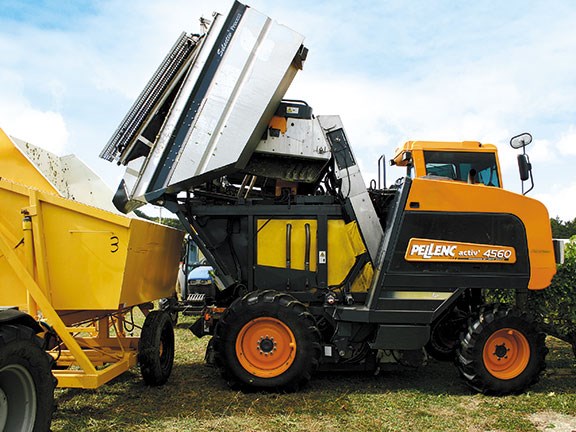 The Pellenc 4560 harvests as much fruit as possible with minimal rubbish — just what wineries and winemakers want!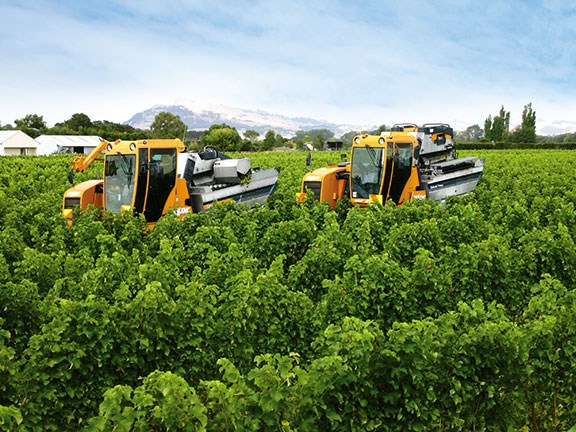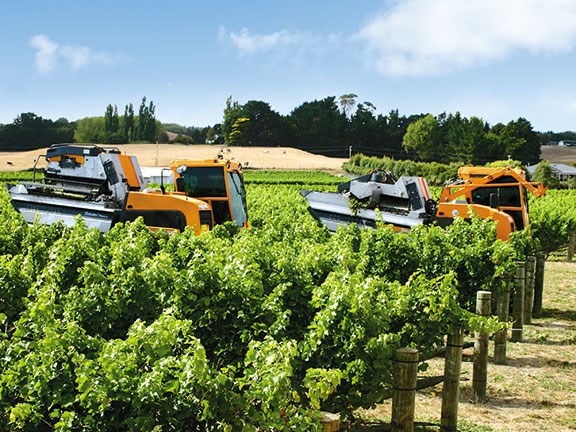 Pellenc harvesters work in tandem in a vineyard: machines straddle the rows and are designed to go easy on vines and infrastructure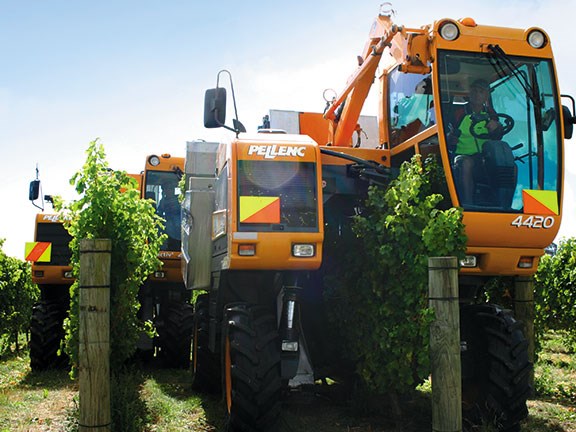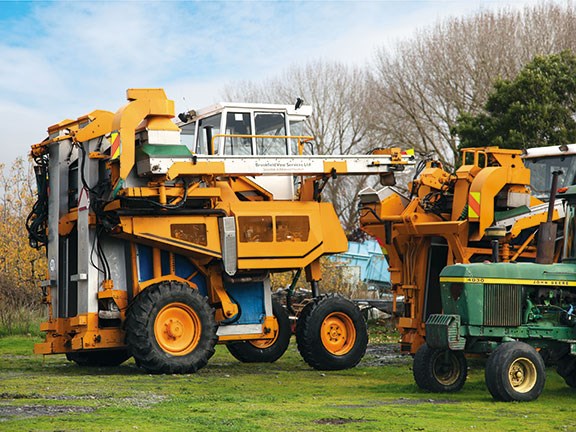 The BVS fleet has a growing reputation for all-round service amongst the viticulture industry in Hawke's Bay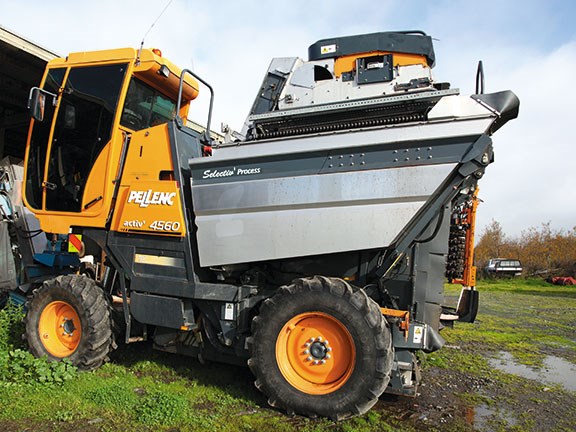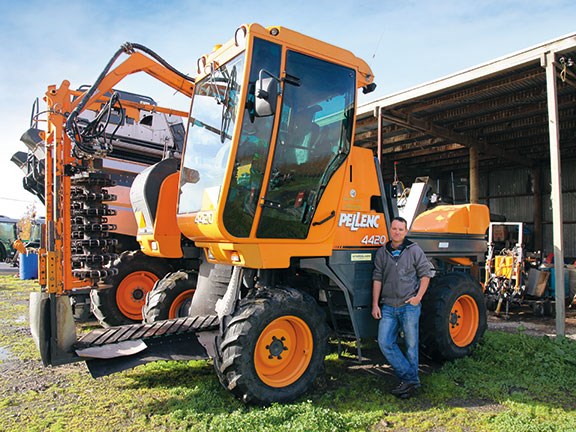 Brookfield Vine Services' commitment to keeping up with the latest viticulture machinery is paying dividends. Sam Ericksen beside the Pellenc 4420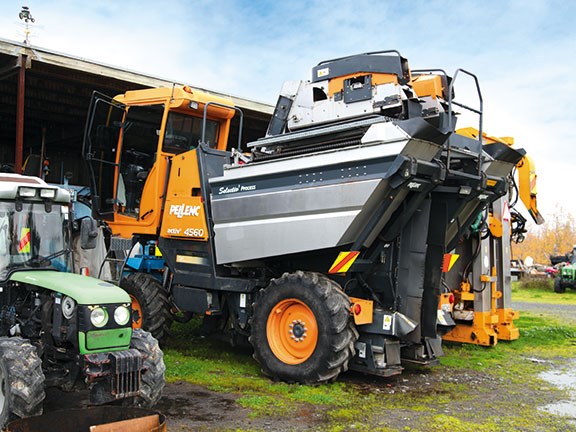 During winter, BVS carries out any maintenance required on its machinery. The Pellenc 4560 beside a Deutz Fahr agrocompact tractor

Hawke's Bay's rapidly developing viticulture industry is keeping Brookfield Vine Services busy and thanks to some high-tech machinery, they're managing to keep up with the demand.
Brookfield Vine Services is a one-stop shop when it comes to being able to provide a complete range of services for vineyards in Hawke's Bay.
Co-owner Sam Ericksen reels off a list of what his company offers: trimming, harvesting, sweeping, mulching, pre-pruning and leaf plucking. "We do pretty much everything and what we don't do, such as herbicide spraying, we contract out."
BVS has three full-time staff and it takes on about 10 contract drivers during the grape harvest.
With a list of forty clients around the region using its harvesting services alone, business is growing steadily — Ericksen reckons around 15-18% per year. He puts much of that down to Hawke's Bay's rapidly developing wine industry. "It is booming at the moment ­— we've had three to four years of very hard times and now we are on the rise."
Ericksen started BVS six years ago. His father, Diederick (Did) Ericksen, was one of the first contractors in Hawke's Bay to use mechanical grape harvesting methods in 1974.
He was roped into working alongside his father from an early age.
Ericksen has a chuckle when he thinks back to the first machine he operated. "I started on an old Chisholm-Ryder that dad had. It had a picking arm and beater rods that beat the trellis' and a fan that sucked as much leaf out as possible. There were no cabs or air-conditioning back then."
Following high school, Ericksen left to go travelling and ended up working in America's mid-west, managing a cropping farm before returning home in 1999.
For a time he worked with his father doing contract cropping, but it was uneconomical. That was when he decided to re-boot Did's former business and in 2007, BVS was born. A year later, his brother-in-law Campbell Ebbett joined him as a business partner and added an irrigation flushing service (Watertech) to the business.
"We started out with a Pellenc 4420 and de-stemmer, and hired an extra machine from Masterton. But there was so much work I couldn't guarantee I'd be at a certain place at a certain time, so I got another machine and now five years later, there's still no guarantee."
In other words, Ericksen and his team are running flat tack to keep up.
One of the big changes that has taken place is the demand by wineries for fruit to be as clean as possible with no rubbish.
Brookfield's newest machine — the Pellenc 4560 Selectiv' Process sorts fruit and discards MOG (matter other than grapes), leaving it in the vineyard as it goes.
"People wanted these machines on their block this year — we knew it was going to happen but we didn't think it would happen this quickly," says Ericksen. "It's been a complete change, with wineries and winemakers saying, 'if we can get it out of the field clean, there are lots of benefits'. It is less work for them, they don't get the green flavours out of the leaf or the petioles (stalks) from the vine. Those are all added advantages.
"As far as we can see, there is nothing that will beat the Selectiv' Process system in the next ten years," he says.
The Brookfield fleet includes two Gregoire harvesters, a Pellenc 4420 with de-stemmer and the Pellenc 4560 Selectiv' Process.
Why, in particular, did they choose these French-made machines? Pellenc are sold under licence in New Zealand by importer, Hydralada.
"We chose the Pellenc because it is versatile and not just a harvester. We can take the harvesting head off and add either a leaf plucker, a pre-pruner or a spray head. It's a good all-rounder and does a beautiful job," says Ericksen.
"The Gregoire is a very robust harvester but not as versatile. We use it for harvesting and then park it in the shed, basically. It isn't used all year round, like the Pellenc."
When it comes to servicing, Ericksen takes care of the Gregoires himself, "because they don't have in-built computers like the Pellenc do".
Their Pellenc harvesters are serviced locally by the Hastings branch of Hydralada and this is another reason Erickson chose his brand.
"Aero has a competitive machine that does selective processing but there is no one in Hawke's Bay to service them. At present, everything is done out of Blenheim."
He notices how quickly this type of machinery has developed. "Up until five years ago, machines hadn't evolved much from the Chisholm-Ryders. Now there are a lot more brands coming into New Zealand."
"I like the Pellenc — it makes life easier. Once you know how to set it up — and because of the computer it does take time — there's not a lot you can't do. You need to set the distance between your picking arms so they are evenly spaced and not touching, to allow them to travel along the rows."
The computer has to be reset for each vineyard and different grape varieties are picked differently.
"The new machines are a lot softer on the plants and trellises — if vineyard owners don't have to replace posts, they are happy."
Ericksen says the Pellenc harvesters have contributed to the upward growth of his business.
"Their speed and precision have helped us to increase our harvesting area each year. In the next two years, it would be nice to double it from when I started."
The only gripe Ericksen has about the Pellencs is the fact the parts aren't cheap, so if they could last a little bit longer, he'd be even happier.
For the latest reviews, subscribe to our Farm Trader magazine here.
Keep up to date in the industry by signing up to Farm Trader's free newsletter or liking us on Facebook