Animal Handling: HDale crutch and weigh combo
---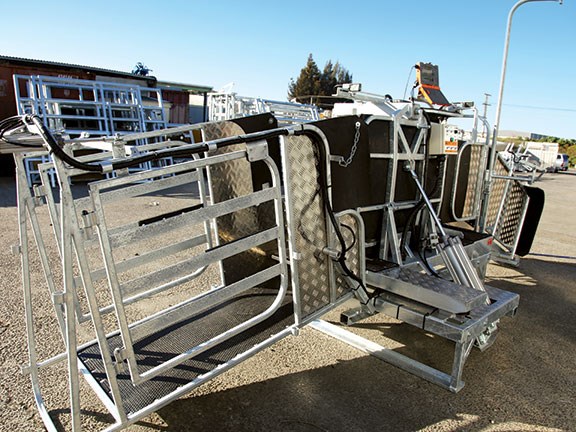 At Farmquip's Napier engineering yard, a crutch and weigh combo is ready to be freighted to an eagerly awaiting client. This particular shipment was bound for Australia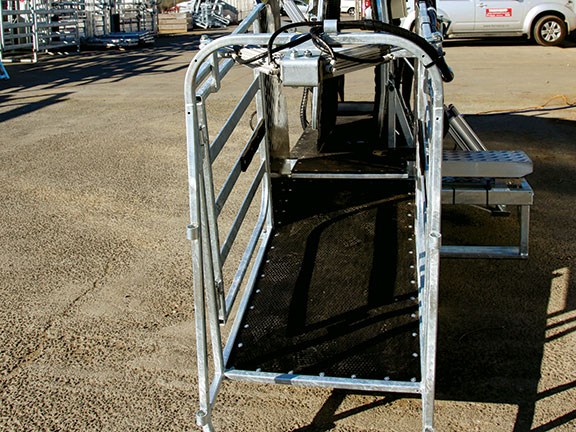 Automatic draft module of the crutch and weigh combo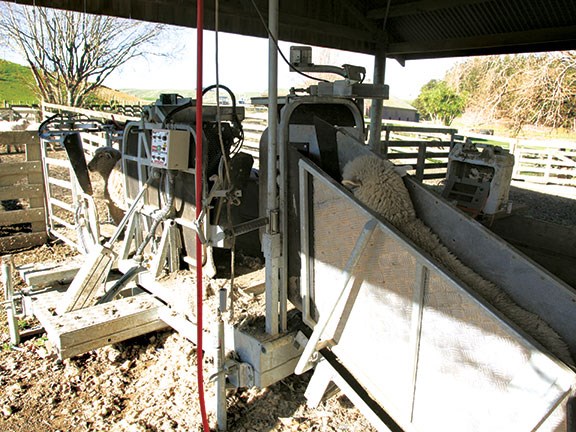 The ramp clamp holds the animal on the handler, prohibiting the animal from backing off the machine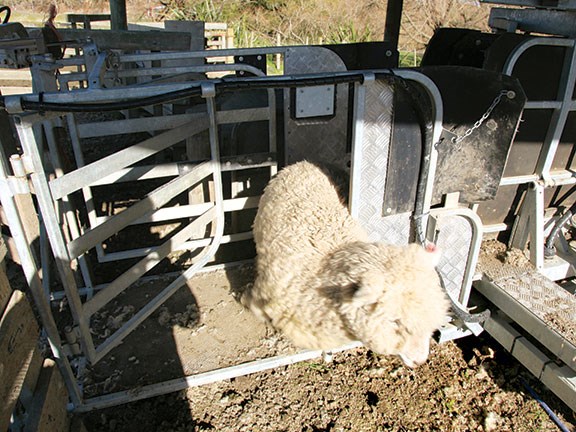 Sheep sorting made easy. Time saving equals dollars saved, too

Isaac Pharazyn of Motere Angus Stud sings the praises of his HDale crutch and weigh combo machine. "You'd go a long way to find anything better," he says.
Isaac and his brother James farm a rolling to medium steep, 5000-acre sheep and cattle stud near Omakere in Central Hawke's Bay, along with 'The Boss', their father Jim.
It's been a tough few years: the worst drought in 70 years this year plus a weather bomb that hit this area in 2011.
But the Pharazyns reckon a couple of things have helped to make their life easier.
One is the fact Jim Pharazyn stuck to traditional breeds. "We were lucky Dad knew what he was talking about and never jumped into the hybrid stuff. I've been here for five years and have experienced three droughts. The straight-breed Romney and Angus are the ones that hold up through the drought and are willing to forage," says Isaac.
Their other secret weapon is Napier- based company Farmquip's HDale crutch and weigh combo machine they bought three years ago.
This machine's multi-functions (auto weighing, drafting and catching) enable the Pharazyns to work on large mobs (500-800 per hour) with maximum efficiency.
Sheep can be clamped and easily rolled onto their side via an air switch, giving the operator access to the animal for crutching and inspection.
An optional belly-crutch mechanism gives further access and the ability to full-belly crutch.
Crutching throughput of 80-150 per hour makes easy work of cleaning up sheep.
While James handles the cattle stud side of their farming operation, Isaac concentrates mainly on the sheep.
"Working on your own in the yards is hard work and this machine is like another pair of hands.
The day Farm Trader visited, Isaac had processed 400 sheep in under an hour on his own. With his shepherd there loading up the race, he'd get though about 600-700 an hour.
"If you did it manually it would take you a whole day," says Isaac. "The HDale crutch and weigh combo makes it so much easier because it has the drafter at the front of the machine and separates the animals according to their weight — the lights are drafted one way, mediums straight ahead and heavies, right.
"At weaning time, you can put your lambs through it and sort out their lines. So, for example, you can take 35-plus kilos to the works, 35-32 to pick in a fortnight and anything under is spread out through new grass paddocks. It is excellent.
"If you did that by eye you would get that medium line but you would never get it really accurate," he says.
"If you are putting 29-32kg lambs onto the crop you know that pick is going to be there in a month's time and you're not going to say, 'Oh, maybe half of them', because that draft was a bit rough. It takes the guesswork out of it."
Where the machine is set up in the yards is key to making the operation efficient, he says.
"If you don't get it in the right place — and we weigh at around 9am because of the sun's position in our yard — you will be pushing sheep through all day because they balk at the light."
The crutch and weigh combo takes the stress out of crutching, too.
"I crutched 1200 ewes in one day. I had one worker with me and we were keeping up with the shearers in the shed. It's a huge help to be able to run the mob straight in, crutch them and then up to the shed."
The Pharazyns get good use (monthly) out of their crutch and weigh combo, too. Lambs are weaned and weighed in December and after that they are weighed fortnightly until August. In September they get the hoggets in for crutching before they are shorn.
"This machine has a remote control with a manual button to stop the machine and a draft button so you can draft out your dirties as you go. It's a very accurate system."
Another part of the operation he enjoys is analysing the data that gets downloaded from the Gallagher monitor attached to the machine and onto his computer.
"It shows your averages — what you are sending to the works. You can even put your carcass weight in and it will give you an estimate of what they should come out as. It's usually correct to within 500 grams."
But what does his father think of this new technology?
"He wasn't all that impressed when we first bought it but now that he's seen me work it by myself and the amount of work I get through, he thinks it's amazing.
"Recently I crutched 107 rams and came back after 45 minutes and he said, 'You can't have done them? You haven't even got a sweat on!'"
Isaac says that without a sheep handler, crutching can be backbreaking stuff, and it's near impossible to get through a full day without back pain. "The HDale does all the heavy lifting by flipping the sheep over — it saves a lot of work."
"A lot of farmers are still inclined to get the gangs in but here we like to make every cent count, so I'd rather do it myself."
Farmquip offers an excellent back up service too, he says. "If we have any problems they are there the next day to sort it out. They are really reliable."
Managing director of Farmquip Shane Brooker knows what he is talking about when it comes to animal handling equipment. He spent five years as an agricultural contractor, has been designing animal handling systems for 15 years and bought out the HDale brand, four years ago.
"The average age of farmers is increasing and so they can't do a lot of the physical stuff and even with the younger guys coming through, there is less staff so they need more automation to make things more efficient."
Farmquip staff and engineers all have some sort of farming background and so their knowledge is not just theoretical. "It's all very well to build something but you want to build something for the end user so that if they have a problem we want to make the solution for it."
Farmquip has recently made a few more improvements on the crutch and weigh combo that mean two sheep go through the machine — one is clamped at the front and the next will be held in line. "Traditionally, the next one will back off but this prevents that happening. It speeds everything up and also means you can do another operation while the other is going forward: mouthing, ear tagging, injecting and still weigh and draft."
They've also invested in improving the efficiency between the software or indicators (either Gallagher or Trutest) that attach to the machine and analyses and stores data.
Although the animal handling machines are a big investment, their benefits to farmers are soon reaped in terms of efficiency, peace of mind and less back pain!
"Farming is like any other business and needs to be efficient, otherwise you won't survive," says Shane.
For the latest reviews, subscribe to our Farm Trader magazine here.
Keep up to date in the industry by signing up to Farm Trader's free newsletter or liking us on Facebook