Taege Cultivator
---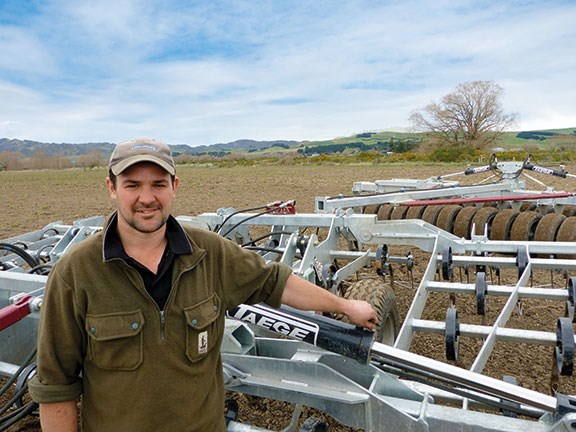 Nick Abbott knows what's required to make his agricultural contracting business as success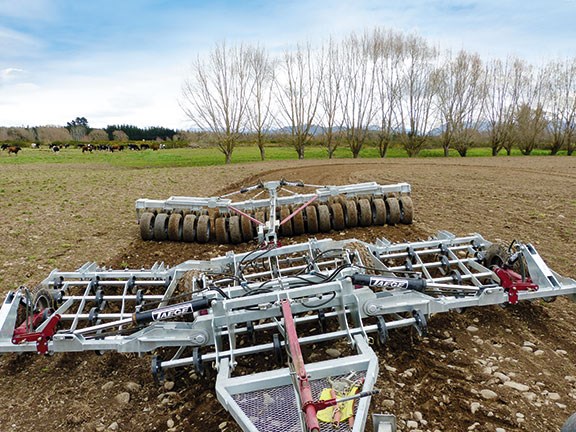 With the ability to fold above and below the horizontal, the Taege cultivator/tyre roller combination can follow the contours of your land effectively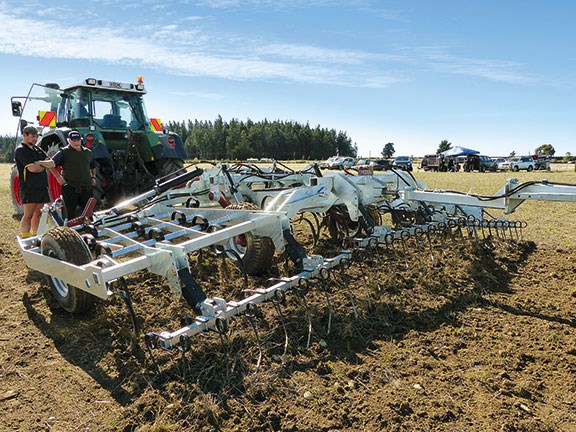 Nick Abbott (left) and father-in-law Brian Ginders particularly liked the contour-following ability of the Taege cultivator/tyre roller when they viewed it at the Taege demo day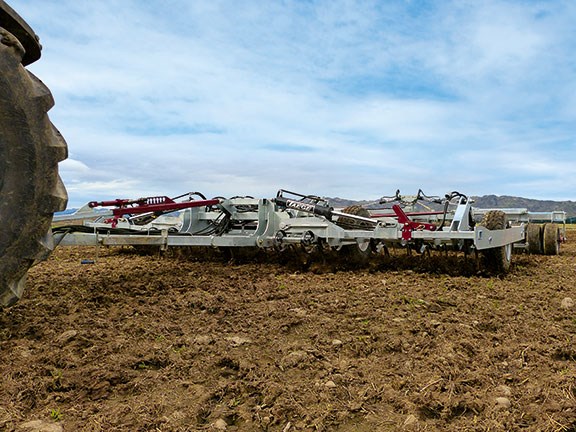 The outer wing wheels are hydraulically controlled, giving greater ground clearance when lifting and turning at the end of rows because the whole cultivator lifts together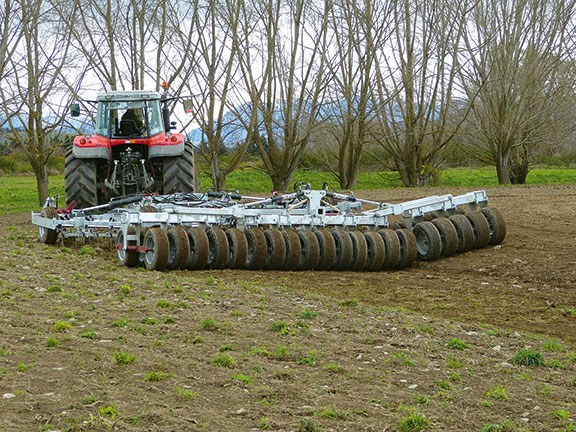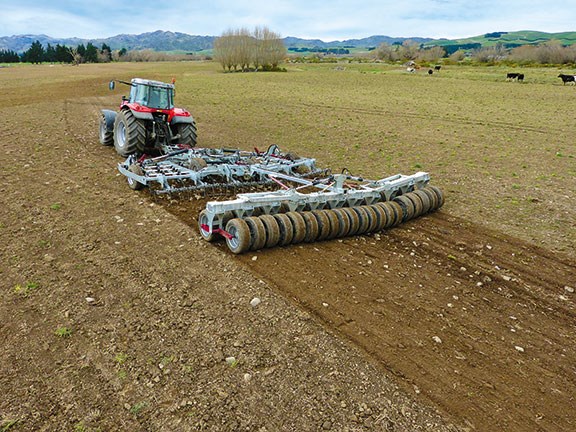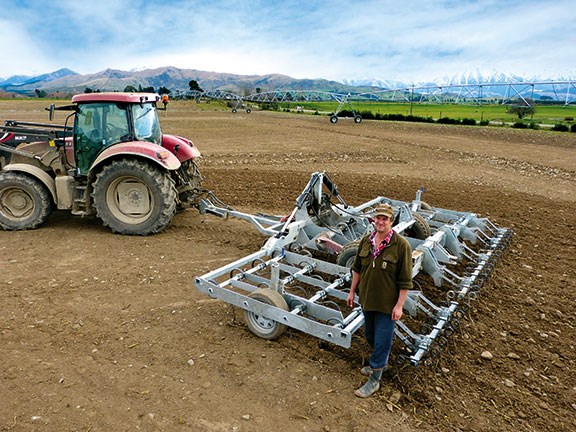 Focusing on dairy grazing, Stu Stokes has found the effects of heavy stock concentration has meant cultivation is a necessity for levelling the ground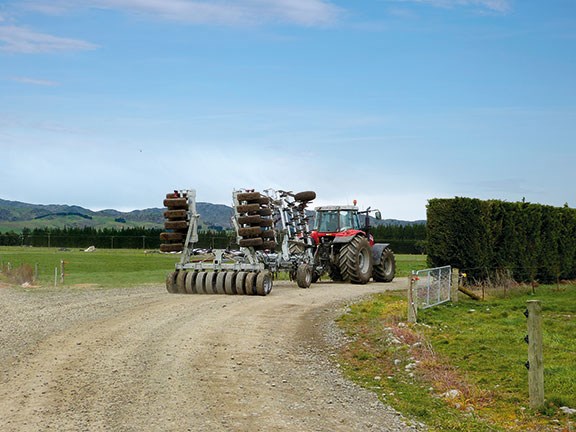 With a folded width of less than 3.1 metres and a well-weighted and balanced system, the Taege six-metre cultivator and roller package is easy to transport along the road

Taege's reputation for strength, durability and performance has seen demand soar for its new folding cultivator and roller combination.
'A winning combination' is how some are describing Taege Engineering's new folding six-metre cultivator and tyre roller combination. Although Taege has successfully produced tyre rollers for a few years now, the cultivator — still in its development stage — is proving popular as well. Thanks to the success and reputation of Taege's market-leading seed drills, it's no wonder the Taege cultivator and roller combination is in high demand.
In a previous Farm Trader article, Taege visited farmers around the Sheffield area who were testing the Taege cultivators. Now some of these testers have become owners of the cultivator. Taege therefore thought it timely to re-visit them and get their thoughts from an owner's perspective.
Nick Abbott of Abbott Rural Ag Ltd recently purchased a Taege six-metre cultivator and tyre roller for his agricultural contracting business operating out of Medstone Dairy Ltd, a large-scale family dairy farm in the Hurunui District, owned by his father-in-law Brian Ginders. Ginders is also a contractor, focusing on hay and silage, which together with Abbott's drilling and cultivation business, offers a one-stop contracting shop.
When you look around Abbott's yard, you'd be forgiven for thinking he has shares in Taege Engineering, as he owns a Taege fertiliser spreader, post driver, 3.6-metre seed drill, 3.6-metre folding tyre roller and now a bright, shiny, new six-metre folding cultivator and tyre roller.
"Since purchasing the Taege seed drill and tyre roller, our contract drilling business really took off. I've covered about 700 hectares so far and the tine layout of the drill and rocking wheel system of the tyre roller is handling our conditions very well. The penetration and contour following is a winner for me. When I mentioned I'd like a cultivator built along the same principle, I was pleased to hear they were already on to it and that a demo day was planned in the near future."
Why Taege?
Taege Engineering could be seen as the 'Johnny Come Lately' of cultivators, so it would have been easy just to build another option similar to what's already out there. But the team at Taege don't do things by halves and managed to incorporate enough differences to be able to offer something new and unique to its potential customers.
When Abbott was asked 'why a Taege?', his answer was this: "Even though we have every machine Taege Engineering has ever built, we didn't buy the cultivator just because it was a Taege. We bought it for the simple reason I was setting up a new business in an established area and wanted a machine with a point of difference, which would enable me to offer something a little different to my customers. I also wanted something I would look forward to operating as my days are fairly full milking cows and helping to run the farm. I don't need the hassle and headache of breaking tines, etc. I wanted something robust and able to handle the conditions we have around here."
Abbott says the ground conditions he works in are varied, with the worst on their dairy farm, but the Taege drill has sown 700ha in its first year of contracting and never broken a tine.
"The tips are only half worn, so I'm expecting the cultivator to be just as robust. We have some pretty horrific stones here and in other places there is very heavy soil without a rock to be seen and so far the drill has handled it all well."
"The Taege tine harrows are another successful accessory," says Abbott. "I used to have a crumble bar on my old machine and I don't really rate them at all in our conditions. They would bend, fill up with mud and stones and at the end of the day they wouldn't do a very good job of levelling, where the Taege harrows do."
He says the combination of the machines he now operates is very effective for seeding and pasture care.
"In the future I would like to put an air box on top of my cultivator to broadcast seed onto the paddocks on the final pass and with the harrows and roller following along doing their thing, I should get some good results at a very competitive rate."
Taege Engineering is already working on a small air box, with plans to offer a big air system in the future and the design of the cultivator is based around this concept.
Abbott says another great feature of the cultivator and roller package is its stability in the transport mode.
"You can whistle along at a good road speed without any tail whip or bouncing and there is minimum down force on the drawbars, especially the roller onto the cultivator drawbar. A lot of other machines fold forward, putting a huge amount of weight on drawbars, etc. Our old roller had to have a steering jockey wheel system to help take the weight in the folded position as it put so much weight on the old cultivator rear drawbar."  
Stu Stokes weighs in
It seems a bit odd when a company who has been pushing direct drilling for years all of a sudden starts building cultivators, but it appears there is a place for both systems.
To give you an updated opinion from a master of direct drilling, Taege once again caught up with Stu Stokes who has recently purchased the first prototype Taege cultivator. Stokes has been purchasing Taege machinery for many years now and his valuable input has been attributable to some of the many ideas shared by farmers that have ended up on the final products.
Stokes gets the credit for the hydraulic spike extractor used on all post drivers built today, and has had a lot of input into the Taege direct drills, so it was with much interest that Taege caught up with him to see how he's found the early prototype Taege cultivator so far.
"Direct drilling is still my preferred way, but I have always done a bit of cultivation," says Stokes. "With more focus being contract winter grazing of cows, my paddocks end up a lot rougher than days gone by, hence the need for more cultivation to smooth out the paddocks."
Stokes says he previously used a different brand of cultivator but knew it wouldn't have stood up to the extra workload, so he grabbed Taege's test cultivator.
"I knew the Taege cultivator would live up to Taege's reputation for gear built like a proverbial outhouse."
Stokes' cultivator is different to the ones being built today, which have been further developed to suit the market. "I'd highly recommend farmers and contractors go and see a Taege cultivator in action. I think they'll be suitably impressed, just as I am."
He says it's all about shifting dirt and with the many tip options available, there's a setup to suit everyone's requirements. Whether it's levelling after pugging, breaking up a pan, preparation after winter grazing, pulling up weeds to die out on the surface or seeding boots there is a tip option for you.
In conclusion, Taege Engineering is satisfying customers by producing products to rival big overseas companies'. Taege machines are built by New Zealanders with fellow New Zealanders and New Zealand conditions in mind.
For the latest reviews, subscribe to our Farm Trader magazine here.
Keep up to date in the industry by signing up to Farm Trader's free newsletter or liking us on Facebook