Getting a career in agricultural contracting
---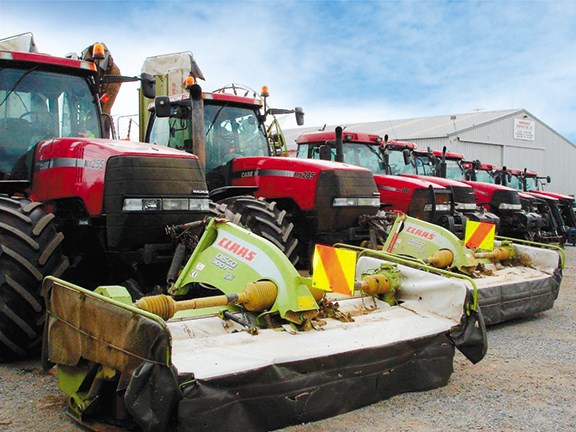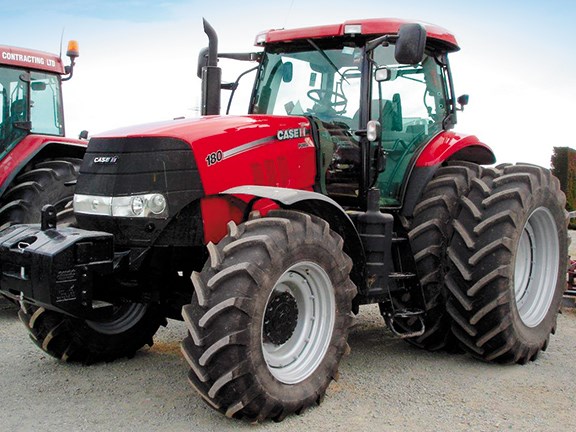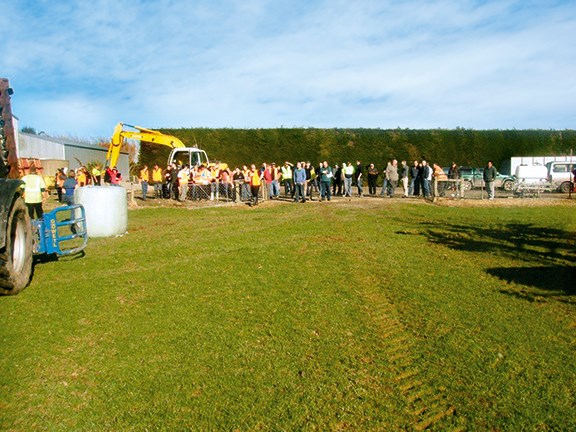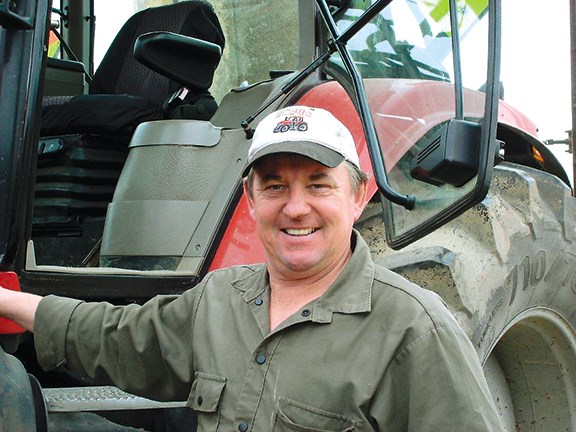 Brian Hughes.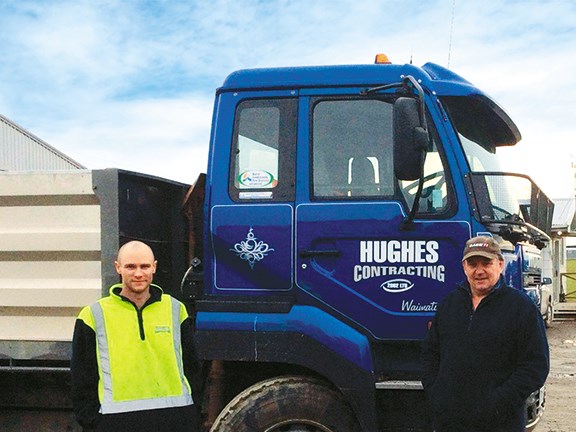 Josh Treymane (left) credits Brian Hughes (right) with giving him a shot at his dream job.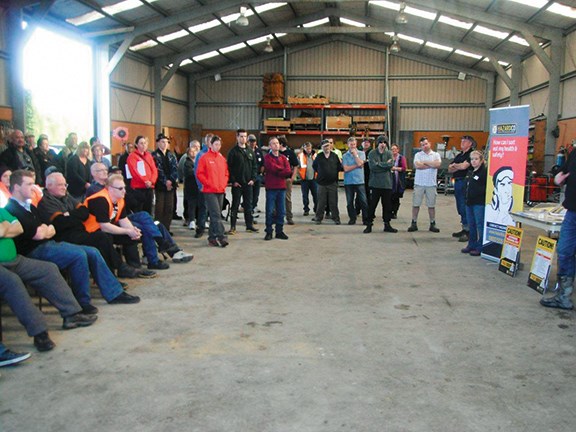 Last year's agriculture field day in Invercargill.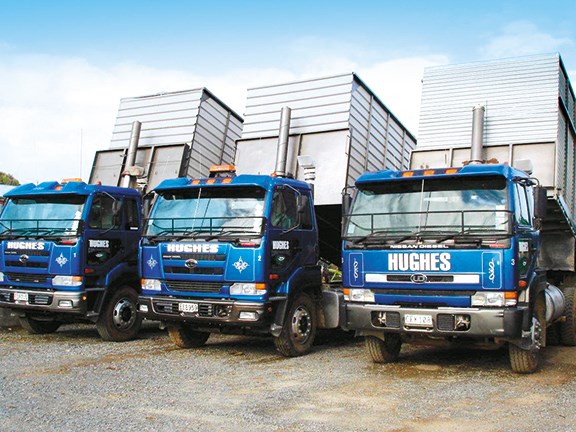 Hughes Contracting started out with just one tractor. Now it has 15 tractors, two loaders, an excavator, and four trucks.
They say perseverance is the key to success. For Josh Treymane, it was the key to winning his dream job at Hughes Contracting — an agricultural contracting company based in Waimatua, on the eastern outskirts of Invercargill.
Josh Treymane isn't a fan of self-help books, which is odd considering his life is starting to resemble one.
A year ago he was working part-time at a Southland panel beater, following spells in the forestry industry and at a local freezing works. It was good work, but unsatisfying for a man who really wanted to drive trucks for a living. The problem was, he'd never driven a truck in his life.
Now, at the age of 28, Treymane is employed to truck silage – and even in the off season, a typical working week might see him carting bales by truck one day or tinkering with tractors the next.
"I've always been interested in anything with a motor – so this is pretty much my dream job," he admits.
What happened in that time to change his life? That would be a combination of good luck, some good old-fashioned perseverance, and a little bit of help from a man named Brian Hughes.
Getting behind the wheel
Like a classic Kiwi bloke, Treymane is almost humble to a fault. He credits his new-and-improved career path to the boss who gave him his shot: "If it wasn't for Brian giving me a job and putting me through my Class 5 licence, I wouldn't be doing what I love today."
The truth is, Treymane helped himself first. He took out a student loan to do a three-month course at Drivetech, an Invercargill business specialising in driver licencing and endorsements for heavy vehicles, where he got his Class 2 licence.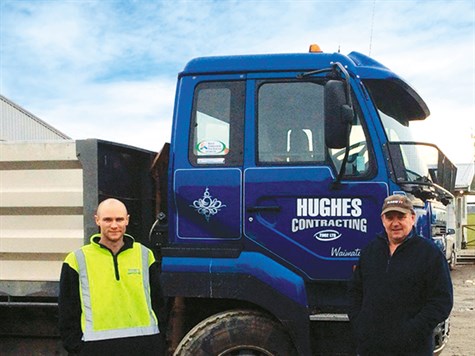 Six months later, he got his Class 4 licence from Batt Training and Development Ltd in Makarewa, qualifying him to drive a rigid vehicle (including any tractor) with a gross laden weight of more than 18,000kg.
"I always wanted to give truck driving a go," he says. "Until that point I just never really did anything about it. I had to get my licences first, because what's the point in looking for a job driving a truck if you can't legally drive that truck?"
His subsequent job hunt brought him in touch with Hughes, who told him to come along to a rural contracting field day he was co-hosting, aimed at filling some of the up-to 300 seasonal jobs across the Otago and Southland regions.
The rural contracting induction day was an opportunity for jobseekers considering a change in career, to try out a range of agricultural machinery, including tractors, balers, and diggers, and talk to a number of industry experts about safety issues and job requirements.
The organisers were expecting between 20 and 30 people to turn up, but were pleasantly surprised when 112 people attended the open day. Among those was Josh: "I'd never been involved with contracting before, so it was good to come along and have a go."
Even better, one thing lead to another and Hughes ended up offering Treymane a job soon afterwards.
Workers wanted
Good help is hard to find. No one knows this better than Hughes, who gets inundated with work every summer but struggles to find enough skilled and experienced workers, without having to recruit people from overseas.
"Sourcing young men like Josh is not easy and the recruitment day showed us he was keen. We've since put him through his Class 5 licence and he has full-time employment here."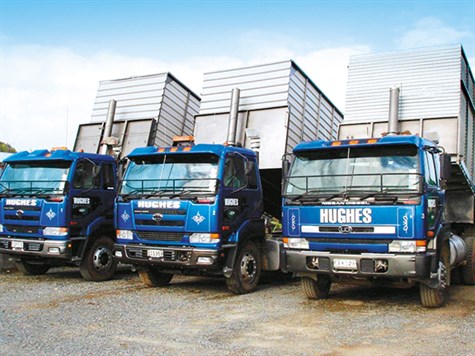 Meanwhile, Hughes is getting ready to host another recruitment drive in September, in time for the busy season to come. "The same organisations will be invited and it will be run along the same lines as last year, with a presentation from Rural Contractors New Zealand about what is being offered and what is expected of potential employees.
"We will possibly use Josh, Hughes Contracting, and Work and Income as an example of trainees and employers working successfully."
So Treymane, who wanted to become a truck driver only a year ago and set out to make that dream a reality, will soon become an example for others looking to break into this line of work. What words of wisdom will he offer them?
"Just keep trying. If someone isn't looking for new staff, keep asking and don't give up. Agricultural contracting is great work with a lot of variety — I only wish I'd gotten the ball rolling a lot sooner. But coming along to the contracting field day is a great start."
Hughes Contracting
Hughes Contracting was established in 1984, after Brian Hughes was made redundant from his job as a diesel mechanic. Since then, with the help of wife Lynnette and son Chris, the business has grown to become one of Southland's largest silage harvesting operations.
The business started out with just one tractor and a tow-behind JF forager. Today, it operates 15 tractors, two Claas foragers, two JCB loaders, four trucks, an excavator, and sundry equipment.
When questioned about the single most useful piece of equipment at his disposal, Brian surprisingly says it's his iPhone. "The mobile office is absolutely essential to keep me in touch with staff, clients, suppliers, and service providers." But if money was no object, he'd like a helicopter.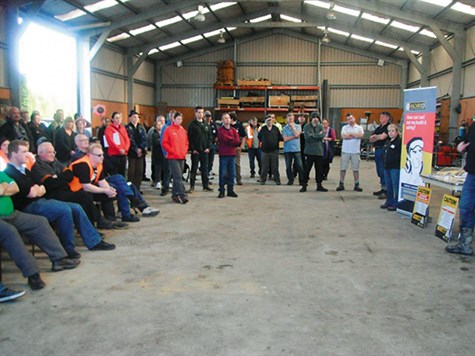 Invercargill rural contracting field day 2014
When? 17 September 2014
Where? Hughes Contracting Ltd, Kennington-Waimatua Road, Invercargill
What? An induction and job-finding day, where you can hear from experts in the industry about what agricultural contracting can offer as a career and what training and licences you will need. Plus you can have an opportunity to drive large tractors, loaders, rollers and other machinery — all under supervision.
Who? Men and women, mature and school-leavers — anyone looking for work or considering the contracting or agriculture as a career change. There's even summer holiday work available for students with the appropriate licences. You must be willing to put in a good day's work and get your hands dirty.
For more information about the rural contractors day in Invercargill, phone (03) 248 7908.
For the latest reviews of farm machinery, subscribe to Farm Trader magazine here.
Keep up to date in the industry by signing up to Farm Trader's free newsletter or liking us on Facebook