Rural contractors: Andrew McCutcheon Contracting
---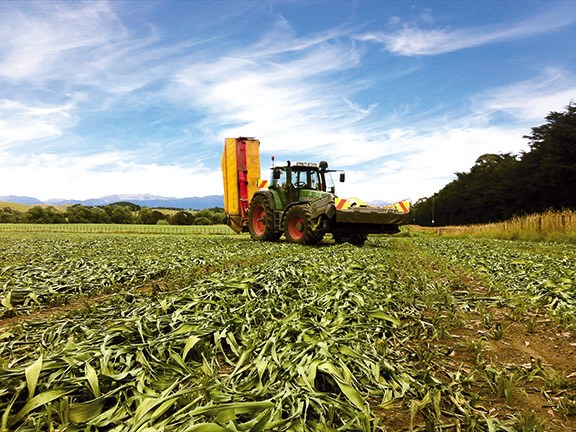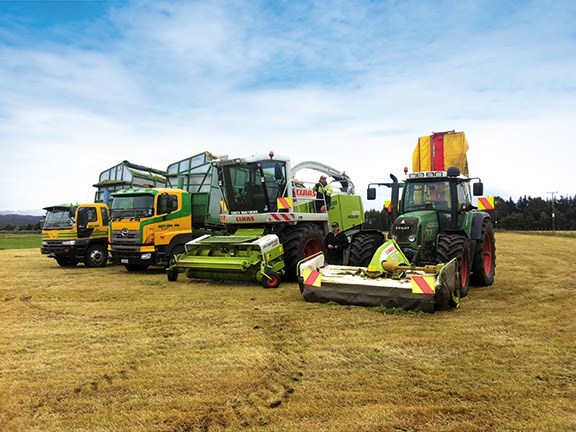 Chote Brother's trucks line up with a Claas 870 Jaguar forage harvester, Claas PU HD 300 chopper, and Claas 330 F mower.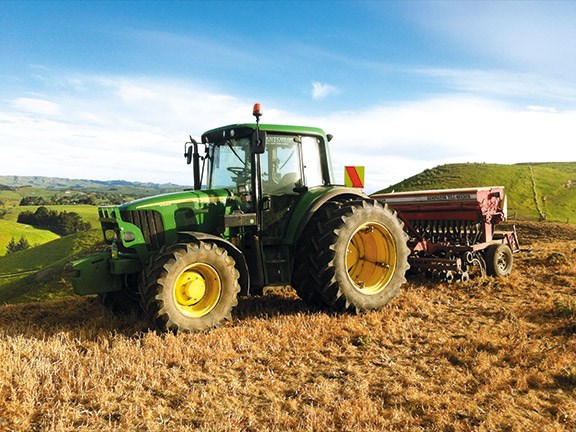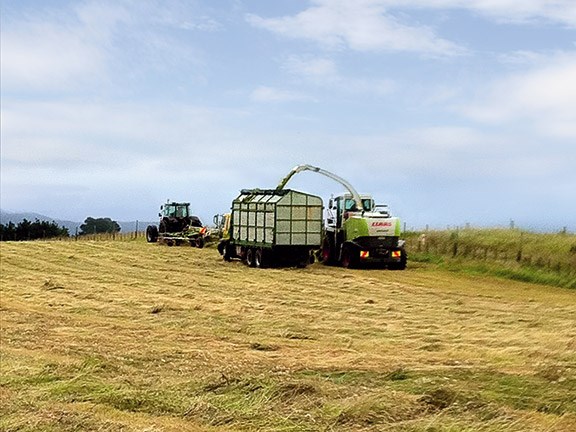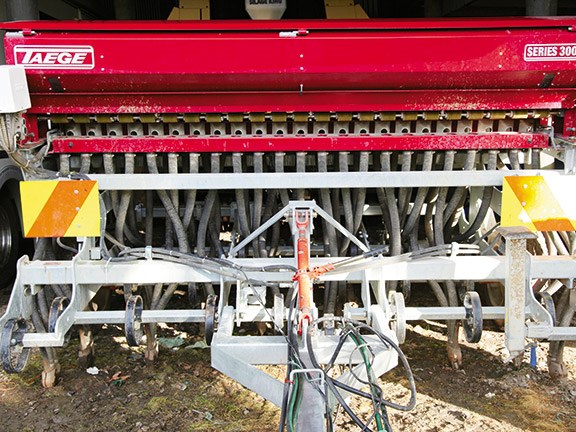 Taege Series 300 direct drill.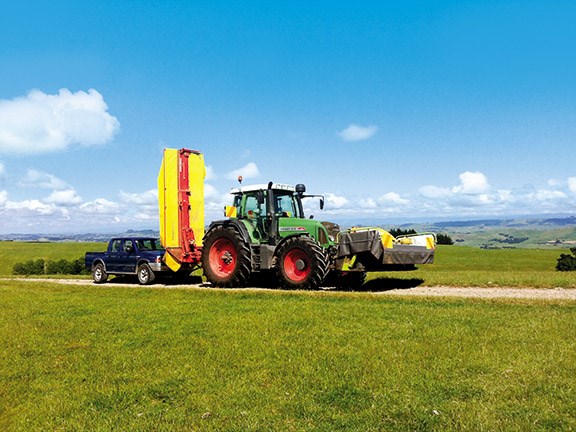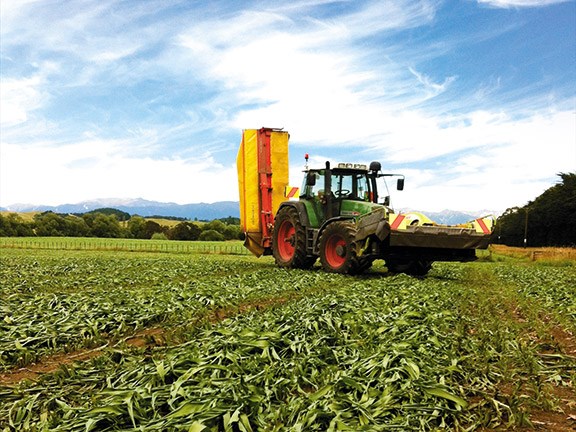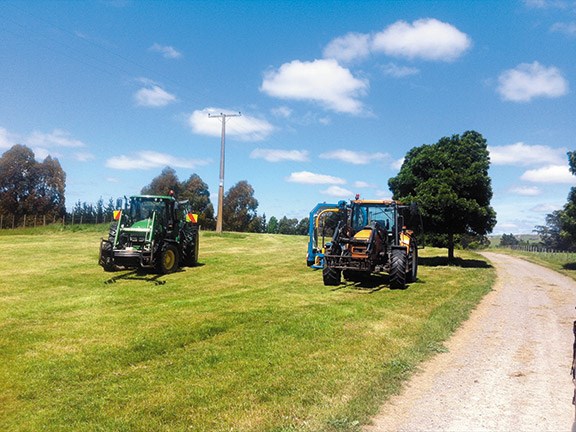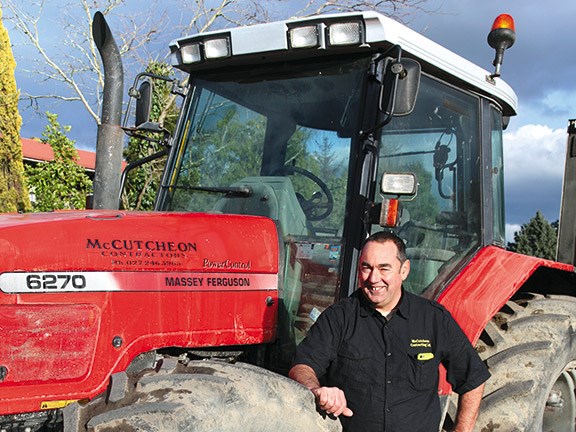 Andrew McCutcheon and Massey Ferguson 6270 tractor.

Vivienne Haldane caught up with Andrew McCutcheon to find out what keeps his rural contracting business running like a well-oiled machine.
Rural contractor Andrew McCutcheon once did a stint as an orchardist, but quickly realised he preferred machinery to apples and went back to what he knew best. A love of machinery runs in the family. His father ran a rural contracting business, as did his grandfather.
The Central Hawke's Bay contractor's business is year round and, having worked in the district for over ten years, Andrew McCutcheon Contracting Ltd (AMCL) has become a name farmers know they can rely on for hay and balage, fine chop silage, direct drilling, and cultivation.
Depending on the season, crops of peas, oats, brassicas, grass, and plantain are sown. The first cut of silage for dairy farms is done in September and December, and January is the height of haymaking season.
Five years ago, AMCL formed a partnership with local contractors Chote Brothers to do some of the silage and cartage work. "They do the silage chopping and hay cartage, and we do the mowing, raking, and stacking. It's a division of labour that works really well — I do the day-to-day running and liaising with farms and Chotes organises its chopper and truck drivers."
To get the work done, McCutcheon employs a team of four, including his son Tom, who has inherited the family skill with machinery.
The right tools for the job
AMCL's machinery lineup is an eclectic one. In McCutcheon's words, "It's a bit of a fruit salad." But there's a reason behind his particular choices and he is very savvy, fitting machinery to what he needs at any particular time.
"We run five tractors over summer: two Fendts, a John Deere, a Massey Ferguson, and a Renault. For the hay, we need a few really good tractors, but for raking, we don't need the latest model. At the peak of the season, we have a tractor hooked onto every implement — mower, baler, rake, and loaders — because we are unloading and loading bales."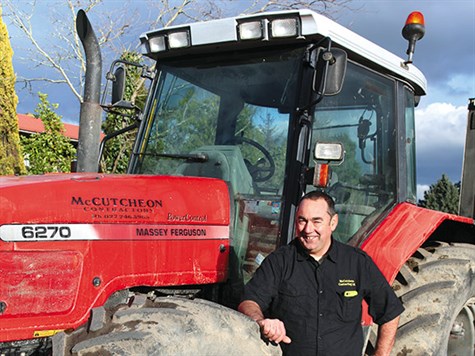 In the past five years, AMCL has hired a new tractor for the haymaking/silage season and McCutcheon says this year, the Fendt 720 with front and rear mowers, was their stand-out piece of machinery. "It's a great machine, operates well, and has the latest technology on board. It's sped up the mowing of silage, balage, and hay, so we'll hire another one this year."
He finds this is a cost effective way to operate. "We use it in a season we can make money out of, and hiring is also tax deductible. It means any surplus can be put towards purchasing new drills and mowers."
"The product you see at end of the job, all neatly mowed and raked, with nothing left behind, is the crucial factor. It doesn't worry the farmer, whether you are on a brand new tractor or an older one."
For mowing, AMCL uses a Claas front mower and a Pottinger back mower. "I like to buy new mowers and rakes, because we rely on them so much to get the work done."
If a breakdown does occur, they use local machinery manufacturers Stevenson and Taylor. "They do all our engineering and understand if we are broken down half way through a job that we need to get going as quickly as possible. Sometimes we have three trucks, the chopper, mower, rake, and stack tractor on the job, and if one breaks down it holds everyone up."
For direct drilling, fodder, and grass crops, he uses a Taege drill, which he purchased new this season. Discs and power harrow cultivators are Kverneland and hay balers and mowers are Claas. "The backup service for Claas is so good. They have a lot of parts nationwide, so most things you can get overnight. Our Pottinger mower we've also had a good run with."
A Great Plains conventional drill completes his drilling equipment. McCutcheon has used this brand since 1992 and sticks with it because they are robust. Value for money is a big part of what guides McCutcheon's choice when looking to add new machinery to his lineup.
Out of all the brands he uses, he says John Deere is his favourite, most enduring one.
Much of the machinery I buy lasts well. I like to get five or six years out of something.
If you regularly maintain your machinery, that's possible. But if you do have problems, I think it's best to bite the bullet and upgrade. Our mowers need upgrading every three or five years."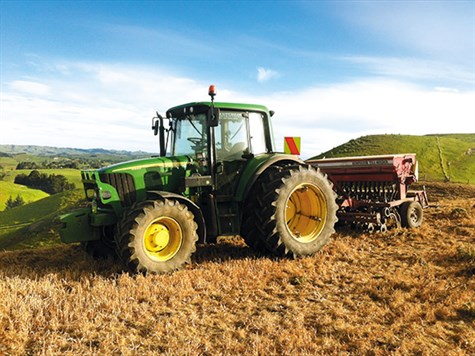 This season, Chote Brothers will buy a new Claas silage chopper. Again, the reason is because its backup is excellent and parts can be readily couriered to Waipukurau.
One of the changes he's noticed in his industry is the increased size of machinery: "Tractors have got bigger and bigger. When my father started, he had a 100hp tractor and that was considered big back then. Ours are medium sized because they're suited to our type of work and the terrain here. We've stuck to a three-metre disc, power harrow, and drills because you can easily get around most of the paddocks. It's no quicker if you have big gear."
For more information contact Andrew McCutcheon Contracting Ltd on 027 246 3965 or email amcl @ xtra.co.nz (without the spaces).
AMCL's machinery
Claas Markant 65 conventional haybaler
New Holland BR 750A haybaler
Goweil 5012 bale wrapper
Claas 780 liner
Claas 3050 front mower
Pottinger 350 H Novacat
Kverneland DVP 3.0m disc
Kverneland 3m power harrow
Vaderstad 6.20 roller
Great Plains 1300F seed drill
Taege 300 direct drill
Tonutti V Rake
Fransguard rake
Fendt 716 tractor
Fendt 720 (hire) tractor
John Deere 6320 tractor
Massey Ferguson 6270 tractor
Renault 530 tractor
For the latest news and reviews of farm machinery, subscribe to Farm Trader magazine here.
Keep up to date in the industry by signing up to Farm Trader's free newsletter or liking us on Facebook