Cross Slot No-Tillage System
---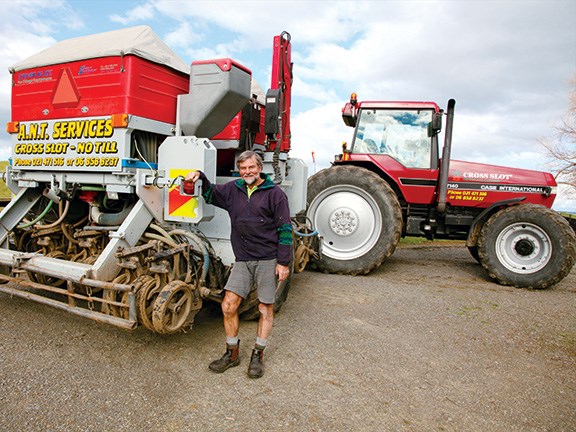 Russell Kappely's work unit consists of the cross slot drill and his trusty tractor.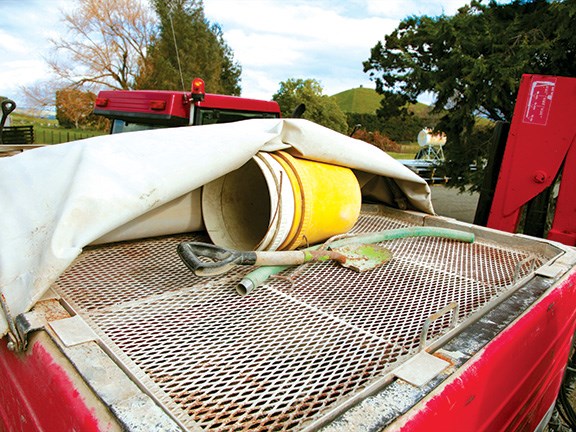 The fertiliser bin has a grate to keep lumps out of the metering system.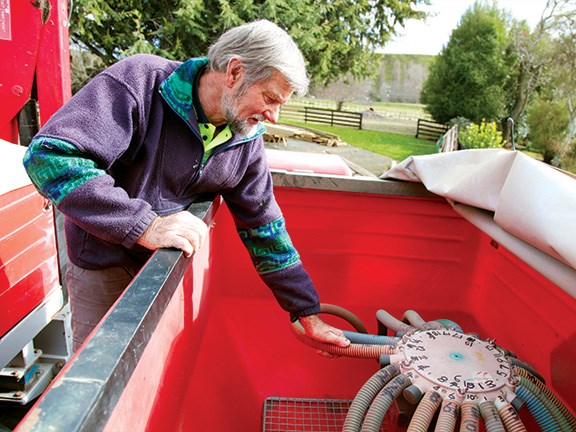 Russell checks the blockage sensors inside the grain bin where seed is air distributed.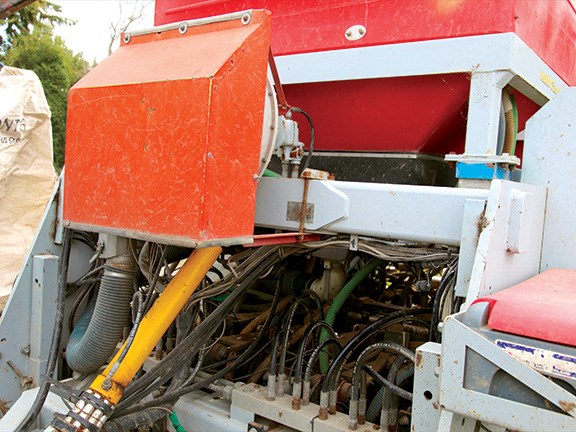 The intake air-warming fan above a network of tubing.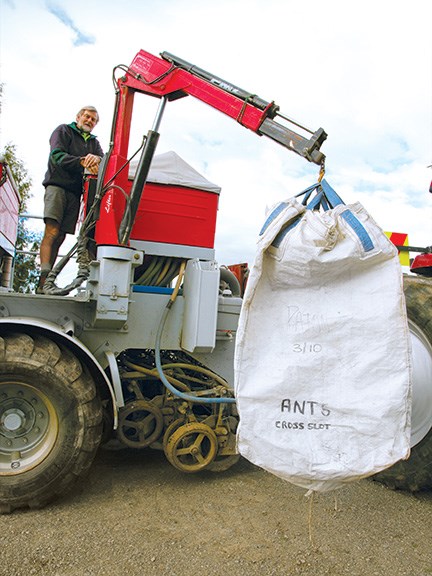 The hydraulic crane is a useful tool for handling bulk bags of seed or fertiliser.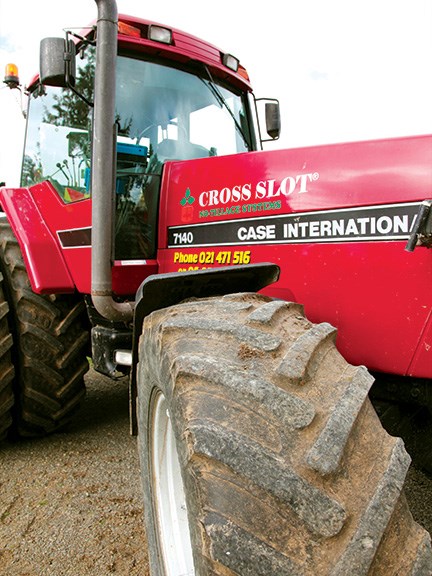 Russell's Case International is ANT Service's reliable workhorse.

Those challenged by wind and water erosion may want to take a look at the unique direct drilling capabilities of the Cross Slot No-Tillage system.
Spring has arrived and the earth is waking up after winter. It's time to start thinking about pasture care and sowing new crops for the upcoming season.
Hawke's Bay contractor, Russell Kappely, owns a Cross Slot No-Tillage system and says it is a method of planting that is easy on the ground and is achieving excellent results.
Russell bought his system from a colleague he used to do agricultural contracting for, before starting his own business, Advanced No-Till Services (A.N.T) about four years ago.
"There are a variety of no-tillage drills on the market, but the Cross Slot is unique in the way it operates. Two blades separated by a vertical disc create a slot in the soil with a horizontal cut on each side. Seed goes on one side and fertiliser on the other, with virtually no surface disturbance – hence the name Cross Slot No-Tillage."
Seed and fertiliser are applied using fan air below the soil surface at a depth adjustable between 10-100mm, depending on seed size. Press Wheels follow the blades, ensuring the soil surface is 'closed' after the cut.
Seeding depth is unaffected by surface roughness or hardness because each cultar on the drill is hydraulically operated. Sowing is done in one pass, so the time saving factor is certainly significant.
Apart from the area under the surface where seed is sown, there is no need to disturb the ground, meaning that grass cover is retained. This then breaks down as mulch for the emerging plant.
This process is great for soil structure because it encourages worms and speeds up the creation of natural humus.
"Leaving the grass in place means it works like a big mat that holds moisture in," continues Russell. "It works well in Hawke's Bay because the land dries out so badly."
The advantages of this drill, besides sowing seed and fertiliser more evenly, is that wind and water erosion are minimised. Paddocks are left firmer and can be driven across after direct drilling. This is good for machines such as pea-viners, as there are no ruts and loose dirt to contend with.
Because it takes less time to drill a paddock, it effectively halves the cost when compared against conventional drilling.
Planting this way enables the emerging seed to germinate in its own microclimate that manages to trap in the vapor moisture. The fertilizer – in its own separate slot – nourishes the growing seed at the root area without burning it. Fertiliser can then be applied at a different depth to seed if required.
"The end result is the highest possible reliability of seedling emergence from dry soil," says Dr John Baker, CEO of Baker No-Tillage Ltd (BNT), who originally developed the drill.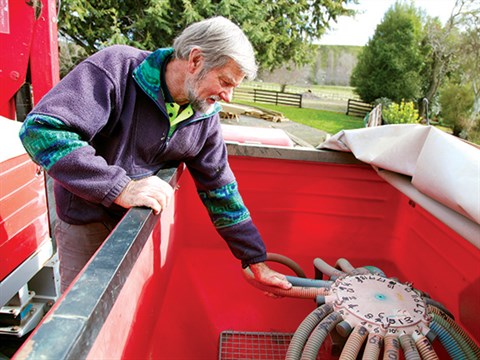 Russell sows a variety of crops using the cross-slot drill. In the past six months he has sown plantain, barley, wheat, oats, kale, shogun ryegrass, green globe turnips, peas, moata, cridge seed, rape, clover mix, chicory, voltage kale, brassicas, sorghum and swedes.
When sowing grass he broadcasts clover from a spinner on the back of the machine at the same time.
"If you do perennial grass and broadcast clover in this way, it doesn't have to compete with the grass roots. We also put on slug bait; this is costly, but you have to do it because it ensures the crop's success."
A paddock he worked recently had been "power harrowed to heck" and planted previously with squash. Russell over-drilled it with permanent pasture seed and clover and says the farmer was absolutely over the moon with the results.
"When you are no-till drilling it aerates the soil rather than compacting it. Every time you cultivate a paddock with a power harrow it chops up the worms and destroys soil texture; humus is the most important part of our soil. If you have worms you have healthy soil."
This year Russell has completed a trial of organic fertiliser, guano or bird droppings. "The results are really encouraging."
Russell used to be a farmer himself; therefore he has a good understanding of rural businesses and farmers' needs. He is resourceful and does all his own maintenance on the drill.
"It does help to be a little bit mechanical," he says.
Meanwhile feedback from the wider farming industry on the Cross Slot No-Tillage system is very positive.
Wairarapa farmer Jim Williams says, "Cross Slot No-Tillage has made our farm a much better one. We are finishing twice as much stock per hectare as we were because we put everything into Italian rye grass for winter and back into cash crop for spring and summer.
"Our soil health is vastly improved. Before we changed to no-tillage we were cultivating paddocks up to thirteen times; it wasn't sustainable. Now our soils are beautiful; full of worms and great to drill."
Hyundai Country Calendar narrator Frank Torley has also recently commented on the system, saying "Cross Slot No-Tillage is changing the future of agriculture by replacing the full suite of cultivation equipment with a single pass, state of the art seed drill.
"Cultivation is expensive and outdated. Worse still, it is environmentally irresponsible. Cross Slot No-Tillage has many benefits for the sustainability of food production."
Russell has observed that farmers in Hawke's Bay are slower to embrace this technology compared to other regions.
"Ninety percent of my farmers like this drill and the way it works but a lot are slow to change. Many have their own gear they prefer to use, which is understandable."
He says the backup he receives from BNT is phenomenal.
"They are like family. We have a conference every year for owners and operators – they know us all by name and they look after us really well."
For more information contact Russell Kappely, A.N.T Services, ph. 021 471 516 or 06 858 8237
For the latest news and reviews of farm machinery, subscribe to Farm Trader magazine here.
Keep up to date in the industry by signing up to Farm Trader's free newsletter or liking us on Facebook