Animal handling and health: Landquip
---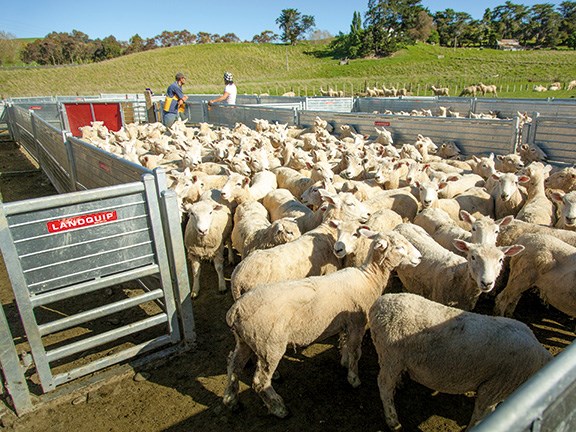 Farmers enjoy the versatility of Endura-Yards.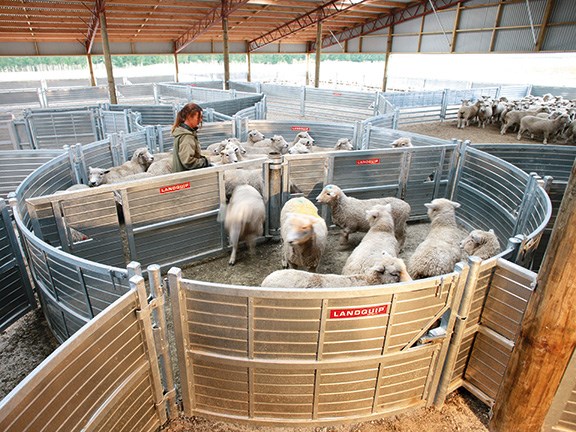 Circular Perma-Yards in existing woolsheds are designed for maximum functionality.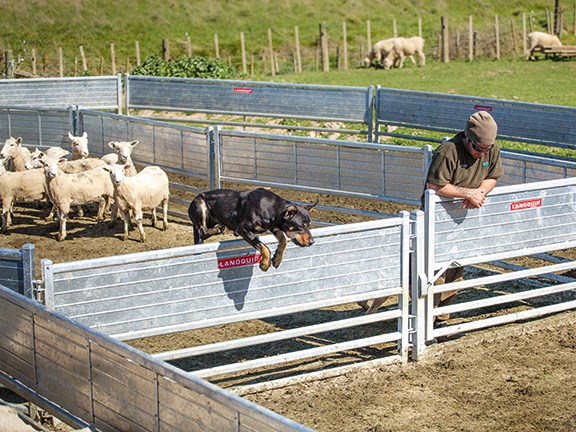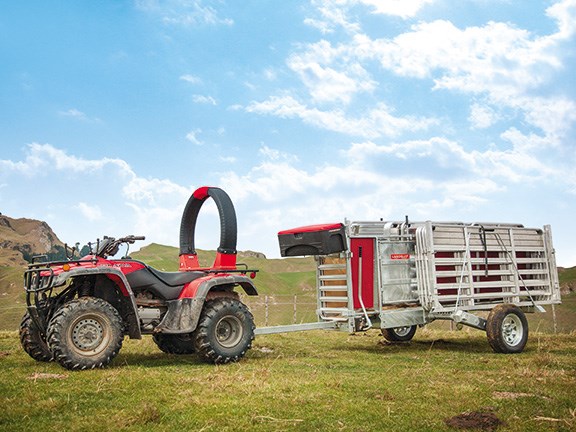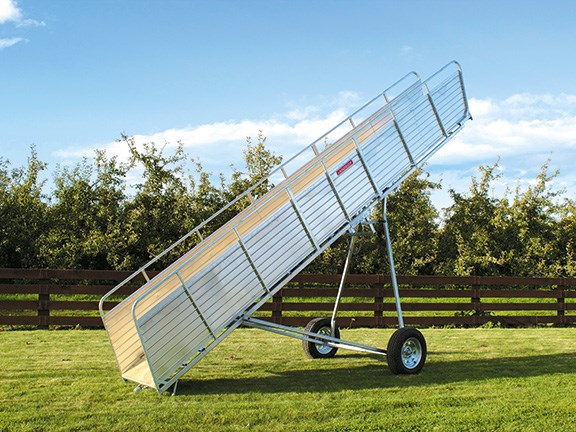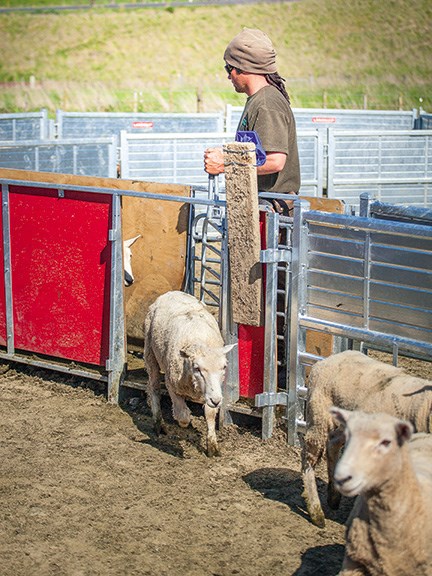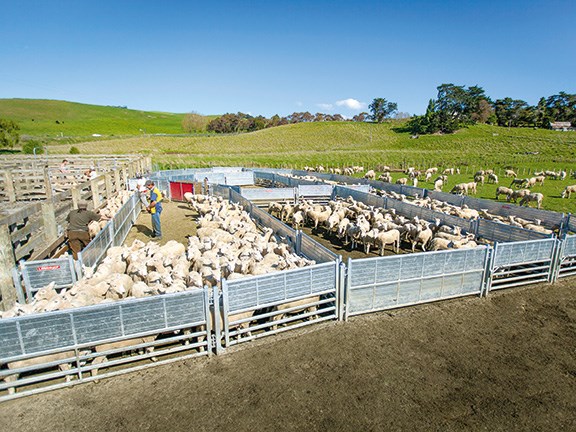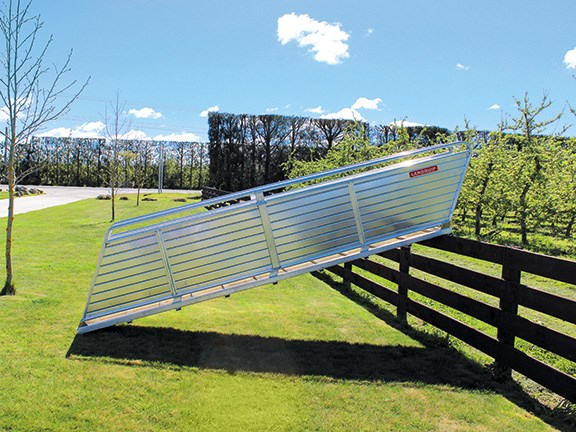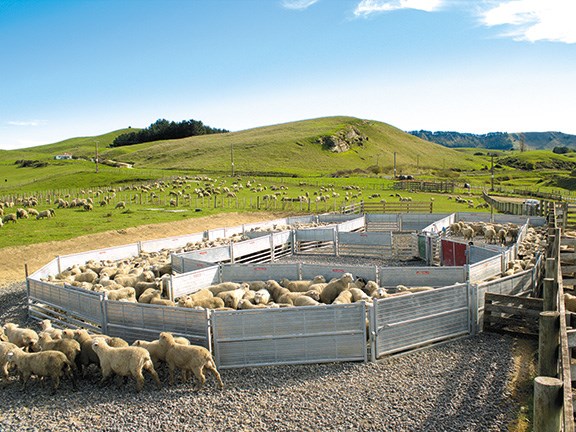 When it comes to managing sheep an efficient set of yards is a must, and that's where Hawke's Bay company Landquip comes in. It's been making sheep handling yards for seven years now.
Landquip's factory is situated on 12 acres, in the heart of orchard country near Hastings. "The advantage of being semi-rural is we have a set of permanent yards out the back where we can do research and development, as well as trial and demonstrate our products to our clients," says Landquip's marketing and sales manager, James Fyfe.
The company is already well known for its orchard and vineyard equipment. "Our core business is orchard ladders, grape gondolas, and general engineering. We originally made portable sheep yards for another company and when it decided it didn't want to continue, we took over and now own the copyright to the product known as Porta-Yards."
"At this time of year, we predominantly sell Porta-Yards for tailing — farmers generally have their ewes in small mobs so as to not disturb them and have mis-mothering problems. Rather than bringing ewes and their lambs into their home yards, they take a set of yards to the sheep. After tailing, they are often drenched in an adjacent pen. You can set them up in a corner of your paddock. It only takes minutes to assemble and comes as a unit on a trailer."
Having begun to manufacture Porta-Yards Landquip decided to expand its range. Now it also manufactures permanent (Perma-Yards) and semi-permanent (Endura) sheep yards, plus sheep loading races and trailers.
In deciding to progress with permanent steel yards, the team at Landquip did some research to see what was already available.
"We thought there had to be a market for steel sheep yards, yet when we looked at the permanent yard situation in New Zealand most of them were made from timber. They are more costly to maintain long- term. In contrast, cattle yards are usually made of steel and we discovered people were going to a circular design because they allowed a better flow and are a lot safer. We looked at what they do in Australia and found steel permanent sheep yards were used widely."
There are different sheep handling yards on the market but one of the distinctions of Landquip yards is in its design: each gate is higher and has a solid panel on top. "Other smaller brands have since seen the merits and have taken the idea," says Fyfe.
He explains the reasoning behind this. "Over the years, sheep breeds have got bigger and they're a bit like goats — they like to jump. They tend to do that because the gate design is usually very open and they can see out. Our gates are one-metre high, with the top quarter being a solid panel. That not only adds strength, but also acts as a psychological barrier for sheep because they can't see any escape route. As a result, they are a lot easier on our yards and don't damage themselves.
"Having a solid top also protects dogs' legs because they are inclined to leap over them. With our design there are no bars to catch their legs in."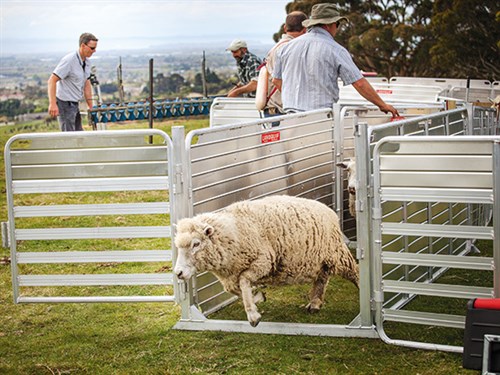 Landquip has also made a point of making its yards compatible with other brands. Therefore, customers can buy Landquip panels that pin into their existing yard.
"A lot of farmers buy our panels because they like using them in a harder working area, such as in front of the drafting race where sheep can't jump over."
Perma-Yards are tailored to farmers' specific requirements. "Whether they are a breeding or a fattening block or want to night store 1200 lambs, we create plans accordingly. All they need is a flat area. We can organise installation and can have a working set of yards ready in a week. Steel yards require very little maintenance and are still going to be there in 50 years' time."
"Our main selling point is 'fit and forget'. It allows farmers to get on with what they do best, which is farming."
Because Landquip Porta-Yards are a modular system, it gives farmers total flexibility of stock movement. It's a bit like "playing with Lego", according to Fyfe.
"If someone says, 'Our biggest mob is 200-plus and we drench our ewes at tailing so we need also a double-lane drenching race,' we'll add various options to it. As far as setting it up, the only limiting factor is your imagination and what works for you. We are totally flexible in whatever option of yard a client wants."
Benefits for animals and operators
Having all panels with the top-half filled and full-sheeted working areas gives an easy-working sheep flow.
All panels come at one-metre high as standard.
Easy to operate slam latches on permanent yards.
Product range
Porta-Yards mobile sheep yard system's most common yard is with a trailer unit and hydraulic system that can be raised to use as a first deck loading ramp. They also offer a three-point linkage model for behind tractors and small starter kits for the serious lifestyle farmer.
Endura Yards are semi permanent yards that are heavier and stronger than Porta-Yards. Excellent for lease blocks or satellite yards.
Perma-Yards are permanent steel sheep yards designed to individual specifications.
Sheep loading ramps come standard in sizes: 2.3 metres, three metres, 3.6 metres in the Portable range and the standard double-lane mobile ramp is six metres. Landquip also does fixed loading ramps to suit any situation. If any of the above sizes don't suit, Landquip will custom make one to your specifications.
All steel used in the construction of the yards is hot-dipped galvanised and the high-temper aluminium is sourced from New Zealand to a very strict criteria giving consistent strength.
For more information contact Landquip on (06) 879 4992 or 0800 269 776.
For farming news, reviews and features, subscribe to Farm Trader magazine here.
Keep up to date in the industry by signing up to Farm Trader's free newsletter or liking us on Facebook