Fendt unveils 500hp Beast of Bavaria
---
At a recent Fendt press conference there was no opportunity to drive the firm's new 500hp 1050 range flagship. What we did get however, were some intriguing facts and figures ahead of the Bavarian beast's production start date at the end of next year.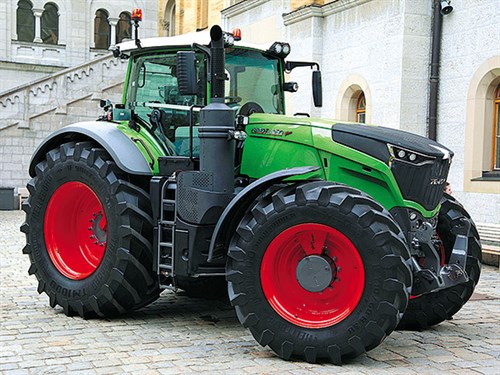 They said 300hp was too much for a conventionally configured, rigid- chassis tractor. And 400hp? Far too much. Well, now we're up at 500hp. Or at least we will be when Fendt's 1050 Vario goes into production towards the end of 2015.
Not surprisingly, interest in the Bavarian project has been considerable over the past few months, with rumours rife since, and in the weeks running up to last year's Agri-technica as to what would and wouldn't be included in the new Fendt flagship. Today, most of the detail can be confirmed.
First inspection inevitably draws the observer's gaze to the Vario 1000's fresh styling. Its radiator grille, complete with snazzy LED daytime running lights, is certain to divide opinion, while the bulbous green bonnet splits into a total of five pieces. We didn't try to remove them; we weren't allowed.
Under that prominent hood lurks a six-cylinder, 12.4-litre engine from MAN, and this power unit supplies the appropriate muscle to a total of four Vario 1000 models: Vario 1038 (380hp); Vario 1042 (420hp); Vario 1046 (460hp); and 500hp Vario 1050 (max output to ECE-R24).
On down the driveline, the stepless Vario transmission has been further developed for the TA400 transaxle, and the technology behind it continues to provide a split of both hydrostatic and mechanical drive. What isn't confirmed however, is the number of PTO speeds or whether the two manual travel ranges are retained.
During our brief tour of the tractor we weren't able to test the functionality of either travel range controls in the armrest or a hand brake lever on the instrument panel. The reality is that these features may or may not be in place on production tractors, or simply moved to another location.
The tractor can be ordered with a 40km/hr, 50km/hr or 60km/hr gearbox along with a comprehensive running gear package that includes independent wheel suspension on the front axle, 'Fendt Stability Control' and deceleration and brake light assistance systems as well as the 'Reaction' steering system.
Power to the ground? Clearly that was always going to be an issue on a 500hp rigid- chassis tractor. Fendt's answer is to boot the Vario 1000 on 2.35-metre diameter tyres at the rear (up to 900/65 R46s) and up to 710/60 R38 fronts, and buyers can also specify Fendt's integrated tyre pressure control system — VarioGrip.
For the tractor to succeed globally, Fendt acknowledges that the Vario 1000 has to appeal to the row-crop markets in North America and Australia. This, after all, isn't just a tractor for Europe. With these continents' requirements in mind, Fendt has designed the range so that it can be squeezed down to a 60-inch (approx. 1.5-metre) track width — minimum on the current 800 and 900 models is 70-inch (1.75-metre) — and operated with narrow duals.
Again with a view to the North American market, the rear linkage is sold in two versions: Quick-hitch frame or swinging drawbar. And the tractor can also be specified as an out-and-out drawbar machine (no rear linkage). The familiar Fendt option of a reverse-drive kit is listed, too.
Still at the rear, the 1000 Vario has two separate hydraulic circuits supplying the gearbox and remote valves. What is something of a departure however, is that Fendt is equipping the 1000 with two independent swash plate pumps that respond to varying flow and pressure requirements according to need.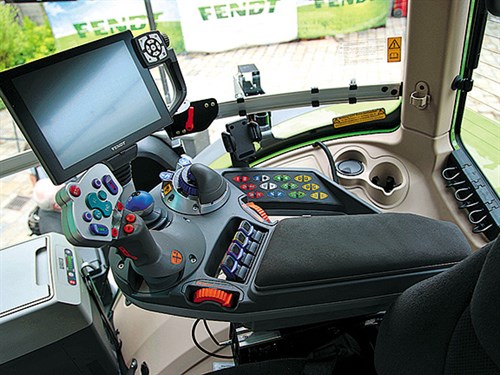 Last up in this area, another new feature is that the lower rear links can be raised into a park position, to free up more space in the drawbar area and reduce the risk of fouling when working with trailed equipment. Sadly, no details have yet been published on pump outputs or front/rear lift capacities. Those are still to come.
Which just leaves the cab, where in reality Fendt hasn't done much more than tweak existing X5 accommodation as featured on current 800 and 900 Vario ranges. These changes include the use of better quality, so-called 'soft touch' surfaces, an 80mm lowering of the line of vision through front and side windows and an 85mm wider door. On our tour we also spotted more cubbyholes (the left one at the rear is now cooled) and cupholders, and the bottom step position can be adjusted to suit the size of tyre.
The climate control package should find it easier to maintain a pleasanter environment now that it has twin fans, larger ducting and an impressive total of 16 louvers. And there shouldn't be any problem seeing out, either – there's a heating option for the front screen, which is cleaned by Fendt's familiar 300-degree arc wiper; a new 250-degree wiper on the right window; and a camera incorporated into the bonnet nose badge.
Inside, the operator sits in style. There's an option of a leather seat with heating and active climate control, while to the driver's left a new design of passenger seat folds, when not in use, to act as a table/desk — there's even a paper clip to hold on to documents.
Then over to the driver's right, along with the customary controls, are an abundance of additional electric sockets for whatever uses and the Vario Terminal 10.4-B that was first presented on the 800/900 tractors at last year's Agritechnica. Incidentally, this new terminal — it features a new bracket/holder, touch technology, LCD display screen and LED backlighting — is also on the new 700 Varios (see next page).
The verdict
From the pictures it's almost impossible to obtain a true feel for the full size of the Vario 1000. Take it from us, though, it's massive. Only when standing between the 1.8-metre tall front wheels and 2.35-metre rears can you really appreciate the scale of this 500hp monster, and the suggestion is that the tractor will have a performance capability to match.
Proof? Unfortunately, that will probably have to wait until early 2016.
For the latest reviews of farm machinery, subscribe to Farm Trader magazine here.
Keep up to date in the industry by signing up to Farm Trader's free newsletter or liking us on Facebook