Champion fencer: Shane Bouskill at Smedley Station
---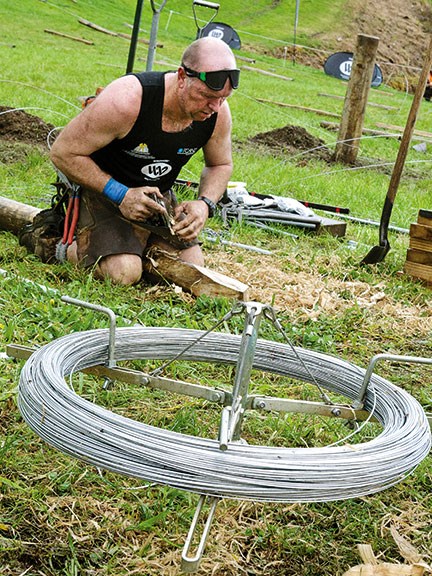 Shane Bouskill planes a stay to remove chainsaw marks at the Wiremark Golden Pliers competition.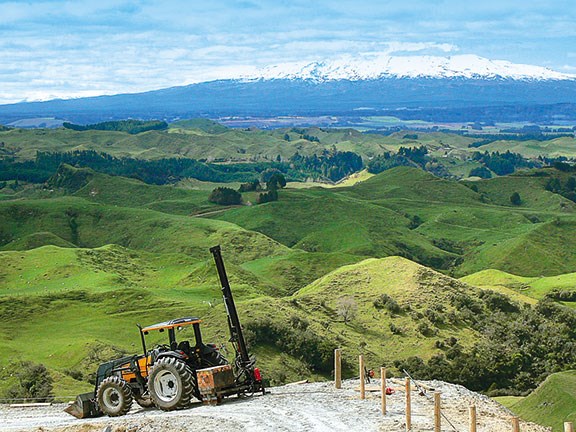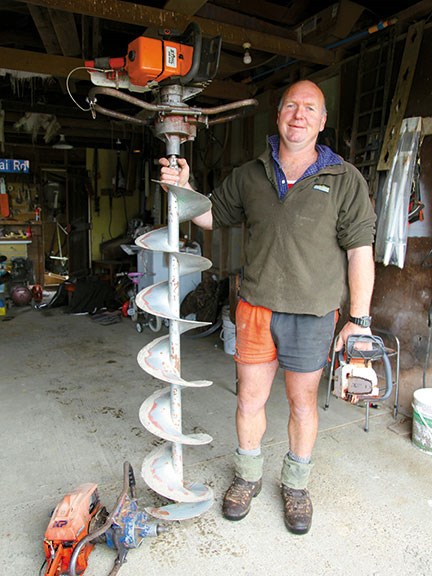 NZ's top fencer with an auger designed for digging large holes.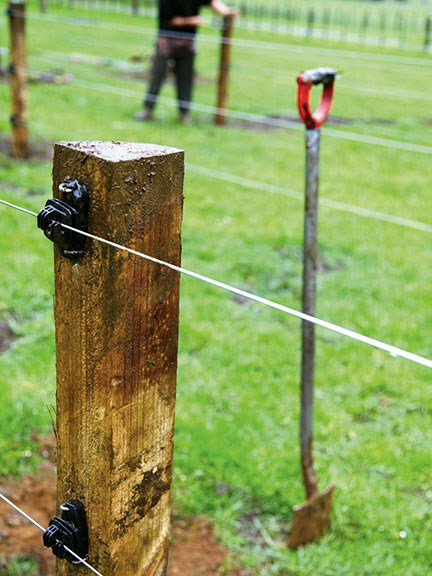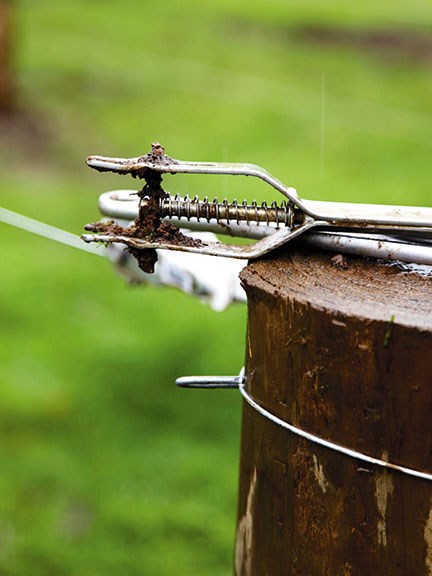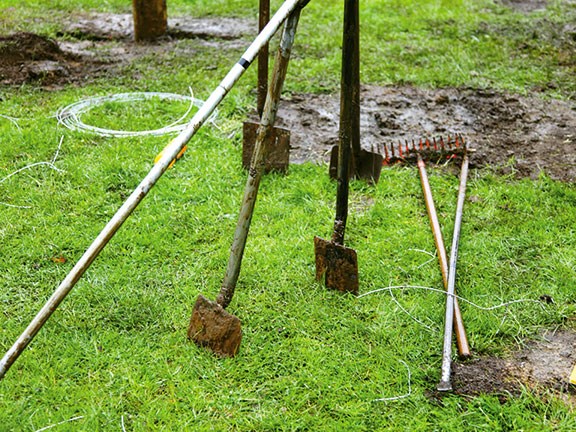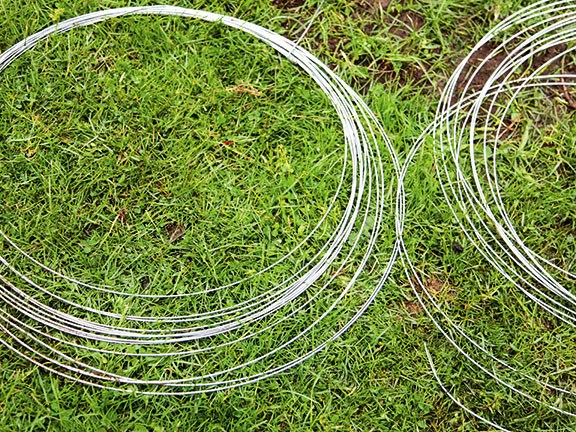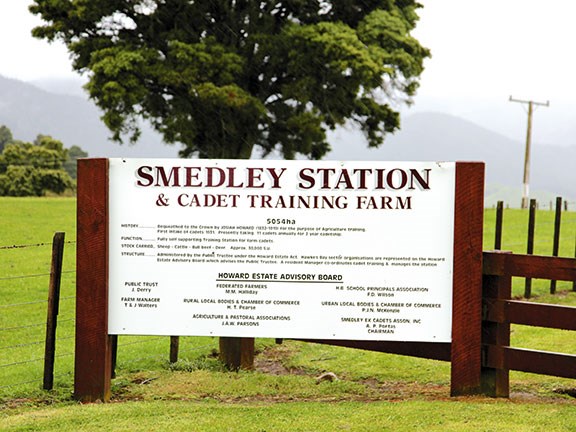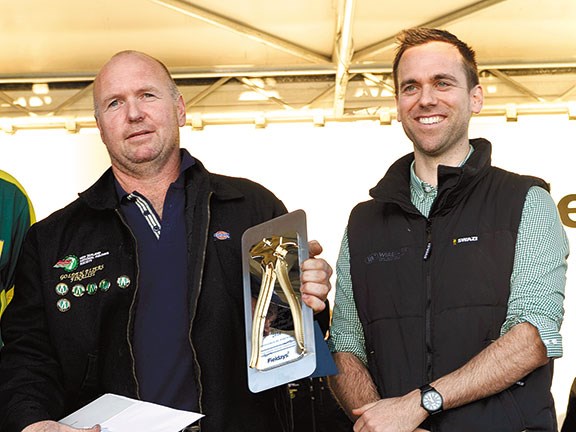 Shane with the Wiremark Golden Pliers 2014 award, alongside Andrew Hibbert, wire sales and market development manager, Pacific Steels (NZ) Ltd.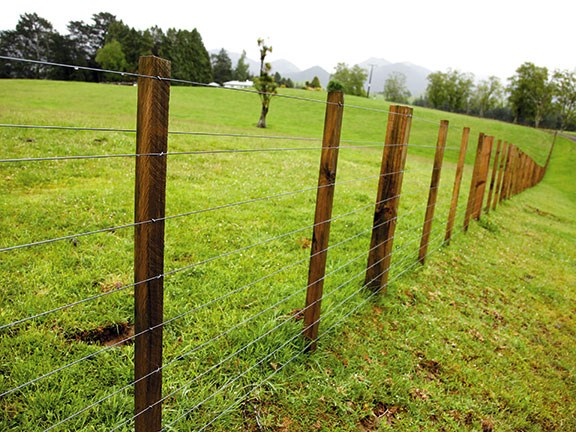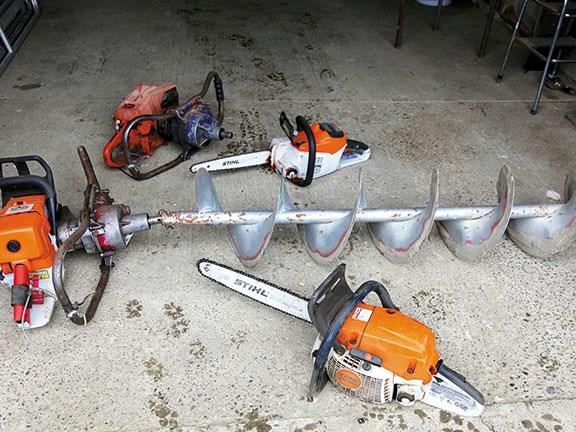 Four Stihl chainsaws including two that have been modified to drive augers.

When you talk about agricultural fencing, one word springs to mind: security. That's what a fence is for: keeping your valuable stock where you need them. But there are many other variables that dictate what type of fence farmers require, such as stock type, topography and soil.
Someone who really knows his strainers from his battens is Shane Bouskill. He's the Wiremark Golden Pliers Champion of 2014. He is also the fencing instructor at Smedley Station and Cadet Training Farm, near Tikokino in Hawkes Bay.
The day Farm Trader visited Smedley Station, Bouskill was overseeing the first-year farm cadets in a competition to construct a three-wire electric fence from scratch. It was sheeting down with rain and it didn't look like it would be stopping. Even a seasoned fencer like Bouskill was taking pity on the dripping wet cadets having to work in such conditions.
However, that's the reality of farming: working 24/7 in all types of weather and, as he quips: "they're not made of sugar are they?"
Teaching cadets how to fence
Bouskill has had experience with a wide-range of fencing projects, from security fences for maximum-security prisons to industrial buildings both overseas (Vanuatu) and all over New Zealand. Along the way he's gathered a bunch of skills, including carpentry and electrical skills, all of which he brings to his job at Smedley. He has run his own contract fencing business for 15 years, and still does some contract work on weekends.
"My role at Smedley is mainly as a fencer, but I also oversee all the forestry work in the forestry blocks – we do the pruning and thinning and chainsaw work. I also teach cadets how to shear sheep and in the engineering workshop, how to make trailers and decks for the utes and quad bikes."
So what better person to learn the foundations of fencing from than someone who has had 20 years in the business and is the current New Zealand champion?
It's surprising to learn that when it comes to teaching cadets how to fence, Bouskill uses very traditional methods: "For training purposes we like to teach cadets the fundamentals of the job, so they do it traditionally. If we used the rammer and had six cadets on hand, there are going to be five sitting around watching. We like to get them out there putting a post in each. We like to watch them sweat too, but I do fence alongside them.
"I don't wield a big stick. I get in there and lead by example if I need to. With the competition work, if you don't do any fencing you are behind the eight ball a little."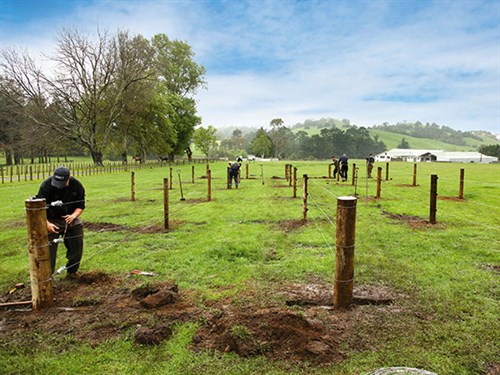 Fencing competitions
Bouskill's own fencing kit is simple, but it does the job well. He has four Stihl chainsaws, a range of different sized augers, metal marker frames for posts and batons, templates for the placement of insulators and a Spinning Jenny wire unroller. The templates ensure accuracy when it comes to placing wires on fence posts. "In a competition, if it's a millimetre out, points will be deducted."
Bouskill has entered the Golden Pliers competition 14 times and has won twice. His training routine consists of running around the hills behind Smedley Station. "I ran up those hills every night and biked down to the main road and around the farm. I was doing a bit of pig hunting in hills too. I was super fit."
He thinks entering such competitions gives contractors an edge. "We encourage contractors to get involved in the fencing competitions, because it does do wonders for their work. That competitive environment adds to the quality in the end product."
Meanwhile, the cadets are finishing up the competition. The winning pair will go onto the Central Hawke's Bay A&P Show to compete against teams from Taratahi Agricultural Training Centre and Waipaoa Farm Cadet Training School, for the Carter's Trophy. The Smedley team won the Silver Staples award at the Wiremark Golden Pliers competition this year.
Bouskill finds it satisfying when cadets graduate in December: "When you see the cadets go out the other end, it's very rewarding knowing they've learned heaps of different skills. Often cadets keep in touch after they leave, so you can see how their farming career is progressing. I can't think of a place better to work."
Smedley Station and Cadet Training Farm
Location: Central Hawkes Bay, 40 kms west of Waipukurau near the Wakarara and Ruahine Ranges.
Size: 5054 total hectares. 3186 effective hectares. Wintering 28,000 stock units.
Trainees: Eleven cadets per year for a two-year course. (22 cadets on station).
Type of training: Very much a practical hands on training with theory to back up the practical.
For the latest farming news and reviews, subscribe to Farm Trader magazine here.
Keep up to date in the industry by signing up to Farm Trader's free newsletter or liking us on Facebook