Otiwhiti Station: teaching a new generation of farmers
---
Giving something back to the community has been the cornerstone of the philosophy of the Duncan family and their beloved Otiwhiti Station for well over a century. Farm Trader went along to find out more about this great institution.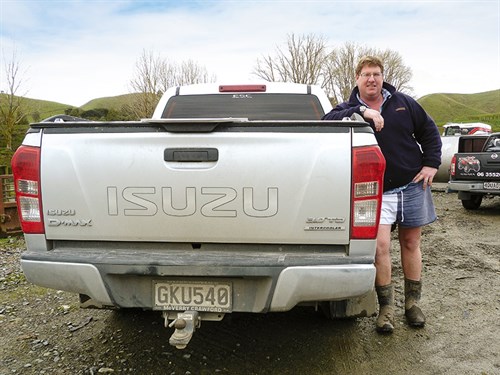 This stunning property sprawls over 3250ha in Hunterville, where the rolling hills and green pastures are home to Otiwhiti Station land based training school. Now in its eighth year, the school has gained a reputation for educating and training students in both theory and practical.
To understand what motivates Charles (Charlie) Duncan and the rest of the Duncan clan, we need to briefly go back over a hundred years to the time of Charlie's grandparents, Tom and Jeannie Duncan, who later became Sir Thomas and Lady Duncan.
While the property was in Duncan hands long before it was passed down to TA Duncan and his brother in 1909, the real story starts with Charlie's grandparents' philanthropy of the mid-20th century.
This fascinating story is brought to life in the aptly titled book Otiwhiti Station.
In the 1950s and 60s, profits from the farming operation were used to fund a private hospital which specialised in the treatment of poliomyelitis (polio) until immunisation called a halt to the disease, at which time the trust administering Otiwhiti turned its efforts toward funding the rehabilitation of accident victims.
Skip forward to 2014 and the Duncan family is still happily giving back to the community in the form of a cadet programme, where selected students spend an entire year, living on the station, learning all the tricks of the trade.
The programme gains the students NZQA accreditation and is the product of a joint venture between Otiwhiti and Land Based Training, along with a database of registered employers who employ the students once they have qualified.
The cadet school which is also sponsored by PGG Wrightson, Tru-Test, NZ Agri and NZ Beef and Lamb, is justifiably proud of its 100 percent course completion, its qualification completion and its 100 percent student-placement in employment.
Charlie Duncan says that if you teach somebody to shear a sheep and build a fence, you immediately set them up as being employable in an entry-level farm position. However, this forms only a part of the curriculum at Otiwhiti.
During their one year tenure on the farm, students not only learn to build a fence and shear a sheep, they acquire a broad range of other skill sets.
Throughout the year they have dog handling and training days with well-known dog trialists.
They wean and handle young horses, raise pigs, raise their own sheep dog pup, milk the house cow and learn other front-of-station basic living skills such as keeping hens, vegetable growing for the cookhouse table, plan menus, budgeting and shopping for ingredients. They also learn how to cook meals.
The students come to understand the workflow of the farming calendar year as they go to work in the paddocks and at the Station woolshed and covered yards.
Out there they learn first-hand mustering techniques, yarding ewes and lambs at docking, drenching, dipping, crutching, break feeding, set stocking and pasture management.
At the same time they are studying with a specialist agricultural tutor one day a week in a classroom situation to gain the required level 3 and 4 passes towards their Diploma in Agriculture.
Each year on 30 September, applications for the course close and by mid-October, Duncan and his selection panel draw up a list of successful students. Successful applicants are advised by early November and the course starts mid-January.
Duncan says that approximately 70 percent of successful applicants come from the city and have had little experience of life on a farm.
He goes on to say that working with a blank canvas so to speak, allows his team (many are students from the previous year) to instil the work practices and the ethics of Otiwhiti in their new recruits.
The programme has come a long way since its inception in 2007 when nine students applied and all nine were accepted. However, in 2014 it's a different story.
Word of the cadet school's 100 percent success rate has obviously got around, as at the time of the 2013 intake, out of thirty applications, only 18 potential students were interviewed and 10 accepted into the programme.
The timing of the start of the course in January it turns out is fortuitous, as it gives Duncan and his team the opportunity to throw any student with an aptitude for riding onto a horse and allow them to participate in the Otairi-Pukeroa horse sports event which is held every year on the Saturday of Wellington Anniversary weekend.
This exposes them to the backbone of the rural New Zealand community.
Duncan says it's all a bit of fun before everybody gets to the real work at hand, where students knuckle down to learning the basics of farming across a wide-range of agricultural disciplines.
Farm Trader had the pleasure of speaking to second-year student Katie Craig, who at the time of the interview was looking forward to a trip of a lifetime to France.
Craig was one of two students who had won a NZ Beef-sponsored trip to Paris to participate in an event that saw students from around the globe pit their knowledge of farming against their counterparts from other counties.
She said she had a lot of studying to do before leaving for France, as she had to be conversant with the French names for 15 to 20 different breeds of sheep – just for a start.
Now back from her excursion in which she made good use of her trip to the other side of the world by taking a well-earned tour around Europe, Craig says she's formed close relationships with contacts in the international farming community, this she says will serve her well for life.
Incidentally Katie Craig won the prize for first woman and was sixth overall in the week-long event.
The good work of Sir Thomas and Lady Duncan continues to this very day in the field of medical research, in which polio sufferers' needs are still being catered for by way of the Duncan Family Trust's post-polio syndrome funding programme which also provides research funding for other forms of neuromuscular disorders.
2014 has been yet another highly successful year for the Otiwhiti programme, with ten students being place in employment on farms and farming-related industries.
For the latest farming news and reviews, subscribe to Farm Trader magazine here.
Keep up to date in the industry by signing up to Farm Trader's free newsletter or liking us on Facebook