Pasture care: Ferbo Diesel Pumps
---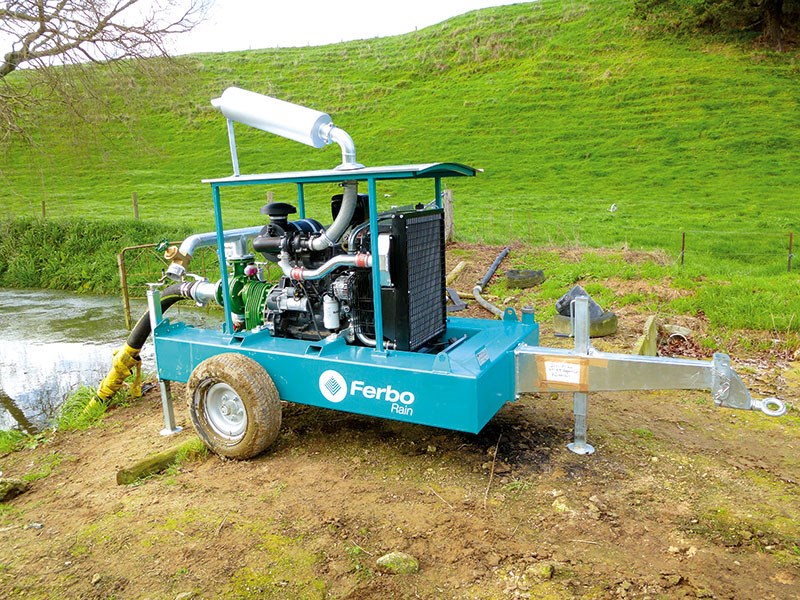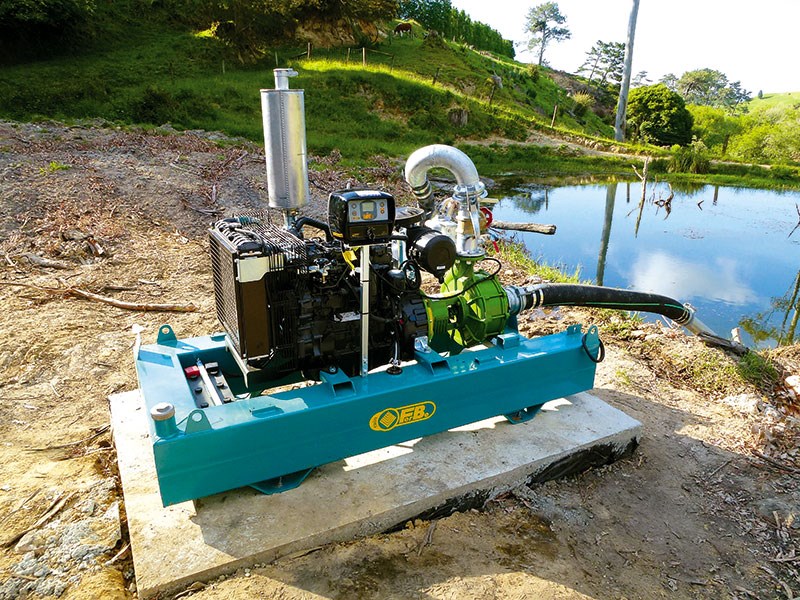 With most parts of rural New Zealand rapidly drying off, Ferbo Diesel Pump units are proving to be a life saver for some farmers.
Diesel pump units have long been an economically viable option for pumping or irrigation, due to being unaffected by power outages, line charges and varying flow or pressure requirements.
Modern diesels have moved forward in terms of fuel efficiency and exhaust emissions. It is not difficult for Clem Powell of Irri-Max Ltd to achieve excellent economy with the correct selection of engine and pump.
"During Christmas, I visited relatives in coastal Northland. They are still using a hand crank Lister engine from the 1900s to power their shearing plant, as I suspect many other out-of-the-way farms are still doing," says Clem. "Some of these old chuggers have certainly done sterling work, but starting them is best left to experienced hands and the flat belt drives are scary to most."
The Ferbo diesel pumps, which Irri-Max Ltd import, still use Lister Petter engines on some of their models but crank start is long gone. Similarly the moving parts on the modern equivalents are carefully guarded to prevent accidents and sound proofing is available as option on all models.
While the client may only opt for basic key start with engine temp, oil pressure and pump pressure monitoring (available as Elcos 087 panel), the modern engine control panels which Irri-Max Ltd utilise are from the IrriMop range with more features including timer and hour metre at least.
Basic panel (EasyMOP) is touch button on and start/stop with all parameters similarly adjusted. Throttle is manual control. Engine functions such as water temp, oil pressure, and belt breakages along with pump pressure/flow are all monitored with adjustable parameters. There is also a delay between start up and pump pressure/flow taking effect. This allows for the filling of pipelines at low pressure before irrigation commences.
The next stage is auto throttle which allows the control of flow or pressure by adjusting engine speed. During start up and shut down the engine can be set to ramp up and ramp down for avoiding any possible thermal shock. Remote start and monitoring/adjustment of parameters are available from a distance with at least four options of access.
The great thing for users is that this technology, which would once have cost many thousands of extra dollars for even auto start, never mind auto throttle, is now only a few hundred dollars to go from basic to auto throttle and another few hundred dollars to get full remote control, depending of course on model and other particular requirements.
Almost any pump can be considered, but for effluent, Irri-Max Ltd usually choose Ferrari close coupled effluent pumps in either Macerator or Chopper and Macerator versions. On some smaller units less than 50hp, a variety of Rovatti self-priming pumps are usual fare. Typically a diesel unit of 20 25hp can be installed on a pond for similar total installed cost to 15hp electric/pontoon pump.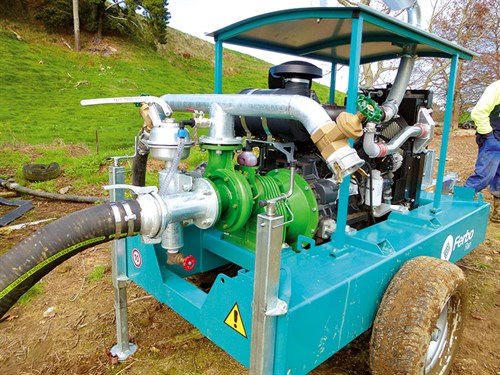 Rovatti single and multi stage cover most of the Water Irrigation requirements with excellent efficiency. Rovatti have just recently released a new SN range of single stage pumps with increased efficiency particularly in higher flows.
Where possible, Irri-Max Ltd utilise the bell housing/flange type pumps as these give quick and effective alignment particularly if the pump has to be dismounted and refitted after service.
These diesel units can also be utilised for line shaft pumping from wells particularly if the well is less than 80 metres-deep and should be more economic to operate than a Genset driving electric submersible.
The chassis incorporates the fuel tank with options from 80 litres to 1000 litres as standard. Most units are wheeled with large RV or AG wheels most common.
For more information call Clem Powell at Irri-Max Ltd 0800 426 296
Top 5 irrigation tips for farmers
1. Plan and order the season before. Water Consents invariably take longer than you hope. Give your supplier/installer the opportunity to source the equipment from its best options, it will always save you in cost.
2. Only God gives free irrigation – you are going to invest a reasonable amount of money to make your system a pleasure to use rather than a plague. If it is cheap, be assured there will be some penalty such as time or frequency in moving to new run.
3. Large suction hoses and delivery pipelines are money well spent. This also includes Hard Hose Guns, Rotary Boom Irrigators or Drag Hose Laterals.
4. It is better to have an applicator which can put on more than you actually will do rather than having to use extra pressure to force the performance.
5. Have a backup plan/machinery.
Common mistakes made when choosing irrigation
Beware claims of superior performance with less water, the laws of physics mean that 5mm application per day equals 50,000 litres per hectare/daily average. This is gross application, some areas will need more.
Cheap systems always have a higher actual cost, if only due to lost productivity and wasted time.
Get the most efficient pump for the application, not the largest or the cheapest.
Irrigation round too prolonged. It may be prudent to have two smaller machines instead of one giant.
Don't irrigate rubbish. Put in a decent crop or pasture. The return in feed will be much better.
For the latest farming news and reviews, subscribe to Farm Trader magazine here.
Keep up to date in the industry by signing up to Farm Trader's free newsletter or liking us on Facebook