Reliable water supply essential for future farming
---
Large scale water storage projects are key to future proofing our economy and kick starting regional development.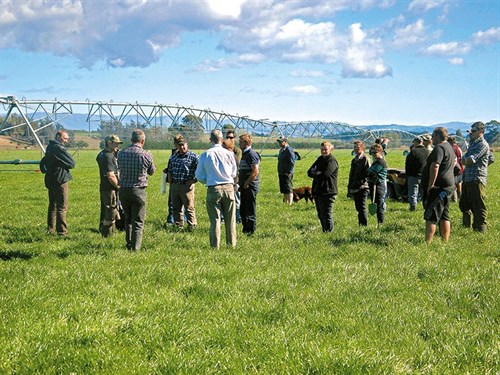 A reliable water supply for irrigation is critical for this – it provides the foundation on which a diverse range of crops can be grown.
New Zealand is not short of water, we get two and a half times the rainfall of the British Isles which has a population of 65 million and we have twice as much water below ground and one hundred times more above ground when compared to the global average. However we don't always get the rainfall when we need it. ie summer droughts of 2015 on East Coast districts.
We also have some of the most sophisticated freshwater legislation in the world and excellent 'green' technology. This means we have an opportunity to lead global best practice with modern, environmentally sustainable water storage and distribution infrastructure combined with smart on-farm water management.
The recent drought in the South Island – a repeat of what happened in the North Island in 2013 – has been a stark reminder of why we should do this. It particularly highlights the importance of harnessing alpine water to combat climate change.
Currently there are 350,000 hectares under investigation which will likely cost around $2.5-3 billion, this includes off-river dams in Canterbury, Hawkes Bay, the Wairarapa, Otago, Marlborough and Tasman. Through realising this by 2025 irrigated land would contribute an additional $4 biilion per annum to GDP.
But the industry is faced with a big challenge: financing this development.
To get a modern water storage and irrigation scheme off the ground involves an initial outlay of hundreds of millions of dollars. Approximately $275 million in the case of Ruataniwha or $500 million in the case of Central Plains Water (CPW).
Thus far, irrigation scheme development has been supported by local councils, private investors and water users. Central government has also provided targeted funding through the Irrigation Acceleration Fund ($35 million) and an investment company, Crown Irrigation Investments Limited ($120 million with a $400 million overall investment limit).
But considering the costs of making water storage and irrigation feasible on a national level across the country, the combination of this government investment, some regional investment and farmer debt, will not be enough.
Overseas, large scale water infrastructure is recognised as a well-proven regional economic development tool and as a result is typically 60-80% funded by government – Tasmania and Alberta for example, so we are trailblazing.
So looking at future financing options in New Zealand, one of the biggest challenges we have to work through is the tension between the commercial terms required for private capital investment and the traditional 'co-operative' nature of irrigation schemes.
The co-operative approach is typically when farmers debt finance their shares in a scheme. It is unlikely that enough capital can be raised to finance the construction of a new modern regional storage based scheme through this method, particularly given new environmental legislation requires farming systems, including on-farm irrigation infrastructure, to be of a much higher standard than previously. This increases cost and reduces the ability to leverage debt.
But the co-operative approach works well for irrigation, owners have a vested interest in upgrading and modernising the infrastructure into the future and it is proven that water infrastructure governed and managed by the end users is the most efficient and effective. The co-operative model is also the most effective at ensuring uptake as farmers buy-in early and become committed to the journey seeing the benefits of a long term game.
Private capital seeking pure return is very different, and there is a question as to whether this can work within a scheme's co-operative framework.
So, what are the options to satisfy both models? Is a hybrid model between co-op and private capital a workable solution? Could an overarching company be created with both co-operative and private investor shareholders within it? Or could storage infrastructure or the head race be split from the other distribution infrastructure and built through different financing models?
In this scenario the dam / head race supplying the water could be owned and managed by the private investors (with a take or pay CPI/PPI linked price for water) and the irrigator builds the distribution system. Lake Coleridge provides an example of such an arrangement, noting that the storage in this case is a switch from hydro to irrigation priority rather than a new storage construction.
Next month I'll answer some of the questions I've posed and talk more the uptake challenge for new irrigation schemes.
Andrew Curtis is the CEO of IrrigationNZ. Read his column every month in Farm Trader magazine. Subscribe here.
Keep up to date in the industry by signing up to Farm Trader's free newsletter or liking us on Facebook