Taking the stress out of handling your herd
---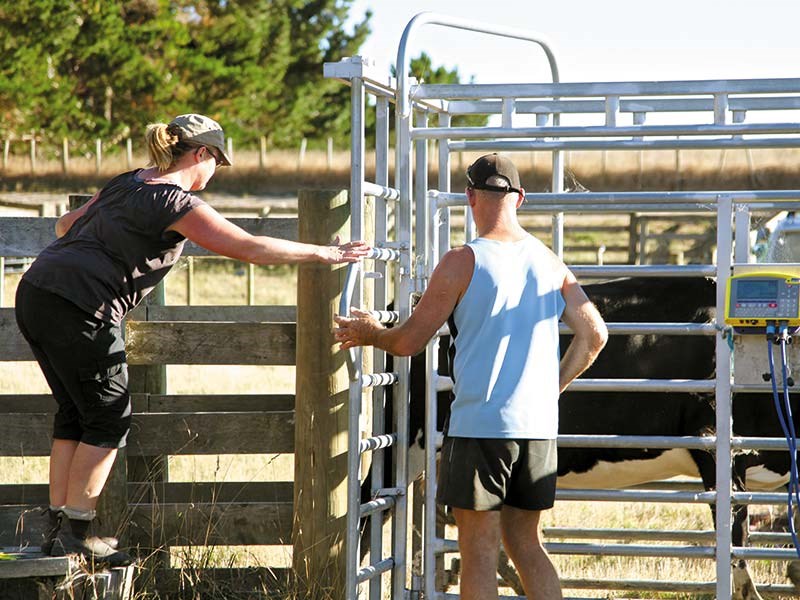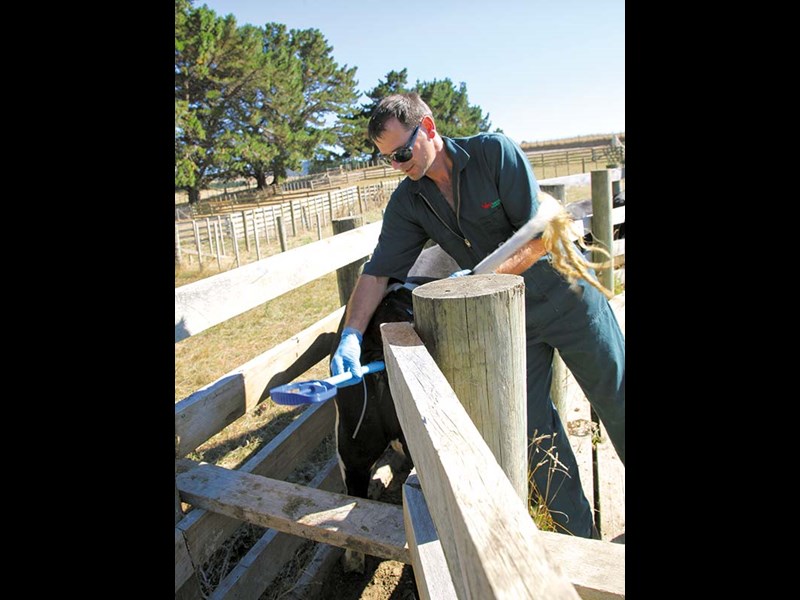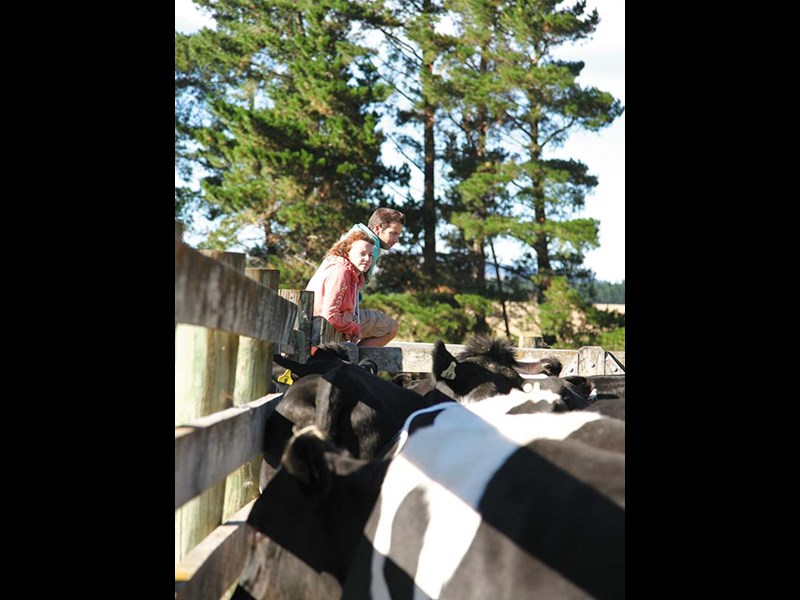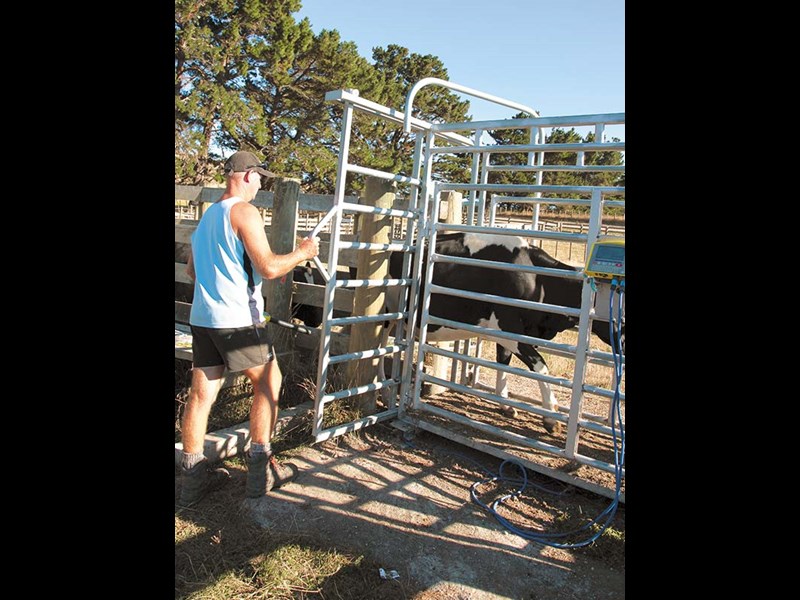 Farm Trader headed into the hills near Porangahau to Leyton King's farm to observe 256 dairy heifers being processed and find out what animal handling equipment he uses.
Robust machinery for handling animals takes some of the physical burden off farmers, enables accuracy with recording animal data and ensures both get to the end of the day in optimum condition…
A herd of export dairy heifers is being finished on King's farm under contract to NZ Grazing Company Ltd (NZGC).
Mobs of about 70 are moving quickly through the stock race and into a weigh crate, where Simon Reisima, NZGC's Hawkes Bay and East Coast service manager, is in charge of scanning EID (electronic identification) tags and weighing each heifer, which automatically brings up the relevant information on the monitor screen.
He explains, "Each mob has a separate file. It gives me information such as the last date an animal was weighed, its current weight and weight gain, so I can see straight away what it's doing. Normally if a cow has gained below 0.3kg per day I'll mark it and the farmer then has the opportunity to take it out of the mob.
"However, these heifers, for export reasons need to stay in their mobs. With domestic or dairy farm heifers you can pull them out and put mobs together and sort them out later when the bull goes out."
Following weighing, cattle are then reloaded into the race and veterinarian Harry Whiteside from Vet Services Hawke's Bay administers CIDRS (seeders) to each heifer to synchronise ovulation. Sometimes this is done at the same time as weighing, says Reisima, but to speed things up for the vet today, we're weighing two of the mobs first.
Whiteside says, "We insert a device which releases a hormone called progesterone which stops them from cycling and holds them for seven days. When you pull that device out suddenly the hormones spill forward and encourage them to go hard. That's when you want to be a bull on the property but here, we are using AI."
When the heifers are around three months pregnant, having being quarantined for four to six weeks in accordance with regulations, they will be shipped to China. With so much invested in them up to this point, they are valuable and need to be looked after and handled in the best possible way. "They're a bit like royalty," says King's partner Gretchen Bunny.
King and Bunny farm 1000 hectares and run 6000 Dorset Texel ewes, 2000 hoggets and 260 dairy heifers. They also own a business, AgRecord which is an on line software solution, known as Cloud Farmer. This streamlines the day-to-day running of a farm.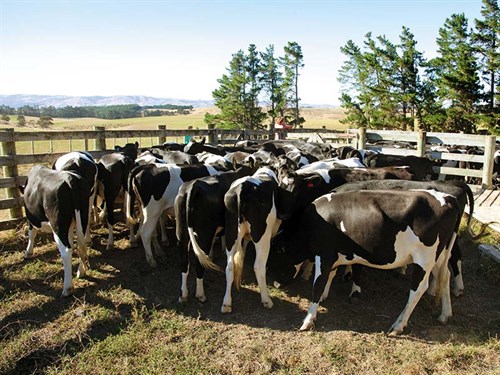 Helping with the cattle today are a couple visiting from Scotland and this is their first experience of doing any sort of farm work. It's hot and dusty and the sight of a yard of nervous animals could be a daunting sight to the uninitiated, but these two seem to be doing a great job.
"Being really aware of where you stand is very important when it comes to keeping the cattle moving through the races," Gretchen explains to them.
King says regular weighing is an essential to how NZGC's dairy support cattle policy operates and reaching target weights at mating is a crucial part of that. "NZGC come out and do it all. All I do is have the cattle ready and push them up into the race. Knowing how each cow is performing gives you peace of mind; you can then make a decision based on the information you receive. That's where the EID comes in too – it's such an asset – because it's so simple, it goes into the programme and the information is right there."
"Within two hours of finishing weighing those heifers I had a summary back on how they did and how much money I've made, because every time you weigh with NZGC's Modeled Dry Matter (MDM) fee system, you get paid. It's pretty impressive."
King then stores the downloaded information through AgRecord's Cloud Farmer software.
Alternatively, many farmers use Tru-Test's Data Link, a free application for Apple iOS and Android that enables them to use their Smartphones to download data stored on Wi-Fi and Bluetooth enabled EID readers or weigh scales.
For weighing, King uses a weigh crate from Taylor Made Gates in Takapau, with a heavy duty Tru- Test load bar. "We use the heavy duty one as it has less movement. We found with the previous load bars the crate would rock around too much."
For sheep-handling King uses a Hecton 3-way Autodraft. "It's very similar to a Racewell but is more economically priced. It doesn't have a magic eye – you have to catch each sheep and release it – but you can do it from a distance, so that's good. For all our crutching, we use the portable, battery driven, Handypiece up the race and that makes life easy. We have also just installed one of Farmquip's manual weigh crates."
King says this type of equipment "makes a massive difference" to his operation. "We are going to set up EID on the Hecton and are in process of tagging ewes with EID so that will be the next thing. We want to dig a bit deeper into the ewe flock and find out what ewes aren't performing."
For the latest farm machinery reviews, subscribe to Farm Trader magazine here.
Keep up to date in the industry by signing up to Farm Trader's free newsletter or liking us on Facebook