A KiwiSpanNZ shed for a rural commercial helicopter pilot…
---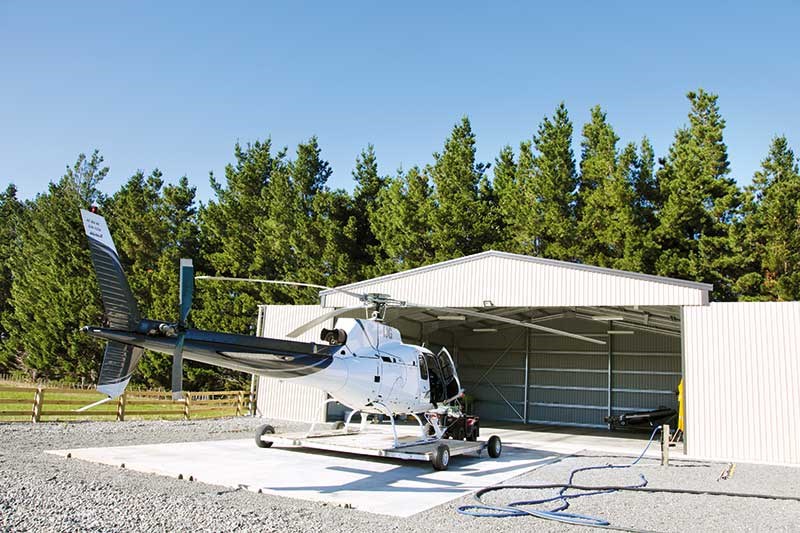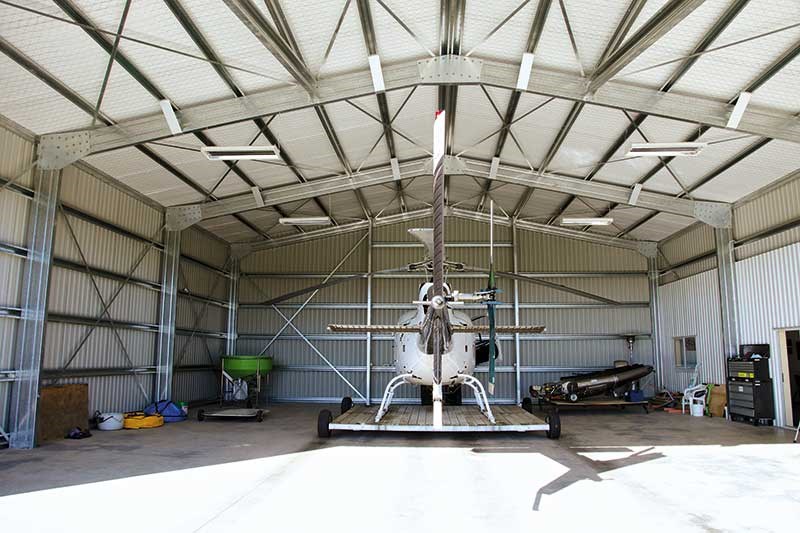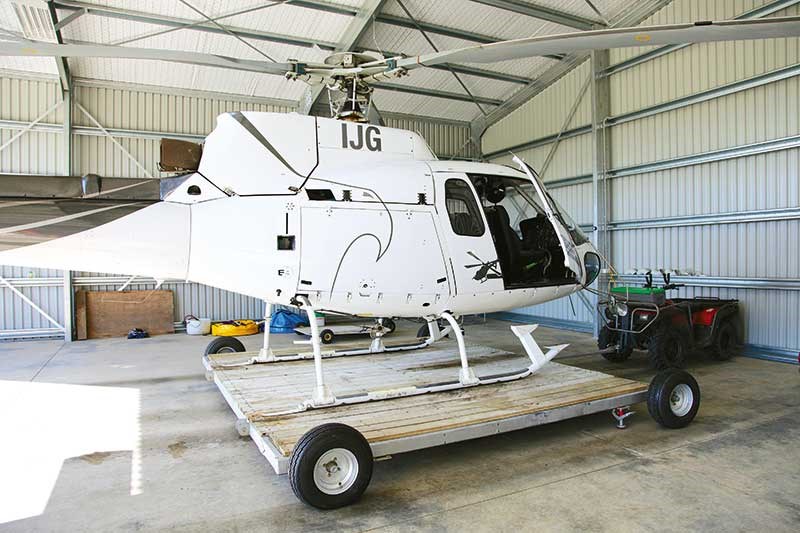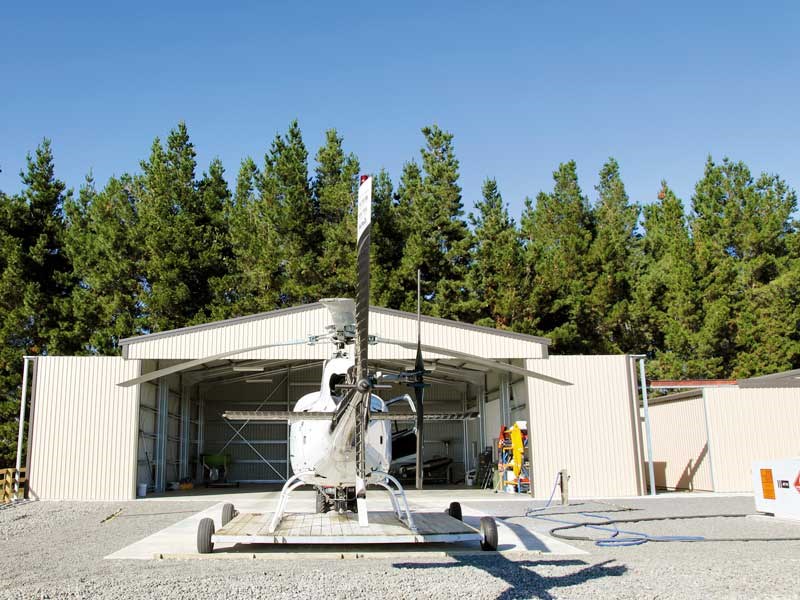 On most farms, sheds usually house machinery and animals, but when rural commercial helicopter pilot, Jim Guerin wanted to protect his helicopters, he set about having a shed of a different kind built.
Jim Guerin has been in the business of flying ever since he left school. When he graduated from Aviation College in Nelson in 1996 he began flying with Helicopters Hawke's Bay (HHB) and he's been there ever since.
With nearly 20 years of flying under his belt he has acquired a whole raft of experiences and consequently there aren't many jobs he can't tackle.
Out on the Takapau Plains in Central Hawke's Bay you can skim along the country roads taking in views of mountains and countryside as you go. One of HHB's bases alongside Guerin's house is located along one such road. You can see why; it makes an excellent flight location, the landscape is flat and you can see for miles in any direction.
Guerin and a partner bought HHB in 2006 and two years ago Guerin became the sole owner. He has two bases, one at Bridge Pa in Hastings, plus a staff of 10, including four pilots. They've all been with him for about 10 years.
"No one ever leaves, they are too well looked after," he quips.
While 70 percent of the work done by HHB is commercial agricultural and aerial work: crop and pasture spraying, fertiliser spreading, frost protection, they do a range of other work too.
"We can fulfill every helicopter requirement possible, whether it's an international airport transfer to a wilderness safari and fishing, exclusive hunting to the most isolated blocks, or a visit to some of Hawkes Bay's fantastic wineries."
They are often called on to do firefighting and search and rescue jobs (spotting and reconnaissance).
The day Farm Trader spoke to Guerin he was about to fly off to pull down a radio repeater tower on the top of a hill, once the technicians had stripped the gear from it.
When it came to housing the fleet of helicopters, Guerin wanted something sturdy and weather proof.
"A lot of sheds are light and flimsy – I had a good look around beforehand and KiwiSpanNZ appealed the most."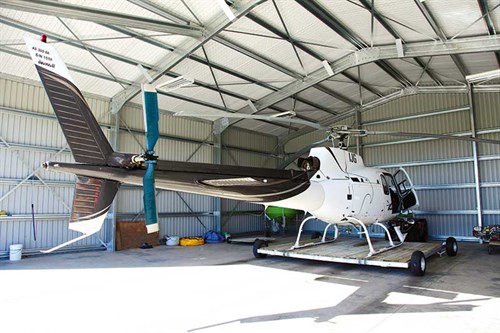 The KiwiSpanNZ construction of high tensile, galvanised steel with Zincalume or Coloursteel cladding, certainly ticked those boxes and gave Guerin peace of mind that his considerable investment would be well protected.
"A few people leave helicopters and aeroplanes outside, but if you do this, they deteriorate and cost so much in maintenance."
A recommendation from a colleague in the South Island whose hangar was built by KiwiSpanNZ, as well as the price, swayed his decision too.
"Compared to building a house it was a dream. Merv Brown from KiwiSpanNZ Hawke's Bay made it easy. Everything turned up on time. He told us it would be done by a certain date and it was done, so I can't fault them.
Guerin has three aircraft hangars built by KiwiSpanNZ – one at Bridge Pa and two on his farm.
His first hangar was built at his home site in 2007 but when HHB purchased another larger helicopter it didn't fit in the existing hangar. "It was cheaper to build another one beside it than try and add on to that one."
"I had a plan in my head and Merv fine-tuned it to what we needed and with what they were able to supply. Once you go off scheduled plans, it starts costing more. The helicopter sits on a trolley that lifts it up so the doors are five metres high to accommodate this. We sat down and he fine tracked the specs, price and a finish date and away we went. From when the floor was poured to completion, it took about five weeks. I saw progress every day in spite of it being bad weather at the time."
An office for Guerin was built off the main hangar. "All we had to do was line it, put in a water system for the kitchen and it was all go."
Another big consideration with the building is that it is bird proof – this is very important birds don't get into the helicopter exhausts – it's a real hazard for us. To prevent this, doors are tightly sealed with no gaps. That was a big prerequisite. I haven't seen a bird in here, though we always double check at night."
Weather is the most challenging part of their work.
"If we could figure that out it would be easy," says Guerin. "You can line up a week's work and not be able to do it. We have to constantly juggle and pick areas where we work. And as far as weather goes; from time to time the south westerly's hammer across the Takapau Plains, so all the more reason for having a solid shelter in place."
For the latest farm machinery reviews, subscribe to Farm Trader magazine here.
Keep up to date in the industry by signing up to Farm Trader's free newsletter or liking us on Facebook