Business profile: Agriboss
---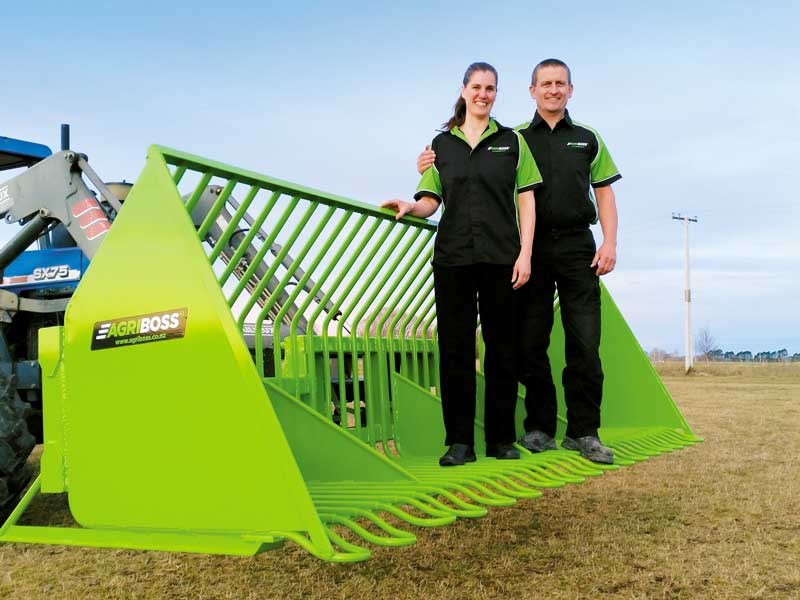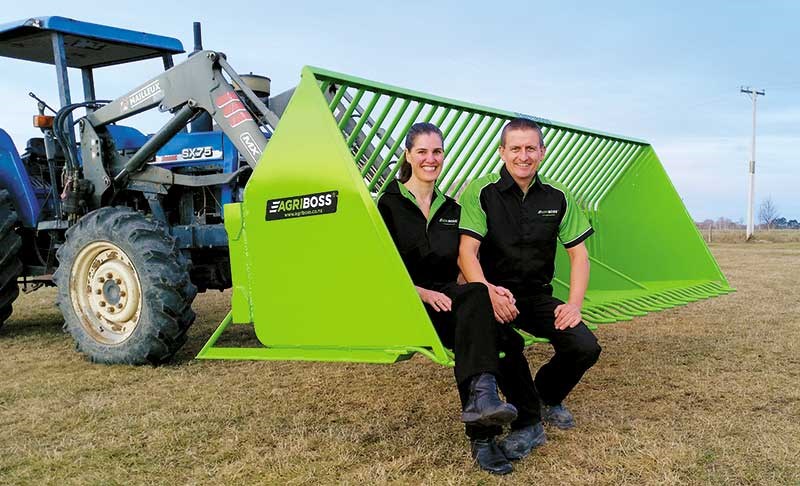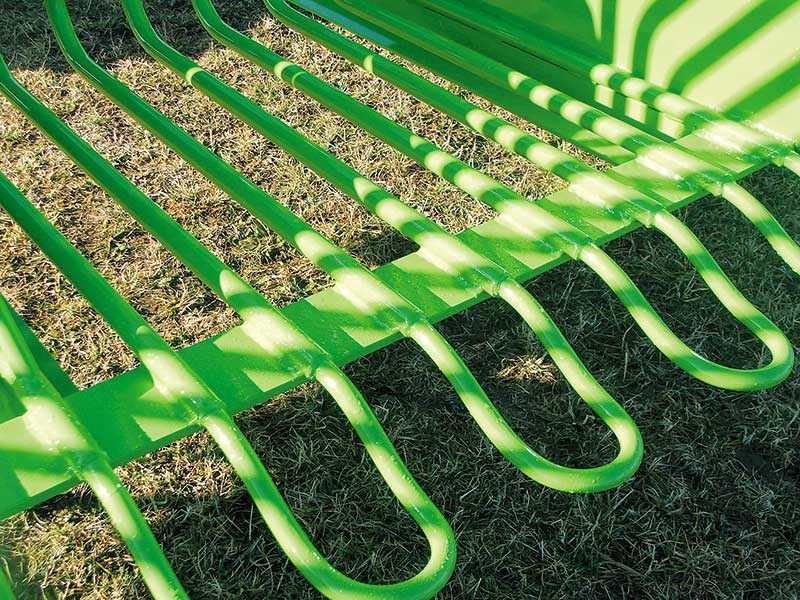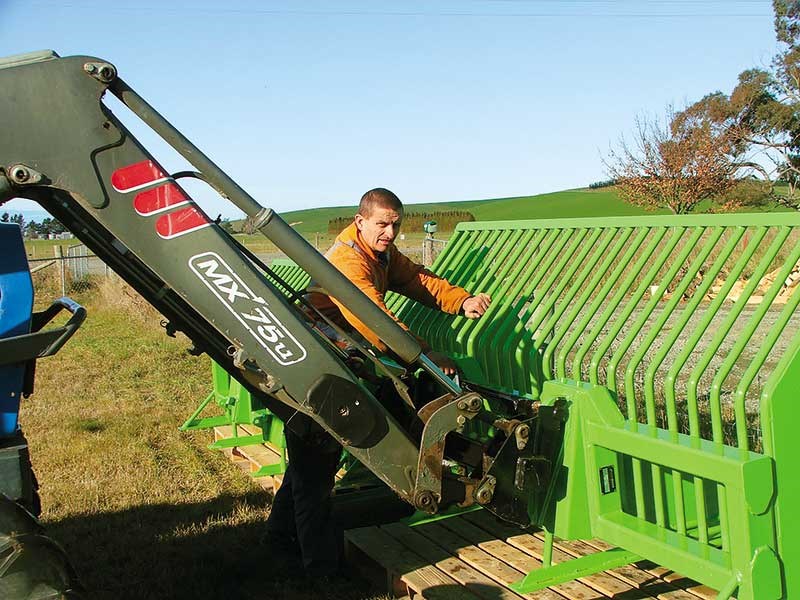 Peter Kitchen has spent decades juggling his career as a firefighter with his love of engineering. These days he is focused on using his Kiwi ingenuity to create machinery for the agricultural market.
When it comes to thinking outside the square, Peter Kitchen is a true free spirit. He thrives on the challenge of solving problems – particularly if it involves farming or engineering and has created a number of one-off machines. His latest offering, the Beetboss, a beet harvesting bucket, is meeting with widespread acclaim among South Island farmers. But it is also starting to attract attention overseas.
Peter and wife Janina started their company KCL Engineering Ltd in 1996, focusing mainly on mobile welding and repairing and maintaining heavy machinery such as earthmoving, mining and forestry equipment. Based out of northwest Auckland, Peter had always enjoyed the challenge of problem solving and improving a wide variety of machinery.
In 2003, Peter joined the NZ Fire Service as a professional firefighter and continued engineering on his days off. After transferring to the South Island two years later, Peter and Janina made Timaru their base, where Peter continued with the NZ Fire Service and also joined Urban Search and Rescue (USAR).
"We essentially re-started our business in the South Island, and within a very short time frame had an amazing amount of work. I enjoyed the challenge of learning about and working on farm machinery," he says.
Peter's one-off creations include a fence post driver and a berry pruner and he has modified more machines than he can probably remember.
Never one to shy away from a challenge, increasing demand for his creative streak and eye for perfection saw Peter essentially working three jobs: that of a fire fighter, USAR squad leader and engineer. He and Janina were also bringing up a young family and while he admits it was a buy time, he enjoyed the challenges all three jobs provided.
With his engineering background and experience, Peter was involved in training engineering teams and rescue technicians for USAR nationally, and was heavily involved in the rescue efforts subsequent to the Christchurch earthquakes in 2010 and 2011.
Despite a heavy workload, he continued to find solutions for many local farmers.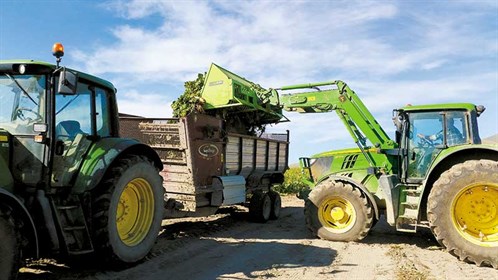 Three years ago, Peter was approached by a local deer farmer, who he had previously done repairs and maintenance for, and asked to consider designing and manufacturing a fodder beet bucket which would fit his 80hp tractor.
"At this stage, we weren't even aware of what fodder beet was," he says. "It was the beginning of the journey that culminated in the birth of Agriboss, our new business arm."
"I built the first fodder beet harvest bucket about a month later and it seemed to be a great success, enabling the farmer to harvest approximately one tonne per minute of fodder beet for feeding out."
The following season, Peter was approached by a local dairy farmer who had heard of his plans for a fodder beet bucket. As with most of Peter's plans, they were in his head rather than on paper, so he organised for the farmer to see the original bucket working. The response was immediate. He wanted one – but a bigger version. Subsequently, the Mark II fodder beet bucket was produced – 3.7-metres-wide, suitable to be used by his 150hp tractor operating with dual back wheels. This farmer loaned his fodder beet bucket to several other farmers to try, all of whom had positive comments about it.
"When we delivered this bucket, we asked the farmer to give us as much feedback as he could, as we were keen to make it as good as we possibly could. By this point, we were thinking that we might be able to sell a couple of these."
Various tweaks included changing the frame design so the operator could see the level of the tips when setting it up and adjusting the angle of the hitch so the bucket could be tipped back further.
While the design appears deceptively simple, there has in fact been an enormous amount of trial and error behind the final design.
The final design receiving the thumbs up from farmers, Peter decided to take a punt and make a couple of his beet buckets to take to the South Canterbury A & P Show. Peter and Janina came up with Agriboss as a brand over a cup of tea at the dining room table. They got some clothing branded (in an effort to look professional), borrowed a mate's tractor and took two buckets to the 2014 show. The Beetboss fodder beet harvest bucket was the first implement to be marketed under the Agriboss brand.
Up to this point, Peter was hand-making the buckets. He knew this had to change so set about designing and building several jigs and refining the assembly process. It quickly became apparent that there were not going to be enough hours in the day for Peter to do it all himself.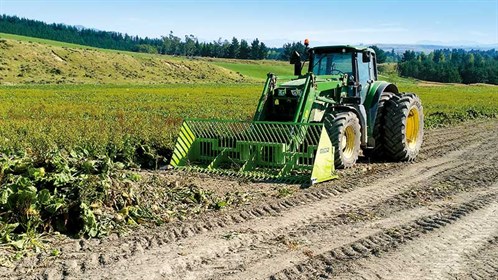 After discussions with the business mentor, accountant and bank manager, the couple decided to concentrate on their new venture 100 percent and made the decision that Peter would resign from the Fire Service and take leave from USAR.
"From that point, once we'd kicked the snowball off the hill, it gathered momentum extremely quickly. A website was developed, suppliers established and we were on our way," says Peter.
A meeting with Power Farming's National Machinery Manager resulted in Power Farming being happy to endorse the Agriboss fodder beet harvest bucket and meant Peter and Janina were free to deal with each branch directly.
The Beetboss
The design of the tips and the skids under the bucket enable the Beetboss to be used on the tractor in float mode without relying on operator skill to avoid the tips digging into the soil.
When the Beetboss is tipped back, the beet is tumbled back allowing most soil to fall through, promoting a clean harvest and minimal soil contamination.
The Beetboss fodder beet harvesting bucket is the first Agriboss product to be marketed under the Agriboss umbrella, with more implements to come featuring the same quality, strength, innovation and reliability.
The Beetboss comes in standard widths of 2.6m, 3.0m or 3.5m to fit differing horse power tractors. The 3.5m-width allows use by tractors with dual wheels without danger of running over crops and is designed to efficiently harvest a wide run.
Beetboss comes standard with Euro hitch attachment points, but can be customised to other hitches if requested.
Read the full article in issue #220 of Farm Trader magazine. Subscribe here.
Keep up to date in the industry by signing up to Farm Trader's free newsletter or liking us on Facebook