John Deere man cave
---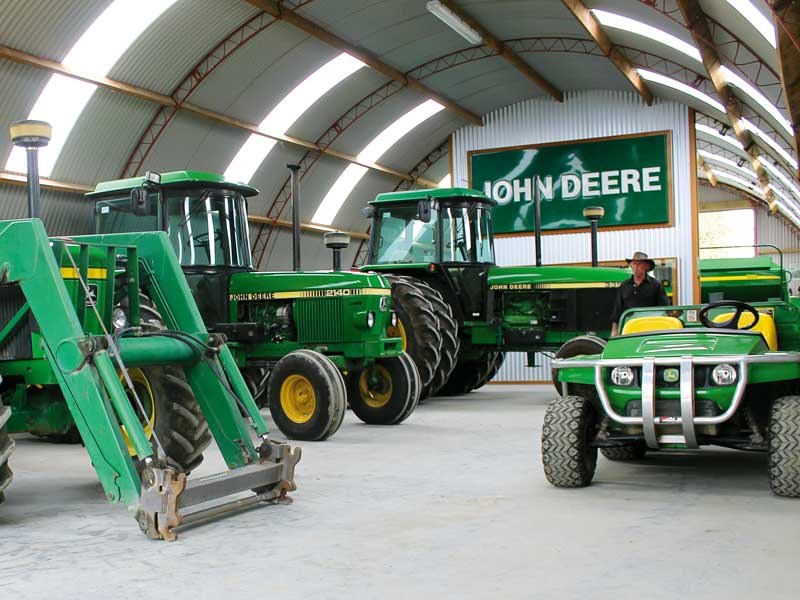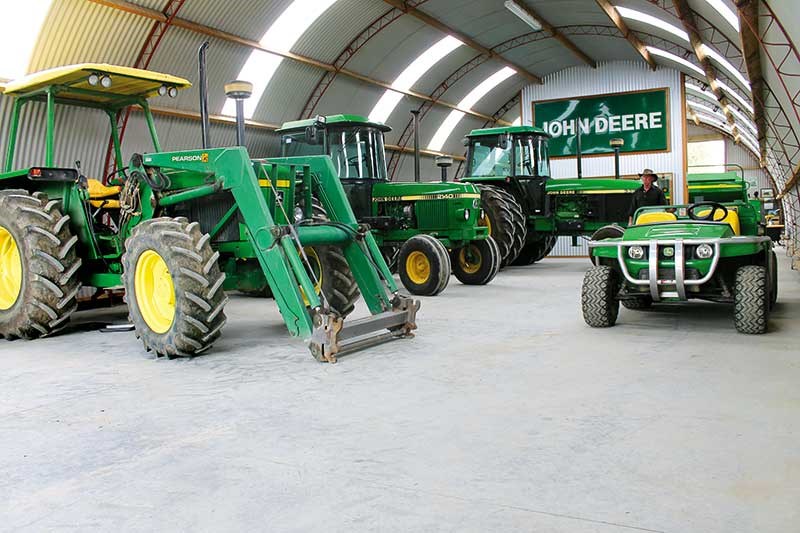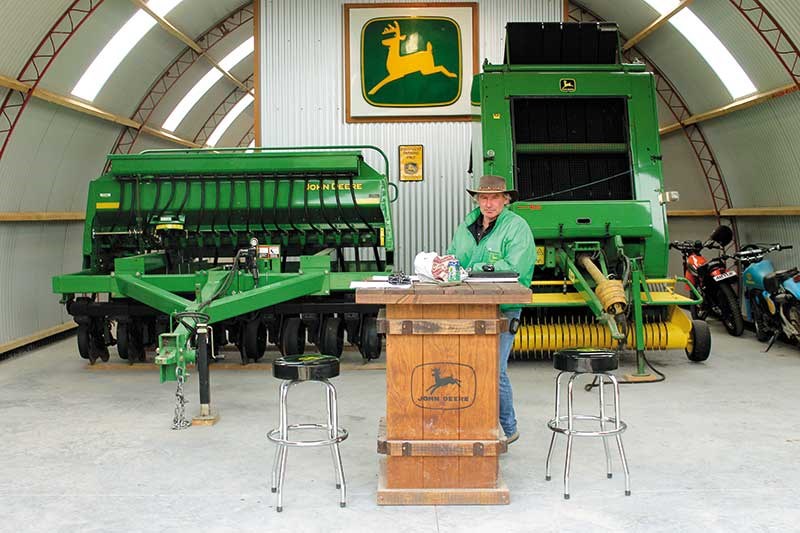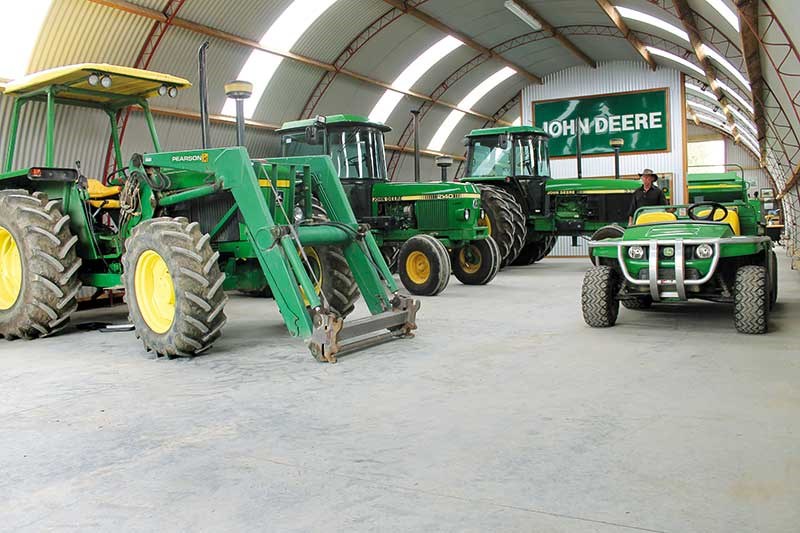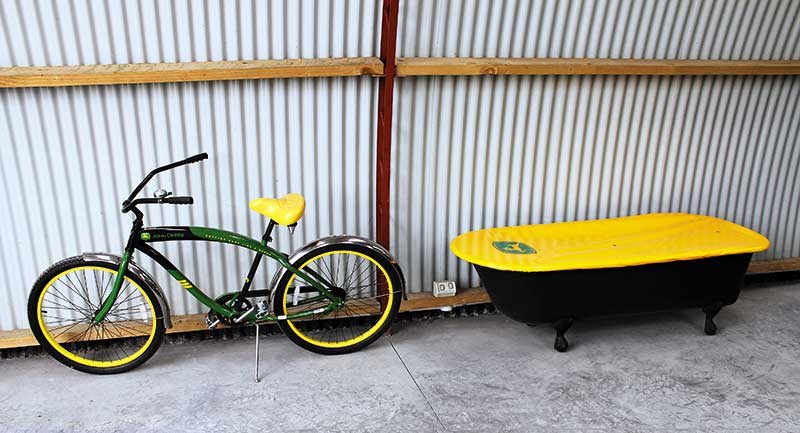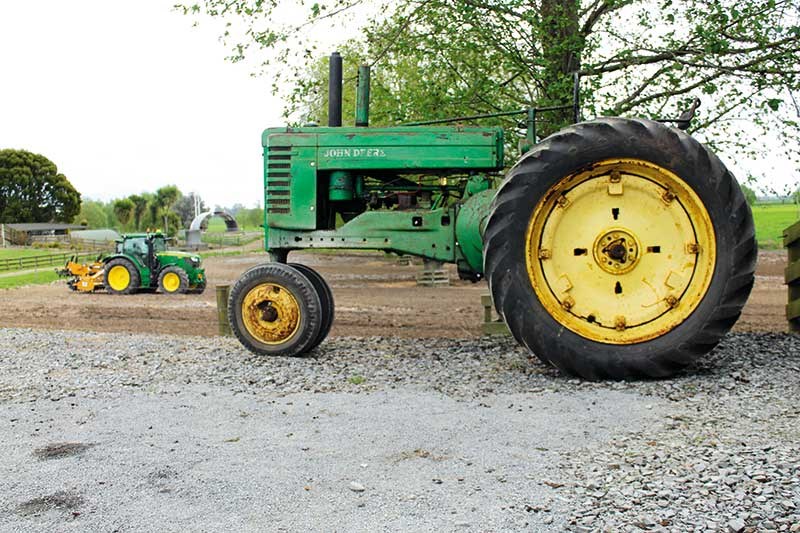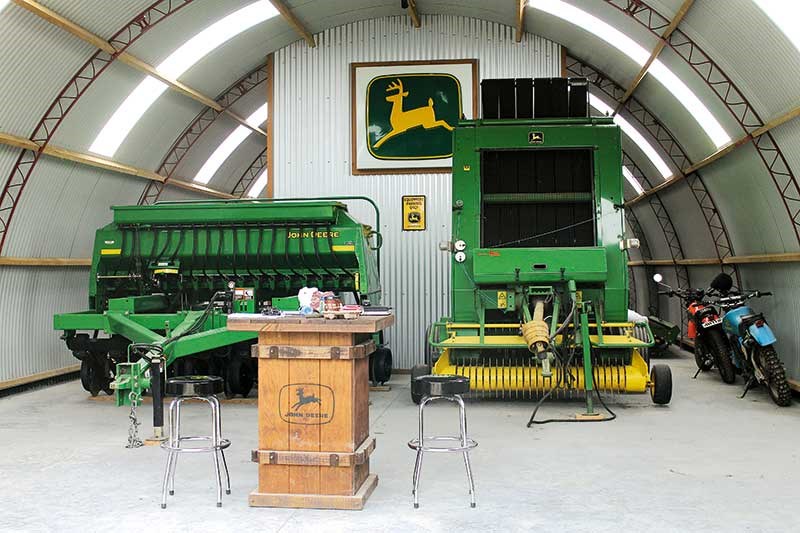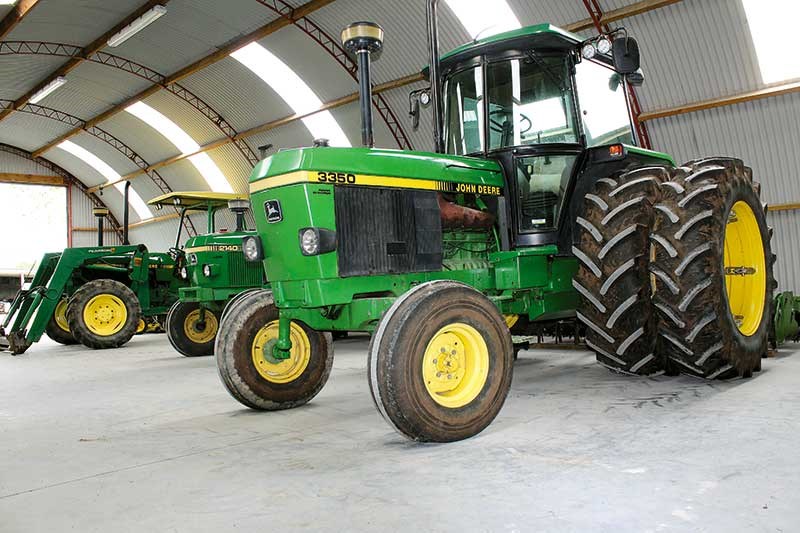 Check out this farm shed in the Waikato which houses a John Deere collection.
Bruce Wallis is a self-confessed John Deere enthusiast, farmer and quarry operator. He is one of many fans of the John Deere brand, but how many of them have a whole shed dedicated to the brand?
From collectable models to one of only two John Deere push bikes in the country, a John Deere fridge, tool chest and bath (which we will get to later); his man cave shed is testament to his collection.
Then there's the tractors. The oldest is an A-series, purchased when he was unable to buy back the original machine his father had operated when Wallis was just a young lad growing up on the property.
Pride of the collection is Wallis's first tractor; a 2WD JD 2140. Regarded as a big tractor when he purchased it, at not even 100hp, it is considered on the small side in today's terms. The other feature it had was an enclosed cab, which was far from the norm at the time. There is another 2WD six-cylinder 3350 and a 4WD rops machine fitted with a loader.
Wallis keeps these tractors in immaculate order, but don't be fooled; they are no museum show pieces. They still do all the day-to-day jobs around the farm.
With his John Deere baler and drill, Wallis does all his own ground work, hay making and fert spreading. The only work the contractor comes in for is baleage. Hours on each machine are not high, between 3000-6000. Given the age of the tractors, electronic issues are not a problem. Wallis would call himself "old school" and a bit of jack of all trades. Doing his own basic servicing is no problem and has helped keep costs under control in tight years.
If cars are more your thing than tractors, Bruce also has seven V8 Holden cars and utes. The one I saw was absolutely mint, with almost more chrome than a chrome factory.
The property
Rock Hill at Rotorangi, on the outskirts of Cambridge, has been in the family since 1905 when it was purchased from the crown. Wallis is now the fourth generation in his family to farm the property.
After completing a Bachelor of Ag at Massey and some time spent dry stock farming, Wallis returned to the family farm in 1984. Today the property is 115ha (285acres) of flat to rolling to steeper hill. As the name would suggest, rock is plentiful on the property. In fact, Wallis has turned this into a business, selling rotten rock for races, and blue/brown for roading, under the name Wallis Quarries. He is currently looking at getting into crushing to further add value, and to keep the new 160hp 4455 JD busy pulling a big trailer.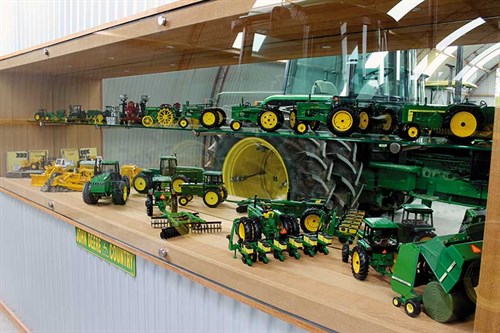 On the farming side of things, Wallis runs a herd of 240 jersey cows, plus all replacements on the farm. He runs a once-a-day milking system which he says the jerseys suit well, and this frees up his time for other jobs and work down at the quarry.
Maize has been used to develop the property with 11-12ha grown and sold on contract annually. Paddocks are developed, maized, then into annual which usually provides two cuts of quality baleage. Wallis then plants millet, which he has done for the last eight years providing a relatively cheap and quick to establish form of fodder for bulk summer feed. This is then either baled or grazed off before going back into pasture.
He has set up his business in such a way that he should still be able to be doing it until he is 70 or more. Wallis believes the secret to success is knowing when you are big enough. I think you could add to this having a passion for what you do, and having some fun along the way; a pretty good mantra to live and operate by.
The shed
Although the half round has been home to John Deere tractors for some time, it wasn't until the approaching 175th anniversary for Deere and Company, which coincided with Wallis's 50th that the shed received an extension and officially got its John Deere theme.
The latest addition to the John Deere man cave is the old cast iron bath from the recently renovated farm cottage. With a coat of heat resistant black paint on the outside and John Deere green on the inside, it's definitely one of a kind.
Wallis had plans to celebrate the improved indoor/outdoor flow of the shed, with an unveiling planned to go with the arrival of the not new, but absolutely immaculate 3000-hour, 160hp, 2WD 4455 John Deere when it arrived from the United States. Arriving being stuck for a few days on the wharf, Wallis's big JD has been put to work on all the regular farm jobs, such as drilling after the maize has been harvested. With the addition of the 4455, and its extra hp, Wallis may look to upgrading some equipment, in the future, like the power harrow and discs to make the most of it.
Read the full article in issue #220 of Farm Trader magazine. Subscribe here.
Keep up to date in the industry by signing up to Farm Trader's free newsletter or liking us on Facebook