Farming innovators: Novel Ways
---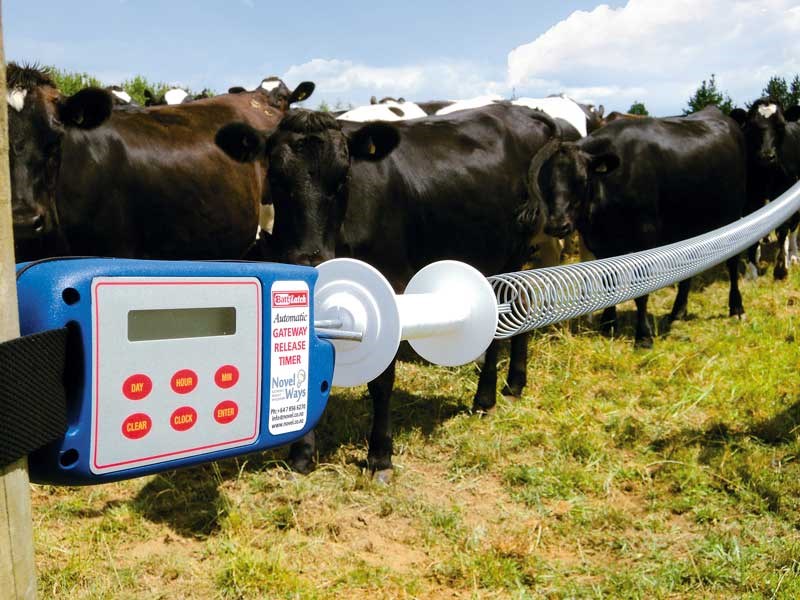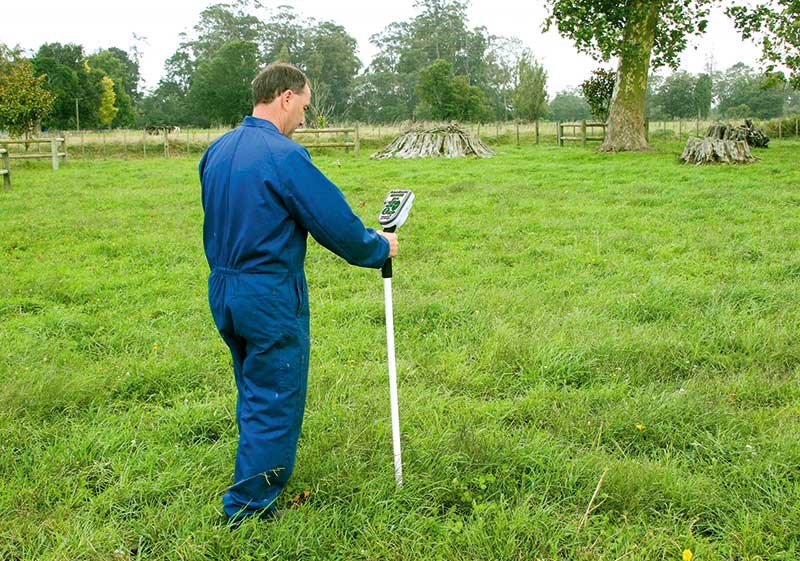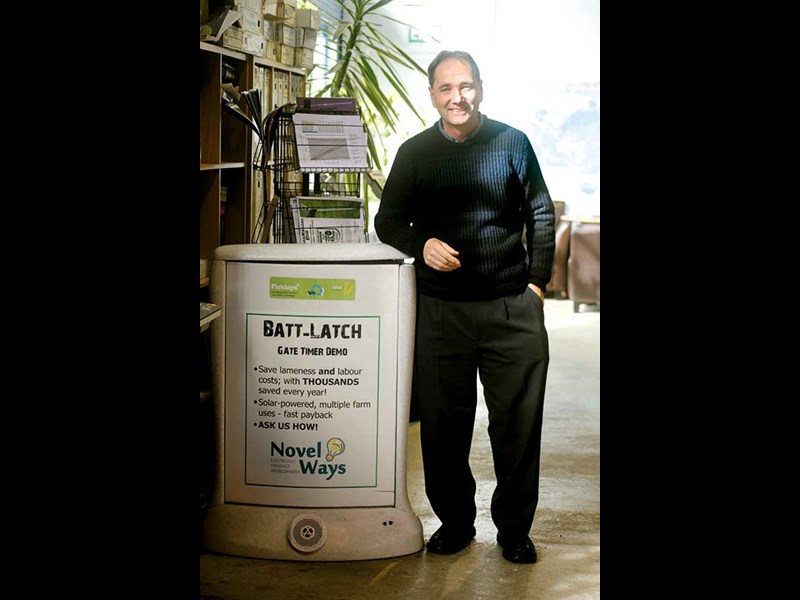 Novel Ways owner Graham Lynch.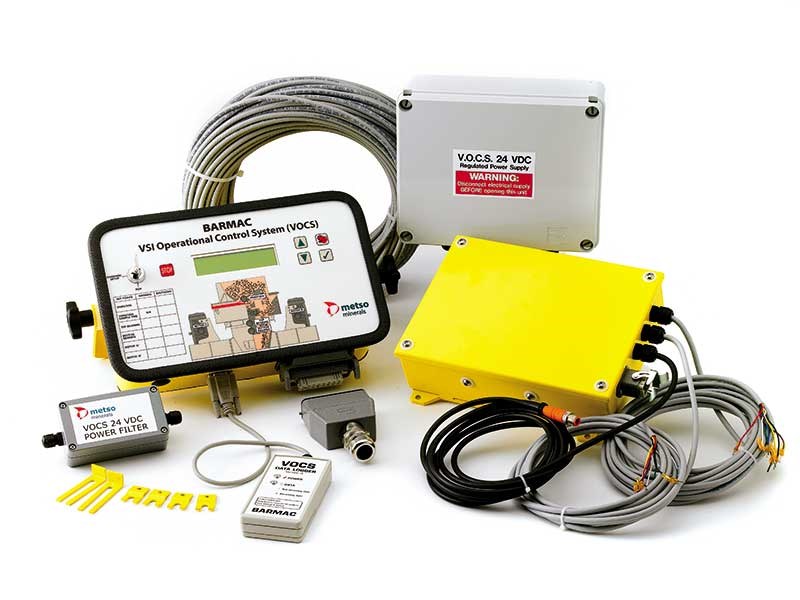 Behind the walls of a barely noticeable building on the outskirts of Hamilton is a small but highly innovative team who form a think-tank for ideas designed to improve efficiency for farmers. Introducing Novel Ways.
Novel Ways is housed on the main state highway between Hamilton and Morrinsville, in what started as the Hamilton Pure Milk Dairy Factory in 1935. With the building having such an historic association with the dairy industry, it is almost ironic that it now accommodates a business intent on helping to modernise the sector, and creating some tools and technology to allow farmers to improve their profitability.
The mastermind behind Novel Ways is owner Graham Lynch, an electronics engineer, who started the business in 1990.
To date his team is responsible for completing a number of farming innovations, including the Batt-Latch gate release timer and the GrassMaster Pro Drymatter instrument, while researching and promoting on-farm uses for brix refractometers and soil temperature probes.
While many in the industry will recognise these products, some of which are sold through major rural outlets such as RD1, PGG Wrightson and Farmlands, few are aware of the role Graham and his team play within the industry.
"We often refer to ourselves as the invisible experts," he jokes. "We always have projects bubbling away in the background and there's no shortage of ideas. However each idea represents a significant investment of time and funds. Projects like the Batt-Latch and GrassMaster have all been developed mostly at my own cost and involved years of cashflow input. The farming sector has not had to pay one cent for research and development."
With a Master's degree in physics and a lifelong interest in electronics and engineering, Graham has carefully surrounded himself with a team of fellow creators, including skilled engineers Steven Wharepapa and Brad Davison.
The more recent backbone of Novel Ways has been the development of a vibration and temperature overload control system (VOCS) for rock crushing equipment, developed for Metso Minerals Ltd. These units were fitted as standard to Barmac VSI crushers, the premium VSI crusher developed in New Zealand, and sold worldwide.
When Metso shifted its New Zealand branch operation offshore and stopped ordering Novel Way's VOCS units in 2014, the business lost a large percentage of its annual turnover.
"It was hard to make up that turnover, and we ended up having to reduce the size of our team, including my twin brother Michael, which hurt," says Graham. "These days we're a smaller team of just five, but we still harness a huge amount of creativity."
Two key innovations, the Batt-Latch and GrassMaster, have helped keep the business moving ahead in tougher financial times. The diversity and scope of the business has seen Graham and his team also work with Rail Riders Ltd and Ikon Engineering to develop the world's first automated four-seater self-drive hybrid rail cruiser.
"We developed the electronic control and safety systems for the Rail Cruisers (a tourism operation near Rotorua), including the anti collision system, in track magnetic pickup, automatic genset starter, audio commentary/safety message system and the master controller."
Then there's aircraft electronic interfaces, a vat chiller monitoring system (monitors the power feeds to the milking plant and chiller and sounds an alarm if the chiller has not been turned on by the correct time), as well as an experimental audio-visual lure to attract possums and other pests to control points (currently being trialled with funding from TBFree NZ).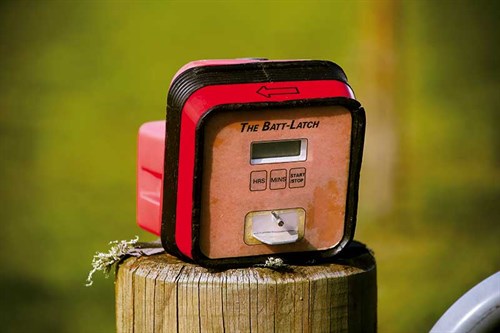 The Batt-Latch
The Batt-Latch was launched as a new innovation at National Fieldays in 1995, with Graham anticipating selling hundreds of units. However interest from the core market he'd targeted (dry stock farmers) was minimal and he sold a few, rather than hundreds.
It wasn't until dairy farmers started hearing about the technology and using the timers with their dairy herds, that orders started flowing in, and the Batt-Latch has gone on to become a steady success story.
"The world's only portable solar powered automatic gate release timer, we've recently developed an option so it can be operated remotely by mobile phone," says Graham. "Pre-programmed by the farmer, the Batt-Latch timer can be used on any gate system, and is particularly suited to dairy farmers with feedpads or supplementary feeding".
"It's been a 20-year overnight success," he chuckles, referring to the slow momentum in launching itself to market.
Now farmers throughout New Zealand and further afield (orders have come from Australia, USA, Canada, UK, Ireland and Europe) are seeing the benefits in this reliable automated paddock release for stock.
In a paddock situation, the timer and a temporary gate replace the function of the normal gate. Attach the Batt-Latch to one post with its adjustable webbing strap and then hook the supplied spring gate or bungy cord to the latch cam, stretch it across and clip it to the other post, or wire fence. When the preset time is reached, the solar and battery-powered internal motor/gearbox is activated by the timer, the cam turns 360˚ and the spring gate is released, enabling the stock to make their own way to the dairy, feedpad or other destination.
Farmers with multiple herds often buy one or two Batt-Latches per herd, using units to 'hold back' after milking and ensuring all of the herd get a chance at new grass.
"You can also expect stress reduction in the herd, as they travel to feed at their own pace. Many farmers have reported markedly reduced hoof damage when using the Batt-Latch, and this lines up with new research findings on the causes of lameness.
"In winter, careful use of the release times save on pugging damage to pasture. Some intrepid farmers have taken to the Batt-Latch for use on their runoffs, and often buy multiple units to stagger gate releases over several days."
GrassMaster Pro
These days Graham is even more excited about the GrassMaster Pro, a lightweight pasture wand boasting highly accurate and reliable electronic dry matter meter readings.
The GrassMaster Pro records dry matter in kg/ha (or lb/acre) for up to 200 paddocks using the capacitance method. A low voltage electric field spreads out into the grass or forage near the base of the probe, and changes in this field are strongly related to the water mass nearby, and by difference, to the dry matter of the material.
A selection of grassland equations are available, backed up by field research. Customers can also use their own equation for specific crops, calculated using the cut-weigh-dry (CWD) method. Results can be sent directly to a computer using Novel Ways free GrassTrackTM software or other feed-budgeting programs.
"We are currently working on a universal and fast calibration method using the operator's visual assessment of specific probed forage quadrats, backed up with occasional CWD work," says Graham. "We're constantly looking at ways to keep evolving and developing the system.
"The aim of the company is to be the world's foremost supplier of equipment for the estimation of standing forage drymatter."
The GrassMaster Pro is already quick and easy to use, giving highly repeatable results, and suits any terrain and forage condition. It can be used in damp conditions using the dispersant oil provided. 
The DM readings can be used to find the drymatter improvement from fertiliser applications, and to log the growth rate of new and established pastures. Being a quantitative measurement (not an eye-o-meter) enables farmers to record trends over the years, and between properties.
"Most importantly, in this economic climate, it lets you know without any doubt, the amount of feed ahead of your stock. As grass is the cheapest and most available crop generally, the GrassMaster Pro is a very cost-effective planning tool."
Novel Ways manufacture and distribute this instrument worldwide, and provide backup support for all units.
Read the full article in the latest issue (#221) of Farm Trader magazine. Subscribe here.
Keep up to date in the industry by signing up to Farm Trader's free newsletter or liking us on Facebook