Get up to speed for upcoming irrigation season
---
With the arrival of August, IrrigationNZ's training schedule has resumed. Get up to speed for the upcoming irrigation season with this column by IrrigationNZ CEO Andrew Curtis...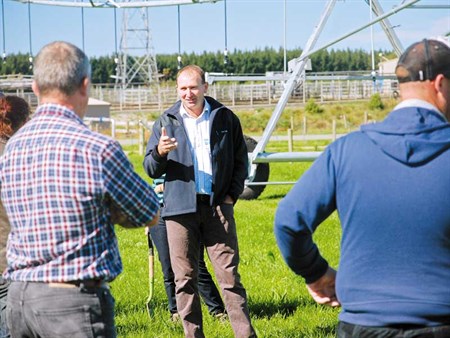 Irrigating farmers are starting to think about pre-season maintenance and their expectations for the season ahead. If you operate irrigation, work for a business that supports irrigation activity, or are the owner of irrigation infrastructure, it could be time to consider how you can improve your irrigation knowledge base.
Launched by IrrigationNZ earlier this year, Irrigation Fundamentals is a three-day course targeting new entrants to the industry and frontline staff of businesses and organisations that provide services to the irrigation industry. The aim is to give people a comprehensive overview of the complexity of the systems that take water from source to paddock. The next course will be held 18-20 August in Lincoln.
Over the past few years, IrrigationNZ has been working with the industry to develop robust qualifications to encourage skill development and top performance on-farm. Two new irrigation qualifications will be launched before Christmas providing irrigating farmers with greater confidence that their irrigation is being operated to a high standard.
Registrations are now open for the New Zealand Certificate in Irrigation Performance Assessment which will be held 16-18 September and the New Zealand Certificate in Irrigation Management scheduled for 5-6 November, 2015.
The qualifications come at a time that there is more and more call for accountability and their development will prove to regulators and public alike that the irrigation industry is serious about lifting the game and the evidence is able to be demonstrated. At a recent industry forum held in Lincoln, Central Plains Water Ltd announced that moving forward, the scheme will now require accredited designers and also certified performance assessors to provide services for its shareholders.
Finally, it's less than nine months now until next year's IrrigationNZ Conference and Expo. Held in Oamaru between 5-7 April, our biennial event regularly attracts 400-500 conference-goers to mull over, learn from, debate and be challenged by a range of thought-provoking, irrigation-related presentations. As an irrigating farmer, this is your opportunity to get together with colleagues from other regions to discuss and hear about the latest in irrigation technology, practice and policy challenges. IrrigationNZ would like to see more representation from individual irrigators so give some serious thought to attending this key event.
Read IrrigationNZ CEO Andrew Curtis' column in every issue of Farm Trader. Subscribe here.
Keep up to date in the industry by signing up to Farm Trader's free newsletter or liking us on Facebook