Rural contractors: Brosnahan Agricultural Spraying
---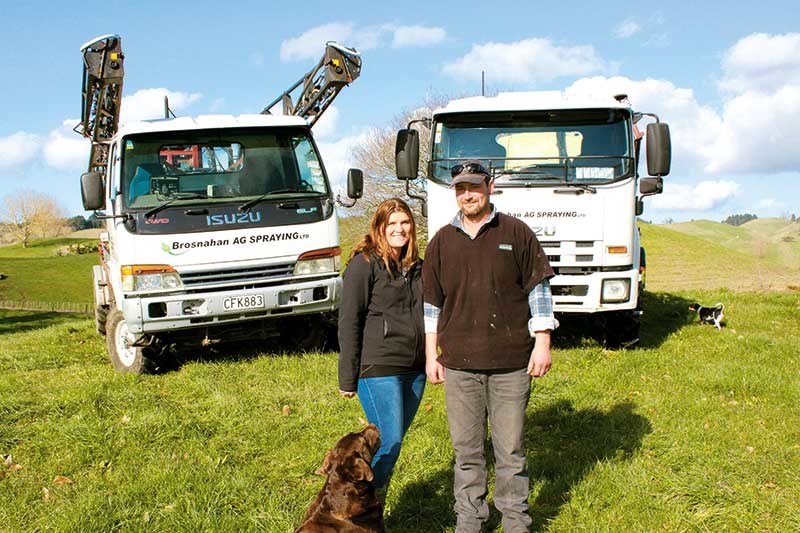 Karen and Gene Brosnahan.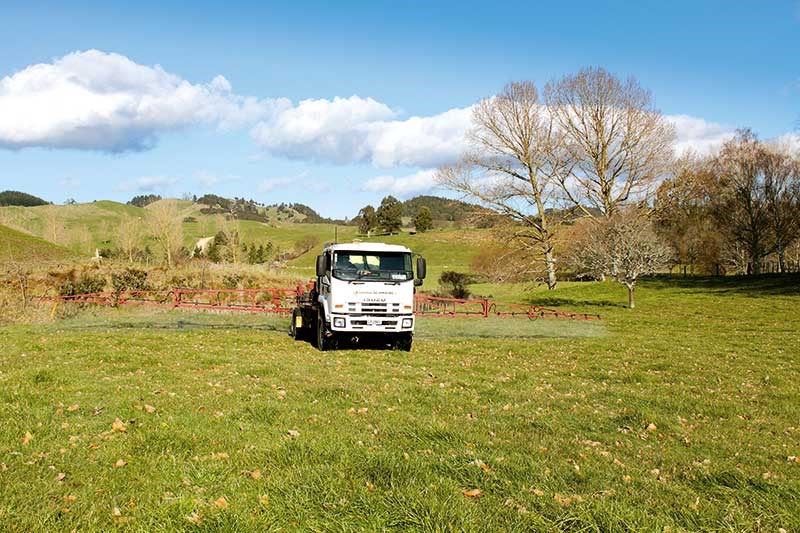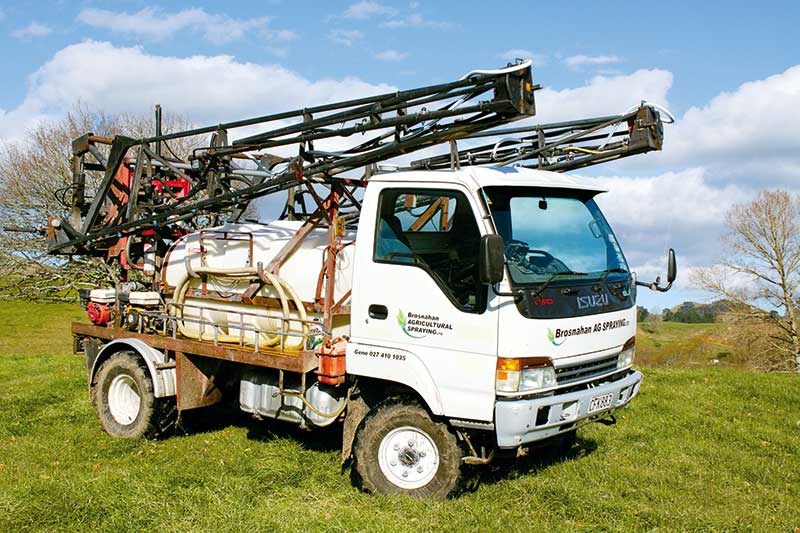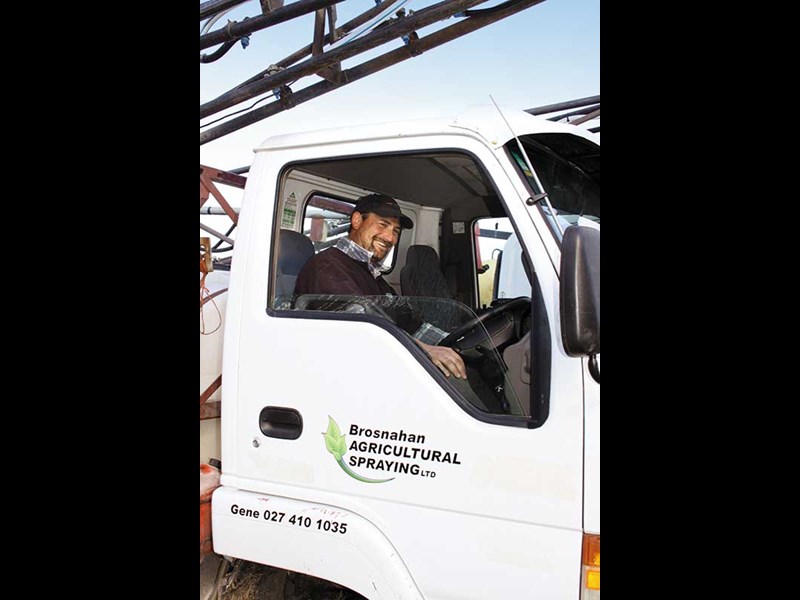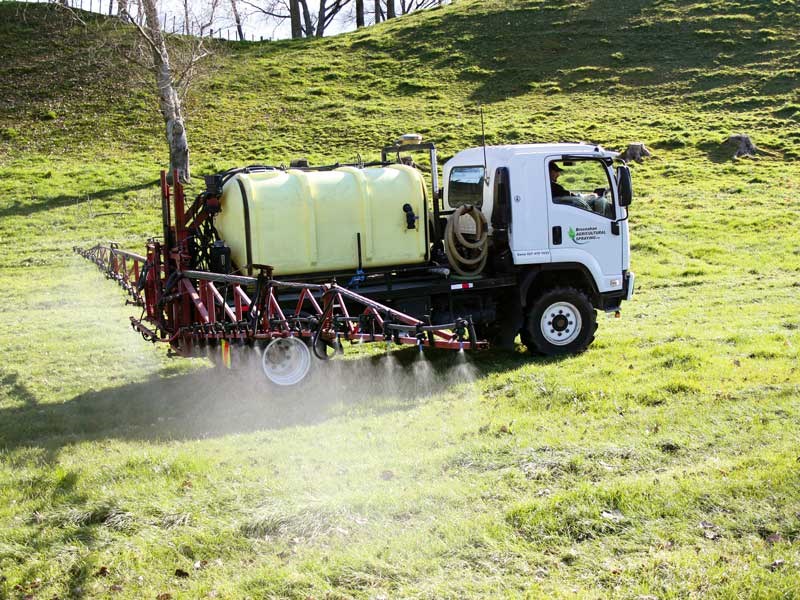 Gene Brosnahan is a diesel mechanic turned agricultural spraying contractor. His love of farming has seen him swap trades and he now works impressively long hours with his contracting business, based in the Bay of Plenty.
Life has just about gone full circle for Gene Brosnahan. His life-long love of the land sees him living in the same house he earned his first dollar from as a 10-year-old (mowing lawns and milking cows). However, this time round he is married with three children and the owner of an agricultural spraying business.
Growing up, all Gene wanted to be was a farmer, but those deemed older and wiser recommended he gain a trade. After securing a diesel mechanic apprenticeship and gaining skills which allowed him to work and travel extensively, Gene and his wife Karen enjoyed some years working overseas before returning home to set up a diesel mechanic business on the outskirts of Rotorua.
The couple purchased their lifestyle property eight years ago – a sense of history in the fact it is the same farmhouse where his working career and passion for farming began.
The property is the base for Gene and Karen's latest venture; Brosnahan Agricultural Spraying Ltd. While the pair have been at the helm for four seasons, the business boasts an impressive history under previous owner, Noel Blackwell, who is something of an industry guru when it comes to spraying and agrichemicals.
Gene acknowledges that he has been fortunate to have been assisted and shadowed by Noel for some time after purchasing what was then called Noel Blackwell Weed Control.
"When Noel closed the door on the truck for the final time, before handing his keys over to me, he told me he was only ever a phone call away" recalls Gene. "Quite simply, he's a top bloke."
Noel remains involved in the agricultural spraying industry through his training role with NZ Rural Contractors.
A qualified diesel mechanic, Gene has always had a hankering for the farm life, dating back to his early years spent working in the industry. Despite running his own mobile mechanic business for several years (specialising in forestry equipment), he always yearned to return to life on the farm.
Now, pretty much every day is spent working on farms, from the Bay of Plenty to South Waikato as owner of Brosnahan Agricultural Spraying.
Educating himself around the complex world of agrichemicals and getting to grips with the GPS technology was the greatest challenge of the new business. Gene holds his National Certificate in Agrichemical Application and has been well educated about the industry, thanks to his friend and mentor Noel.
While making the move into a new field of business was not a decision taken lightly, Gene and Karen have never been afraid of stepping out of their comfort zone.
They lived and worked in Australia for three years, before obtaining work visas for Canada, where Gene drove a truck. Once he started travelling further around Canada and into the USA, Karen gave up her banking position to join Gene as his navigator.
"We travelled from Canada to the States regularly and it was a fantastic way to see both countries," says Karen. "We drove together all day, met some amazing people, saw lots of weird and wonderful things and transported everything from Christmas trees to bird seed and cool storage."
Highly regarded as a truck driver, and with the additional bonus of being a diesel mechanic, Gene and Karen were in hot demand and could easily have remained based in Canada. However, they chose to return to New Zealand to start their family.
Having established himself in the Atiamuri region as a mechanic, the couple started looking around for a business which would allow Gene to return to his farming background.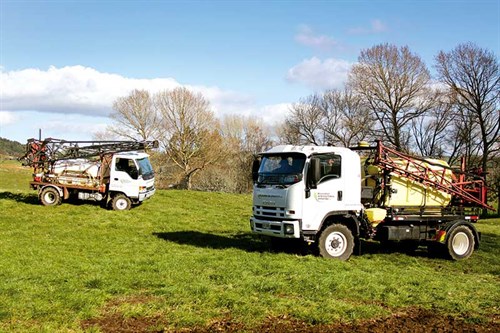 The opportunity to purchase Noel Blackwell's spraying business was exactly what they were looking for.
"We were also lucky that Noel was happy to share his wealth of knowledge with us as he wanted to see his business go to someone who could move it forward and drive its success. His input has been invaluable in retaining existing clients and growing the business."
Now heading into their fifth season, Gene is looking forward to new challenges and opportunities within the industry. Having started out with just a small Toyota ace and an old JCB tractor, his fleet has since expanded to include two Isuzu trucks, equipped with a mix of Bertollini and Hardy systems. Both carry 18-meter booms. He also has a land cruiser geared up for gun spraying and a mobile urea mixing station.
Gene has spent time customising and modifying most of his equipment to ensure everything is user friendly and efficient.
"It is mainly small time saving measures, but if I cannot find what I need then I just adapt what is out there to work better for me," he says.
In order to keep abreast of changes within the industry and looking at ways to help farmers, Gene makes a concerted effort to keep up to date and informed through attending industry meetings and communicating with industry organisers.
He is also intensely aware of all the safety protocols around working daily with chemicals.
"I know of four guys who got chemical poisoning last year and it's surprisingly easy to happen. Farmers can store stuff in their sheds for years and the containers erode or leak. You have to be super responsible."
With three children aged from three to 11 at home, Gene doesn't store any chemicals on the property. He has an approved chemical storage facility off site.
"It's just not worth the risk. I know what I am doing but there's other people coming on and off the property so it is easier not to store chemicals here. There are a lot of basic common sense rules around dealing with chemicals and you can never afford to be complacent about it."
His no-nonsense attitude applies to ensuring all of his equipment is regularly calibrated, ensuring precision and accuracy for his clients.
"Gene works hard to provide the best service possible for his customers to ensure they get what they require on time," says Karen.
This usually involves him working farmers' hours (as soon as it's light, he's at work and he returns home when it's too dark to safely continue), while Karen takes care of the paper side of the business, as well as working part time as a vet technician.
Drawing on his wide set of skills, farmers often nab him to 'just take a quick look' at a piece of machinery, usually needing a mechanic's touch.
"He is very practical and a genuine handyman" says Karen, "so it is not uncommon for farmers to get him to look at something else whilst on their property.
"He is often called upon for advice or ideas in regards to squeezing maximum efficiency from land with minimal impact on the environment, especially in these current times."
With the spraying business being seasonal, Gene and Karen admit it is handy being able to fall back on his mechanical skills during rainy days and quiet times, although he rarely has a shortage of work available.
"Like anyone in farming, you have to be prepared to put in the hard yards," says Gene, "but at the end of the day, travelling around the region and working on farms is pretty exciting and I look forward to doing it all over again the next day."
For the latest farming news and review, subscribe to Farm Trader magazine here.
Keep up to date in the industry by signing up to Farm Trader's free newsletter or liking us on Facebook