Rural contractors: Hinton Contracting
---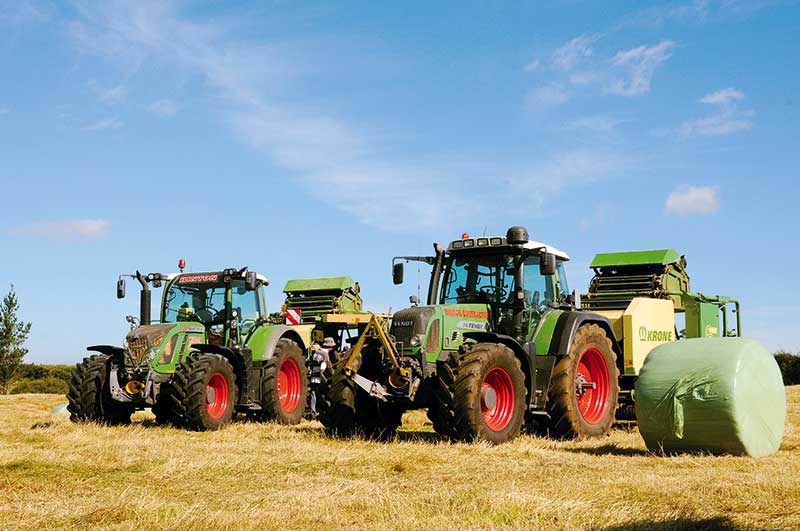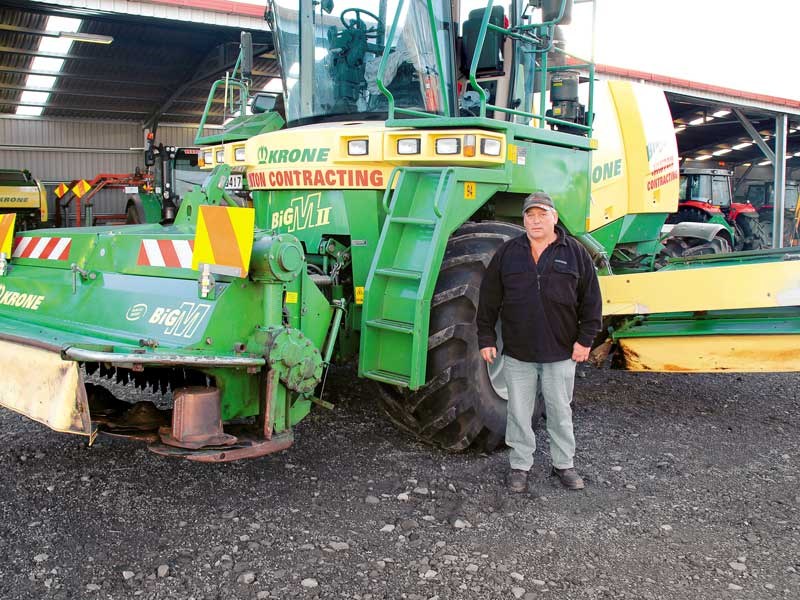 Main operator Alan Price next to his pride and joy.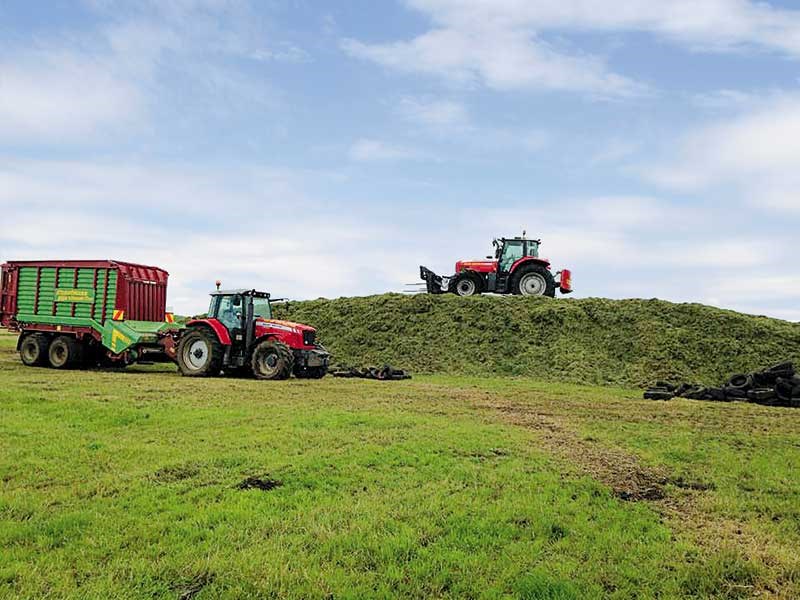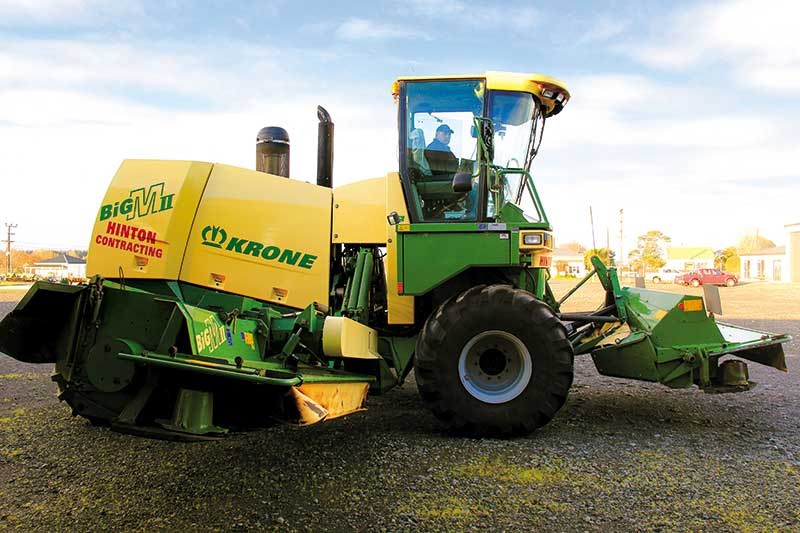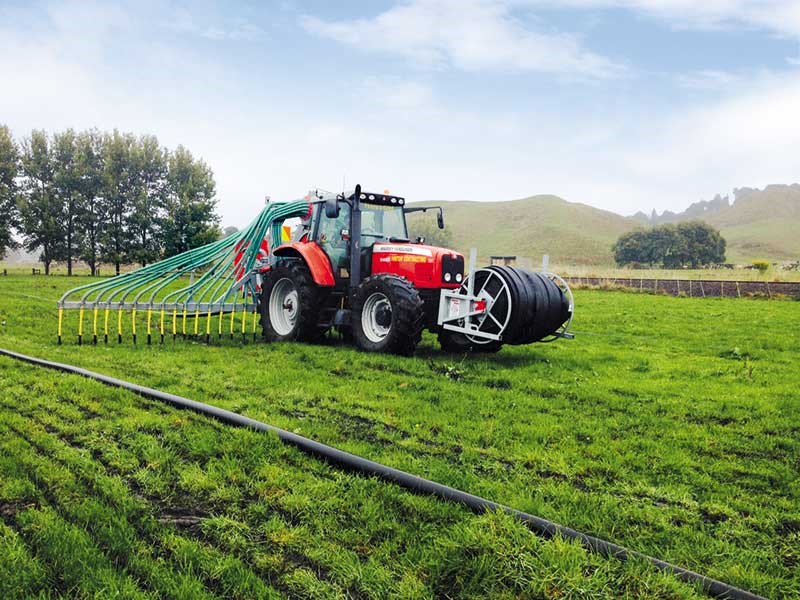 Check out this profile of Stratford-based rural contractors Hinton Contracting.
Hinton Contracting has been operating from its new base in Stratford for just under 12 months. Simply driving past makes for impressive viewing with their large 13-bay storage shed and eight-bay workshop. For those of you who, like me, cringe at the sight of machinery sitting outside, it comes as a welcome prospect.
Mark and Wendy Hinton have owned the business since 2002, however the name Hinton Contracting will be familiar to many in Taranaki as David and Kathryn Hinton started the business in the early '90s with Mark as an owner/driver since 1996.
For those of you who feel a little nostalgic when it comes to machinery, you will appreciate the fact that Mark still has the Massey Ferguson 3085 he started with and with 16,500hrs on the clock it still provides plenty of hustle during the busy season, whizzing around the roads with the swather in tow. Speaking of road travel, all contractors would like to keep this to a minimum; Mark and Wendy rarely travel more than an hour (40km) from their home base.
For the Hinton team, hay and silage is their bread and butter, having never been involved in maize silage, mainly because Central Taranaki's climate is not well-known for growing bumper maize crops. However they do also offer draincleaning, cultivation, drilling, effluent and hedge mulching services.
There are a number of things that individual contractors do differently and each system will not suit everyone, but for Mark and Wendy they like to hold onto gear for a long time which allows each machine to pay its way. This is achieved with two key ingredients: the first is the machinery upkeep – ensuring it's all kept to a high standard and stored in a shed. The second is keeping nearly half of their peak workforce on as full timers.
This allows them to meticulously go over each machine through the winter to find and remedy any faults which reduce 'in season' break downs and as a result significantly reduce R&M which in itself is sure to easily cover wages through the winter months.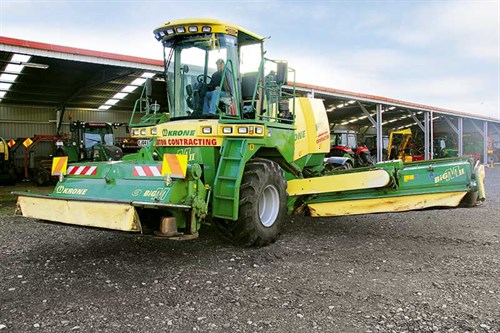 Up close & personal: 2003 Krone BIG M 2 – 1700 hours
This month I've chosen the Hinton's Krone Big M to hone in on. Although it's not a rare machine, it's certainly not the norm in a contractors' yard; most opt for the combination tractor mounted mowers. The Hinton's were in the same boat but, now, they'll never go back.
The first reason is the power that comes from a 12-litre six-cylinder turbo-charged/intercooled engine, mounted in line with excellent serviceability thanks to the lightweight side panels. The radiator fan automatically reverses its direction every 10 minutes to ensure any gathered seed heads are blasted off and when things get real hectic, the operator can override to do this more frequently from the cab.
Inside the cab, Fendt tractor operators will feel at home with the joystick operating drive and mower controls. Headland sequences can be operated by a time period either matching to current forward speed or adjusting it to a ground speed independent control. For those who prefer manual control, all three mowers can also be lifted individually during operation.
The transfer box is flange-mounted to the engine's front face (the cab end) sending the power to the front mower through a dry clutch and PTO shaft while side mowers get their power through a poly V-belt and belt clutch setup. The front mower can also be hydraulically adjusted from side to side to combat uncut 'mow hawks' if the machine's rear end starts to drift downhill. This is also a real bonus for manoeuvrability around some of Taranaki's tight gateways.
Drive for the BIG M is hydrostatic with power supplied by two hydraulic pumps which power just the large front wheels under 'normal' conditions although you can 'hit the diff' which, rather than locking an axle, alters pump supply so one pump is driving the front axle, the other the rear.
To get the beast to move, push the joystick forward, and the 12t mower gently moves off, engine management alters engine speed to travel speed, maximum mowing speed in the 'working range' is 17km/hr while flicking a switch (which alters the piston pumps output) allows the 'road range' to have a 40km/h top speed all at a comfortable and economic 1750rpm.
Pros
Uncontested ability to mow large areas very quickly.
Speed at the headlands thanks to the rear wheel steer.
Very good contour following.
Side shift on the front mower which aids accessibility.
Stable on the hills as all the weight is down low even though it looks very tall.
You are sitting right above the front mower and can see even man hole covers which you simply couldn't with a front mower on a tractor.
The power – driver Alan Price believes there is no substitute for power.
Cons
The farmers are sceptical at first as they see this huge machine and think it will cost them the earth until they see the efficiency and work out it's no more expensive.
Read the full article in the latest issue (#221) of Farm Trader magazine. Subscribe here.
Keep up to date in the industry by signing up to Farm Trader's free newsletter or liking us on Facebook