The state of rural contracting in New Zealand 2015
---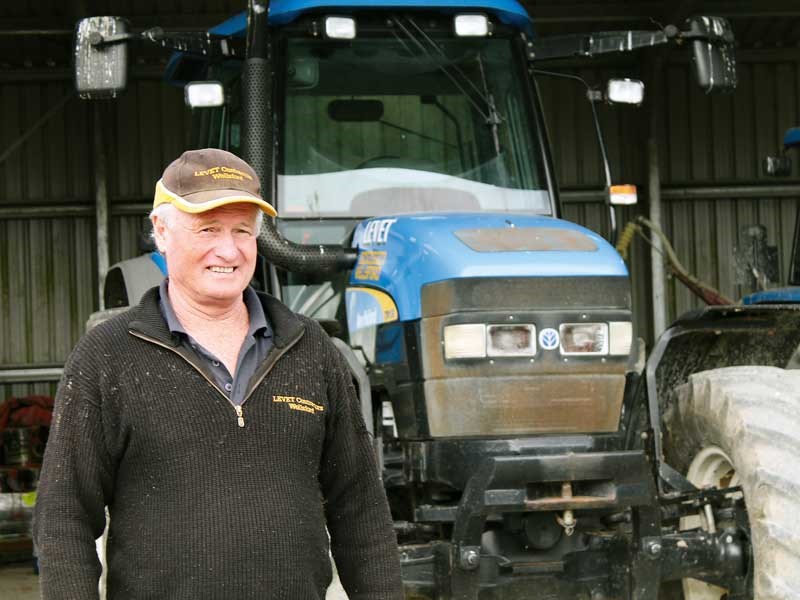 Rural Contractors New Zealand president Steve Levet.

Rural Contractors New Zealand (RCNZ) president Steve Levet looks back on what has been a challenging year so far for rural contractors.
There is no doubt the past year has been a challenging one for the rural contracting sector. Southland was wet, Canterbury was dry – with much of the rest of the country cooler than normal and the dairy payout started the year at $7 and finished up at $4.40.
Over the past few months, there has been a noticeable drop in farmers' spending – related to the falling payout – and only doing what they have to. Let's hope Fonterra's starting forecast for the 2015 season continues to climb throughout the year and the prospects for the arable and red meat sector also brighten.
RCNZ plays an important role as the leading advocate for rural contractors engaged in a wide range of activities across the agricultural sector throughout the country. RCNZ is the only national association for rural contractors in New Zealand.
A key issue for the rural contracting sector – and the wider agriculture industry – is the ability to attract young people into the primary sector. Over the past couple of years there has been significant media coverage around this issue – often led by Rural Contractors NZ – on the efforts being made to try and encourage and attract young people into the agricultural and horticulture industries.
Over the last two springs, the Zone 4 (Otago and Southland) region has held an innovative initiative aimed at encouraging more workers into our industry. Our guys worked alongside WINZ to organise a day where people interested in working in the rural contracting sector could come along talk to contractors, ask questions and get a look at some of the gear we use.
This initiative has turned out to be a resounding success. Over the past two years around 200 people have turned up and a number of these people have gained a job. This induction/open day is something RCNZ plans to replicate throughout the country and we have now developed a template to show this best can be done.
An important part of this exercise has been building a good rapport with WINZ. By working with WINZ, we are not only making relationships, but also doing the right thing and trying to employ Kiwis into our industry first – before having to bring in overseas workers.
However, despite these initiatives, we still have a shortage of skilled machine operators within our industry. This leads to our on-going issue with immigration that has been troubling the rural contracting sector for some years now.
Up until recently we have been unable to convince government and officials that there is a skills shortage within our industry for seasonal employees. Thus far, the government has not been willing to include seasonal machine operators on the skills shortage list – therefore making it much harder to bring these operators into the country.
Just recently we have made some progress in this front. In June, our chief executive Roger Parton and I met with Ross Grieg from Immigration NZ and other officials in Wellington to discuss our concerns and issues with current regulations.
Ross is the Immigration NZ area manager for the North Island and attended our Zone 1 (Upper North Island) region meeting at Cambridge in May and heard first-hand about rural contractors concerns and issues with employing overseas staff – especially getting people back for a second and third year.
Ross took away plenty of feedback from the gathering – including how we all try our damndest to employ Kiwis first and foremost, but that trained, experienced operators from overseas fill a vital gap in our industry – and set up the meeting for us in Wellington. Hopefully we are now going to see some movement on this issue.
Another big topic for our sector is health and safety. Upcoming law changes in the Health and Safety Act and the formation of WorkSafe NZ means it is important that both employers and employees know their rights and responsibilities when it comes to health and safety issues in the work place.
That's why RCNZ spends a good deal of its time and resources on ensuring we are involved with and working alongside others to improve and enhance the safety of both our members and its staff.
Under the HSE Act, both employers and employees must take all practicable steps to provide and keep a safe work environment. The law says employers must also take all practicable steps to make sure employees are safe at work. It also means that farmers and contractors need to have discussed and identified any potential hazards. Farmers can no longer just leave the contractor up to the job and forget about it. Because if any accidents do happen, WorkSafe NZ will come visiting both the farmer and contractor.
As an industry organisation, RCNZ continues to lobby government and officials on matters that impact and affect our sector. RCNZ is also able to provide support and help to members looking for advice on employment law and/or health and safety matters.
For more information, phone 0800 424 266.
Wellsford-based agricultural contractor Steve Levet is the president of the Rural Contractors New Zealand (RCNZ). Check out Farm Trader's rural contractors special in the latest issue – out now!
Keep up to date in the industry by signing up to Farm Trader's free newsletter or liking us on Facebook