Contractor profile: Sinclair Contracting Limited
---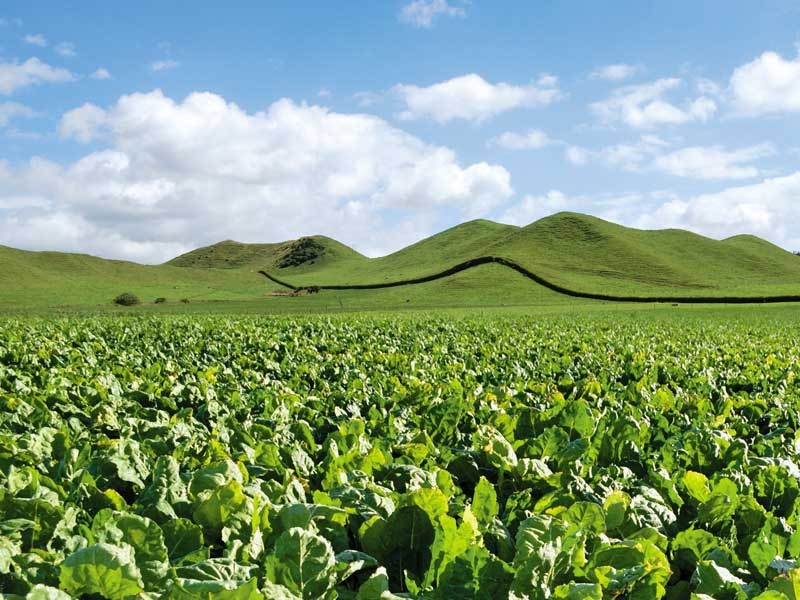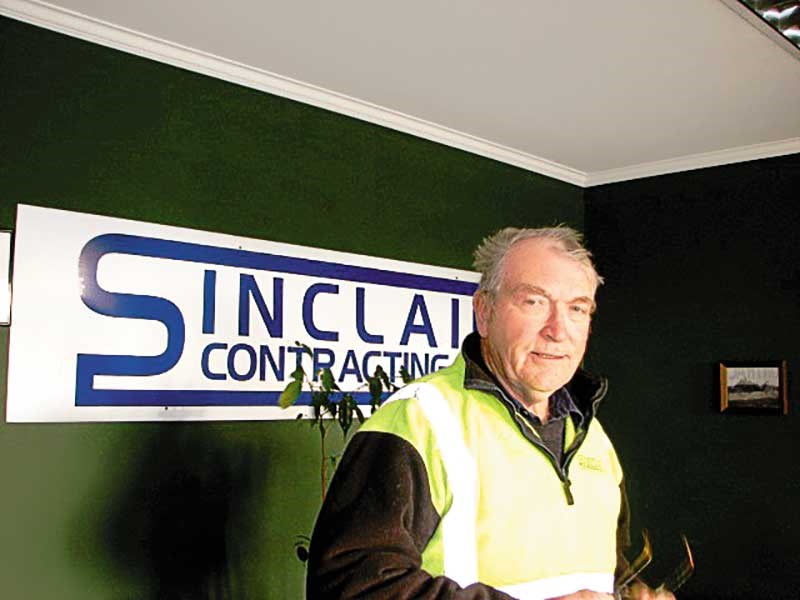 Malcolm Sinclair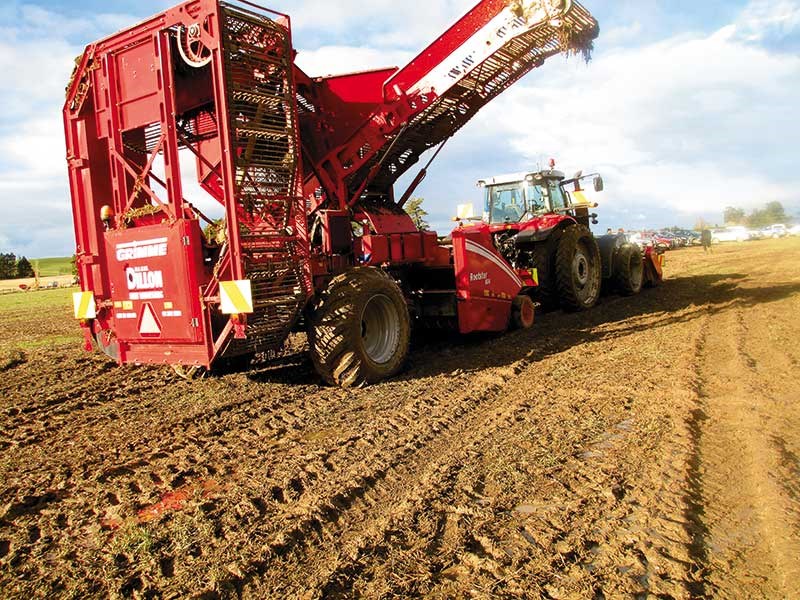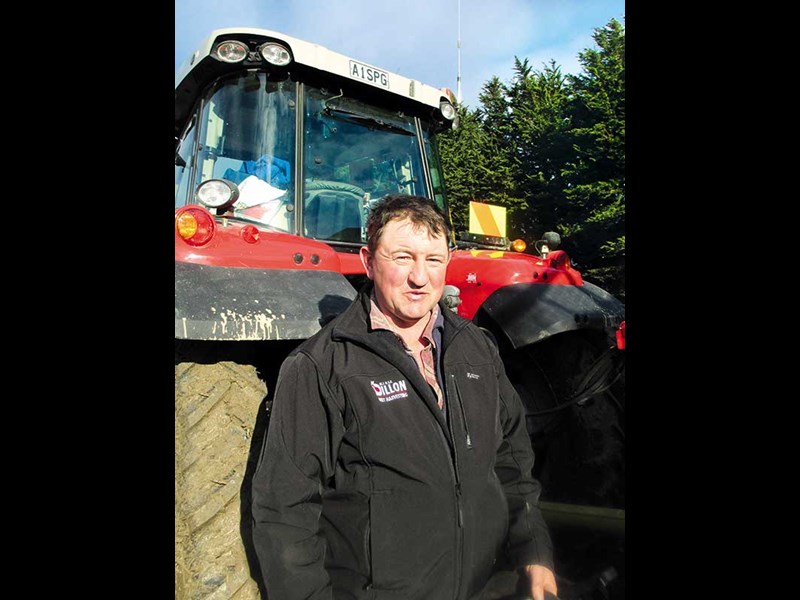 Mark Dillon

In recent years, the southern dairy industry has seen rapid growth and with it, the equally rapid growth and popularity of fodder beet as a winter feed for stock.
Malcolm and Ann Sinclair have been involved in rural contracting for about 40 years. Malcolm and Ann operate their business as a registered company, Sinclair Contracting Limited and are based in Wyndham in Southland.
Over the years, the Sinclairs have seen many changes to farming in New Zealand and the ongoing trend towards decreased numbers of farms, together with increased average farm size and intensification of farming activities.
These changes have led to a renewed interest in cropping to manipulate seasonal feed supply patterns with a view to enhancing profitability of pasture based systems. One crop which is increasingly attracting attention in this context, especially in Southland at the present time, is fodder beet.
Fodder beet is a member of the Chenopodiaceous family. Together with the garden vegetables silver beet, and beetroot, and the related crops mangle and sugar beet, fodder beet is a subspecies of Beta vulgaris L.
It is generally accepted that sugar beet was developed in Prussia in the eighteenth century as an alternative to obtaining sucrose from sugar cane, and that fodder beet is a cross between sugar beet and a form of beet used at that time for stock food, the mangle.
While fodder beet was not sown in New Zealand before the 1960s and only about 1000ha per year was sown at that time. Now thousands of hectares are being grown all over the country. One of the reasons for farmer interest in this crop is the high DM yields (30 tonnes ha-1). In fact, in the South, it is considered beet fodder provides twice as much nutrition for stock as winter pasture and is considerably higher in nutrition and lower in cost than conventional silage or baleage.
Southern farmers are very interested in harvesting the crop. In doing this the farmers can feed it in measured quantities – either just the beets on their own or beets mixed with another supplement like palm kernel.
Another advantage of harvesting the crop is that it allows a quick turn-around from crop to crop. Mechanical harvesting of the crop creates far less damage, meaning the paddock can be immediately sown into a winter crop. The advantages of this cannot be underestimated.
Malcolm says his company has been operating an Agrifac beet fodder harvester since the beginning of May. He bought the machine from Balewrap Systems Limited of Waimate, which has also sold a number of similar machines in the Southland District as well as other areas further north. The fact that Balewrap Systems offers and indeed supplies an excellent after-sales support service influenced the Sinclairs in their choice of fodder beet harvester.
Sinclair Contracting's machine, like all other Agripac products was designed and manufactured in the Netherlands. It is a six-row harvester of 440 horsepower and is self-propelled. Malcolm believes it has a singular advantage as a beet harvester, in that it cleans the beet much better than most other makes.
The machine has impressed Southland farmers with its ability to lift a whole hectare of fodder beet in just under an hour.
He says many farmers who do not want to have the outlay in washing beet see this as a real cost saver. However, Sinclair Contracting Limited also offers beet washing services for farmers who want it washed.
Malcolm says another advantage of the Agrifac harvester is that it is suitable for Southland, which usually has a very wet winter. This is because it does not significantly compact the soil. Although the machine was harvesting beet fodder in May 2015, which was a particularly wet month in Southland, it was making negligible imprints in the soil over which it was travelling.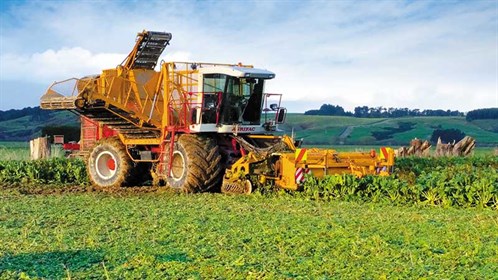 He also says the Agrifac harvester is a very stable machine. It has tyres of about one metre wide and the entire machine has a width of 3.7 metres. The machine, being self-propelled, is usually driven to the farms where it is to harvest fodder beet. However, the company can transport the machine by another vehicle if this is necessary.
The harvester has a 520 Horsepower DAF engine with a fully hydrostatic transmission. All lifter drives are hydraulic and the machine is six wheel drive with differential locks. Its tyres are 800 65 x R32 on the front two axles and 1050 x 65 x R32 on the rear axles. The rear wheels are close together-- this is to roll the whole field evenly with the weight and not leave ruts, it also helps with turning circle.
The harvester is 14.5 metres long, 3.7 metres wide and four metres high. It weighs around 24 tonnes empty, and around 50 tonnes loaded.
When operating the beet leaves are topped with the topper on the front, then "scalped" of the leaf pediole with a knife which will stop the beet regrowing if the beet is going into storage. It is then lifted with a walking share and dropped onto the first of five carousels which finally deliver it as free of dirt as possible to the ring elevator which delivers it to the bunker on top of the machine.
The machine is unloaded via an elevator in easy view of the harvester operator and the truck driver. It has six lifters which can be adjusted through 450 to 500mm. The harvester has two axles on the front to carry the weight of the lifter unit and can be driven EMPTY on New Zealand roads with a permit.
While Sinclair Contracting has been operating the Agrifac harvester only since the beginning of May, there has been a strong demand for its services. Malcolm believes this demand will continue until the end of October when spring pasture feed becomes available. Over the winter months, fodder beet may be harvested and stored without losing its nutritional benefits.
Malcolm and Ann have grown 10 to 15 hectares of fodder beet on their own property for the last six years. They know first-hand the advantages of fodder beet as a winter feed for stock. They are not overly concerned about the recent fluctuations in pay out prices and Malcolm believes the future will be profitable for southern dairy farming.
He says that in the meantime, farmers still have to feed their stock in winter and although there is a rising trend for sheep and beef farmers to switch to fodder beet as a winter feed, the bulk of the company's clients are dairy farmers. Sinclair Contracting has expanded it areas of operations with its fodder beet harvesting. At present, two of the company's employees engaged as specialist operators of the Agrifac beet fodder harvester and it is being operated throughout Eastern and Southern Southland.
Mark and Sonia Dillon of Balfour in Northern Southland have been operating a Grimme trailed harvester capable of lifting 1.5 hectares per hour for the last 12 months. They grow beet commercially as well as harvesting it and currently have fodder beet for sale. Mark says beet grows up to 30 percent more feed per hectare than traditional winter crops.
The Rootster has a working width of three metres, enabling it to pick up six rows at a time (at 50cm spacings) for an exceptional output. In a good crop it is possible to harvest at 6-7km an hour and it only takes minutes to fill up a 20-tonne truck."
Depth control of the shares is hydraulically adjustable, so when working in stony soils the height of the shares can be lifted to avoid picking up stones.
Mark says lifted beet can be used to transition stock effectively onto winter feeds, avoiding acidosis and costly losses in production. He says "We have lifted our own beet for the last three seasons which we stock pile for up to 12 weeks with no reduction in quality and fed to our cattle. Lifting beet reduces wastage and maximises crop efficiency."
Howard Clarke managing director of Southland company Advance Agriculture Limited is based in Winton. He has a close relationship with many of the dairy farmers in the region. Howard says there is a good income from fodder beet which currently sells at about $5000/ha. Growing costs, including seed, fertiliser and weed and pest control, range from about $1900 to $3600 at the outside. However, Howard Clarke says usually these costs work out at about $3000. He calculates the gross margin as $2100 per hectare. He says the "ready to feed" cost is about 15cents/kg of dry matter approximately but this is yet to be finalised as more trial crops are harvested.
For the latest farming news and machinery reviews, subscribe to Farm Trader magazine here.
Keep up to date in the industry by signing up to Farm Trader's free newsletter or liking us on Facebook