Animal handling: Acto Agriculture
---
When it comes to sheep shearing, there are few names more synonymous in the world than the legendary five-times World Champion, David Fagan.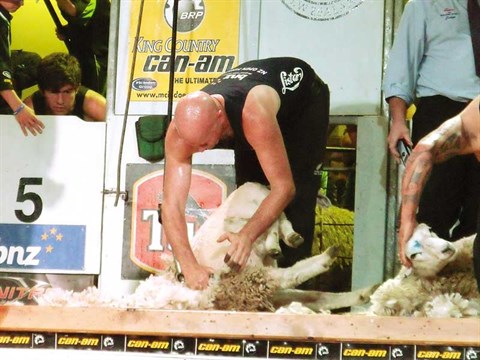 And when it comes to shearing machinery, there are few brands more synonymous in New Zealand than Lister.
Boasting a worldwide history going back well over 100 years, the Lister name is one that many sheep farmers will identify with.
David has worked with the development team at Lister Shearing for the last five years.
Lister shearing equipment is still manufactured in the UK. The New Zealand distributor for Lister/Supershear gear is Acto Agriculture which distributes through all leading farm merchandise stores.
The Acto team at the 'woolface' are certainly qualified. Among them are two of the most revered ex-Tectra shearing instructors, Tom Wilson and Russell Knight. Tom is also an ex-World Champion and within the squad there are five shearing judges.
What to consider when purchasing a shearing machine
Perhaps one of the most important considerations on any modern farm is the safety aspect of its capital items. Nexus Pro machines are factory fitted with an electronic safety sensor to protect the user and avoid a lock-up.
The cut-out switch automatically stops the machine immediately if the handpiece hits an obstruction in the wool. This not only protects the shearer but prevents damage to the components of your equipment.
At 18kg including the rigid downtube, the Lister Nexus Pro QR is easy to manoeuver. That's nearly half the weight of the machines of the past, making it easy to install and more portable.
The QR (Quick Release) system allows for rapid attachment and release of the rigid (or flexible) downtube from the motor unit. The QR downtube is swift and easy to use and ensures the correct setting of the downtube which saves time. The top sleeve of the downtube simply slides on and clamps into place which eliminates the need for tools.
There are plenty of other features which make this a solid investment. The powerful one horsepower motor has three speeds, which ensures it is suitable for all conditions in all types of wool. The units can be powered from either mains power or – due to their low starting current – from a generator which makes them ideal for use on shearing trailers. Each Nexus Pro QR is also fitted with a rubber support foot for protection of the machine during transportation.
For the latest farming news, subscribe to Farm Trader magazine here.
Keep up to date in the industry by signing up to Farm Trader's free newsletter or liking us on Facebook