How to make your farm effluent compliant
---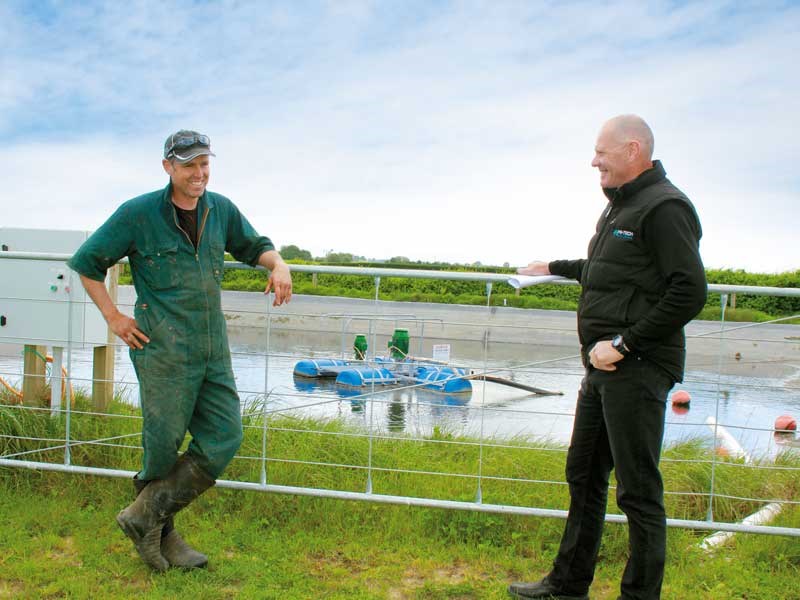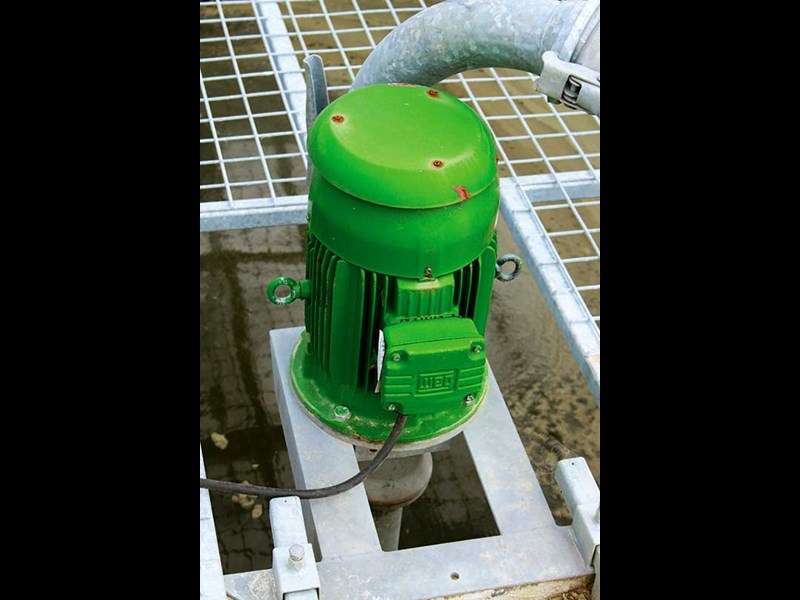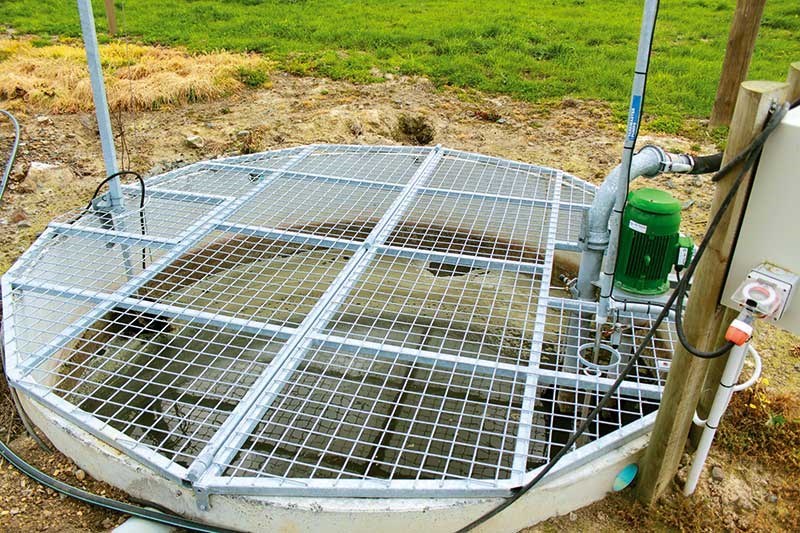 When it comes to investing in infrastructure, there is a healthy list of demands on most farm properties. However the problems around effluent management are slowly rising to the top of the pile, as regional councils crack down on rules and regulations around effluent.
Over the last decade, effluent has gone from being a problem to a workable solution. Rather than being regarded as a waste product needing to be disposed of, thanks to correctly designed and installed effluent systems, it is now extremely valuable when used as fertiliser.
The Waikato owners of Cornes Family Farm are like many in the industry who inherited an out-of-date effluent system which was barely a viable working proposition. With the walls on the unlined barrier ditch gradually eroding, farm sharemilker Darryl Wyber was also aware of the perils of the problem.
"Even though the ditch was fenced off, we still had the odd cow end up in there, with the farm race starting to cave in around it.
"With the old system, you'd pump it out and it would be full again later that afternoon just from ground water. The pump was buggered and the system was ill equipped to deal with the workload. Everything was on a too small a scale and was constantly overworked.
"It was the one thing on an otherwise well-maintained farm crying out for some attention. The 7.5 horsepower pump and travelling irrigator just weren't up to the standards of the rest of the property."
With farm advisor James Thomas recommending they get their effluent problem sorted, the owners called in the experts. Enter John Main, from Hi-Tech Enviro Solutions, a Waikato based company specialising in dairy effluent.
Main's services, along with those of his team mates, are currently in hot demand. Despite the recent economic pinch on farmers, he says there's been a sudden and huge influx of interest, as farmers face up to the real cost of inefficient effluent systems; both in terms of time and efficiency and the strong risk of hefty fines for not meeting environmental requirements.
"We are one of the first companies in New Zealand to be awarded with the Farm Dairy Effluent System Design Accreditation," he says. "Basically it offers a reassurance of competence, much like working with a master builder when you build your home."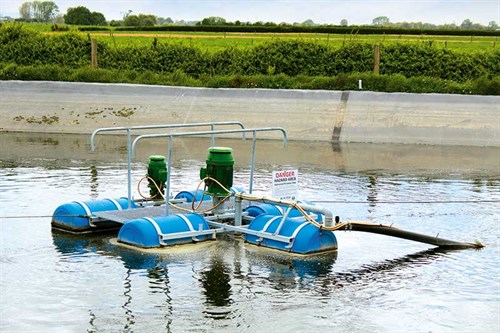 Waikato council regulations limit 150kg of effluent nitrogen per hectare per year. And while many farmers are up in arms about the restrictions, they have been in effect and unchanged since the mid-90s. However these days they are far more rigorously policed, causing problems for farmers with older and inefficient effluent systems.
The first step was for Main to meet with the farm owners and sharemilker to gain a complete overview of the property, before starting work designing an effluent solution. The flat 50ha property on the outskirts of Te Aroha runs a herd of 180 jersey cross dairy cows. With Waitoa silt loam, the soil type is classed as high risk when applying dairy effluent to pasture. Also heavy rain was prone to cause ponding, taking a long time to drain away over winter and making it unadvisable to irrigate for a period of time afterwards.
One of the main priorities was to create sufficient storage to allow the property to remain compliant 365 days a year and to have enough storage so as not to irrigate in unsuitable soil or weather conditions. The owners are also environmentally conscious and wanted to ensure they had the correct system in place to avoid any potential problems.
The result is a million-litre capacity pond, 24x24x3 metres deep with a batter of 1:2. (Batter is a function of slope stability). Lined by Pondco using an EDPM Firestone rubber lining (with a 20-year material warranty) supplied by Cosio Industries has a geotextile underline and gas venting.
A five drum pontoon is equipped with a 15 horsepower Doda floater pump, capable of pumping an average of 19,260 litres per hour and a vertical Hi-Tech five horsepower dairy effluent stirrer with a diffuser fitted to help protect the pond lining.
The pond stirrer is wired up to its own time switch, enabling it to run independently of the pump when needed, to break down any crust that may form.
The pontoon has a 90mm floating delivery line to the Z hydrant at the side of the pond and is anchored by ropes and steel pegs, with the pump and stirrer electrical cables attached to the 90mm alkathene floating delivery line.
The system is an unmitigated success and Main is quick to praise the farm owners for tackling the problem with a sensible approach to future proofing the property. Sharemilker Wyber is equally impressed.
"It's made a massive difference to the farm's efficiency and productivity. The possibility of not meeting effluent specifications is a real worry for a lot of farmers. It's great to know we have got this problem sorted long term."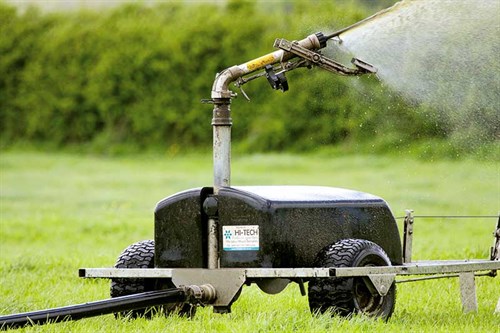 With both the owners and Wyber taking enormous pride in the property, which achieved record production figures last season, they are confident that investing in the effluent system will reap benefits in both productivity and overall farm efficiency.
"I've already seen positive outcomes," says Wyber. "We've gone from irrigating four hectares to now being able to irrigate 17 hectares. That's a huge increase and the grass just about jumped out of the ground on the new paddocks we started irrigating. It was almost unbelievable."
The new design easily meets regional council limits and the effluent nitrogen has replaced the fertiliser nitrogen required.
"I could literally see the grass growing in front of my eyes," says Wyber, "and we didn't need to put any fertiliser on those pastures this season, aside from a tickle of urea."
The project also includes a one bay concrete stone trap to the side of the milking shed, which helps remove as much of the unwanted solids as possible. Sand, stones and other foreign material can cause pumps to wear quicker than expected, create blockages in dairy effluent lines, and build up unwanted sediment in sumps and ponds.
Alongside the stone trap is a dairy 25,000 litre dairy effluent tank with a 10 horsepower Doda transfer pump. A float switch in the tank ensures the pump starts automatically, rather than relying on someone to turn it on – which could result in potential overflowing.
Taking pride of place in the equation is the innovative Hi-Tech Cobra travelling rain gun, which Main touts as a revolutionary product which has changed the way farmers irrigate their farms.
It is fortunate that he is a firm believer in the system as he had to work hard to convince the Cornes Family Farms team of its merits.
Now in his third season on the property, Wyber admits he was completely unconvinced when it came to Main's recommendation for the Cobra rain gun.
"I couldn't see any justification for it over a more traditional system. I thought it was overpriced and unnecessary."
However, he is quick to admit that he was wrong.
"It's fantastic," he states. "With a 50 metre spread and absolute flexibility to put it wherever I want, I'm an absolute convert."
The Hi-Tech manufactured and produced Cobra travelling raingun was the first of its kind on the market. It can achieve low application depths and rates, but also spread over large distances. And with no long boom arms to deal with, it is easy to move around and set up.
"There's also an overload protection system, lid hinge system, drum tensioner, and the tow bar design and front wheel are now standard," states Main.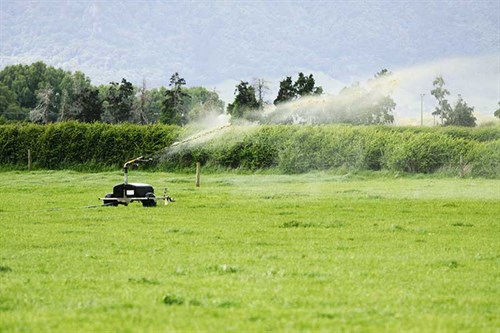 With the new effluent system installed 18 months ago, Wyber reports that aside from blowing a pole fuse at the roadside when it was first turned on, it has been completely hassle free.
"I think that was more a case of an old fuse than anything else. It's been almost ridiculously straightforward, but then that's down to the fact that the system was designed specifically for this farm and its exact requirements. It's reassuring to know we have a system in place that can cope with anything we throw at it, and it requires minimum input in terms of labour or maintenance.
"It gives us plenty of options too. I pumped the pond right out the other week onto our crop paddocks that we were about to sow and now all the spring fert is going on in the other paddocks, I'll just shut it off for a bit.
"We can carry on like normal and it takes about three months of it being really, really wet to fill back up.
Main estimates the system should pay for itself within five years. He also calculates that the total effluent value is over $11,000 annually, the total fertiliser value is $7500 and the value of extra pasture growth is $6234.
"I regard the farmer's wallet as my own wallet, and I'm definitely not inclined to spend money unnecessarily," says Main. "However I do recommend doing something right once and future planning to ensure the system can cope with any potential changes to farm management."
Main always recommends pond geotextile underliner to protect against puncturing from stones, sticks and any other sharp objects which may be in the walls and floor of the pond before lining.
"The underliner is similar to a carpet underlay. It also adds protection to the all-important geomembrane from puncturing, once the pond starts filling. The thickness of underliner is site specific according to the sub grade condition and depth of pond, but should have certain minimum weight equal to 200 grams per square metre.
While not compulsory, Main believes gas venting is essential to the success of any dairy effluent pond. Without it you can end up with hippos in your pond. Literally.
"Gas hippos are essentially large bubbles which occur under the liner from rising gas bubbles, when there is no means of venting to prevent this. In most cases a new liner will need to be installed from scratch.
"In my opinion installing venting is cheap insurance. Even if pre-existing gas is not evident, we highly recommend to plan for a gas drainage system in every pond."
With a driving passion for helping farmers solve their effluent problems, Main thrives on the entire process, from the challenges of designing a solution for each and every property, to follow up visits, and best of all – seeing the results and benefits.
"Farmers are switched on and this is why they continue to be successful in running their business, which is their farm, despite changing economic conditions. They know the importance of keeping on top of their infrastructure – and effluent is one of the main components of concern."
For the latest farming news and reviews, subscribe to Farm Trader magazine here.
Keep up to date in the industry by signing up to Farm Trader's free newsletter or liking us on Facebook