Foley Agri: two thumbs up for Krone Comprima baler
---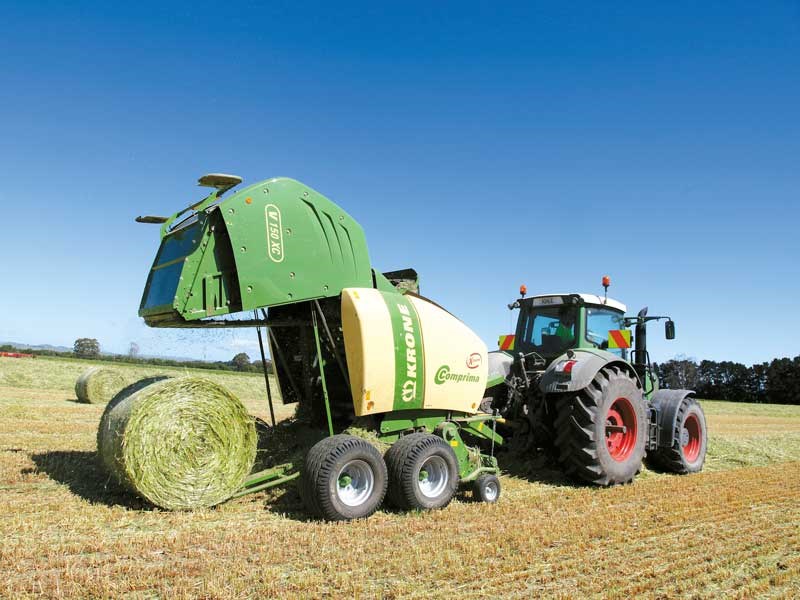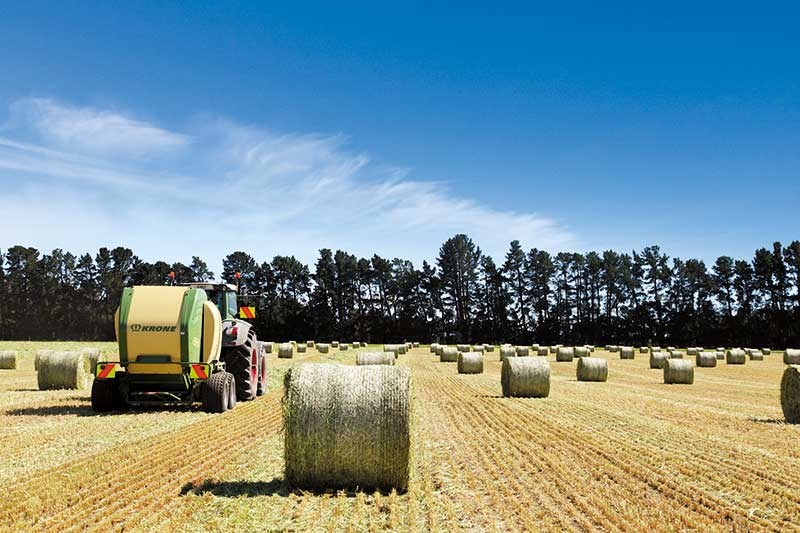 New farm machinery is a necessary requirement to keep productivity to the maximum during the busy harvest season. Farm Trader spoke to a Hawke's Bay contractor who does just this.
Central Hawke's Bay agricultural contractor, Rob Foley of Foley Agri purchased a Krone Comprima V150 XC X-treme baler in August and he's happy with the results.
The round baler replaces his previous Krone Comprima baler and he says while this model is very similar, the main difference is that this one is more heavily built, "It has heavier bearings, chains, has a wider belt and can do different bale sizes."
Its versatility was part of its attraction he says, "It can make bales from 1.2 to 1.5. Therefore, we can do baleage at 1.2 and hay bales at 1.5. It's good to see that when you make a replacement, it's been improved on and is a better product."
The Comprima X-treme also has an adaptation on it that allows us to put plastic on for net wrapping the bales. We also do bale wrapping with our stationery, Goweil bale bar wrapper.
As well as the Comprima round baler, Foley Agri has two New Holland BB9060 square balers and one New Holland conventional baler.
Foley Agri is a third generation, agricultural business, near Takapau that offer their clients a complete agricultural service from planting to harvesting and everything in between.
When the sun isn't shining, Foley's team is busy in the workshop maintaining the machinery to ensure things tick over smoothly once they head out on the job again.
Foley adopts a policy of replacing machinery when maintenance and repairs start to be a regular occurrence.
He says he's been using Krone machinery for 20 years – along with Claas and John Deere – they are all brands he can trust for reliability and excellent after-sales service.
This year's new machinery also includes a Claas 2900 liner rake to replace the Claas 20800 liner rake. "We needed an upgrade, and this is a larger forager rake which will be more efficient.
A John Deere 215 tractor has replaced his old one and a Titan Roller drill from Foxton company, 4AG, is a big improvement on the last one "because it's heavier and does a better spread of seed."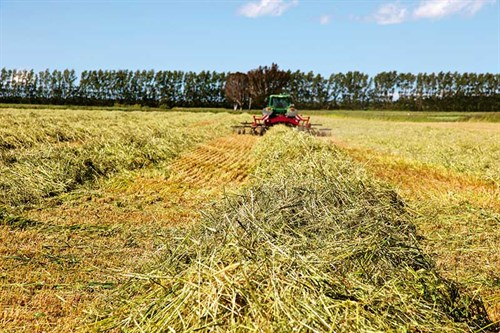 "As well we have a new silage press that goes with the Buckrake tractor; this is a four-tonne press that goes on the back of the tractor that rolls the pits – it's giving us 20 percent better compaction with our silage pits now than we did previously with the tractor."
Foley says the combined efficiencies of all this new gear will help get the job done more efficiently when the pressure is on in the height of the season.
In spite of a predicted summer drought, he says they've had one of their best ever springs this year. "We are flat out making baleage and silage at present and are still finishing off the late cropping ground. Grass growth has been good, because in between rain events, it is still warm. So if and when there is a drought (most likely in autumn), we will be a lot better set up; there will adequate supplement, crops are growing well so it won't be too bad. Mother Nature has provided for us and we are prepared."
About the Comprima V150 XC X-treme baler:
Extremely robust build that suits daily harvests of heavy crop
Variable bale diameters from 1m (3'3") to 1.5m (4'11")
Adjustable bale densities
Compression increases progressively as the bale grows in diameter
Soft core kit
About the Claas 2900 liner rake:
Working width is 8-9m
14 removable tine arms using the PROFIX quick- change system
The four-wheel chassis with steerable front wheels and laterally suspended front axle ensures extremely smooth running and precision tracking of the ground contour.
The optional six-wheel chassis is equipped with extra tandem axles and trailing wheels.
Infinitely variable, hydraulic headland stop to suit all types of forage crop.
Automatic, hydraulically folding windrow guard for maximum ground clearance.
For the latest farming news, subscribe to Farm Trader magazine here.
Keep up to date in the industry by signing up to Farm Trader's free newsletter or liking us on Facebook