Shed perfection: Totalspan
---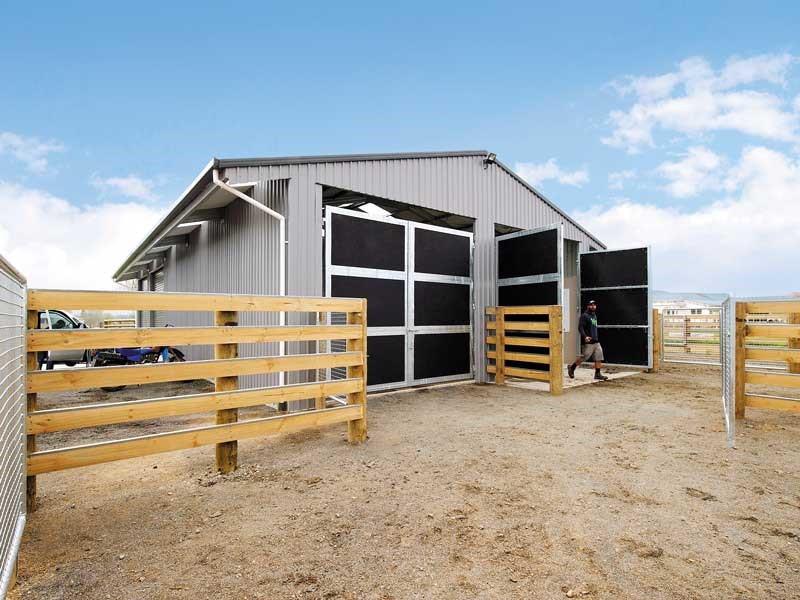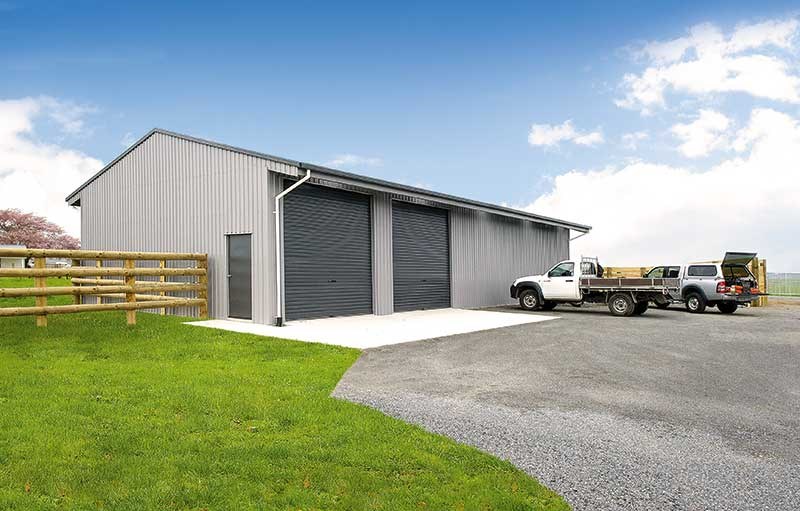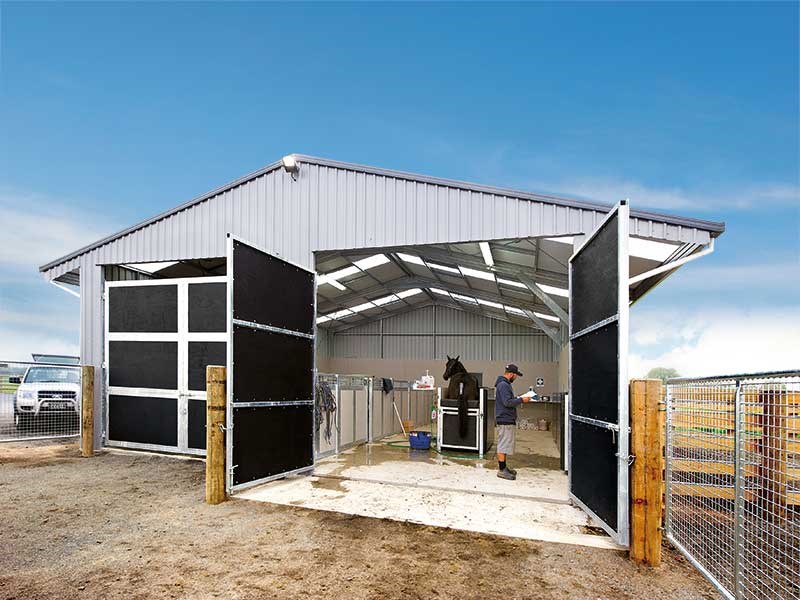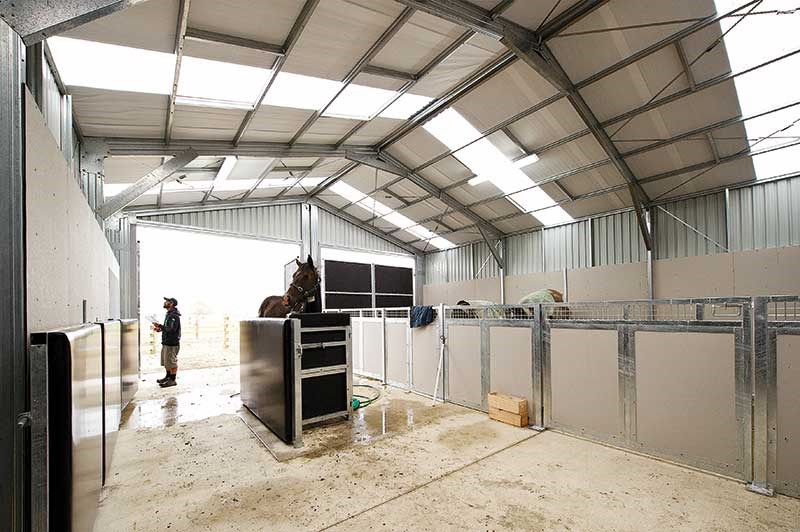 When it comes to quality, form and function, Mark Chittick is undeniably something of an expert. As the owner of world-renowned Waikato Stud, he is quick to make a knowledgeable assessment and also realises the importance of being able to delegate.
So when it came time to transform Waikato Stud's newest farm property, Chittick had no hesitation in seeking professional advice, then assessing the quality of workmanship and design so he could confidently leave experts in charge of the project.
Enter Errol and Diane Furze from East Waikato Totalspan. The Waharoa-based business has supplied more than 700 buildings throughout Matamata, Piako and South Waikato districts, ranging from sheds and garages to houses and commercial buildings – and the recent build at Waikato Stud is one more they take great pride in.
Custom-designed to house a purpose-built vet area with a solid crush for handling valuable bloodstock, the shed also provides secure covered storage for machinery (and Chittick's boat).
It is functional, efficient and exactly what Chittick ordered.
A powerhouse thoroughbred nursery dedicated to breeding, rearing and developing elite racehorses, Waikato Stud has grown from its original 188 hectares to approximately 700 hectares; all on prime Waikato pasture.
Waikato Stud's reputation as a birthplace of champions began in 1993 when Chittick's parents Garry and Mary purchased the operation from its previous American owner.
Now owned and operated by Chittick, the Matamata-based nursery has forged an undisputed record as New Zealand's number one producer of international Group 1 winners and an enviable international reputation.
"If there is one constant, it has been continued investment in our land, broodmares and stallions," says Chittick.
Part of that continued investment applies to the immaculate presentation of the farms which house Waikato Stud's precious equines. There is no room for inferior quality. With such valuable bloodstock, Mark's commitment to excellence extends to ensuring top notch infrastructure, from pasture and fencing through to buildings and sheds.
"We try to set up our farms to a very high standard," he says. "And the addition of this shed was for a very specific reason; to house a vet area with a crush, and also to store various machinery."
With international visitors frequently visiting the property, the shed also needed to be aesthetically pleasing.
The final result is a Totalspan shed which fits in with the presentation of Waikato Stud's existing properties, functions perfectly for what it was designed for and was built on spec, on time and within budget.
Chittick is delighted with the outcome – and the fact the project was hassle free, requiring minimum input from him.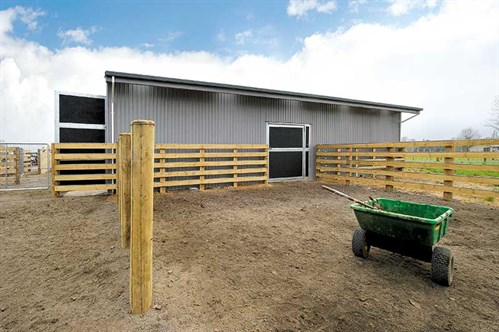 "I was confident enough in the team to leave the entire project to the experts," he says.
And that is no small praise. Much of the reason for Waikato Stud's success is Chittick's unerring eye for detail.
"I looked at various options, but one of the reasons I went Totalspan is that it's a tried and true nationwide product. The local team were excellent to deal with and they were efficient. At the end of the day, our operation is horse breeding. I want to focus on that, not having to oversee the building of a shed, so I needed a team I could trust to do the job to the quality I wanted."
With the original design based around an older shed on another Waikato Stud farm, the Totalspan team had a clear indication of exactly what Mark had in mind.
Having a clear end vision makes for a straightforward project and this was no exception. With input from Chittick, his farm manager and vet, the Totalspan team came up with a custom design which encompassed all the key client requirements.
"There were a few unique things about this shed," says Diane.
"Accommodating the crush was a pivotal factor in the design. Ensuring the design and build process catered for a strong, well-built crush was an added challenge given that it was one of the last pieces of the jigsaw to be completed."
And birdproofing the building was another priority, resulting in bird brush above the roller doors and rafters, purlins and girts boxed to further deter birds.
"All the purlins are flush fit so there are no rafters for birds to land on."
The interior walls in the vet area walls are Magnaclad, designed especially for horses and built by Magnum Industries, which also built the horse friendly gates and shed doors. The 3.8-metre double doors allow plenty of space when handling valuable bloodstock and include a 200mm gap to improve ventilation.
Partitioned through the middle, the shed is neatly divided into a functional equestrian facility and vermin- and bird-proof machinery storage.
Natural light is generous, with 10 ampelite sheets in the roof. Built in a high wind zone, the entire building is rated for Very High Zone with specific design engineering throughout, including six rib cladding.
The steel framed portal building is 18.5 by nine metres with one-metre soffits either side with a 3.6-metre stud height and the separate machinery storage area has a weather seal door and the entire build is vermin-proofed.
With site preparation work done by local Matamata contractors, construction from start to finish took just eight weeks. The Totalspan team took care of all aspects from initial design through to consents and council sign off.
Totalspan is one of New Zealand's leading building companies with over 40 years' industry experience.
"We stand behind our products, with an industry-leading 25-year structural guarantee and a five-year workmanship guarantee," says Errol proudly.
"We build using only New Zealand steel, all roll formed in our own Christchurch factory and we can customise buildings to suit any project."
For the latest farming news, subscribe to Farm Trader magazine here.
Keep up to date in the industry by signing up to Farm Trader's free newsletter or liking us on Facebook