Stock crates to fit ATVs
---
Hawke's Bay company Farmquip has come up with a solution to help farmers safely and easily transport stock or equipment around their farm. Farm Trader spoke to its sales and marketing manager, Brenden Watts, to find out more.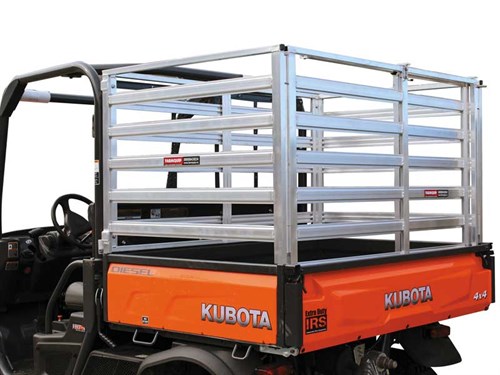 Strong and compact stock crates that fit a variety of all-terrain vehicles (ATV) are the latest innovation of animal-handling equipment company Farmquip.
These alloy-constructed crates are light, yet tough and are easily bolted on to the deck or tray of a range of side-by-side ATVs.
So far, Farmquip manufactures stock crates for Honda, Polaris and Kubota and for each brand they have adapted their designs specifically.
The need for this type of product came about because an increasing number of farmers are opting to use the sturdier side-by-side utility vehicle over a quad bike. The side by side has a canopy over the driver and a deck on the back for loading; the main frame of this is where the stock crate is bolted.
Watts says: "We began to manufacture the stock crates over a year ago and trialed them at the 2014 Mystery Creek Fieldays. Since then we have designed crates for a number of different ATV brands. Including Honda, Kubota and Polaris. We are continually adding to those as we get more requests for more models. We will design for any brand of side by side that has a deck."
Watts explains the design process, "We work closely with the local ATV dealers and for each new design we work from a sample ATV to ensure that the crate is tailor made to that particular model."
Farmers' use of the stock crates includes transporting their sheep and dogs around the farm or rescuing troubled stock. The beauty of the crate, unlike a quad bike, is that animals can be securely locked in and can't jump off the vehicle.
They are also used for carrying equipment and a covered lid on the top of the crate allows for extra storage.
"Normally farmers would tow an ATV trailer behind a quad bike and that's far more difficult to handle," says Watts.
The ATV stock crates are different to anything out there in the market place at the moment, according to Watts. This reflects the fact that the Farmquip team has their finger on the pulse when it comes to farmer's needs. "We deal with farmers every day and they tell us the sorts of things they want. Because our own engineers carry out this type of work all the time, we can quickly make up another design for anyone who requires it."
Alloy Stock Crate Standard Features
Lightweight, yet tough alloy construction
Simple to install
Internal rear sliding door
Modular design
For the latest farming news, subscribe to Farm Trader magazine here.
Keep up to date in the industry by signing up to Farm Trader's free newsletter or liking us on Facebook