Business profile: Reymer Ag Contracting
---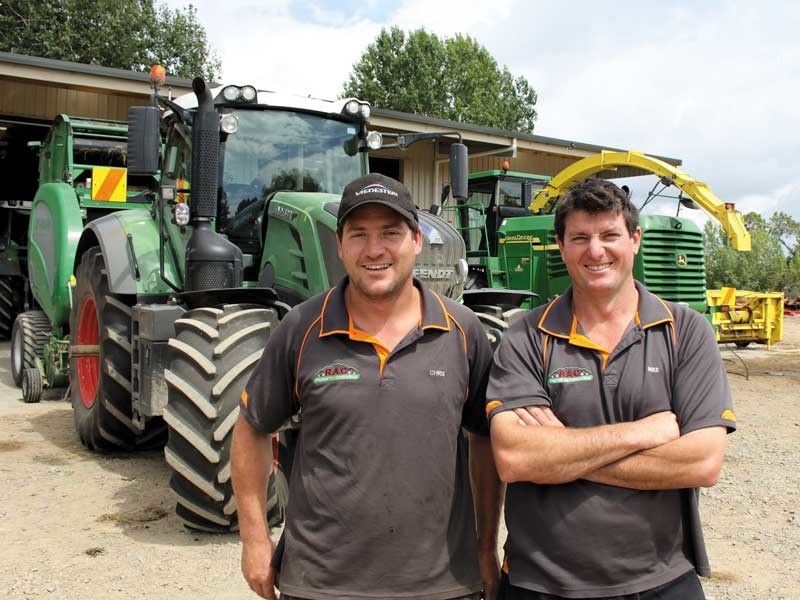 Brothers Chris and Michael Reymer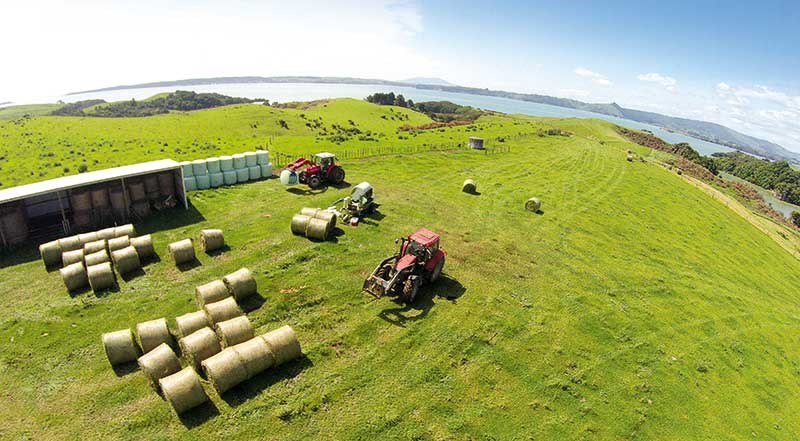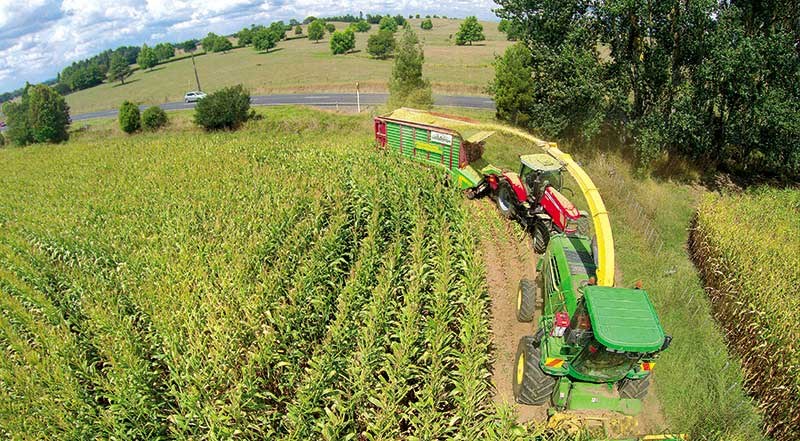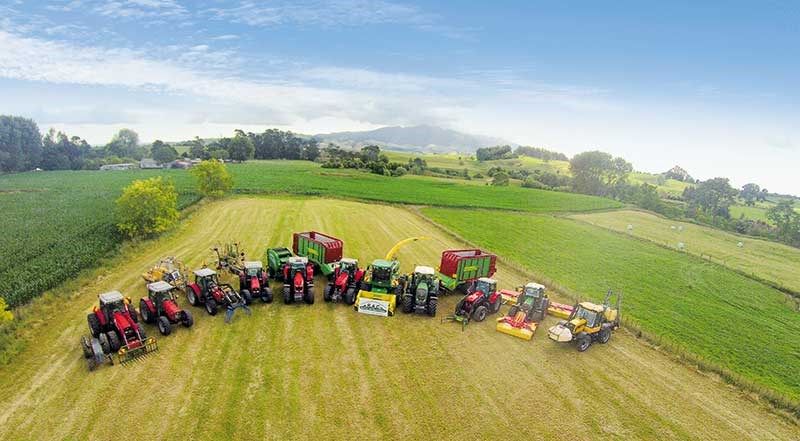 Waikato brothers Michael and Chris Reymer are continuing a family legacy into its third generation, at the helm of Reymer Ag Contracting.
The pair grew up watching their dad and grandfather harvest hay and silage – and now they're leading the family business in a new direction, having created something of an agricultural contracting one-stop shop.
Reymer Ag began some 60 years ago when granddad John 'pottered around the Pirongia neighbourhood doing the odd bit of agricultural contracting'. He had one of the first conventional balers in the area and one of his original tractors remains part of the Reymer Ag fleet today.
While it isn't exactly in working order, Michael and Chris plan to restore the Massey Ferguson 148 this winter during the off season. This passion for restoration is a skill passed down from dad Bill, who is well known in the region for his restoration abilities with vintage tractors and machinery.
"Our grandfather John bought that 148 brand new so it's pretty special to still have it," says Michael, "And we've continued our affiliation for Fergies through to today."
Most of the fleet revolves around the distinctive red Massey Ferguson tractors, a tradition dating back to the start of the business.
"We work on steep and rough country here, so the machinery is put under a lot of demand. We only buy gear which can withstand the workload".
From humble beginnings with a lone tractor and baler, today Reymer Ag boasts an impressive fleet of tractors, trucks and trailers, as well as cultivation and harvesting equipment for everything from maize to direct drilling.
The Massey Ferguson line-up includes a 6255, 6265, 6260, 6480 and 7495. Then there's a Fendt 818 and 822, JCB 3185, John Deere 7400 SPFH and Isuzu and International trucks.
Add to that the ploughs, discs, rippers, power harrows, tip trailers, rollers and seed drills, crop sprayers; and you start to get an idea of the size of the operation.
As well as running the business alongside Chris, Michael is responsible for most of the mechanical work on site. Dad Bill is a qualified diesel mechanic so the boys grew up watching him service and rebuild all sorts of farm machinery.
In 2007, Chris and Mike became more involved in the family business, expanding significantly; relocating to a 55 hectare site, with a purpose built workshop taking pride of place, alongside accommodation for seasonal workers, most of who hail from Ireland, England and Wales.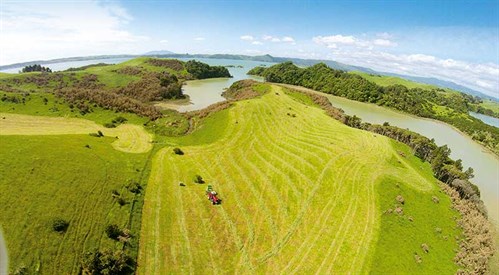 "We've got a great team and many of them have been with us for years. We never have a problem getting good staff, mostly through word of mouth."
The same applies to clients. With such long family involvement in the area, many clients have been working with the Reymer family through the three generations.
"And while we work from Kawhia and Ngaruawahia, to Te Awamutu and Otorohanga, it's still a small world so far as the industry goes and contractors are only ever as good as their last job. We're pretty chuffed to have been working for the same people for decades – that's the best reference you can get."
The massive workshop has fast become the heart of the business, and combined with the boys mechanical prowess, is a major key to keeping the business and its machines running smoothly.
"It means that every winter we can use the quiet time to completely strip all our gear down and fully service it. We can do everything ourselves which is a huge time and cost saver. And during the busy season, any problems can be sorted immediately on site, without having to wait for outside help.
"Dad is still very much involved in the business and if we ever need extra help in the workshop, he's happy to spend time under the hood of a tractor getting his hands dirty."
Family input
Dad Bill is one of 10 children, with six brothers all involved in either farming or agricultural work.
While Chris and Michael have each followed similar career paths, they did so on opposite sides of the world, before ending up back in their hometown of Pirongia to take up the reins on the family business.
They admit there was no 'great plan' to end up working together. After running dairy farms and driving and working overseas, they co-incidentally ended up back in New Zealand at the same time Bill had grown the business to where it needed some more hands on deck.
Having notched up thousands of miles between them driving agricultural machinery; Chris mainly in Australia and Michael in the UK, where he managed to avoid a winter season for three consecutive years, the pair were well qualified to step into Bill's experienced shoes.
"Plus we grew up watching and helping Dad from as soon as we could walk," chuckles Michael.
With two other siblings, one of whom is an Air New Zealand pilot (who heads to Pirongia during his time off to get behind the wheel of the latest machine), and a sister who is busy being a mum but previously worked at LIC, it is fair to say that farming and machinery is in the blood of the Reymer clan. And they're well known tractor pull competitors too.
Bill boasts two National Fieldays tractor pull titles and Chris and Michael have a swag of wins under their belts. Their current chosen horse power comes in the form of a souped up MF3655, which they undertook as a joint project.
"It sat in the bush for about four years before we attacked it and now it puts out between 300-500hp and is a bit of a beast to be honest," says Chris.
While tractor pull is a rare and occasional treat for Chris and Michael these days due to the demands of the business, they still try and support local events when they can.
Michael admits running a contracting business these days has become increasingly about communication and technology.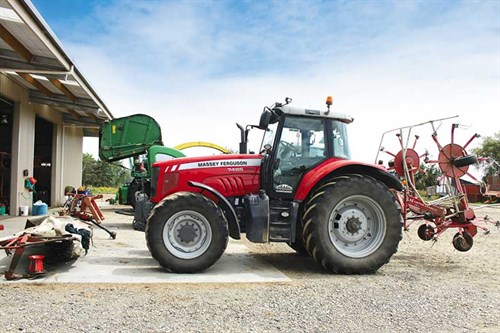 "It's getting harder for me to get behind the wheel," admits Michael. "I can deal with over 1000 phone calls a month."
Being able to keep tabs on machinery and jobs is crucial. With an office on-site, computer technology and GPS tracking combine to ensure that office Chris and Michael can see what machine is where.
"It makes it really easy for us to ring a farmer and let them know the machine is on the last few rows, etc.
"We also collect data on each machine to try and work to maximum efficiency – we can calculate fuel and loads and this helps us ensure all our gear is working as best it can.
"We make every tractor accountable and can find out what it's actually earning and costing."
Making the decision to diversify the businesses capabilities was not taken lightly and the additional workload means top organisation skills are essential.
Despite the heavy workload, they agree they'd rather be contracting than farming.
"It's a pretty tough life for dairy farmers right now," says Chris, "and much of that is down to the increase in rules and regulations and constant demand to increase production and pasture output.
"Admittedly we do have an extremely busy summer where we barely see our families for a few months, but at least we can get some time off in winter and head away for a break."
From the origins of the business focusing solely on baling and undersowing, Chris and Michael have added spraying, maize harvesting, cultivation, baling, ploughing, discing, power harrowing, ripping and crop establishment.
"We've got a John Deere 7400 chopper and have built up a good maize run, as well as our Vaderstaad Tempo eight-row maize planter and Vaderstaad Rapid 300."
Being located in the heart of Waikato, there's never a shortage of grass to cut or hay to bale.
Baling
Baling everything from conventional to medium square and round bales, they have seen a strong shift from farmers towards tube wrapping.
"We're a little bit niche with the tube wrapping," says Chris. "About two thirds of our baling now is tube wrapping. There's a few advantages, it's about $2.50 a bale cheaper, uses less plastic, is easy to feed out and we can make bigger bales.
"One people start with a tube, they come back next year and stick with it. Also the fact the bales aren't double handled as with conventional wrapping means there is minimal chance of damage.
"The bales are quick and easy to unwrap for feeding out so overall it's about improving efficiency on the farm – which is very much where the focus is now. Basically you get a cheaper bale and more grass in per bale."
And using their Webbline wrapper means speed is another factor.
"As quickly as the guys can bring the bales, we can get them wrapped."
And while progress continues marching strongly forwards, there is still a place for Bill's original conventional baler. He spends most of his summer running around with a mower, tedder and bailer, largely catering for the many lifestyle blockers – a task the boys are more than happy to leave to him.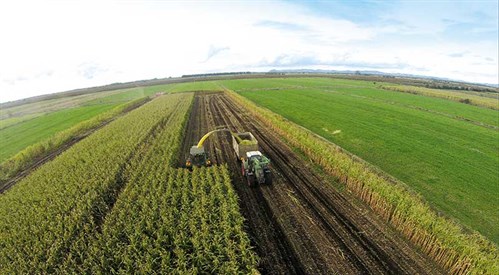 Direct drilling
Another area of major growth this season is extra demand for direct drilling.
"We had to take on extra staff to cope with the workload. Everyone is worried about this big dry and the need to save costs wherever possible.
"We've found a big jump in direct drilling to save moisture in the soil and to give the paddocks a break from heavy cultivation. A lot of farmers are direct drilling turnips and stuff like that and not wanting to work their ground up.
"I think, generally, on-farm grown crops have gone up, with farmers choosing to get their stock numbers down a bit and try and stockpile a bit of feed. We've been doing a bit more maize too."
Chris and Michael have been experimenting with their Vaderstaad planter with direct drilling maize.
"We've got some test plots here on site and we're trialling a few different things. Some have worked, some haven't, but it's all a valuable learning curve.
"We've got a lot of very light ash soil around here too and you touch it and it turns to icing sugar, so you really want to try and disturb that soil as little as possible."
"The ground we work on varies from peat to sand and we're always looking at ways to do things better.
"When farmers are planting maize on maize for 10 years or so, the soil needs a bit of TLC, so we're looking at some new methods with our drills and having a play with some ideas. We like to look at alternatives; using seaweed, and playing with various organic fertilisers.
"You can see the soil changing with the effects of continual cropping. In general farmers are taking a bit more of a biological approach and are more aware of the soil and bugs and the knowledge that is out there now. For some people it's a willingness to try new things, and for others it's an act of desperation."
Farm machinery
To the end, Reymer Ag has an assortment of machinery and brands, including a Vaderstaad Tempo drill and Rapid planter, Macchio five-metre power harrow, Kverneland 4 furrow plough, Lemkin discs, Aitcheson rippers, Claas rakes, SIP mowers, McHale balers, Webbline wrapper, Strauttman loader wagons, Pottinger front mower.
"Our business relies on quality gear and quality work, so we're careful to buy exactly what we need to work best in the Pirongia and Waikato terrain."
For the latest farming news, subscribe to Farm Trader magazine here.
Keep up to date in the industry by signing up to Farm Trader's free newsletter or liking us on Facebook