Business profile: Commando Contracting
---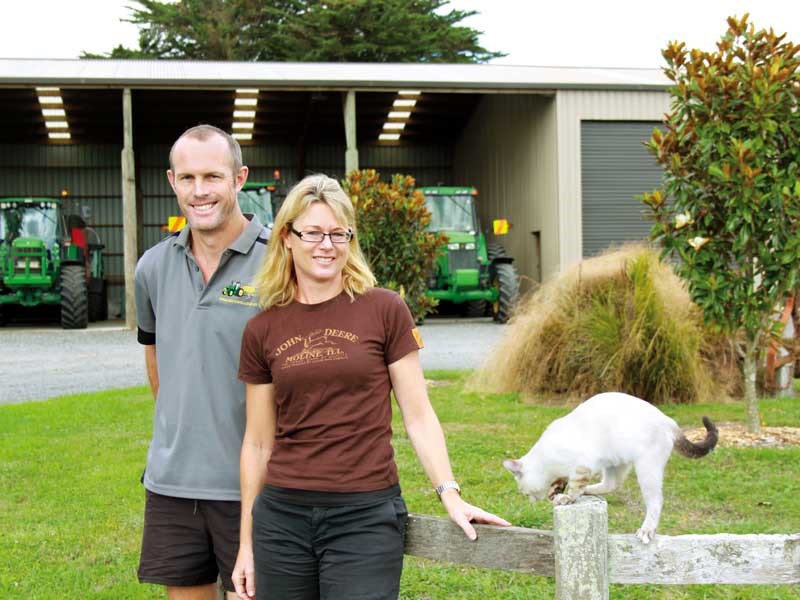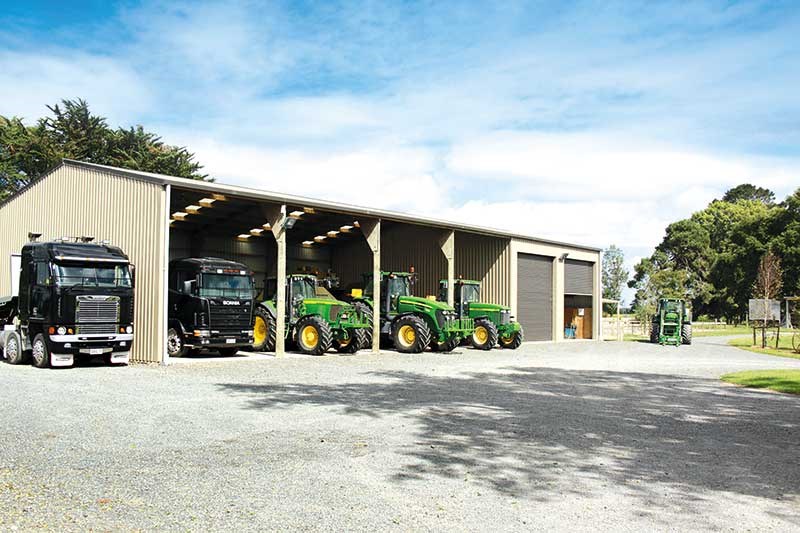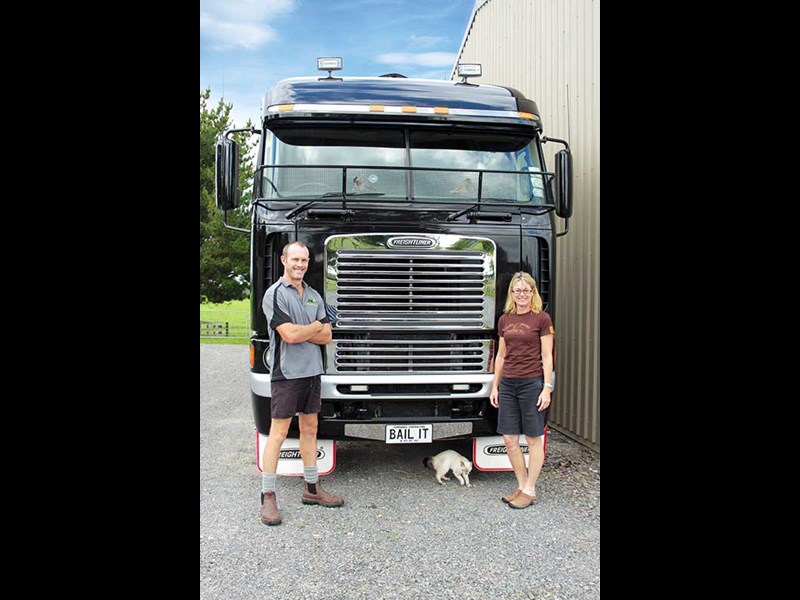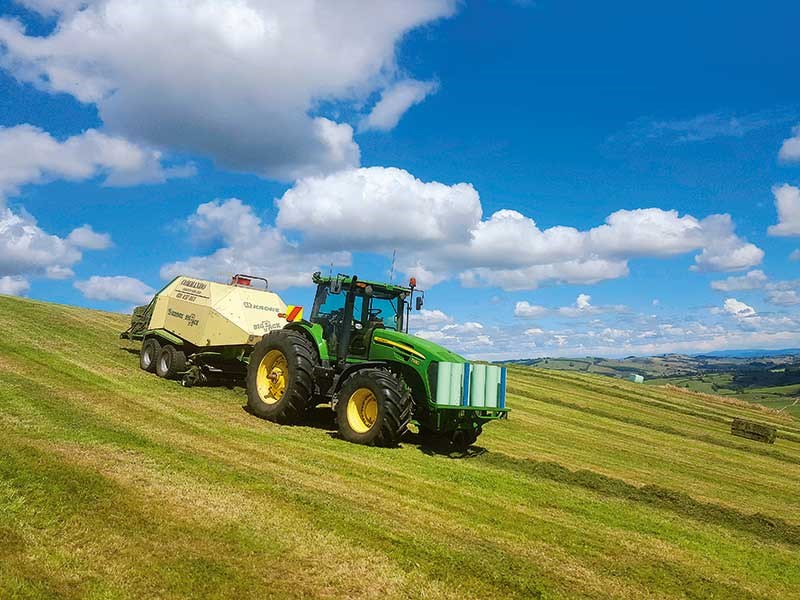 With complimentary skills, husband and wife team Carl and Mandy O'Connor have managed to weather the many storms that face contractors on a daily basis and successfully and efficiently operate their Waikato based business.
Contracting plays a key role in New Zealand agriculture. However, the life of an agricultural contractor is not without its challenges. There is the pressure of dealing with 30 hour working days during the peak season; of juggling urgent jobs around unexpected weather; of surviving, let alone thriving, as farmers increasingly look for ways to cut costs – not to mention the stress of running a business, maintaining expensive farm machinery and coping with the sporadic trickle of income during the quiet months.
And that's just the tip of the iceberg.
So it is somewhat fortunate that Carl O'Connor's business partner is his wife Mandy, whose sharp business brain loves nothing more than to 'number crunch' and ensure each piece of machinery is paying its way.
The couple are perhaps the ideal blend of passion, perfectionists and business acumen. In seven years they have grown Commando Contracting from a single John Deere 7810, a Krone Square baler and wrapper, to a shed full of tractors, rakes, mowers, balers, and wrappers, as well as a sterling reputation for quality service. They have a long list of Waikato clients, from dairy farmers to horse studs.
With a lifelong fascination (Mandy calls it an obsession) of machinery, Carl grew up on a Clevedon farm and was driving tractors and diggers by the time he was 10.
"I used to harrow the paddocks and do any farm jobs I could which involved driving a tractor," he recalls.
With his own fleet of exceptionally well maintained machinery now visible from the kitchen window, he is a happy man. Carl grew up with John Deere tractors and is continuing the tradition, with five green tractors taking pride of place.
When it comes to baling gear, he has a mixed bag of brands, including two Claas 2800 rakes, a Lely tedder, two Krone balers (one round, one square), a Kuhn 2160 Combi and Kuhn 7664 Wrapper and a Goweill 5020 Wrapper, as well as assorted trucks, trailers and a Hitachi digger.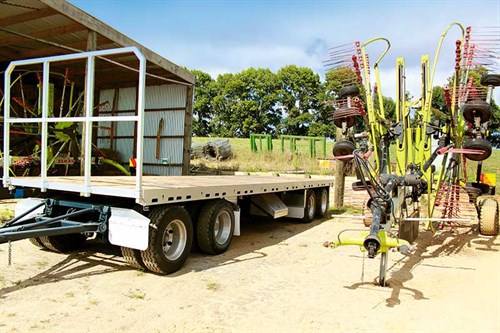 Having built their home (a converted dairy shed) and shaped their property around the business, their 30ha block, situated between Hamilton and Cambridge, boasts two massive sheds which house the machinery and excess hay bales, as well as the business office, home and stables.
With not a stray blade of grass out of place, Carl's perfectionist tendencies are obvious at a glance. Every gleaming machine is parked in its own spot, with just his pride and joy, the Freightliner Argosy 8X4 parked outside, temporarily ousted from its shed position while a new horse box is being built.
Sharing a love of hunting (Carl was formerly a polo player), the couple's off season project has been building an impressive eight metre long horsebox, complete with living facilities and a push out extension to further increase space.
"Up until now we've used an old polo box which goes on the Freightliner and carries six large hunters, with six people in the cab," says Mandy.
"The only problem is that often the Freightliner is out doing contracting work and I'm ready with the horses to load up and leave – all that's missing is the truck!"
Known as Mandy's truck, the Scania 8X4 is much more 'female friendly' to drive than the Freightliner. The 'his and hers' trucks are a source of much amusement to friends and family, but can be justified as both trucks earn their keep in the contracting business.
"The idea was that the Scania is much easier for me to drive with the horsebox, but of course I end up carting bales and silage on it– in some pretty daunting locations," says Mandy.
"A lot of the farms we work on are pretty steep hill country, so every piece of equipment is chosen for its ability to cope with this," says Carl.
While Carl's Freightliner truck is pretty much the only piece of kit she can't drive on the road confidently, Mandy reckons that's balanced by the fact Carl can't drive the coffee machine at all.
Admittedly it took Mandy two months to master the semi-commercial coffee machine, but she insists it was worth the effort.
Having restructured her own insurance broker business to help manage Commando Contracting, Mandy decided that if she was working from home and not in town, she wasn't giving up good coffee.
She has since become renowned for her coffee, with friends even buying her a 'cafe open' sign. The team of drivers also appreciate Mandy's love of coffee – as they benefit at smoko time.
"I'll just stick to the balers and the trucks," says Carl. "They're so much easier to drive than that coffee machine."
With their shared equestrian backgrounds, the business is a firm favourite with many leading Waikato stud farms and equestrian properties.
"Because we own and understand horses, we're really aware of how important it is to be able to carry out contracting work without stressing the animals," says Mandy. "And given that some of our clients are businesses such as Cambridge Stud and Windsor Park, we're talking about millions of dollars' worth of livestock and that's just in one paddock."
With the next generation keen to carry on the business, the couple's children Kelly (10) and Cody (9) have already decided their roles.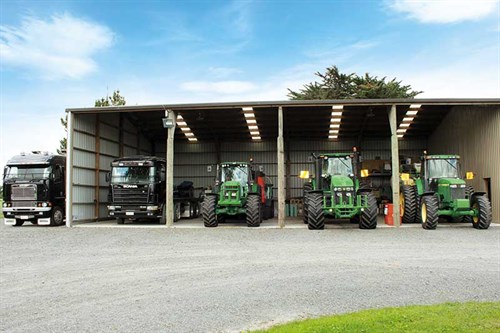 "Kelly is going to drive the rake and Cody wants to take over the mowing."
"It's in their genes," says Mandy. "The word love doesn't even describe the passion Carl has for machinery. If he's not driving machinery, or cleaning or servicing machinery, or looking at machinery to buy, then he's reading about machinery."
Originally in business as a fencing contractor, Carl started out working with other contractors in the area, sub-contracting with his tractor.
"I was playing a lot of polo at the time and fencing alone was never going to fund that sport," he jokes. "I could see a gap in the market for square bales so started off catering to that."
Hay and silage remains the core focus of Commando Contracting, despite opportunities to grow into other areas.
"We've had some tough discussions about expanding or changing the business, and while sometimes it seems to make sense, when you break it down and add in the extra labour units and added cost of machinery, there's too little in it to make such a huge lifestyle change."
The battle for machinery expansion is ongoing and follows a similar pattern. Carl researches new tractors and gear, reasoning they would be an asset to the business. Mandy uses her 27 years' experience running her own business to work out just how effective and efficient each piece of machinery would be, both short and long term.
"I may not have known anything about tractors or machinery when I first got involved, but I do know how to run a business," she says.
"Carl has a contractor's brain and says we need this flash tractor and that flash baler, and I keep bringing it back to dollars and financial feasibility. I'm the handbrake."
With ex-Giltrap machinery buff Phil McKee as part of the team, Carl joins in with his own engineering skills to upgrade and modify tractors and gear to suit his requirements.
"So instead of one newish $160,000 tractor, we originally spent that amount on three items and got a tractor, wrapper and baler which we then customised to suit the rugged conditions we work in."
The only exception to the rule is the 2000 Freightliner Argosy 8X4, which was a case of both 'need and want'. Carl has always had a hankering for a Freightliner (since he was three years old) and after Mandy ruled out the purchase of an expensive late model truck, he convinced her the black beast was a good idea, despite over a million kilometres on its clock.
It has been something of a pet project and has gradually been lovingly restored. Having been purchased for a quarter of the price of a more modern truck means it meets Mandy's requirements of paying its way in the business.
"So Carl can have his dream and I am okay with it because it earns its keep.
"We did the same with the Scania, we bought an old tired truck and although we spent quite a bit on doing it up, it's an asset to the business rather than a major drain."
Every piece of machinery is carefully researched and well maintained. If something new is justified and needed, then Mandy gives the go ahead. The latest purchase of a Kuhn 2160 Combi baler has increased efficiency by allowing two teams to keep up with growing demand for baling. Carl and Mandy also make hay and silage off their own 30ha which includes some neighbouring leased land, as well as purchasing and storing bales to sell later in the season to provide cash flow in the quiet months.
"It's easy to forget the basics of the business when you're involved in contracting and it's always tempting to add in a few more pieces of machinery and do a bit of cultivating or fertilising, but we're careful to stick with what we're successful at. There's no point having machinery which sits in the shed for months unused."
While Mandy is quick to praise Carl for his skills with machinery and contracting, Carl is just as complimentary of Mandy's business skills.
"We both bring something equally important to the ongoing success of the business. We have our own skillsets and fortunately we work well together."
For the latest farming features, subscribe to Farm Trader magazine here.
Keep up to date in the industry by signing up to Farm Trader's free newsletter or liking us on Facebook