A barn for Tukituki Dairy Goats
---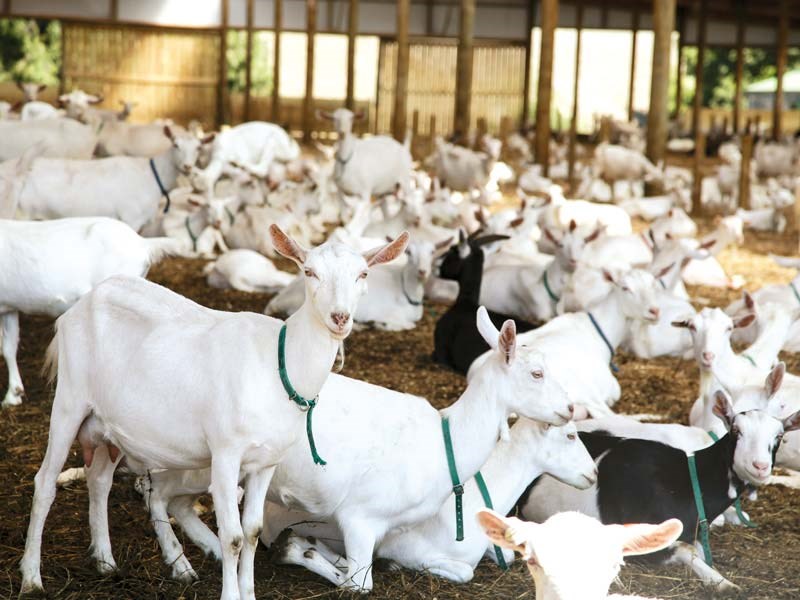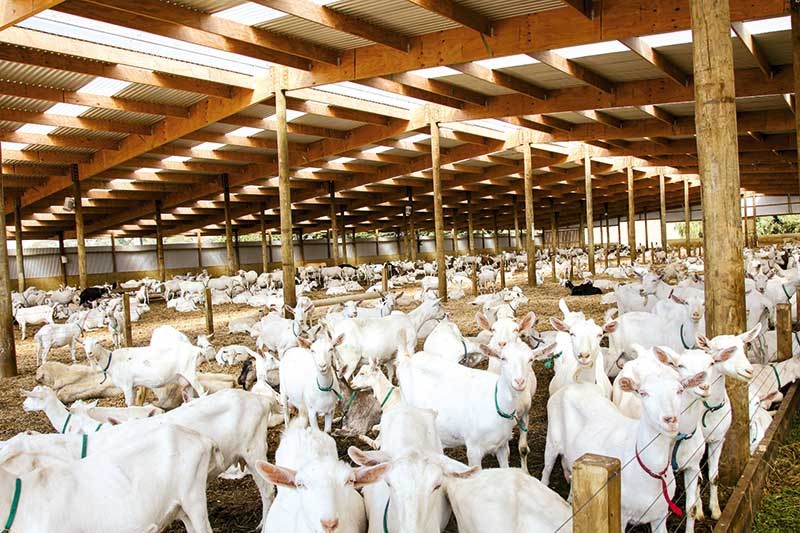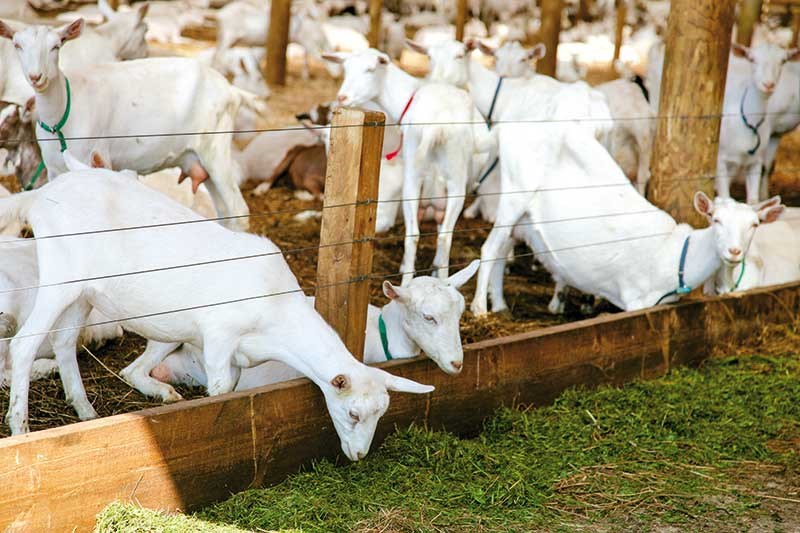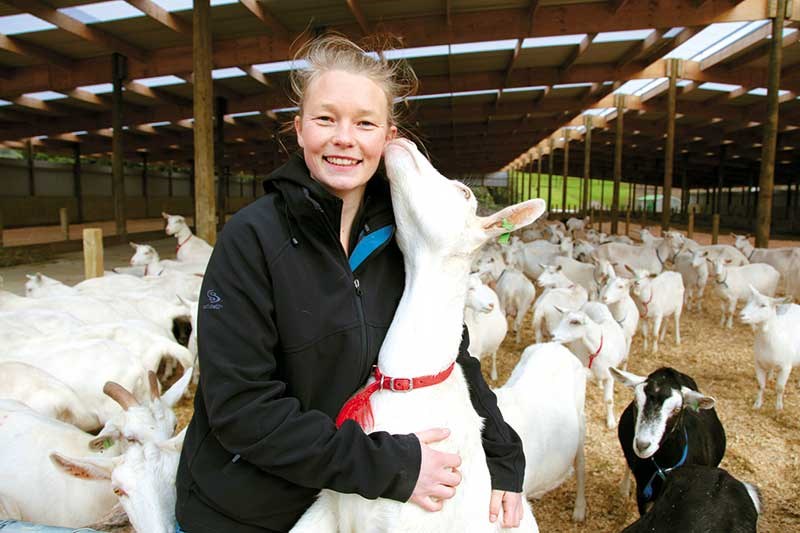 Lydia Baty and a friend

A snug, yet well-ventilated barn is an important element in the success of a Hawke's Bay dairy goat business.
A barn large enough to house 1000 goats was what dairy goat farmers Lydia and Sean Baty wanted when they began to plan their building.
The couple went into partnership with Lydia's parents David and Jo Phillips and converted part of a leased property to dairy goats last year.
Alongside the loafing barn, as it is known, is a state-of-the-art, internal rotary milking shed. Eventually this will be linked by an overhead walkway from the barn.
When planning the facility, Lydia and Sean visited several farms. "We went through dozens of sheds in Waikato before we settled on a design. Basically, we did lots of research and picked the best out of everything," says Sean.
Tukituki dairy goats live year-round under cover. Each goat needs a maximum area of three square metres of room, so this was one of the guiding principles for the design.
Lydia explains, "As well as allowing the goats plenty of room, we didn't want poles in the middle of a pen. A lot of farms have five- to eight-metre bays for theirs but we decided that a 10-metre span was essential. This aspect made it more of a challenge to build."
The Batys designed the barn and had it engineered in conjunction with Tumu Timbers in Hastings. Builder, Paul Boaler and his team carried out the construction.
Features of the barn include 12-metre LVL (laminated veneer lumber) beams, 200 eight-metre SED foundation poles, concrete feeding ramps, ply over Zincalume sides with 500mm spacing at the top to assist ventilation and Zincalume roofing with a two-metre overhang.
Building began in April 2015 and one of the biggest challenges was wet weather. In spite of this, by 1 July, 650 goats were in their brand new home.
"The mud was the hardest thing to deal with until we got the roof on. We used a telehandler because it was the only thing that would really handle working in those conditions," says Boaler.
Another challenge was the amount of work needing to be carried out at an elevated level. "Eighty percent of the work was airborne; rafters, purlins and fixings, with very little done on ground level." Again the telehandler with a cage played a vital role in this.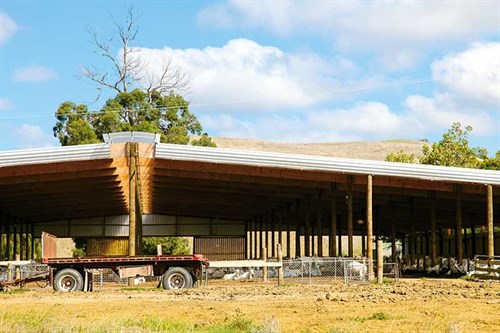 Roofing iron was transported in 12-metre lengths (having being halved) and was craned into place. To transport it in 25-metre lengths involving a huge truck and pilot vehicles would have been a prohibitive cost according to Boaler.
Trying to keep the barn cool in summer yet be warm in winter was paramount, so the southerly end is clad horizontally with 6x1 slatted timber to reduce drafts and the impact of southerly gales.
A central vent along the apex of the roofline allows hot air to escape in when it's hot and has worked well. "We've loved working here this last summer," says Lydia.
Each bay has clear light panels to allow light into the barn.
The finished building measures 50 by 73 metres, or 3900m2. It has two five-metre-wide access ways large enough for a quad bike/tractor and feed trailer to dispense feed, twice daily.
Boaler says he's impressed with the amount of thought that the Batys have put into their building to make it as environmentally (and neighbourly) friendly as possible, "They've placed the shed in such a way that it's not open to the road and the ply over tin stops the goats from rattling against it – therefore keeping noise levels to a minimum. Being built mostly with timber and having laminated beams makes the barn look very smart."
One thing I noticed when I visited was there was no odorous smell. This is because the bedding material of wood shavings supplied locally by Tumu Timbers is replaced regularly and cleaned out completely twice a year.
The deep layers of shavings absorb urine and fecal matter very quickly and are spread on cropping paddocks when a clean out is required.
Now the barn is nine months old, the Batys have been able to assess whether it's met their expectations. Fortunately, the news is good. "We wouldn't change a thing about it, it's working very well.
"That's because we weren't lenient with our specifications – we knew what we wanted and didn't cut corners," says Lydia.
A second barn, exactly same size as the first, will eventually be built beside the first one.
Loafing barns such as the Baty's one are common in Europe and that's where the idea comes from. "It creates a controlled environment where you can manage their feed and general well-being. It takes a lot of the variables out of farming and allows you far more certainty," says Lydia.
For the latest farming news, subscribe to Farm Trader magazine here.
Keep up to date in the industry by signing up to Farm Trader's free newsletter or liking us on Facebook